Factory Certified

Licensed technicians with over 15 years of experience

TSSA Gas Contractor

Fully certified in gas appliances service, repair & installation

Complete Warranty

Each repair is covered by service and parts warranty
Trusted Cyclon Service
We service and repair all Cyclon appliances, including:

Cyclone Range Hoods was founded in 1991 by an engineer who couldn't find a range hood to meet his home kitchen needs, so he designed one. With that success, requests came from others for a better product than those on the market, and Cyclone Range Hoods was born. 
For almost 30 years, the company has been at the forefront of innovation in kitchen ventilation, creating powerful range hoods that are both attractive and functionally practical. Cyclone range hoods can be found across North America at appliance dealers and online.
Cyclone range hoods use powerful non-stick coated fans that quietly remove grease, smells, and vapours to keep your kitchen and home odour free. Unfortunately, wear and tear from daily use may cause even the best appliance to need repair. For trusted manufacturer's authorized service in Canada, call on the specialists at Fix Appliances CA for all your Cyclone Range Hood appliance repairs.
Wall Mount
Cyclone wall mounted range hoods are powerful, high-efficiency grease and fume extractors, so if they're not working as they should, your nose will tell you. Whether 300 CFM (SC300/SCB300), 500 CFM (SC500/SCB500), 550 CFM (SC514S or CB514), or 650 CFM (SC712/SCB712), home or professional model, European, classic glass arch or simplistic design, contact Fix Appliances CA, your premier service experts, for all Cyclone range hoods. We'll fix all your appliance problems, including:
Time delay-OFF feature is malfunctioning

LED lights pulse or don't work

Push-button digital controls stick or don't function

3-speed fan rattles or squeals

Mesh or baffle filter screens are stuck
Island
Cyclone island range hoods models are a blend of contemporary and classical design lines. They use a highly efficient ultra-quiet fan motor to extract, filter, and collect smoke and grease, so it doesn't stain ceilings, light fixtures, or even the extractor ductwork.
The SI323 and SI520 filter a hefty 300 CFM or 500 CFM, respectively, to remove unwanted cooking odours. If your air-purifying island range hood isn't working as it should call on Cyclone's professional [authorized service specialists at Fix Appliances CA. Our team of service experts will repair all appliance issues, including:
The motor is noisy

The fan blades tick at slow speeds

LED lighting dims as fan speed increases

Filters seem to be fused in place

Controls don't respond
Undermount
Cyclone undermount range hoods are powerful, yet quiet kitchen air removal units that keep your cooking area and home clear of smoke, airborne grease, and fumes. If your Cyclone is squealing like a banshee or leaves your kitchen smelling like a cheap burger joint, call on the Fix Appliance CA, your local authorized Cyclone Range Hoods appliance repair service.
We'll send a repairman out to fix your 300 CFM (CY917R, CYS, PTB83), 680 CFM (CY1000C, CY3000R, NA330R, NA930C/R, PTB86), or 880CFC (PTB88) undermount hood. Our expert will repair all your appliance problems, including:
Rocker switch is sticking

Push-button controls don't respond

Halogen or LED lights don't work after replacing, or intensity settings don't work

Removable grease cups stuck or dripping

Fan clicks or squeals

Adjustable fan speeds aren't functioning

Digital touch control panel displays errors
Insert
Cyclone insert range hoods are invisible, but if they rattle or howl when in use, call Fix Appliances CA. As your dependable authorized Cyclone repair service, our troubleshooting technicians will get your 250 CFM (BX155), 300 CFM (BX212, SS130), 550 CFM (BX215), or 600 CFN (BX600) range hood working quietly and efficiently, as they should be. Contact us for all your Cyclone appliance issues, including:
Fan only goes one speed, not three

Slide or push-button control don't work

Halogen or LED lighting is dim or flickers

Extendable slide-out filter stuck

Fan rattles or howls
No problem is too big or too small, just call, text, or email our customer service reps between 8 am and 9 pm, seven days a week, to schedule a service visit!
What Our Customers Say About Cyclon Range Hood Repairs
Highly recommend them. Same day repair service. Fixed the problem, and for a very reasonable price. How often can you say that these days.
Aleksandr Romanenko, Keswick
Kenmore Dryer Repair
Reliable Service & Repair
FIX Appliances CA is a leading provider of affordable appliance repairs. We have over a decade of industry experience. Using this experience we can offer reliable white goods repairs. No matter what the problem may be, our skilled technicians will be able to fix it.
Call us for Cyclon range hood repair service FIX Appliances CA online or by calling Toll-free number 1-888-242-0777 today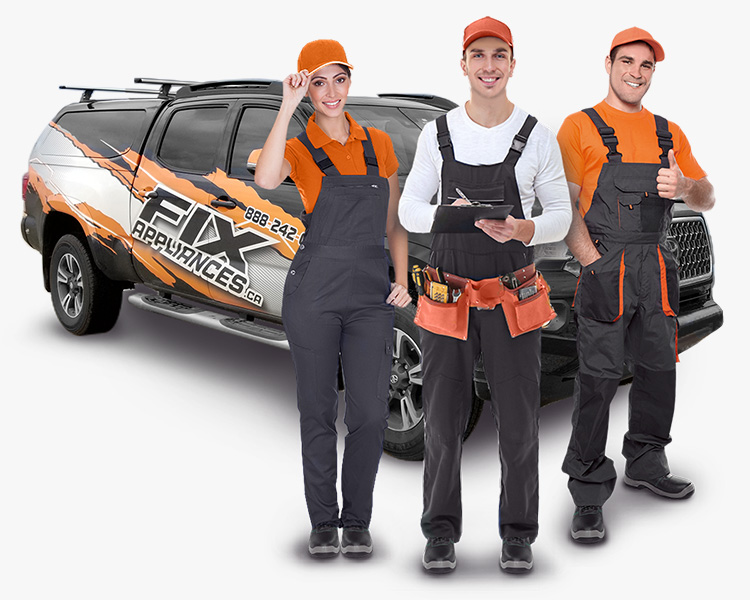 Homeowner Guide
for Appliances
Join over 1200 GTA homeowners who benefited from this useful guide to help keep appliances from breaking.