Factory Certified

Licensed technicians with over 15 years of experience

TSSA Gas Contractor

Fully certified in gas appliances service, repair & installation

Complete Warranty

Each repair is covered by service and parts warranty

Authorized Repair

Authorized service centre for most appliance manufacturers
The work with any type of gas appliance requires special knowledge and skills. When you are looking for gas professional technicians, the first thing to keep in mind is TSSA certificates. TSSA stands for Technical Standards and Safety Authority, and it is necessary for gas technicians that give the right to legally operate in the GTA area.
All gas technicians at Fix Appliances CA are licensed and certified with TSSA certificates. They have the necessary skills, comprehension and experience to install, repair and maintain any gas appliance, including gas stove, ranges and ovens. And the most important thing is the company that is near me, whether you are in  Ottawa, Toronto or any other area of the GTA region.
Gas Appliance Installation
Gas appliances are still very popular to use as they cook faster. It is the property owner's responsibility to maintain all piping and equipment inside the home. We are responsible for installing and maintaining the natural gas or propane service line leading up to and including the gas meter. A qualified professional should perform all work on installation, repair and maintenance of gas appliances for your safety.
Fix Appliances CA is a qualified and highly-trained team to provide gas appliance installation services. The updated TSSA certificates give them the right to gas appliance installation either appliances for natural gas use or propane use.
There are a few things you need to know before you can install new propane or natural gas appliances. Proper and safe installation is crucial:
Have qualified professionals install natural gas appliances to make sure they're properly connected. Never attempt this yourself!
Contact a qualified professional if you notice any change with your appliances, like no heat or overheating from your gas cooker after installation, a yellow flame or the presence of soot around a burner on your gas stove, etc.
Make sure a qualified professional determines that the equipment is properly vented and adjusted and that it has an adequate supply of fresh air for safe, efficient combustion
Follow the manufacturer's instructions for safe operation and care of your equipment
If you have flexible appliance connectors, do not reuse them. Connectors should be replaced along with your appliances
Some people use the terms range, stove and oven interchangeably, but there are some differences. When it comes to kitchen appliances, an oven is an enclosed cavity for baking, a stovetop or cooktop is an open, flat surface you cook on, and a range or stove is the standalone appliance with both.
Stoves, also called ranges, are composed of an oven and a cooktop or stovetop. Gas ranges have a gas cooktop and gas oven, while electric ranges have an electric cooktop and electric oven. Dual fuel ranges bring together a gas cooktop and an electric oven.
Gas Stove Installation
A gas stove is the common cooking appliance that combines an oven and a stovetop or a cooktop. The installation of a gas stove needs basic tools though but specific knowledge as well. Any gas appliance requires special care during the installation. The best way to avoid any gas leakage and keep your appliance with a manufacturer warranty is to hire a professional gas fitter.
Gas Range Installation
Range (the same thing as a stove) is the common cooking appliance that combines an oven and a stovetop/cooktop. A kitchen range also called a stove, is the classic cooking appliance that you'll find in many American kitchens. It combines an oven for baking and broiling with a stovetop/cooktop. Ranges or stoves use electric fuel, gas fuel or both to cook food and, of course, they are available in a few different sizes and styles.


Sometimes we can find the name range oven but appliance manufacturers do not use this term. Because it conflates two unique things: a range and an oven. A range combines an oven and a stovetop, while an oven is either a part of a range or a separate appliance completely.
Gas Oven Installation
An oven is an enclosed space where you cook food. There is a cavity inside a kitchen range (stove), and it is responsible for baking and broiling. Here, we talk about an oven when it is the following:
A wall-mounted appliance that features only an oven cavity with no stovetop (cooktop). Ovens can utilize gas or electric fuel, though most single and double-wall ovens.
Or any enclosed chamber designed to expose materials to heat, particularly food, like an earth or pit oven.
Technically speaking, you can install a gas stove, a range, or an oven by yourself. But you should always have it done by a professional. This job itself is not difficult, but this does not mean that you should install it yourself.
When it comes to working with gas there are many legal requirements and legislation that you must follow. Gas leaks can be incredibly dangerous which is why you should always have any gas-related jobs completed by a professional who knows what they are doing. The gas specialists must be licensed gas-safe engineers, and you must have them check the gas stove before you turn it on.
That is why it is often easier to get the stove, the range or an oven professionally fitted. Until the gas appliance is checked by a professional gas technician to avoid any issues including the gas stove orange flame, you will be unable to use it.
Gas Range Hookup
Are you afraid to hook up a gas range? You must be. A gas leak in the home can be fatal. Working with any gas appliance is dangerous enough and requires special knowledge and skills. Here you can find the preliminary steps to connect the range to a gas pipeline that you can do by yourself.
Get a gas stove that attaches to the gas source you have in your home. It is necessary to know what gas you use: either propane or natural gas. The appliance needs to match the fuel. There are several important things to be considered:
* If you have one type of fuel and want to switch, you need a professional to install the gas line.
* If the appliance does not suit your gas system, you may hire a gas technician to convert it to you.
* Propane burns more efficiently than natural gas, and, thus, the emissions do not harm the environment.
NB: Anyway, the installation of the range hood is of vital importance. It filters out and removes all hazardous air pollutants coming from cooking, including steam, grease and smoke, but vent out carbon monoxide. That's why this appliance should be working, if not, contact the appropriate company that provides a range hood repair services. Fix Appliances CA is at your service in both cases.
Check if there is a 120-volt grounded outlet and range-quality gas valve. First, check if your outlet is grounded, if not, you must hire an electrician to change it. And after that, you check if the gas line has a range-quality valve.
Clean the floor spot and check the place for your range. You must double-check the width and depth of place for your gas range.
Level the feet of your new range to be sure it sits on the ground flat. In this case, ask somebody to help you to level the appliance.
But, upon our experience, we do not strongly recommend doing this by yourself, especially to connect the range to a gas line. The best thing is to contact the professionals to check the type of gas you use and the gas line to be connected. Gas fitters from Fix Appliances CA are ready to help you the same day and provide high-quality installation services at affordable prices and with the prior estimation costs.
Why Choose Fix Appliances CA for Gas Stove Installation?
When it comes to your residential appliance needs, our dedicated service and installation technicians are here to serve you. Fix Appliances CA is ready to provide gas stove installation services, including any gas type: natural or propane.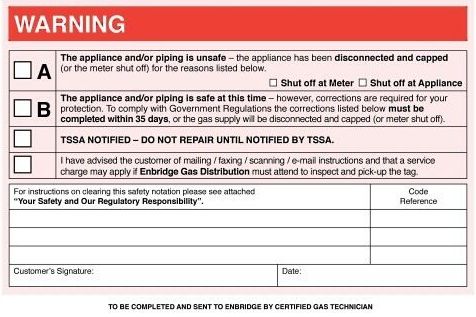 Our company has more than seventeen years of experience in this business. Special knowledge, skills, current license, and certificates are those things that will help you to choose the best gas repair and installation company. Our gas fitters are factory-trained and TSSA-certified. Besides, the certified experts at Fix Appliances CA are licensed to fix any gas appliance and remove RED TAG from it. And we are the qualified team you are looking for a gas stove installation "near me".
Moreover, we suggest same-day services for gas stove, range and oven installation of major brands. Trust this dangerous work from our licensed technicians, and you receive high quality and accurate work. We strictly follow the pricing policy and installation conditions of manufacturers.
When you are looking for the nearest company, we are always nearby. You can find your location in our list of service areas. Contact our representatives to schedule a convenient time for a visit.
What Our Customers Say About Us
Discover how Fix Appliances CA maintains a 5-star service record since day one.
Dima came to our house within 24 hours of our call to inspect our stove which was not working. He diagnosed the entire appliance, testing new parts and then advised the unit was not the issue, but likely power surges within our home. He spent two hours diligently working through the matter explaining things and trying to find the problem. Despite this, he only charged us for the service call. I would recommend Dima and use him again
Fix appliances were super easy to book online and answered all my questions. I was able to book everything online. The installer was punctual and the install went very smoothly.
Erika, Barrie
Gas Dryer Installation
Contact Us For Stove Installation Services
Same-day Stove Installation Service in Your Area
FIX Appliances CA's main branch is located in Aurora, Ontario, and our local stove installation technicians are serving the GTA, Ottawa and southern Ontario.  Check our service map to confirm the service area nearest to your city or town.
Gas Stove Brands We Service
Bosch, Blomberg, Bertazzoni, Fisher &Paykel DCS,  Fulgor Milano, Frigidaire, GE, Electrolux,  Kenmore, Kitchenaid, LG, Maytag,  Samsung, Thor, Whirlpool, Jenn-Air, Panasonic, Thermador, Viking, Wolf, Westinghouse and more brand names of ranges – cooktops – ovens.
More Problems & Solutions from Our Blog