Kenmore Dryer Makes Noise
Replacing idler pulley on Kenmore dryer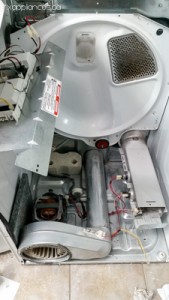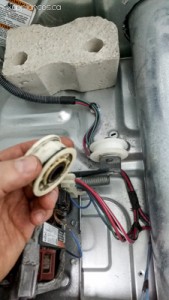 If your dryer is making noise the idler pulley that puts tension on the dryer drum drive belt could be worn out. If the pulley is bad we recommend also replacing the belt.
Reliable dryer repair in Barrie, Ottawa, Toronto and GTA is completed quickly by skilled technicians from FIX Appliances CA. Appointments made at your convenience 24 hours a day, 7 days a week, for no extra charge. Easy scheduling can be handled over the phone, text or online form.
Our Fix Appliances CA technicians have licensed gas fitters with current and updated Technical Standards and Safety Authority (TSSA) certificates.
Same-Day Dryer Repair
FIX Appliances CA takes pride in helping each customer manage a difficult situation. We understand the challenges of fitting a service call into your busy schedule, so we'll do our best to do the work at your convenience. Our certified technicians can accommodate same-day service appointments to get your dryer fixed quickly. No need to haul your wet clothes to the Laundromat, schedule appointments online, call or text FIX Appliances CA today.
FIX Appliances CA Orillia provides outstanding, quality dryer repair service to our customers. We have been providing the highest level of expertise, employing a senior staff with years of experience in this category of appliance repair. All of the training that our technicians undergo is ongoing, ensuring that they have the knowledge to work on the most advanced, latest models on the market. Through this commitment, we ensure that our services continue to be exemplary.
Call or text us for Kenmore dryer making noise repair at 647-503-6655 or Book an appointment online