LG Washing Machine Problems and Repair
In this article…
Are dirty clothes piling up? If your LG washer isn't working as it should, here are some troubleshooting suggestions to try. And if you are not mechanically inclined or don't have the time or tools, give the technicians at FIX Appliances CA a call for your authorized LG Appliance Repair Service.
We're locally owned and operated, have almost 20 years in the industry, and provide a warranty with all parts and labour!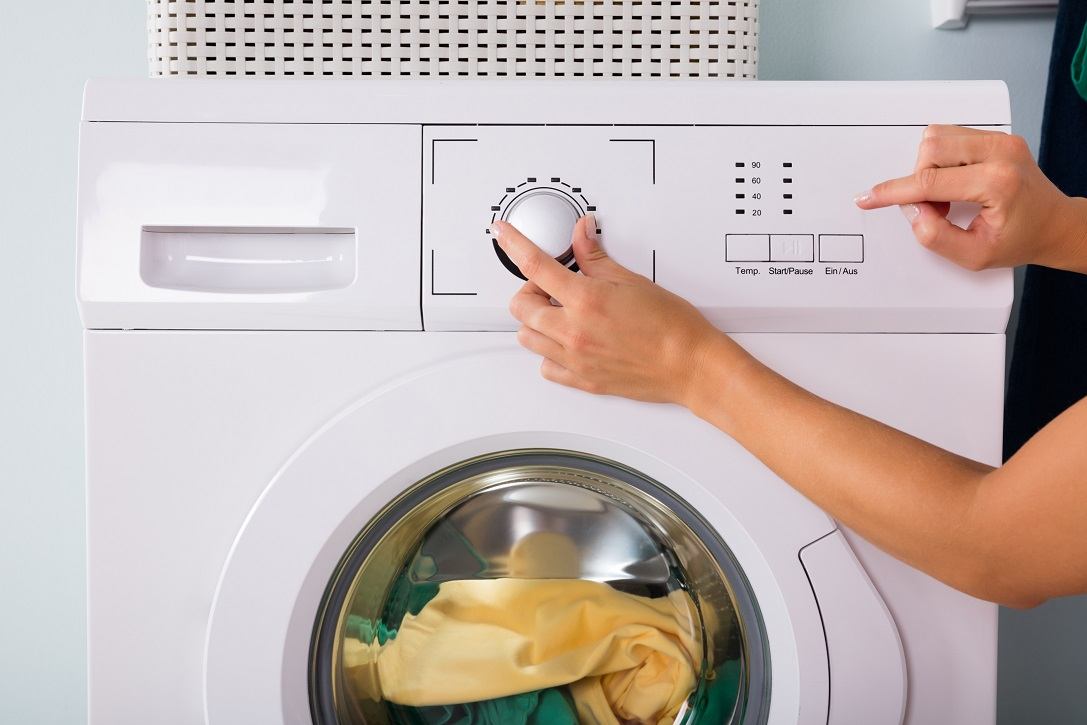 LG Front Load Washer Problems and Solutions
Are you having front load or top load washing machine problems? Depending on the issue, the repair may be simple or need some knowledge on how to fix washers. Here are some LG washer troubleshooting suggestions and fix-it solutions you can try.
Washer Won't Work
If the machine has no power or won't turn on, check that the cord is plugged in and undamaged. Damaged cords should be replaced. If it's not the cord or plug, check the fuse or breaker panel and replace/reset if necessary. Washers won't work if the lid isn't closed tight, so check that it 'clicks' closed. Push the 'power' button harder to ensure contact is made or turn the knob a bit more.
Ensure the water is on. Many washers won't turn on without water. Another possibility is the surge protector under the top panel. Unplug the machine, remove the back of the top panel, and check the surge protector and wiring for faults. Replace if necessary. If an error code is displayed, reference it with the manual and follow the directions for fixing or resetting the issue.
Filling Problems
If the washer fills but won't start, check the heater if it is a hot water cycle. Washers with a faulty heater won't cycle in this mode until the heater is replaced. If the heater is fine, test the thermistor and pressure switch with a multimeter. The main module and the drive motor are two other possible issues that can prevent the washer from working. If everything checks out, test both with a multimeter and replace if necessary.
Check the water feed valve is open fully and the hose has no kinks if the tub fills slowly or not. Check the hose and intake filter screens are clean. Test the intake valve with a multimeter and replace it if defective. Also, check that the membrane isn't worn out. Replace if needed. The water level switch is another part that may fail. Unplug the washer and remove the back of the top panel. Test continuity with a multimeter and replace it if faulty.
Leaks
A leaky washer could be due to a damaged drain pump or connection. Connections can be repaired, but a leaky pump should be replaced. A worn tub seal should be replaced, plus the tub bearings, as leaks often damage them.
A damaged or loose drain hose will leak, so inspect the hose and connections. Replace the damaged hose or secure the connection. The door boot is another part that becomes worn, torn, or otherwise damaged and should be replaced if it is.
Draining Problems
If the washer doesn't drain, check the cycle is correct and that the drain hose isn't clogged. Also, check that the drain pump isn't clogged and is working properly. You'll have to remove the front panel to access the pump and dismantle the pump to clear the impeller of obstructions. Test the continuity of the pump too.
Noisy
Washers that make unusual noises like thumps, bangs, grinding, jarring, or clattering could mean the 'true balance' function is not balancing the load. Check the load is balanced, levelling feet are working, and nothing in the drum could make the noise.
If it's not the load, it may be worn drum bearings and seals, which will require dismantling the washer completely. If motor problems are causing the noises, replacing the motor is easier than repairing it.
Door or Lid Problems
If the door doesn't open, check that the cycle has ended. If it has ended and there is still water in the drum, it won't open. Try to run a drain cycle. Otherwise, you'll need to remove it using the drain filter manually. Replacing a defective door locking assembly is an easy fix but if the issue is a malfunctioning control board, call repair services.
LG Top Load Washer Problems and Solutions
Top loading LG washing machine problems are like those front-loading washers experience with some differences due to component location and drum orientation. The main difference is that those with an agitator may get coins, toys, or other items stuck underneath, causing noise or preventing rotation. Remove and clean periodically.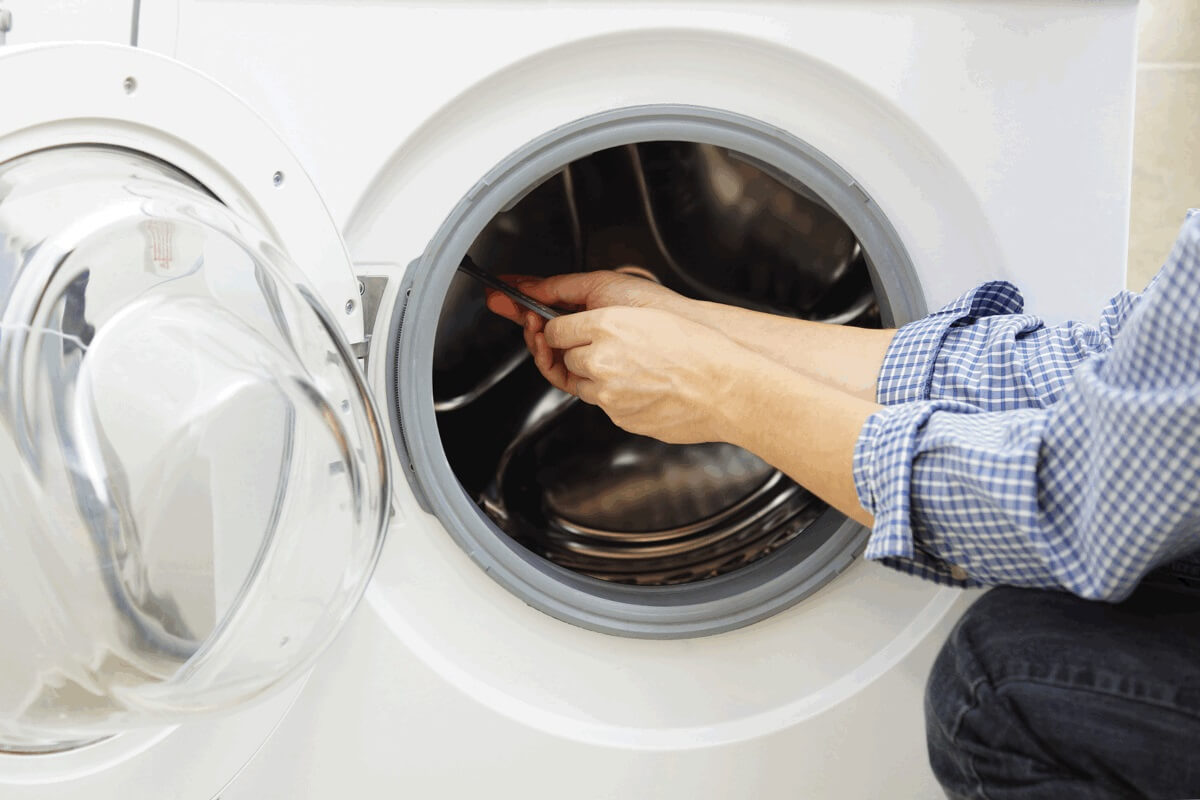 LG Washer Direct Drive Problems
LG direct drive washers have no belt to wear or fail. The motor is connected to the rear or bottom of the drum and uses full power when in operation. An inverter direct drive is similar, except it is mounted between incoming and outgoing power, allowing it to power up gradually instead of instantly. A drive problem can affect and damage other components and interfere with WaveForce cleaning.
Both direct drive and inverter direct drive washing machines have the same issues as belt-driven, just different parts. A jerky drum or one that won't spin could be due to a faulty lid switch, connection magnets, rotor assembly, stator assembly, sensors, bearing failure, basket drive, motor coupling, clutch, transmission, or drive motor problems. Most repairs to these components are better left to an authorized LG washer repair company.
LG Washer Spin Cycle Problems
A washer that fills but won't agitate or spin could be due to many reasons. Check that nothing is poking through the drum holes and interfering with rotation. Try adjusting or increasing the load, and small loads can unbalance the washer and cause sensors to prevent spinning from protecting the machine. A faulty door or lid latch or sensor is another possible cause.
If it's not a load or door issue, inspect the drive belt on belt-driven washers, it may be worn or broken and require replacement. Check the motor coupling for wear or damage and replace it if necessary.
Look for damage to the drive block or bell and washer transmission for damage and repair or replace. The motor control board controls the motor's power, checks for burnt-out components and continuity, and replaces if damaged.
LG Washing Machine Troubleshooting
LG washing machines are well built and should last for 20 years or more. However, general wear and tear do occur, and some parts fail more frequently than others. Digital displays present error codes that may assist when troubleshooting, so check the manual for the correlating code.
Identifying what is causing a problem to determine what to repair or replace can be difficult. For example, a machine that shakes or vibrates more than usual may indicate issues with the shock absorber, suspension rod, counterbalance spring, snubber ring and pad, drum bearing, motor, or levelling leg. If you're not ready to take the front or top loader washing machine apart, contact Fix Appliances CA.
Fix Appliances CA — Yours Trusted Authorized LG Appliance Repair Service
LG washing machines are mechanical appliances with electronic sensors and relays, as a rule, LG washing machine error codes help to speed up the process of problem defining. If you don't have the skills, tools, or time to troubleshoot, identify, and repair or replace damaged or worn components, call the experts at Fix Appliances CA.
Our troubleshooting specialists are the best in Canada and will handle all your LG washing machine repairs. For service in Toronto, GTA, Ottawa and southern Ontario, call, text, or email our customer representatives for same-day service or when it fits your busy schedule!
Talk to our experts in your area!
Fix Appliances CA™ is here for you, even during such times.
By Oleg Chudnovski