There's nothing worse than doing dishes by hand when you've been used to a machine to do the dirty work for you for years. Got a dishwasher on the fritz? Call in the pros at FIX Appliances CA repair and installation services all over Toronto and the GTA to get the job done quickly and efficiently.
Thanks to our knowledgeable technicians and our more than 15 years of experience servicing customers in the GTA and southern Ontario, we put our skills to the test each day to make sure you're 100 percent satisfied.
Here are the most common problems with Miele dishwashers: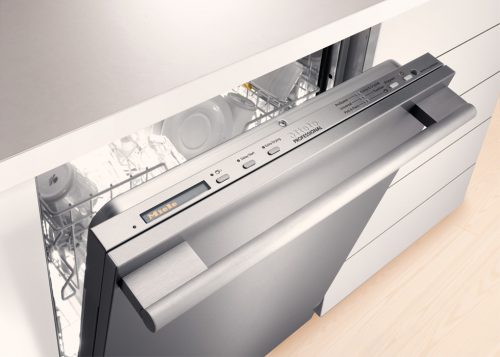 Dishwasher is flashing Intake/Drain or F-12 Error code on the control panel
Dishwasher won't drain
Dishwasher lights flashing or blinking
Dispenser doesn't work
Please take advantage of our same-day service so you can get on with your daily routine in no time. You don't have time to waste on dirty dishes piling up. This is why you need to call us right away to get your Miele dishwasher up and running again quickly. Happy to be the GTA's leading dishwasher repair company, affordable prices back us along with licensed and insured technicians. Our team can be at your home when you need us and address your problems fast. You can rest easy knowing you're getting access to prompt, respectful service with all the parts you'll need right in our truck. No waiting!
Our 15-year history of providing you with service for more than 80 brands of appliances is a testament to our commitment and dedication. Trust us as your one-stop shop provider for dishwasher repair. With the most competitive prices in Ottawa, Toronto, Barrie, Hamilton and other areas of the GTA, you'll get peace of mind knowing our competent and skilled technicians are on the job. Our technicians are certified and insured and are available whenever you need them. As such, we stand behind our services, so your satisfaction is guaranteed.
Fix Appliances CA is able to solve your Miele Dishwasher problem issue.
Is your Miele dishwasher not getting enough hot water, leaking from the bottom or is it failing to cycle correctly? Whatever the issue is, we have experience fixing it. Rely on us to get you up and running again with prompt, courteous service. Let us apply our 15-year expertise to giving you unparalleled dishwasher repair in your neighbourhood.
Our customer representative support team is at your service 7 days a week to answer your questions and make an appointment with Miele's appliances repairmen around your schedule. Don't hesitate to contact us by phone at 888-242-0777 or online now! You can find our services in Ottawa, Toronto and any other GTA areas