Range, Stove, and Oven Care & Maintenance Tips
In this article…
Range vs. Stove vs. Oven: Is There a Difference?
In most homes, ranges, stoves and ovens are used daily. Due to the nature of these appliances, maintenance and safety procedures are essential for proper and safe operation and to avoid costly repairs. There is a lot of confusion surrounding the above kitchen appliances, as many often refer to a stove as an oven. An oven is a chamber for cooking without external burners, a stove is a cooking appliance without an oven, and a range is typically a combination of both. The differences between a range, stove and oven all start with their purposes and how they can help you create your favourite recipe. A range provides the best of both worlds with an oven and a stove for flexibility when roasting and simmering simultaneously. A range can also be referred to as a stove, while an oven is designed solely for roasting, baking and broiling in the oven cavity.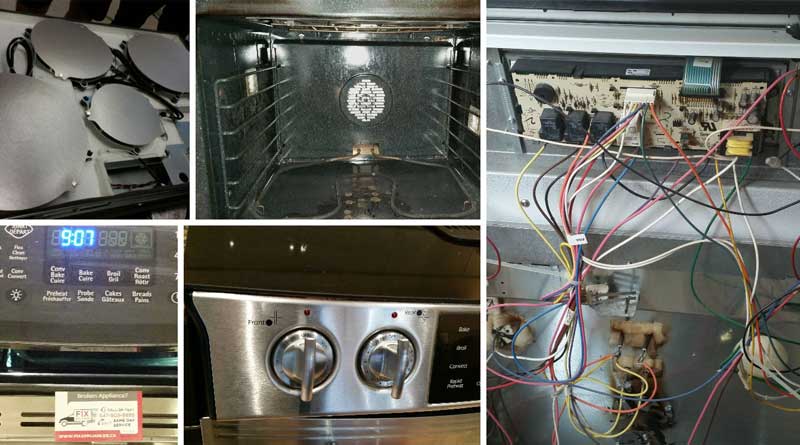 Here is a list of the most commonly replaced parts associated with each Range, Oven and Stove issue:
The oven is not heating: bake or broil element, control board
The oven doesn't bake evenly: bake element, control board, thermostat
Range surface element is not heating: surface element, element switch or receptacle wires
Range burner spark problem: spark module, spark ignition switch, spark electrode
Oven temperature problem: bake or broil element, control board, thermostat
Oven not turning on: bake or broil element, control board, relay board, thermostat
Range burners spark all the time: the spark ignition switch, spark module
The average cost to repair a stove, oven, microwave or gas range:
| | |
| --- | --- |
| TYPE OF APPLIANCE REPAIR | Average Cost* |
| Electrical Stove | $160 -$220 |
| Induction Stove | $190-$280 |
| Gas Range | $200-$290 |
| Electrical cooktop | $160-$220 |
| Gas Cooktop | $200-$290 |
| Wall Oven | $200-$300 |
| Microwave Oven | $90-$150 |
Notes:
*– All the above prices are approximate and may vary depending on the service complexity and the appliance's brand and model.
Electric Ranges, Cooktops, and Ovens
The right cooking appliance can be the focal point of your kitchen. It would be best to ask what fuel is the best for you and your needs. Let's look at each of them separately.
Electric Ranges use electric coils or a smooth glass-ceramic cooktop, offer more stable heat for pots and pans, and are easy to clean. However, electric ranges use a lot of electricity and are inoperable during a power outage.
Electric Cooktop provides heat through electricity, and you should choose between a coil element or a smooth surface. The first one is less expensive; smooth tops made of glass or ceramic are easier to clean and have a sleeker and more stylish look. Besides, pay attention to electric induction cooktops, which heat through electromagnetic energy. This new technology is responsive and heats quickly but only works with certain cookware, like stainless steel or cast iron. One of the biggest benefits of an induction cooktop is that the surface doesn't get hot, making it ideal for households with small children and easy cleanup.
Ovens are kitchen appliances used for cooking, heating, baking and grilling food, and there are many types of them—ovens based on configuration: range ovens or wall ovens. Ovens selected on fuel type: electric ovens or gas ovens. Ovens based on heating style: convection ovens or conventional ovens. Ovens with specialized features: Air fry capabilities, smart ovens, and self-cleaning ovens.
Gas Ranges and Ovens
Though there are a lot of electric kitchen appliances in the market, gas appliances are still very popular. Both of them have advantages and disadvantages. Professional chefs continue to sing the praises of cooking over an open flame. The most common reason is that foods cook quickly and evenly, which can be challenging with some electric models.
Gas stoves use an open flame for cooking food inside the oven cavity and on the stovetop. The flame within the oven cavity flickers on and off to maintain a set temperature. At the same time, those on the stovetop can be quickly adjusted to your desired flame size and corresponding heat level. If you like to make meals that require rapid temperature changes, gas ranges might be the way to go. Besides, gas ovens feature an open flame that can be cranked up to preheat quickly. The utility costs heavily influence the operating cost for your range in your area, but gas stoves are generally slightly cheaper to operate than their electric counterparts.
Thus, you can enjoy the following benefits of using gas ranges and ovens:
Quickly adjust stovetop heat levels
Char and grill directly on a burner's open flame
Burners cool down quickly
Heat the sides of a pan with flames
As with other appliances, appliances require timely maintenance and repair to avoid problems. Fix Appliances CA has prepared TSSA-certified gas fitters to offer any gas appliance repair on the same day, conveniently, and at affordable prices.
Self-Cleaning. Pros & Cons
Anything that cleans itself sounds like a blessing that shouldn't be questioned, but there is always a downside, even for an appliance that can get greasy and grimy, like an oven. Whether the disadvantages outweigh the advantages depends on personal preference and whether smoke and fumes produced by deteriorating food outweigh saving energy and time.
Convenience – You don't have to scrape and scrub to remove spilled food, and the oven can run through a cleaning cycle while you spend time on other chores or relax.
Energy – Extra-heavy insulation helps the oven reach high temperatures during a self-cleaning cycle. It also keeps heat during regular cooking, reducing the energy used. Over the oven's life, this can result in significant energy savings.
Cost – A self-cleaning unit has the same operating costs as an oven without the cleaning feature. Besides, no pricey chemical cleaners are needed, and the time spent cleaning the stove can be spent on more enjoyable activities.
Smoke and Odors – A self-cleaning oven uses high heat to break down and burn up food remnants and built-up grease. This can result in foul odours and smoke. This can be avoided by cleaning regularly and removing any visible pieces of food or liquids before turning on the heat.
How you care for your oven is a personal preference; however, remember that an extremely high percentage of service calls occur because of the self-cleaning function's failures.
Ovens Cleaning Tips
After you've cooked many meals in your oven, you might notice it getting dirtier and dirtier. An essential part of house cleaning is keeping the surfaces you cook and eat on safe and sanitary.
No one likes to spend hours hunched over scrubbing an oven, so here's how to get a clean oven without scrubbing.
Remove and clean the racks. Place the racks on a towel in your bathtub. Pour in a gallon of vinegar and add two cups of baking soda. Add water and soak the racks for an hour when the bubbling stops. When they've finished soaking, wipe them dry.
Clean the bottom of the oven next. Sprinkle baking soda on the bottom of the oven. Spray or sprinkle vinegar on top of the baking soda and let sit for 20 minutes. Wipe clean. If you see any baking soda residue left, wipe it with a damp cloth.
Make a baking soda and water paste by starting with a small bowl of baking soda and adding water until it's thick but spreadable. Rub the mixture on the inside walls of the oven, sit for 20 minutes, then wipe clean. Added note: this paste can also be used to clean the front of your oven and stovetop!
Try these three steps to get a clean oven with minimal effort. If you're crunched for time, you might want to check with local maid services to see if they have additional services – like thorough oven cleaning – available.
Brands We Service in Toronto and GTA
AEG, Amana, Bosch, Frigidaire, General Electric, Electrolux, Inglis, Kenmore, KitchenAid, LG, Maytag, Miele, Samsung, Whirlpool, Viking, Jenn Air, Thermador and many more. Our 18-year history of providing you with service for more than 30 brands of appliances is a testament to our commitment and dedication.
Trust us as your one-stop-shop provider for range – oven- stove repair. With the most competitive prices in the Toronto area, you'll get peace of mind knowing our competent and skilled technicians are on the job. Our technicians are certified and insured and are available whenever you need them. As such, we stand behind our services, so your satisfaction is guaranteed.
A non-functioning range or oven is a frustrating experience. Because of the gas or electrical elements involved, most repairs are not good do-it-yourself projects unless you have experience in the field. Let the experts at Fix Appliances CA diagnose and solve your stove/range or oven problems. Call or text us for Range Oven Stove Repair: 647-503-6655 or Book an appointment online.
Frequently Asked Questions
Do you offer an oven/range repair service in Toronto?
Yes, we do. Our qualified and insured gas and electric appliance technicians are ready to provide you with same-day gas appliance repair services in Toronto and other parts of the GTA areas and electric appliance repair. Contact us at 888-242-0777 or submit a request online.
How do you clean an oven without scrubbing it?
Make a baking soda and water paste by starting with a small bowl of baking soda and adding water until it's thick but spreadable. Rub the mixture on the inside walls of the oven, let sit for 20 minutes, then wipe clean. This paste can clean the front of your oven and stovetop.
Which is better self-clean or steam clean?
Steam cleaning is generally intended for routine maintenance, with the self-cleaning mode (pyrolytic cleaning, which uses very high heat to turn the residue into ash) for tougher stuff. Steam cleaning is a much quicker and safer alternative because it uses lower heat.