Factory Certified

Licensed technicians with over 15 years of experience

TSSA Gas Contractor

Fully certified in gas appliances service, repair & installation

Complete Warranty

Each repair is covered by service and parts warranty

Authorized Repair

Authorized service centre for most appliance manufacturers
Reasons Why Your Refrigerator Won't Stop Running
We've settled on three probable reasons that a refrigerator is always running. We'll walk through each one of these reasons in this section. Of course, there may be other potential reasons, but in our experience, these are the most common ones that people run into.
If your refrigerator runs all the time it could be dirty condenser coils
If you've had your refrigerator for a few years there's been some time for dust and dirt to build up. Most of us do a great job of keeping the face of our appliance looking shiny and new, but we often forget about the back of these machines — only cleaning them once in a while if at all.
Over time, what happens overtime at the back of our refrigerators is a steady build-up of dirt and grime from the grease in the kitchen. This often takes place around the condenser coils and that can stop them from doing their job properly leading to your refrigerator running longer than it should. You may notice this even more in warmer months if you have your refrigerator in an area that receives plenty of sunshine without an air conditioner to cool the area down.
When your refrigerator runs constantly you may have a faulty defrost heater
If you've pulled out your refrigerator to have a look at what's going on in the back and you don't see a lot of dirt around the condenser coils, it's time to consider other possibilities. Another possibility that may not seem as obvious is the defrost heater on your refrigerator.
When your refrigerator is always running the defrost heater on your appliance, it may have stopped doing its job of melting ice that can condense around the wrong areas of your fridge, such as the evaporator coils, which can cause it to run all of the time. It's an issue that can cause serious mechanical failure if not dealt with quickly and effectively.
If your refrigerator keeps running it might be your defrost thermostat
Many things are going on in the background that help your refrigerator run and keep your food cool and fresh. Most of the time we have no need and no desire to understand how it all works — we know that it does and we're happy with that. We're at the point though when things have gone wrong. Another one of these potential issues is a malfunctioning defrost thermostat.
The thermostat helps to measure the temperature of the coils. When it notices that the coils are too cold it sends a signal to the defrost heater to heat up and warm the coils. If the thermostat isn't doing its job, ice particles will build upon the coils and this will cause the fridge to run constantly as it doesn't get the signal that the fridge is at the right temperature.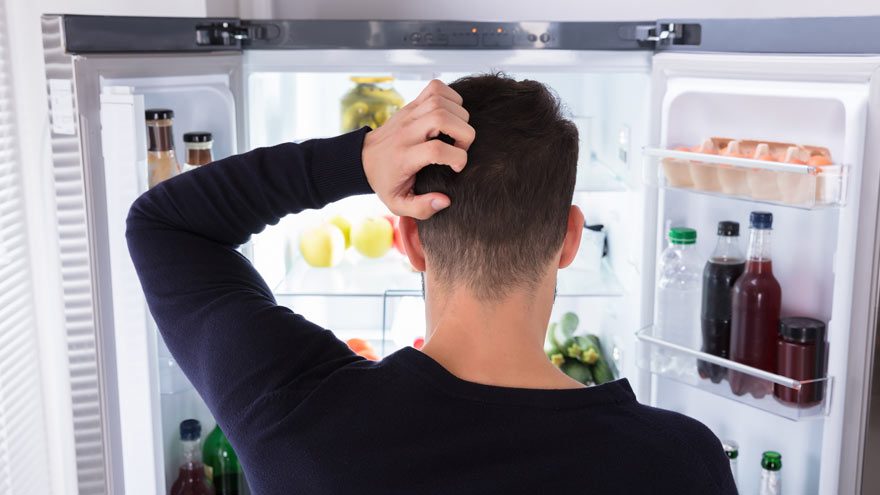 Common Fixes When Your Fridge is Constantly Running
Identifying the problems is only one step on the way to repairing a fridge that won't stop running. Below we look at each of the issues we identified earlier and how to go about fixing them. If none of the causes we've identified appear to be the problem you're dealing with you may need professional help.
Fix a dirty condenser coil so that your fridge doesn't run constantly
If dirty condenser coils are why your refrigerator is running all of the time it's actually easy to fix. First, you may want to unplug your refrigerator before beginning any work for safety reasons. Then you can take a vacuum and run it over the coils. Next, it might be necessary to use a light, damp cloth to clean any dirt that tends to cling. After that, you can plug the fridge back in and you should be as good as new.
Repair a faulty defrost heater to stop your refrigerator from running
When you notice bad defrost thermostat symptoms, or your defrost heater stops working, frost will build on your refrigerator coils quickly, leading to a refrigerator that runs all of the time. First, you have to locate the heater and its location may be a bit different depending on the brand of your refrigerator whether it's a Samsung, LG, Whirlpool, Kenmore, or some other popular brand. It's best to refer to the manufacturer's website for guidance.
Once you've located it and you can identify it as the problem you can replace it yourself. First, you'll need to remove the cover that protects the coils from damage, and then you'll need to unplug the wiring. At that point, you'll be able to see the coil — that will need to be removed as well before you can access the defrost heater. Next, you'll need to unplug the old defrost heater before you can install the new one. Then follow the steps in reverse and your refrigerator should be back to normal.
Replacing a defrost thermostat to prevent your fridge from running all of the time
The process of replacing your defrost thermostat will differ slightly depending on your appliance's brand name — a Frigidaire configuration will be different from a Whirlpool. Also, the defrost thermostat is located near the coils, so you'll have to remove the covering protecting the coils first.
You should then see the thermostat attached to a copper tube running off the coils into the fridge. First, you will need to snip the connecting wires and then unplug the old thermostat. Next, plug the new one in its place, reconnect the wires, replace the protective panelling and your fridge will be ready to use.
Call Fix Appliances to Repair a Fridge That Won't Stop Running
If your fridge runs constantly and won't stop running, and you can't seem to pinpoint the source, it's time to call for refrigerator repair services from the professionals at Fix Appliances. Our customer service staff is waiting for your call and ready to help arrange a visit by a technician, usually the same day if needed.
Our team will always try to repair your appliance if possible. If it's an older machine though, it might be best to consider a replacement. Sometimes appliances have just reached the end of their lifecycle. Our technician will always leave the final decision up to you. Whenever you're ready to get started you can fill up a form or call us for any reason at 1-888-242-0777. We look forward to talking with you!
What Our Customers Say About Us
Discover how Fix Appliances maintains a 5-star service record since day one.
Extremely quick service appt ( same day) from first call. Walked me through service fee and expectations prior to appt. booking Very courteous fast and knowledgeable . Showed me how things get stuck and made suggestions based on my model. Had a quick question after appt and they were very attentive and quick to respond Thank you
ashley,
Washing machine repair
March 29, 2019
They showed up promptly, diagnosed the problem accurately, fixed it on time (subject to parts availability) and on budget. No drama, just good service. Very pleased.
Andy, Wasaga Beach, ON
GE Dryer Repair
March 29, 2019
Our technician Oleg was great. He was on time and even called before his arrival. He was able to diagnosis the problem and make the repairs all in one visit which was very appreciated. He not only fixed the problems, but talked me through what was wrong and how it needed to be repaired. He also spent time to show me how to properly maintain the dryer myself. He was very tidy leaving no mess behind. I would highly recommend Fix Appliances to anyone.
Cynthia, New Tecumseth, ON
Electric Dryer, Maintenance due to previous fire
March 29, 2019
Same-day Refrigerator Repair Service in Your Area
FIX Appliances CA's main office is located in north Toronto, Ontario, and our local refrigerator repair technicians serving the GTA and southern Ontario. Check the map to confirm the service area nearest to your city or town.
Common Refrigerator Replacement Parts
We stock parts for all the top brands, including:
Air filter
Water filter
Run capacitor
Condenser
Start relay
Condenser fan
Defrost bi-metal thermostat
Defrost heater and thermistor
Defrost timer or board
Compressor motor
Crisper drawer
Door shelf bin
Evaporator coil
Icemaker
Inlet valve
Evaporator fan motor
Door switch
Each service truck carries a full inventory of common replacement parts so your refrigerator repair can be completed the same day.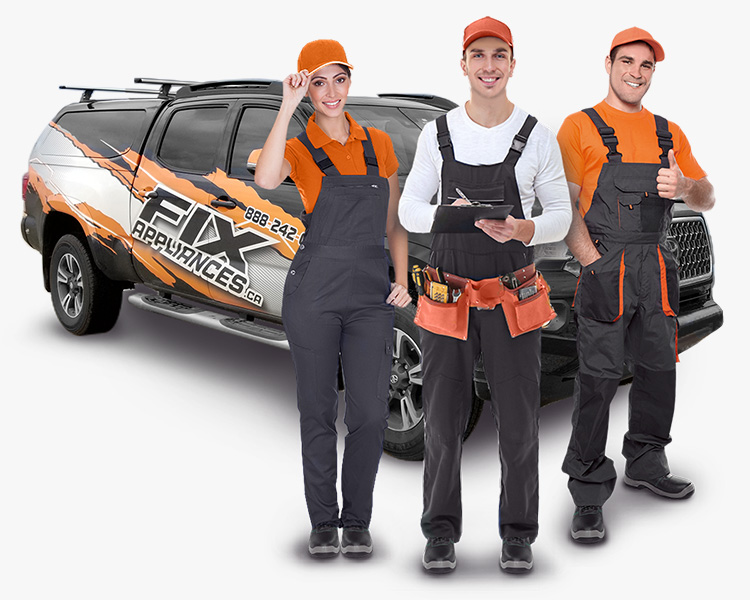 Refrigerator Brands We Service
Amana, Bertazzoni, Bosch, Bloomberg, Fisher & Paykel, Fulgor Milano, Frigidaire, GE, Electrolux, Jenn-Air,  KitchenAid, Kenmore, LG, Liebherr, Maytag, Panasonic, Thermador, Viking, Sub Zero,  Samsung and more brand name of refrigerators.
More Problems & Solutions from Our Blog