Factory Certified

Licensed technicians with over 15 years of experience

Gas Certified

Fully certified in gas appliances service, repair & installation

Complete Warranty

Each repair is covered by service and parts warranty
Fixing A Fridge That Is Too Warm
The fridge is arguably one of the most necessary appliances in homes. We can't live without it. However, just like any other machine, your fridge may start developing issues you don't like. For example, it may become too warm or have a door that is sweating. This article will focus on how to fix a fridge that is too warm.
Several parts cause fridges to become warm. Understanding the parts of a fridge can help you to identify the problem and look for the best parts from a dealer's shop or online. After all, no one wants a faulty home appliance as it tends to increase the power bills significantly.
The Baffle Or Air Inlet Damper
The baffle/diffuser or the air inlet damper is important when it comes to balancing air flow from the fan housing of the evaporator. It's mechanically controlled, and it controls the amount of cold air that enters the fresh food region. If the diffuser or the connector to the control knob is damaged, your fridge will be too warm.
In such a case, the fridge is too warm because there isn't enough cold air getting into the fresh food area. You definitely need fridge repairs to correct this issue. The diffuser or damper or baffle will be fixed at the point where fresh air gets into the fresh food area.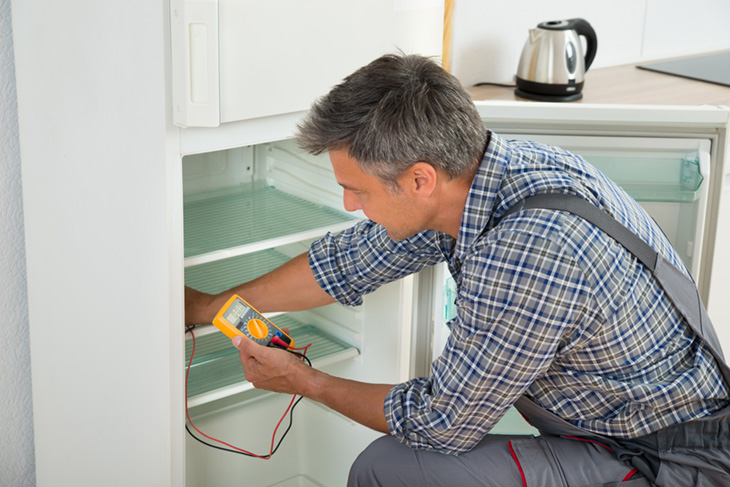 The damper/baffle housing is normally made of plastic with a lining that is made of Styrofoam and can have a foam seal to bar air leakage. When inspecting the housing, you should be very careful so that you don't damage the Styrofoam or the foam seal. Identify the damper and use the knob to see whether the linkage or connector is intact and it moves without any obstruction. If the damper doesn't move freely or is stuck in the nearly closed or closed position, then you need to contact a fridge repair technician to replace the linkage.
Various models of refrigerators have a bulb that senses temperature in order to control it. This bulb is normally attached to the control. If your fridge has it, inspect to verify that it's in the right position and is not damaged. If you're not sure of how you should inspect your fridge bulb, then it's highly recommended that you consult an expert for guidance.
Besides the damper or baffle, other parts can make your fridge too warm. Note that faulty fridge parts can make it warm and hinder optimum performance. It's good to make sure you inspect your fridge thoroughly to ensure you have repaired where necessary. Moreover, to be able to do a perfect fridge repair you need to search for information on how to repair it using your model number. This is because different models can have excess warmth out of different parts. When you search using your model number, you get information that best suits your need and which will help you repair your fridge with ease.
Bolton
Caledon
Cookstown
Georgetown
GTA
East York
Halton Hills
Maple
North York
Stayner
Sutton
Thornhill
Unionville
York
More Fridge Not Cold Enough Problems & Solutions from Our Blog
Homeowner Guide
for Appliances
Join over 1200 GTA homeowners who benefited from this useful guide to help keep appliances from breaking.