Factory Certified

Licensed technicians with over 15 years of experience

TSSA Gas Contractor

Fully certified in gas appliances service, repair & installation

Complete Warranty

Each repair is covered by service and parts warranty

Authorized Repair

Authorized service centre for most appliance manufacturers
Charging Refrigeration System
Charging a refrigeration system means adding or replacing refrigerant in a system. Refrigerants are never used up. It either leaks out or is contaminated by water, acid, or non-condensable. Need a price to recharge your refrigerator with a refrigerant freon R134a or R600a? Fix Appliances Ca provide multipoint sealed system diagnoses and fixes refrigerators that are not cooling enough by recharging the refrigerant.
Usually, this issue begins when your fresh food compartment or freezer section blows warm air or the compressor makes a humming noise. Slow leaks can cause refrigerant levels to drop over time, requiring a system recharge or replacing some refrigerator parts.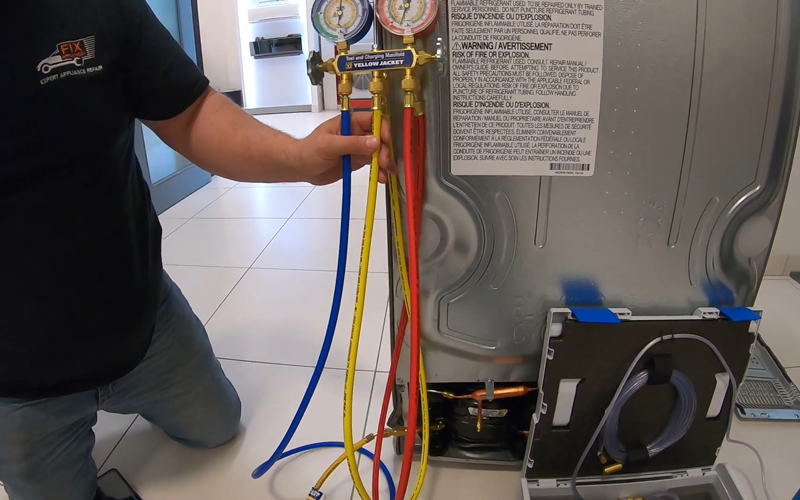 Let us quickly and easily give you a recharge quote for your specific fridge and type of compressor. Please fill up our contact form and provide us with your make and model number, a brief description of the problem and any other details available.
Our trained technicians are experts in all types of refrigerator servicing and have years of experience in repair, installation and maintenance. We'll serve you and your property with respect and attention for the safety and comfort you deserve.
Residential Refrigerant Comparison
| Refrigerant Type | Common Name | Characteristics | Refrigerator Type | Brands |
| --- | --- | --- | --- | --- |
| R134a | 1,1,1,2-Tetrafluoroethane | Non-toxic and non-flammable – Widely used in household refrigerators and automotive air conditioning systems. – Environmentally friendly compared to older refrigerants like R12. | Standard Refrigerators | Whirlpool, LG, Samsung, GE, etc. |
| R600a | Isobutane | Highly flammable – Used in small domestic refrigerators, freezers, and some commercial appliances. – Has a lower Global Warming Potential (GWP) than many other refrigerants. | Compact Refrigerators | Danby, Haier, Summit, etc. |
| R410A | None | Non-flammable and non-toxic – Used in many modern residential air conditioning systems due to its high efficiency and lower environmental impact. | Split Refrigeration Systems | Mitsubishi, Fujitsu, Daikin, etc. |
| R290 | Propane | Highly flammable – Used as a natural refrigerant in some household refrigerators, particularly in environmentally conscious designs. | Eco-Friendly Refrigerators | Hisense, Midea, Beko, etc. |
Please note that the availability of these refrigerants in specific refrigerator models may vary by region and over time, and new refrigerants and technologies are continually emerging in the residential refrigerator market.
What is the system charging methods?
Weighing: using scales to check the amount added
Measuring: using a dial-a-charge cylinder
Superheat and Subcooling: most accurate; combine with weighing in the charge; allow the system to run for 10 min before taking readings
Sight Glass: never used to check the charge, not accurate and varies based on the system conditions
Amperage or wattage: not accurate; do not use unless you have no other options
States of Refrigerant Charging
A refrigerant can be charged as a:
Vapour entails taking vapour refrigerant out of a refrigerant drum and putting it into the low side of the system. If the system is not operating, vapour can be added to both the low and high sides of the system until the pressures equalize. The main advantage is that it is the easiest way of adding refrigerant to top off a running system. However, some disadvantages exist: a slow process for adding large quantities, high drum pressures can force oil out of the compressor, and blended refrigerants may fractionate.
Liquid charging entails adding a refrigerant in the liquid state into a system. In a non-operating system, you can add liquid refrigerant through the king valve on the receiver; in an operating system, technicians can front-seat the king valve (charging through the low side). Liquid charging is the fastest and most convenient method. If we talk about disadvantages, you should remember that the system must be turned off, and the system can easily overcharge.
The Main Troubleshooting the Customer May Face
A low charge can lead to insufficient cooling (low capacity), long running time and high operating costs; as a result, evaporator icing up, superheating higher than usual, compressor temperature will be higher as well, and low wattage.
Overcharging will cause high suction pressure and high discharge pressure, compressor sweating all over, and as a result, flooding (liquid in a compressor) and high wattage.

Why Choose Experts at Fix Appliances CA

Adding Freon to a refrigerator is a challenging task. We have a one-off labour charge covering you for the entire repair (as long as it takes us). No matter what refrigerator service you need, we ensure you get fast and successful results at a reasonable cost. All you pay on top is for any parts you need. We are so confident in our repair service that we provide you with a guarantee at the end of it.

Call us now and get the job right! So, if you are ready to let our experts tackle your refrigerator problems, check our refrigerator repair and compressor replacement page to learn about our services or call us at 888-242-0777 to get started today.
What Our Customers Say About Us
Discover how Fix Appliances maintains a 5-star service record since day one.
Extremely quick service appt ( same day) from first call. Walked me through service fee and expectations prior to appt. booking Very courteous fast and knowledgeable . Showed me how things get stuck and made suggestions based on my model. Had a quick question after appt and they were very attentive and quick to respond Thank you
ashley,
Washing machine repair
March 29, 2019
They showed up promptly, diagnosed the problem accurately, fixed it on time (subject to parts availability) and on budget. No drama, just good service. Very pleased.
Andy, Wasaga Beach, ON
GE Dryer Repair
March 29, 2019
Our technician Oleg was great. He was on time and even called before his arrival. He was able to diagnosis the problem and make the repairs all in one visit which was very appreciated. He not only fixed the problems, but talked me through what was wrong and how it needed to be repaired. He also spent time to show me how to properly maintain the dryer myself. He was very tidy leaving no mess behind. I would highly recommend Fix Appliances to anyone.
Cynthia, New Tecumseth, ON
Electric Dryer, Maintenance due to previous fire
March 29, 2019
Same-day Refrigerator Repair Service in Your Area
FIX Appliances CA's main office is located in north Toronto, Ontario, and our local refrigerator repair technicians serve the GTA and southern Ontario. Check the map to confirm the service area nearest to your city or town.
Common Refrigerator Replacement Parts
We stock parts for all the top brands, including:
Air filter
Water filter
Run capacitor
Condenser
Start relay
Condenser fan
Defrost bi-metal thermostat
Defrost heater and thermistor
Defrost timer or board
Compressor motor
Crisper drawer
Door shelf bin
Evaporator coil
Icemaker
Inlet valve
Evaporator fan motor
Door switch
Each service truck carries a full inventory of common replacement parts so your refrigerator repair can be completed the same day.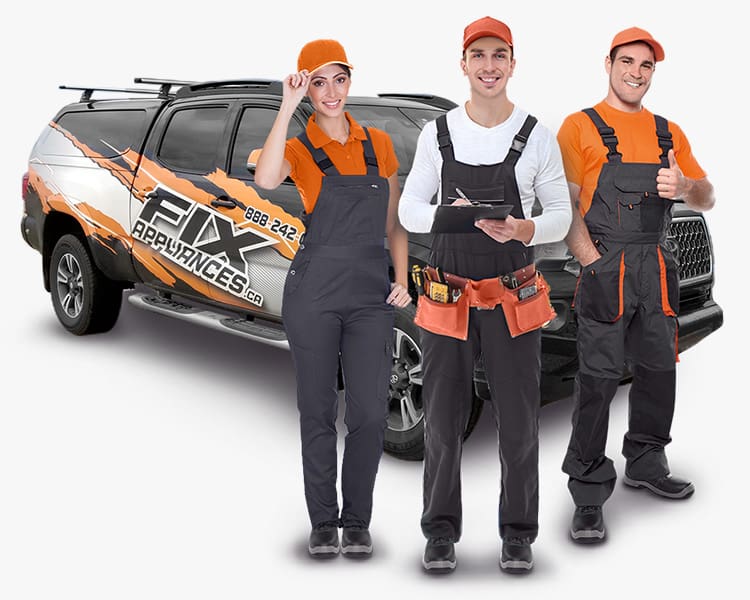 Refrigerator Brands We Service
Amana, Bertazzoni, Bosch, Bloomberg, Fisher & Paykel, Fulgor Milano, Frigidaire, GE, Electrolux, Jenn-Air,  KitchenAid, Kenmore, LG, Liebherr, Maytag, Panasonic, Thermador, Viking, Sub Zero,  Samsung and more brand name of refrigerators.
FAQ: Charging Refrigeration System
What is charging in refrigeration?
The refrigerant charging in the Refrigeration system or AC system is done because the refrigeration effect in it causes a decrease in refrigerant due to gas leakage. The leak must be detected and rectified in the refrigeration system before the refrigerant is charged
How much does it cost to recharge refrigerant?
Most homeowners will pay in the range of $200 to $400 for a refill, depending on the type and size of their refrigerator unit. If you own a larger Subzero fridge, you may have to spend $500 or more.
Which refrigerant is best for a refrigerator?
While R-12 was once the go-to choice for residential/domestic refrigeration systems, Freon™ R-134a refrigerant is now most commonly used. Its versatility allows it to work in home systems ranging from small under-the-counter refrigerators to family-sized refrigeration/freezer systems with multiple cooling compartments
More Problems & Solutions from Our Blog