Factory Certified

Licensed technicians with over 15 years of experience

TSSA Gas Contractor

Fully certified in gas appliances service, repair & installation

Complete Warranty

Each repair is covered by service and parts warranty

Authorized Repair

Authorized service centre for most appliance manufacturers
What to do if a fridge not defrosting?
With today's modern refrigerators, we often take for granted that they will defrost themselves. While that is how it works in theory, some users can open their refrigerator door and be shocked to find ice and frost indicative of a refrigerator not defrosting.
If you have found a winter wonderland in your refrigerator that results from an issue with your defroster, there are some simple causes of this problem and some equally simple solutions.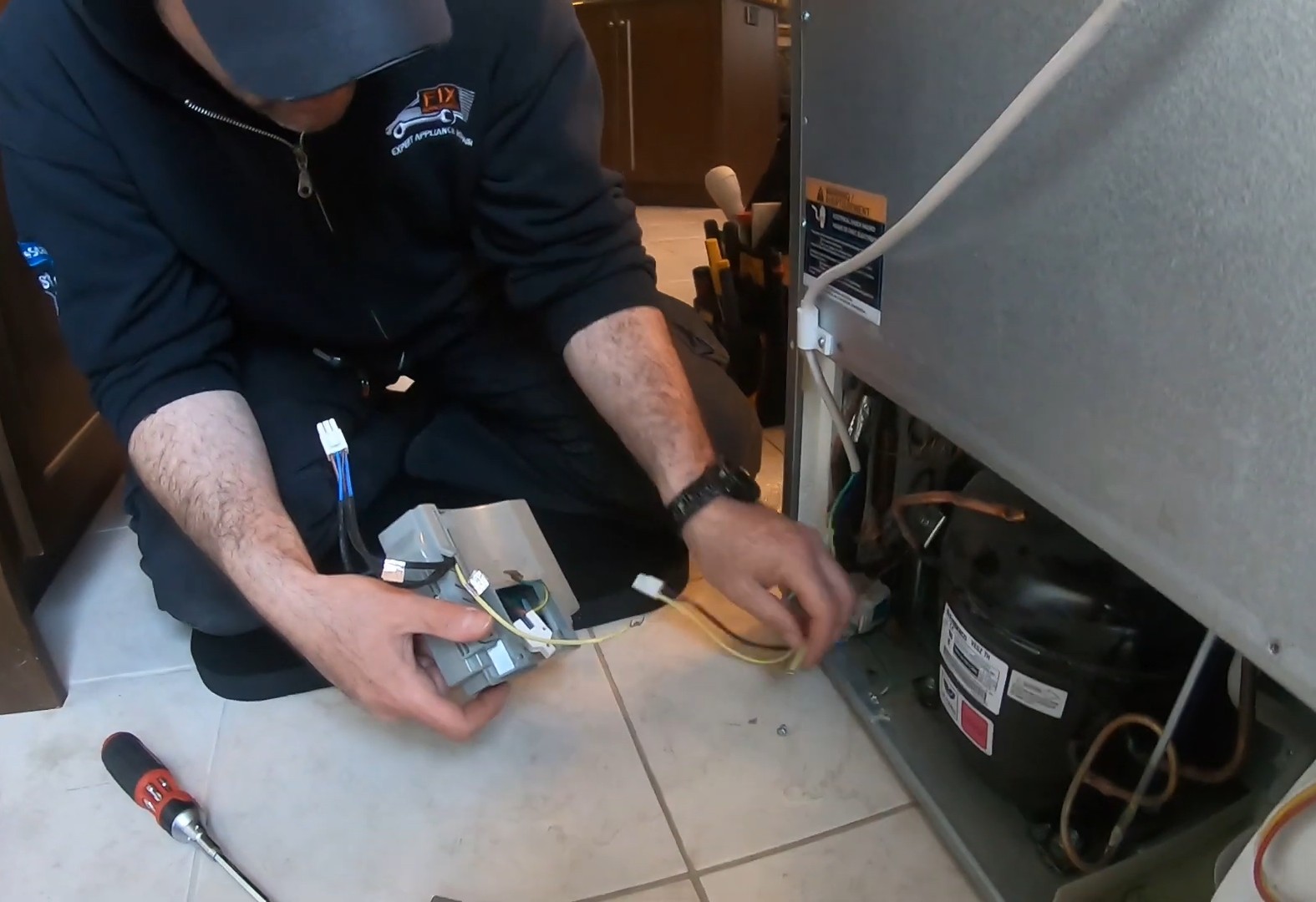 Like many problems with refrigerators, these issues are just the types of problems that FIX Appliances CA can easily solve. With our expertly trained staff and years of experience, no problem is too big or too small for us to diagnose and repair easily.
The refrigerator does not defrost
While the result of a properly defrosted fridge seems simple enough, the parts and processes of defrosting your fridge can be rather complex. Here are three reasons why your refrigerator won't defrost.
Defrost control board issue
This electronic board in your fridge directs the fridge how often to run the automatic defrost cycle. When this board has issues or fails altogether, the fridge will not go into a defrost cycle.
If your refrigerator and freezer never go through a defrost cycle, the result will be that you will find your refrigerator and freezer not defrosting.
Defrost sensor and fuse issues
Your defrost sensor system monitors the temperature of your evaporator. This part has a fuse that acts as a backup in case the sensor fails.
If the sensor fails to shut off the defrost heater, the fuse will blow, and the heater will be forced to shut off. In this case, your defrost heater will no longer be operational, and the result will be that your refrigerator doesn't defrost.
Defrost timer issue
The defrost timer turns on the defrost heater several times each day to remove any frost that may have accumulated on the evaporator. If the timer is defective, it may not move into the defrost cycle or send power to the defrost heater during the defrost cycle.
To check the operation of the timer, you can simply manually advance the timer into the defrost cycle. At that point, the compressor should turn off, and the heater should turn on.
If you find that the timer does not send power to the heater or move out of the defrost cycle within 30 minutes, this is an indication that there is an issue with the timer, which can be why your refrigerator defrost is not working.
Fridge not defrosting. What to do?
While it is not common for a refrigerator to stop defrosting when it happens, the causes are usually pretty straightforward. The troubleshooting solutions to these issues are just as straightforward.
Now that you know the causes of defrost system not working in your refrigerator let us show you the steps to solve the problems and get your refrigerator defrosting again in no time.
Defrost control board repair
When dealing with a possible issue with your defrost control board, it is best to eliminate the simple issues first before jumping to the control board. The first steps are to check the function of both the defrost heater and the defrost thermostat.
If both of these items are working properly, the most likely culprit is a faulty defrost control board. When this happens, the best bet is to replace the board.
Finding and installing a replacement for your unit is usually a fairly straightforward process. If you feel that this may go beyond your abilities, let the professionals at FIX Appliances CA take care of this delicate work for you.
Defrost sensor and fuse repair
The fuse of the defrost sensor cannot be reset. If the fuse blows, you must replace the defrost sensor. To determine which part is faulty, you must use a multimeter to test both parts. If either of the parts lacks continuity, it is time to replace the defrost sensor.
Defrost timer repair
One of the most common reasons your fridge may not be defrosting is a faulty timer. Issues with these parts are easy to diagnose, but the timer itself cannot easily be repaired. The best solution is to replace the timer. Timers for modern refrigerators are quite easy to find online, yet their replacement can be a bit tedious and time consuming for do-it-yourselfers.
FIX Appliances CA can get your fridge defrosted in no time
The solutions to issues with a refrigerator not defrosting are pretty easy to diagnose, but the solutions can be challenging, especially for those with no experience in these matters.
That is where the pros at FIX Appliances CA can come to your rescue. Our technicians are expertly trained. They carry the parts and have the know-how to diagnose and quickly fix any of the issues listed here.
So if you are ready to let our experts tackle your refrigerator problems, check our refrigerator repair page to learn about the services we offer or give us a call at 888-242-0777 to get started today.
What Our Customers Say About Us
Discover how Fix Appliances maintains a 5-star service record since day one.
Extremely quick service appt ( same day) from first call. Walked me through service fee and expectations prior to appt. booking Very courteous fast and knowledgeable . Showed me how things get stuck and made suggestions based on my model. Had a quick question after appt and they were very attentive and quick to respond Thank you
ashley,
Washing machine repair
They showed up promptly, diagnosed the problem accurately, fixed it on time (subject to parts availability) and on budget. No drama, just good service. Very pleased.
Andy, Wasaga Beach, ON
GE Dryer Repair
Our technician Oleg was great. He was on time and even called before his arrival. He was able to diagnosis the problem and make the repairs all in one visit which was very appreciated. He not only fixed the problems, but talked me through what was wrong and how it needed to be repaired. He also spent time to show me how to properly maintain the dryer myself. He was very tidy leaving no mess behind. I would highly recommend Fix Appliances to anyone.
Cynthia, New Tecumseth, ON
Electric Dryer, Maintenance due to previous fire
More Problems & Solutions from Our Blog