Refrigerator Too Cold
Authorized repair service for most home appliance manufacturers
We all expect our fridge to keep our food and drinks cold. What do you do when the fridge is cooling too much, and your fridge is freezing food? There are usually some simple reasons why your fridge is too cold. Let us walk you through some of them and show you some simple fixes.
If these or any other issues with your fridge have you stumped, let the experts at FIX Appliances CA help. We can tackle issues quickly with a too-cold fridge at a price you love.
The Fridge Is Too Cold
Your side-by-side or top and bottom freezer and fridge is supposed to keep items inside at an optimal temperature, but there are times when there are issues behind a refrigerator getting too cold. When this happens, you may find that items in your refrigerator are being frozen.
Here are three common issues that make your refrigerator too cold.
Problem With an Air Inlet Damper
This is the part of your refrigerator that balances the airflow from the housing of the evaporator fan. It is usually located where chilled air enters the food-holding portion of a fridge and can look like louvred blinds on a window. It is often found at the bottom of the interior of your fridge.
You can tell the difference between this part and the cold control of your fridge because the knob that controls this damper does not have an "off" setting. If this part does not open and close easily, it may let too much cold air into the fridge, creating a refrigerator running too cold.
Main Control Board Issues
Most newer models of refrigerators have all of their components controlled by a main electronic control board. Since this board controls so many parts of your refrigerator, it is always best to check all other parts of your fridge if it is getting too cold and leave this as the last option.
If you do suspect an issue with the board, unplug your fridge and inspect the board. Look for any sign of burnt connections, foil that may have deteriorated or any sign that electrical arcing has occurred. All of these items would indicate a faulty control board that causes your refrigerator to run continuously and get far too cold.
Temperature Controller
If your refrigerator is too cold on the lowest setting, the issue could be that there is a faulty temperature controller. This is a switch that sends electricity to the compressor and fans, and this is caused by a change in temperature in the fridge, as sensed by the thermostat, such as when it begins to get too warm inside the fridge.
If the fan and the compressor are working, but the fridge is too cold, this could be a sign that the temperature controller is faulty. In this case, it will not be sensing the actual temperature of the fridge and may cause your fan and compressor to run far too often, thus resulting in a fridge that is too cold.
The Refrigerator Is Too Cold: How To Fix the Problem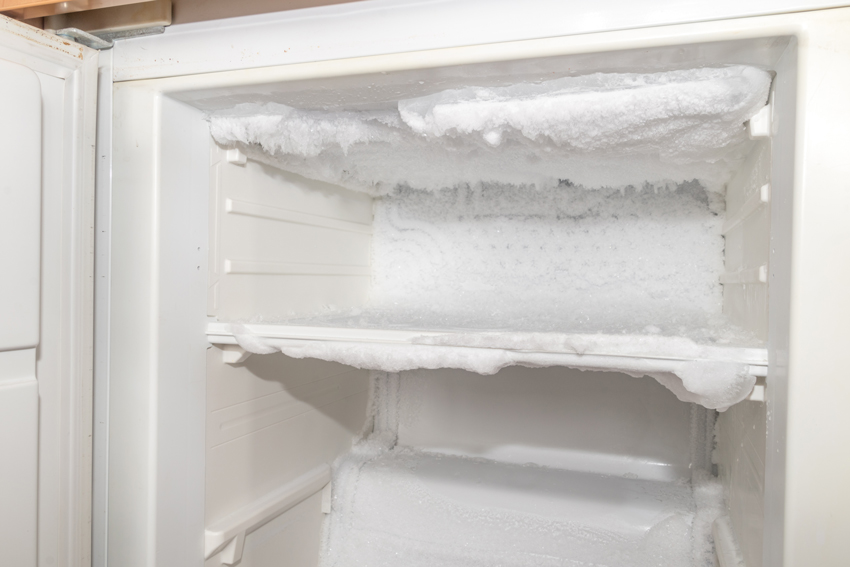 Your fridge is designed to do things like keep your drinks like water, soda, and beer ice-cold during hot weather outside. That does not mean it is supposed to freeze those drinks solid.
So now that you see some of the culprits for why a fridge gets too cold, let us show you some simple solutions to these problems.
Replace the Air Inlet
If the air inlet is not moving properly, replacing the part is the best course of action. On some models, air leakage is kept down by a foam seal that may be rather rigid, so don't damage this part when replacing the inlet.
If your refrigerator contains an automatic temperature-sensing bulb, ensure it is positioned properly after replacing the inlet. This bulb measures the temperature inside the fridge and then adjusts the inlet control accordingly.
Replace a Damaged or Faulty Control Board
If you do see signs of damage after inspection of your control board, there is no choice but to replace the entire board. Since this controls so many refrigerator components, it is vital to do this job correctly.
It is imperative to ensure the fridge is unplugged before working on an electrical component like the control board.
Reset, Repair or Replace a Temperature Control
Troubleshooting a temperature control issue is a fairly straightforward process. To start, unplug your fridge and then find your cold control knob.
Set the knob at its midpoint and then plug your fridge back in. At this setting, your fridge should maintain a temperature of about 38 degrees Fahrenheit.
When doing this, ensure the sensor bulb or wire is in place with no signs of damage. Also, check the wires to ensure they are not loose or corroded.
After doing all this, check on your fridge for a day or so to see if it maintains the correct temperature. If it is not, it may be time to replace the control.
Let FIX Appliances CA Help If the Fridge is Getting Too Cold
While many of the problems we have listed have pretty simple solutions, you may find that they are beyond what you can handle regarding ability, knowledge or time. So if you have a refrigerator temperature that is too cold, it might be easier to turn to the professionals.
That is why it is so easy to let the experts at FIX Appliances CA help. With our years of experience in this industry, we have a knowledgeable staff and a large inventory of parts to solve these problems quickly.
Check out our refrigerator repair page to see all the services and parts we provide. Please call us now at the toll-free number 888-242-0777 to get your fridge back to the perfect temperature today.
Date of page creation: September 30, 2019
Page update date: October 13, 2023
What Our Customers Say About Us
Discover how Fix Appliances maintains a 5-star service record since day one.
Extremely quick service appt ( same day) from first call. Walked me through service fee and expectations prior to appt. booking Very courteous fast and knowledgeable . Showed me how things get stuck and made suggestions based on my model. Had a quick question after appt and they were very attentive and quick to respond Thank you
ashley,
Washing machine repair
March 29, 2019
They showed up promptly, diagnosed the problem accurately, fixed it on time (subject to parts availability) and on budget. No drama, just good service. Very pleased.
Andy, Wasaga Beach, ON
GE Dryer Repair
March 29, 2019
Our technician Oleg was great. He was on time and even called before his arrival. He was able to diagnosis the problem and make the repairs all in one visit which was very appreciated. He not only fixed the problems, but talked me through what was wrong and how it needed to be repaired. He also spent time to show me how to properly maintain the dryer myself. He was very tidy leaving no mess behind. I would highly recommend Fix Appliances to anyone.
Cynthia, New Tecumseth, ON
Electric Dryer, Maintenance due to previous fire
March 29, 2019
Top Frequently Asked Questions
Why is my refrigerator getting too cold and freezing the items inside?
When a refrigerator gets excessively cold and freezes items, it could be due to several reasons, such as issues with the air inlet damper, the main control board, or the temperature controller. Understanding these common culprits can help diagnose the problem.
How can I troubleshoot and fix a refrigerator that is running too cold due to problems with the air inlet damper, control board, or temperature controller?
To address these issues, you can follow specific steps, including replacing the air inlet if it's not functioning correctly, identifying and replacing a damaged control board, or resetting and repairing the temperature control. These troubleshooting actions can help restore your fridge to the desired temperature.
Why should I consider professional help from FIX Appliances CA when dealing with a refrigerator that's too cold?
While some issues have simple solutions, you may encounter problems beyond your expertise. Professional technicians at FIX Appliances CA have the experience, knowledge, and resources to quickly diagnose and repair refrigerator temperature issues. They offer a wide range of services and can ensure your fridge operates at the perfect temperature. Contact FIX Appliances CA for expert assistance in resolving refrigerator problems.
More Problems & Solutions from Our Blog