Factory Certified

Licensed technicians with over 15 years of experience

TSSA Gas Contractor

Fully certified in gas appliances service, repair & installation

Complete Warranty

Each repair is covered by service and parts warranty

Authorized Repair

Authorized service centre for most appliance manufacturers
Thornbury is an old and small town in Grey county. But its inhabitants must be certain that any home appliance can be fixed at a high level. Problems with a fridge, a washing machine, a range hood, or others are to be resolved by professionals.
Fix Appliance CA in Thornbury provides appliance repair services near me for 20 years, and its experts can fix any appliance in no time. We are proud of offering same-day repairs for all types of kitchen and laundry appliances. No matter what happened, your fridge is leaking or you can see error codes on the washer display, your range hood stopped venting out, or your appliance needs replacement, you are welcome.
Our qualified professionals are prepared to help you once you contact the support team online or call at 705-300-2380. Factory-trained and licensed pros at Fix Appliances CA are at your service when you need local appliance repair near me in Thornbury and the surrounding service areas!
Professional Appliance Services We Provide
We service and repair a variety of appliances, including:
Refrigerator Repair in Thornbury
As a key component in any modern home, keeping your fridge and freezer in full working order is of great importance. Fix Appliances CA has over nineteen years' worth of experience as one of the domestic refrigerator and freezer repair companies that is near me in Thornbury, Grey county.
Our dedicated fridge repairs technicians are regularly trained to service all new and existing freestanding, integrated and built-in units from leading manufacturers, including LG, Fisher & Paykel and DCS, Bertazzoni and many more, and carry out safety checks as standard at every job.
Our fridge technicians are factory-trained to repair all types of refrigerators, including single doors, double doors, triple doors, side-by-side doors and French door refrigerators. You can be sure that Fix Appliances CA in Thornbury has the right part for your fridge repair, and we offer up to a one-year warranty on all parts and labour.
If you face the following issues with your refrigerator appliance, we can cope with any:
The evaporator fan motor is malfunctioning
The fridge is not cooling
The fridge is leaking water
The light is not working or constantly stays on
The fridge door does not seal
We understand there is nothing worse than a faulty appliance so we do everything we can to make the process as smooth and fuss-free as possible. Professional refrigerator experts of Fix Appliances CA in Thornbury are at your services, providing same-day refrigerator repair near me at reliable prices. You are welcome to leave a quote at our website or call at 705-300-2380.
Washing Machine Repair in Thornbury
Your washing machine breaking down can cause a huge disruption to the whole day. With dirty clothes building up and taking space in your home, things can easily get on top of you very quickly following the initial breakdown. Fix Appliances CA in Thornbury has many years of experience in washer repair near me of all makes and models.
Our washer technicians have the expert training and skills necessary to be able to provide you with a professional repair service you can be proud of. No matter, if you require some replacement parts, or are looking for a reliable fault-finding service to count on. We are proud of our customer-focused approach.
If you find the following issues with your laundry appliance and not only:
A washing machine does not run
The washer does not rinse correctly
The washer leaks
The washing machine has fill problems
The machine does not agitate or spin properly
We offer the repair and installation services on the same day when you call us and arrange the most convenient time for a visit to your place. Contact us at 705-300-2380 or leave a message on the website to receive professional help for washing repair near me as soon as possible!
Dryer Repair in Thornbury
When your dryer breaks down it can be very frustrating and inconvenient. Leaving your clothes out to dry around your house can be very time-consuming and disruptive to your day-to-day life, so do not put up with it! Fix Appliances CA in Thornbury has many years of experience in providing customers with the highest standards of dryer repair near me in a prompt and efficient manner.
Our dryer professionals can come to the property as quickly as it is convenient, and can assess the damage and repair any faults, usually from the large stock of parts that we keep in our truck so that they are ready for use. Moreover, we service all kinds of dryers from the leading manufacturers, including Speed Queen, LG, Huebsch and others.
Our experts are factory-trained and licensed for providing dryer repair and installation services. Our dryer experts can cope with any problems, including:
The dryer makes strange noises or vibrates
The dryer runs but never heats up
The appliance runs but does not get clothes dry
It runs but then shuts off quickly
The dryer has burning smell
The dryer is not heating to the right temperature
Providing you with the reliable services of an expert that you can feel confident will make your dryer as good as new. You are welcome to contact our friendly and professional support team at 705-300-2380 or submit a request online, you are sure to receive the high-quality washer and dryer repair near me at reasonable rates and with a complete warranty.
Range, Oven and Stove Repair in Thornbury
Not having a working oven, range or stove can cause you some serious headaches, and having to rely on microwave meals and takeaways is not only devastating to your diet plan, but it is also awful for your wallet. You need not worry whether you have an electric oven, range, or stove, as Fix Appliances CA in Thornbury has the experience necessary to be able to help. Our technicians have the appropriate knowledge and skills to repair your ovens and ranges quickly and efficiently to have everything running as usual once again.
Having approximately two decades of experience in the range, oven and cooktop repair, installation and maintenance, you are sure to get professional help and same-day repair at affordable prices and of high quality. Besides, having many years of experience and expertise, over this time our friendly team has worked with most brands of electric range, oven, and stove appliances.
Do you face any issues and looking for a stove and oven repair near me? Do not waste your time! No matter what the problem you encounter, our experts are ready to assess the damage and repair any faults in no time:
The electric element is not heating
The oven does not heat to the correct temperature
The oven door won't shut
The interior light is out
The oven does not self-clean
The cooktop creates sparks when turned on
We know about the necessity of having these appliances in proper order, we are available from Monday to Sunday, including holidays. Contact us at 705-300-2380 or online, if you have any problematic issues with the cooking appliance to get qualified help from our professionals the same day.
Dishwasher Repair in Thornbury
Has your dishwasher broken? Have to clean the dishes by hand again? Do not be in a hurry to purchase a new dishwasher. Fix Appliances CA in Thornbury will provide you with the best repair services. Having more than nineteen years of experience and being an authorized repair company, you are sure to get qualified aid from our dishwasher specialists.
The team of certified technicians at Fix Appliances CA is qualified to define and fix even the most challenging problems. We are prepared to repair it despite the makes, type or model.
Well, give us a call today and we will be more than happy to help! After arranging an appointment for a time that best suits you, our dishwasher pros arrive at your house and assess the problem with the dishwasher. You are certain to get your dishwasher running at its top performance.
The most common dishwasher issues:
The dishwasher is leaking
The appliance is not filling with water
The drain hose is damaged or clogged
The dishwasher is not taking a detergent
The water is not heated to the right temperature
Dodgy dishwasher? Faulty fuse box? Make your problem our problem by booking a dishwasher repair near me. It only takes a few minutes and you will have plenty of time to choose from. Even in this case, you are not left waiting around, our technicians will call ahead, and you will be aware when they are on their way. If you are in Thornbury, Grey county, you are welcome to submit a quote at our website or call at 705-300-2380.
Range Hood Repair in Thornbury
Range hoods are quite possibly one of the simplest domestic kitchen appliances. They are made up of only a handful of parts, however, it does not prevent them from breaking down, or from needing a cooker hood repair. Fix Appliances CA in Thornbury repairs all the kitchen and laundry domestic appliances, including range hood repairs.
We have almost twenty years of experience and work on behalf of many of the world's leading manufacturers. Our technicians are fully trained on range hoods and many of them are brand-specific trained. Thus, you can rest assured in the knowledge that your range hood will be repaired by experts with years of experience.
If you are experiencing any of the following issues with your range hood, our range hood specialists will solve it as soon as possible:
The lights don't work
The fan is not pulling much air
The fan turns on by itself
Neither lights nor fan is working
The function selector mechanism is faulty
The capacitor on the motor has failed
You are welcome to call at 705-300-2380 or submit a request online and our customer representatives will be glad to give all support and make an appointment with our range hood experts in Thornbury.
Microwave Repair in Thornbury
Microwaves are convenient and important kitchen appliances that help us to save time and spend it with our family, not with cooking. If the microwave breaks down, this throws you off. Don't be upset because the highly-trained microwave repairmen at Fix Appliances CA who will be able to provide the best microwave repair near me in Thornbury are closer than you can imagine. No matter the problem you face, we are prepared to solve it.
We offer all types of microwave repair service when you face the following problems with your kitchen appliance:
Stopped working suddenly
Makes unusual noises
The display is not working correctly
Receive error messages
Doesn't heat properly
The exhaust fan doesn't work
If you face a problem with your microwave and need prompt repair in Thornbury, call us at 705-300-2380 and arrange a visit of our qualified repairman. The team of Fix Appliances CA offers microwave oven repair services near me seven days a week. Your kitchen appliance is in good hands and we will help your appliance return to life.
Gas Appliance Repair in Thornbury
Gas appliances (either propane or natural gas) make everyday life a lot easier. And when they suddenly break down, you would like to get things fixed as soon as possible. If you are used to doing DIY around your home, you may be tempted to try and repair the gas appliance yourself. But working with gas poses several safety risks. Therefore, we insist on hiring a gas technician to repair it. These professionals are certified to safely work with gas and comply with the latest health and safety regulations.
NB: Red Tag issue: we are authorized and certified to fix any gas appliances and remove RED TAG.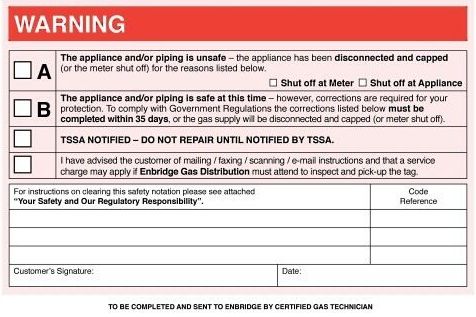 To your luck, all of our gas fitters at Fix Appliances CA who offer a gas dryer, gas oven and gas stove repair near me in Thornbury are factory-trained and certified TSSA gas appliance technicians. Having approximately two decades of experience in gas appliance repair, we provide qualified services at affordable prices and in the safest way.
We offer repair and installation services for all the laundry and kitchen appliances, such as gas dryers, gas ranges, gas ovens and gas cooktops. Keep in mind, if you encounter the next problem issues with any of your gas appliances; you can expect to receive a reliable and quality job:
Pilot light-weight goes out
The gas burner is heating slowly
The gas stovetop keeps clicking
The noisy surface burner flame
The oven burner does not light
There is nothing more important than the well-being of your family. When you have even a small concern regarding improper work of the gas appliance, call us immediately at 705-300-2380, or submit a request online. Fix Appliances CA in Thornbury will send you the best-qualified gas fitters to your place to solve the problem right away!
Licensed Repair of All Appliance Brands
We are proud to provide services for more than 80 makes, so you don't need to call two companies if you own different appliances, you will be pleased to find the necessary from the brands we service. These makes include Amana, Fisher & Paykel, Blomberg, Bosch, Bertazzoni, Cyclone, Frigidaire, Fulgor Milano, GE, Fhiaba, Falmec, Huebsch, Inglis, Jenn Air, Liebherr, Maytag, Miele, LG, Electrolux, KitchenAid, Panasonic, Sub-Zero, Samsung, Sears Appliances –Kenmore, Sirius, Speed Queen, Thermador, Viking, Whirlpool, Wolf, Zephyr and many more. Most of our repair bookings for appliance repairs are attended on the same day.
Discover how Fix Appliances maintains a 5-star service record since day one in Thornbury area.
My washing machine broke on the long weekend and someone came on the holiday Monday. There was no extra charge with it being a holiday. The part was ordered and fixed by Thursday of that week. The problem was explained throughly to me. This company is very helpful and customer service was exceptional. Highly recommend!
mandlack, New Tecumseth, ON
Washing machine repair
April 22, 2019
They showed up promptly, diagnosed the problem accurately, fixed it on time (subject to parts availability) and on budget. No drama, just good service. Very pleased.
Andy, Wasaga Beach, ON
GE Dryer Repair
March 29, 2019
Thornbury Appliance Repair
FIX Appliances CA is a leading provider of affordable appliance repairs in Thornbury, Clarksburg, and the surrounding areas. We have over a decade of industry experience. Using this experience we can offer reliable white goods repairs. No matter what the problem may be, our skilled technicians will be able to fix it.
Contact us for Thornbury appliance repair service FIX Appliances CA online or by calling 705-300-2380 and Toll-free number 1-888-242-0777 today.
The Blue Mountains is a town in Grey County, southwestern Ontario, Canada, located where the Beaver River flows into Nottawasaga Bay. It is named for the Blue Mountain, and hence the economy of the town is centred on tourism, particularly on the Blue Mountain ski resort and the private Craigleith and Alpine Ski Clubs.
The primary population centre is Thornbury. Additionally, the town's territory also includes the communities of Banks, Camperdown, Castle Glen Estates, Christie Beach, Clarksburg, Craigleith, Duncan, Gibraltar, Heathcote, Kolapore, Little Germany, Lora Bay, Loree, Ravenna, Red Wing, Slabtown, and Victoria Corners.
Office Location: 115 Hurontario St., Collingwood, ON, CA
Save
Save
Save
Save