Warranty Service

Authorized Warranty Claims Provider from True Refrigeration

TSSA Gas Contractor

Fully certified in gas appliances service, repair & installation

Best of the Best 2022

Homestars Best of 2017- 2022 Winner 7 Times.
Trusted True Service
We service and repair all True appliances, including:
Get Certified Repair Service for All Your True Appliances
Seventy-five years ago, in 1948, the Trulaske family launched a pioneering professional refrigeration business. True's story began in 1945 when Robert (Bob) J. Trulaske returned from WW II. One night at a bar, Bob had the idea of using electric-powered refrigeration for commercial use. With the help of some family members, the first-ever commercial refrigeration units were born.
In 1966 Coca-Cola® Company approved True equipment. True introduced Flat Top Bottle Coolers, which are still being manufactured today. Later, True began its food service industry sales at the 1972 National Restaurant Association. True now supplies refrigeration equipment to established and emerging chains across the globe. With offices and facilities in the USA, UK, Germany, Australia and South America, True products can be found worldwide in food service operations.
True Manufacturing is not famous only for commercial refrigeration equipment, but they produce refrigeration for residential use as well. Fix Appliances CA was approved to be an authorized True appliance repair company.
Flexible and Same-Day Repair Service
FIX Appliances CA is available seven days from 7:30 am to 9:00 pm, including weekends and holidays. Our skilled and qualified refrigerator technicians hold responsibility for a particular district in each area of the GTA area in Canada, wherever you need our repair services.
Our team is proud to provide same-day refrigerator repair services in most cases if you contact us by noon. You are welcome to call us at 888-242-0777 or submit the request online for any repair or installation services. You must be sure that our qualified representatives will schedule an appointment at the most convenient time.
Highly Skilled Technicians
We want to stress that Fix Appliance CA is a qualified and experienced True repairer. Failing to use the proper parts or protocols might damage your product, a voided warranty or both. This is the only way to ensure that your appliance will receive the standard of care and maintenance needed to run at full capacity.
Moreover, we must admit that True refrigeration products are widely-spread in Toronto, Mississauga and other GTA areas: True refrigerators (side-by-side) and True freezers (bottom freezers). Considering the product lines' quality, our company has certified technicians trained and ready to provide the repair, maintenance and installation services for these in-door and out-doors kitchen appliances.
All our True refrigerator repair professionals are required to attend and pass training permanently. During these pieces of training, our technicians not only master the repair procedures facing different problems and new techniques but are encouraged to offer suggestions for technological improvement for the manufacturers.
Refrigeration for Residential Use
True's products involve traditional reach-ins, specification series, food prep tables, under counters, worktops, milk coolers, air curtains, underbar refrigeration, chef bases, glass door merchandisers, and display cases. True offers a variety of refrigerators as well as freezers to fit all your retail and display needs. So, you can choose True products for high-quality standards and excellent performance.
Inspired by the variety of commercial refrigerators and based on the vision and commitment of the professionals, True created full-sized high-end refrigerators. All these gave the best kitchens a modern look, space, and performance. Among Canada's most widely spread residential refrigeration appliances, we would like to pay attention to side-by-side refrigerators and bottom freezers.
True Side-by-Side Refrigerator
The True 42 and the True 48 are industry-exclusive models that change our vision of luxury appliances with 300-series stainless steel interior and exterior, including crafted solid stainless steel doors with 120˚ stay-open feature and ergonomically designed. Having True Precision® Control and readout provides digital accuracy and easy operation. Besides, these refrigerators have a dual evaporator, and a dual compressor enables dedicated cooling systems for each zone. Another advantage is a balanced, forced-air refrigeration system that enables proper airflow and keeps food fresh.
You will enjoy the design and peculiarities of the True side-by-side refrigerators and their quality. But if something is going wrong, our certified team will handle any issues with them and provide the best refrigerator repair services:
The door won't shut
The True refrigerator is not cooling
Dirty condenser coil
Frozen evaporator coils
Error codes on the display
For help with your True refrigerator, contact the authorized team of Fix Appliances CA to resolve any problems and keep the warranty on your appliance.
True Bottom Freezer
True bottom freezers are exclusive, stainless steel, beautifully crafted, air-balanced, energy efficient, and built-in ice makers. The True freezer is the appliance that tends to go unappreciated until it's not freezing as it should. However, many things can go wrong with your True manufacturing freezer.
The freezer is running but not cold.
Expansion valve passing excess refrigerant or is oversized.
Faulty thermostat.
Condenser coils.
The compressor is noisy or humming.
The freezer runs continuously or long.
True freezer is stuck in defrost mode.
If you mentioned at least one of the above issues or any other that is not listed, contact a local authorized service technician at Fix Appliances CA who can help with these specific units and all your freezer needs.
Refrigeration for Commercial Use
Since the company was established, True has been a commercial refrigeration leader and has exceeded your expectations. The company continues its innovation keeping its high standards in quality materials, design, excellent performance, and availability.
True built the products with the highest quality materials to give the customer colder product temperatures, lower energy bills, and the best value in today's industry. The company always works hard to provide a wide selection of American-made commercial refrigeration equipment that exceeds the market quality standards at competitive and fair prices.
Refrigeration for Outdoor Use
An extensive range of best-in-class products, with solutions for every application. True products are aimed at energy and environment-conscious operators who are serious about food safety and quality and understand that refrigeration equipment is a core investment of their business.
True residential fridges bring the quality and performance of commercial lines to the home and outdoor spaces. They design every refrigerator with a "point of use" philosophy, which means that where food and drink are enjoyed is where food and drink should be stored, and for many of us, that is outdoors.
Thus, every True under-counter refrigerator is UL-rated for outdoor use, so True is the preferred brand of outdoors-loving homeowners worldwide. With the industry's best warranty and custom finishes, True outdoor refrigeration gives you the freedom to enjoy all of life.
FIX Appliances CA – Authorized True Repair Service Near Me
If you need help fixing your True refrigerator or freezer, stop doing this! Our knowledgeable refrigerator technicians will help to find the problem and fix it. If the repair price exceeds 50 percent of the price for a new one, keeping the 50 percent rule, we will advise you to replace it. Anyway, help from a professional is the best way out and the opinion you can trust.
When the True kitchen appliance is out of order, or you notice an unusual operation, do not look for an expert in the country. Fix Appliances CA is an authorized True refrigerator repair company near me, and you can find the nearest specialists by contacting us at 888-242-0777.
We offer True repair, maintenance and installation services seven days a week, including holidays. Remember that by receiving repair services from us, you receive a complete warranty on parts replacement and services rendered; more importantly, if your appliance is under the manufacturer's warranty, we will help you repair the fridge and keep the warranty valid.
Reliable Service & Repair
FIX Appliances CA is a leading provider of affordable appliance repairs. We have over seventeen years of industry experience. Using this experience, we can offer reliable white goods repairs to provide the best True repair service. No matter what the problem may be, our skilled and highly-trained technicians will be able to fix it.
Call or Text us for True appliance repair service FIX Appliances CA online or by calling Toll-free number 1-888-242-0777 today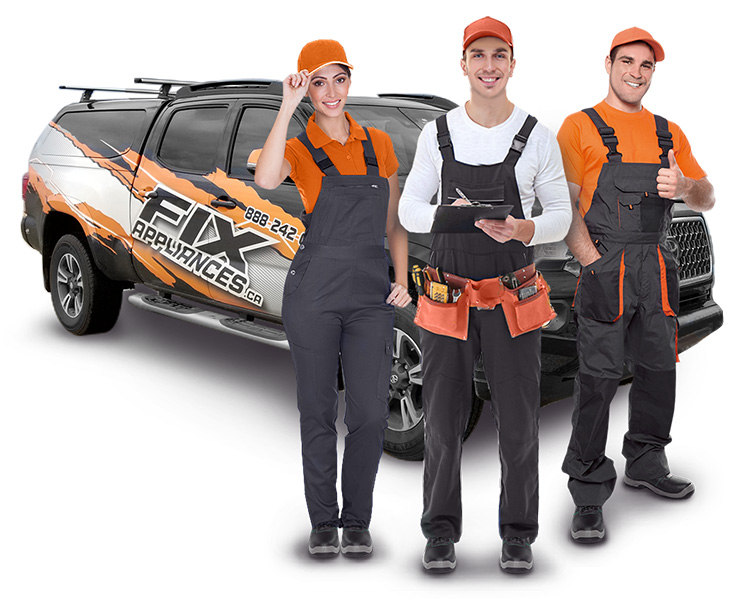 Same-day True Appliance Repair Services in Your Area
FIX Appliances CA has qualified and factory-trained True appliance technicians over Toronto, Ontario, and the GTA area. Our experts are ready to provide repair services in your local area.