Washer Drive Motor Coupler
Top Load Washing Machine Repair
285753A Washer Motor Coupler Coupling Kit Replacement for Whirlpool Kenmore – PS1485646, 1195967, 285753AVP, 21003, 280152, 285140, 285743 and more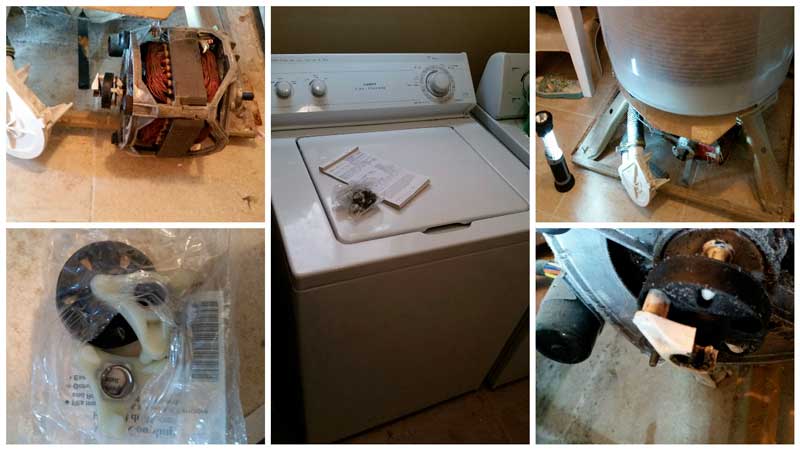 MOTOR COUPLER  with metal insert 285753A: It replaces part numbers 285753A, 3352470, 3363664, 3364002, 3364003, AP3963893, ER285753, SB285753A, 62672, 62693, 661560, 80008, 8559748, AH1485646, EA1485646, PS1485646, AP3963893, PS1485646, 285753, 1195967, 285753AVP, 21003, 280152, 285140, and 285743.
WORKS WITH TOP NAME BRANDS: It's directly compatible with Whirlpool, Roper, Estate, Inglis, Crosley, Amana, Admiral, KitchenAid and some other washers produced after 1982 with a direct drive system (no belt). Contact us with any questions about compatibility.
FIXES COMMON WASHER SYMPTOMS: Installing a new motor coupler can fix washing machines that fail to spin, agitate, drain, or leak. It fixes shaky and noisy machines too.
INEXPENSIVE DIY FIX: Have your washer running in under 30 minutes without breaking the bank. For the repair, you'll need a flat blade screwdriver, a quarter-inch nut driver, and a Phillips screwdriver. Before making this repair remember to disconnect the power supply, and both fill hoses.
HIGH QUALITY PART: This machine component has a metal reinforced core for durability you can count on. It has also gone through thorough testing to ensure compatibility and long-lasting performance.
Washer Motor Coupler Coupling Kit Replacement. New style with metal sleeves for added strength. This version replaces all previous motor coupler styles and versions. For direct drive washing machines. A common symptom of a failed coupler is washer will fill, not agitate or spin but will drain the water from the tub.
Fixes problem with:
Pumps but will not spin.
Spins slowly.
Will not drain.
Shakes and moves.
Leaking.
Touchpad does not respond.
Thanks to our  7 days availability, we can help with your washing machine problem whenever you need us. Our Ontario licensed and insured technicians ensure your complete satisfaction each and every time. Our vans are always stocked with the most popular and highest quality parts and materials so there's no wait time involved. We know how to fix all makes and models of washers so you can rest assured knowing you're in good hands
Call or text us for Washer Drive Motor Coupler Replacement: 647-503-6655 or Book an appointment online