Washer NF Error Code
Washer Does Not Fill With Water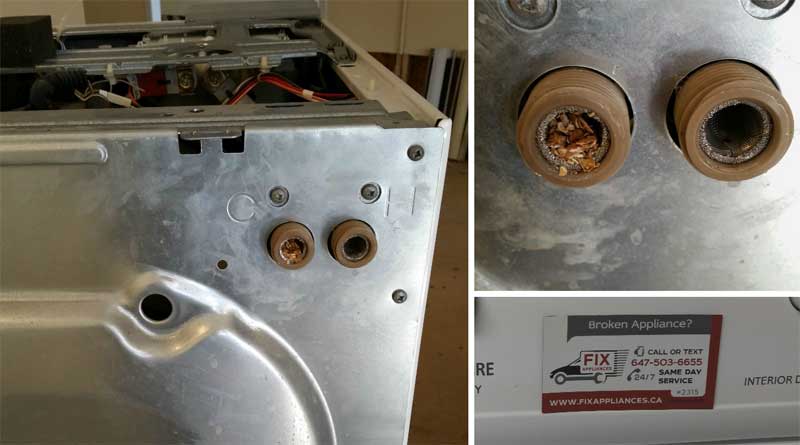 If there is no water or not enough water in the washing machine, check the following:
Important: If the machine is not getting enough water, and NF error code (NO FILL) will be displayed after 15 minutes of trying to fill. This does not mean there is a defect in the unit. In most cases the issue is related to one of the items listed below.
Water is shut off at the rear of the washing machine. Check and make sure water is turned on.
Check the door is closed all the way.
Check the hot and cold water supply hoses are not kinked, and both water supply valves are completely open.
Water fill valve screens are clogged with mineral or calcium deposits. Turn the water off and remove the hoses from the H (HOT) and C (Cold) side. Once the hoses are removed you will see a small screen tucked inside both fill valves. The screens simply pull out so they can be cleaned. If you are on a well, the screens are likely clogged causing this washer NF error code (NO FILL). Usually, it is on the  C (cold)  side where you will find the clogged screen.
If all the above tests are OK, then you most likely have a faulty water valve in your washing machine.
Fix Appliance Ca technicians are familiar with a washer  NF error code and are available to perform your repairs at your convenience!
We Offer Reliable, Same Day Washer Machine Repair Services in Southern Ontario
We are available seven days a week from 7:30 a.m. to 9:00 p.m., including weekends and holidays. Call us for  NF Error code appliance repair service FIX Appliances CA online or by calling toll-free number 1-888-242-0777 today
Talk to our experts in your area!