Washing Machine Does Not Fill With Water – NF Error
In this article…
The washing machine is one of the most necessary laundry appliances nowadays. None of the housewives can imagine a daily routine without it as it helps save time, energy, and health. It goes without saying that when your washer is malfunctioning this makes you irritated and frustrated.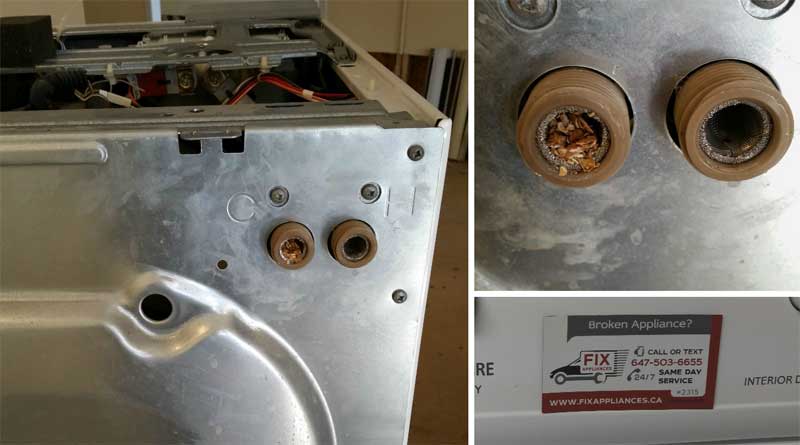 Here, our skilled washing machine technicians at FIX Appliances CA prepared the troubleshooting tips when you face one of the most common problems – "nF" error displayed on your washer. This error is the most common if you have Samsung, Speed Queen, Kenmore, Maytag or LG washing machines.
A Very Common Error for Brands like Samsung, Speed Queen, Kenmore, Maytag and LG
NF error means "No fill" indicating the washing machine cannot be safely filled with water. An nF code appears on the display when your washer has spent more than 15 minutes trying to fill itself up without success.
Upon the experience of our experts, this nF code does not mean severe damage to your appliances and can be fixed within several minutes. In this case, the main task is to identify why it happened. Let's look at some of them:
Water is turned on. Verify whether the water supply to the washer is turned on. As a rule, the washer requires the water supply valves (both for Hot and Cold water) to be turned on. Make sure the valves are fully open.
The filter is clogged with debris. If your Samsung or Speed Queen washing machine has a debris filter, clean out the filter with soap and water and return it to the washer. This may resolve the nF error code.
Door or lid switch problems. Sometimes it will not fill with water if the door is not properly closed. The door switch (front-loaders) or lid switch (top-loaders) tells the control panel or timer to fill the washer once the door is closed correctly. If the door closes properly, there may still be a fault with the door or lid switch.
Water inlet hoses. Occasionally, water supply hoses become kinked or crimped and cause the nF error code. Straighten the hose if it restricts the water supply to the washer.
Water inlet filters are clogged. Most washers have filters where the water inlet hoses connect to the washer. If the filters are clogged, it could cause an "nF" error. To check the water inlet filters, turn off the water and disconnect the inlet hoses from the washer. Locate the filters and check if they are clogged. Depending on the model, you may be able to use needle-nose pliers to remove the filter. Wash the filters with water, using a brush to clean them.
Water pressure issues. As a rule, most washer models require water pressure between 30 and 120 psi. If the water pressure is below 30 psi, the washer will not receive enough water, and this will cause the nF error code.
Water inlet valve issues. If you check off the above causes of the nF error code, the water inlet valve may have a defective solenoid. Over time, the solenoid coils inside the inlet valve may fail. You can check the solenoids for continuity with the help of a multimeter. If a coil test for continuity is negative, the water inlet valve should be replaced.
NB: Please, make sure to disconnect the power and turn off the water before accessing the washing machine.
The worst-case scenario may be a total blockage in your valves, simply a faulty valve, or the wire between the electronic control board and the water valves could be broken, or the electronic control board could be defective.
If troubleshooting does not clear this error code on your washer, you should contact an appliance repair professional specializing in fixing appliances that display an NF error code. Fix Appliance Ca is an authorized appliance repair company for brands like Panasonic, Blomberg, Fulgor Milano and LG. And our technicians are familiar with a washer NF error code and are available to perform your repairs at your convenience!
We Offer Reliable, Same Day Washer Machine Repair Services in Toronto and Southern Ontario
FIX Appliances CA has approximately twenty years of experience providing washing machine repair services all over Toronto, Ottawa and other GTA areas. Our experts are factory-trained, certified, skilled, and trustworthy technicians whose excellent work has been admitted by thousands of positive reviews from customers, including Google and many social media platforms such as Yelp, Reddit, Facebook, and others. We are proud of being a 7-times-winner of Homestars Best. Moreover, FIX Appliances CA has been a HomeStars Best of the Best winner seven times in a row.
We are available seven days a week from 7:30 a.m. to 9:00 p.m., including weekends and holidays. Call us for NF Error code appliance repair service toll-free number 888-242-0777  or request quote today.
FAQ: Common Questions Asked About NF Error
The main causes of the nF error code in Samsung, Speed Queen and Kenmore washers. If your washing machine issues the nF error code, don't panic. This code means that the unit doesn't fixate water flow. The most common reason for its appearance is that the water tap is closed.
How do I fix the nF on my washing machine?
The nF error code on a Samsung front-load washer or a Speed Queen washing machine means that the washer isn't filling with water. The solution is sometimes as simple as opening the water supply faucets behind the washer. Frozen water supply lines and hoses in winter also prevent the washer from filling.
Is it cheaper to repair or replace a washing machine?
A relatively new washer may not break down on a regular basis, hence it may be more affordable to repair it. Getting replacement parts for modern machines can be easier than finding components for older models. We recommend the washing machine repair only when the repair cost is less than 50 percent of a new machine's price
How many years should a washing machine last?
A typical washer should last 10-13 years. Top-loading washers typically last a few years longer than their front-loading brethren. If you use a stacked washer/dryer combo, you may have to replace both if one starts acting up.