What Causes Glass Electric Cooktop on Stove to Crack?
In this article…
Nowadays, glass electric cooktops are becoming popular due to their elegant-looking, functionality, and easier to clean and maintain. If we compare them with coil ones, glass cooktops heat more quickly and cook evenly. But they have some disadvantages as well. They are inclined to fissuring due to the fragile nature of a glass surface. These cracks and chips can be exceptionally dangerous and may indeed render your cooktop unusable.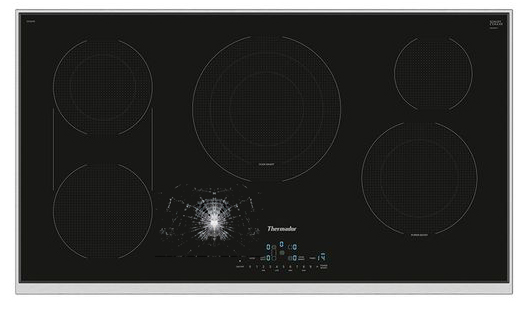 Having analyzed customers' requests, we've found out that they need the replacement and a piece of advice on what to do if it happens and how to keep the glass surface life. Fix Appliances CA provides services on repairing and maintaining any type and model of stove cooktops, including outdoor kitchen appliances. Our licensed technicians have more than 18 years of experience to help you with glass electric cooktops.
Let's discuss the most concerning issues with your damaged stove cooktop: why glass top stoves crack and how to protect it and avoid cracking.
Can I Use My Cracked Glass Top Stove?
You should always keep in mind that the use of a cracked stove is NOT safe! Indeed minor splits and cracks increment the hazard of electric shock. You will be able to supplant the glass-ceramic surface or minor splits but larger ones will require an entirely new cooktop.
Cracked Glass Stove Top Repair Cost
One of the important questions that we face most of the time is how much the customer should spend on the replacement of the damaged stove cooktop.
As a rule, the repair prices differ from the brand, type and model. The price for a cooktop main panel ranges from $200.00 to $1000.00 Canadian dollar, excluding the replacement price. You should keep in mind that the cost can be higher depending on whether you have a gas glass cooktop, an electric or induction one. Moreover, the prices differ depending not only on brands and manufacturers but also on their sizes (the bigger the cooktop is, the higher the price).
Besides, when you choose the repair company, pay attention to the warranty. Fix Appliances CA provides a complete up to one-year warranty not only for the replacement part but also for the services.
How to Repair a Damaged Glass Top
All glass-top stoves have tempered glass that is tough and heat resistant. Unfortunately, the surface can crack as well, but it is likely to be in a limited area if it happens. And this is the advantage. Upon our experience sooner or later the cracks can cover the whole surface, and it's necessary to resolve this issue.
Let's discuss the main reasons why glass cooktop stoves can crack. Taking into account these factors will help you avoid cracking and last the life of your cooktop. The main causes can be due to impacts or excessive heat and rapid temperature changes. If we talk about impacts, they can be caused by heavy objects when dropping or banging. The other thing is, rough pots and pans can create micro-scratches, and accumulating over time, they weaken the integrity of the glass to the point of cracking. Regarding excessive heat and temperature changes, pay attention when cooking longer as extended heat exposure can create enough stress to crack the glass. Here it's necessary to mention when you place hot pots or pans on a cold surface, or food while cooking leave hot spots.
Thus, you should take care of your electric glass cooktop all the time. This is important because you won't be able to repair it. Of course, several methods such as epoxy and other chemicals are used to repair cracked tempered glass, but they will not stand up to extreme heat, so the repair will not hold.
Fix Appliances CA with almost twenty years of experience is ready to help you with your cracked glass coop top stove. You can find many positive reviews of our customers who contact us and were satisfied with our services. We do understand that we live in the century of the Internet and it's not a problem to look for a piece of advice on what to do. The truth about fixing a crack or a chip in a glass stove top is simple, you can't do it effectively. Upon close cooperation with manufacturers concerning this problem, we insist on the only real option of the glass cooktop replacement.
How to Replace a Glass Cooktop
If your electric glass cooktop on a stove is damaged and scratched, it's not necessary to buy a new stove, you can follow these simple steps to replace only a cooktop:
Shut off power. To prevent electrical shock and damage to the cooktop components, you must always turn off the power to the stove before working on it.
Pull the cooktop out. You can generally remove a glass top by removing screws from the brackets that hold the cooktop in the counter in the front of the stove top, and then, lifting the cooktop up and set it on the counter.
Remove the glass top. Follow this guide:
a. Remove the screws that secure the burner box to the glass top
b. Lift the glass top up slightly and unplug the wire harness connection on the user interface controls
c. Lift the cooktop off of the burner box and discard it (that is, disconnect the user interface wire harness)
NB: Some models that are set on top of a cabinet instead of an oven may require you to approach from underneath and loosen the top from support brackets and then take off the top and replace it.
Install a new glass top. Position the new glass top on the burner box and plug in the user interface control wire harness. Then, replace the screws to secure the glass top to the burner box.
Reinstall the cooktop on the counter. Lower the cooktop into the counter. Reinstall the mounting bracket screw.
Restore electric power. Turn on the power to the cooktop
Attention: Undertaking any electric appliances can be dangerous. Plug off the appliance, use only the proper tools and safety equipment mentioned in this guideline, and strictly follow the instructions. BUT don't proceed if you are not sure that you understand every step and will manage to complete the replacement. A qualified and certified technician must only perform All-electric appliance repairs. Contact the professionals at Fix Appliances CA to receive qualified and specialized service with a complete warranty not only on the services but also on the replaced parts.
Important: You can face the same problem with a glass cooktop on a gas range. At this point do not try to replace it by yourself. Qualified gas appliance repairmen at Fix Appliances CA have a special "TSSA" certificate that gives the right to provide installation, maintenance and repair service for any kind of gas home appliances.
Free Estimation to Replace the Glass Top On a Stove
If you face the problem when your electric glass stove cooktop is cracked or damaged due to any reasons, it's time to call Fix Appliances CA at 888-242-0777 or submit an online request to replace a glass top. You are sure to receive a free estimate over the phone. Don't forget to provide us with the brand, model and serial number of your appliance. We will check the part availability. It helps to understand how fast we can receive the part directly from an appliance manufacturer or our warehouse with our any waiting. Next, if you would like to proceed you can appoint the day and the time when our repairman will do part delivery and installation.
How to Prevent Cracks and Damage
Now you are aware of the most usual reasons why the glass cooktop stove can be cracked or damaged, it's time to discuss how we can prevent any scratches, cracks or damages. First of all, pay attention to the cookware: use a lightweight one with a smooth and flat bottom made from stainless steel or heavy-duty aluminum. Try to avoid using copper and enamelled pots that can leave behind residue that can build up on your cook leading to any kind of damages; and cast iron, porcelain and ceramic cookware that are heavy enough and have a rough bottom.
The other thing just as important is the necessity to clean a pot and a pan after each use. Keep in mind that food spills must be cleaned up once you finish cooking. But take into consideration that your glass cooktop is off and completely cooled before you use cleaning agents. It helps you to prevent chemical damage or burn hazards.
If you follow the simple rules when using your glass cooktop, you are sure to enjoy cooking for many years:
Never slide, lift cookware on and off
Never store heavy objects over your stove (containers, ceramic dishes, microwaves and others to avoid falling)
Always keep the bottom of the cookware clean
Read the instructions thoroughly from the manufacture. This maximizes the life span of your stove
Use only liquid cleaning agents or sprays and only fresh fabric, you avoid mechanical damages and scratches to the glass surface.
Fix Appliances CA is one of the best and top-requested companies in the market of electric home appliance repair, installation and maintenance. We are an authorized repair service for most home appliance manufacturers. Having approximately two decades of experience, we continue receiving thousands of positive reviews from our satisfied customers on Google and different social media platforms. We are proud of being a 6-times-winner of Homestars Best of 2017, 2018, 2019, 2020 and 2021.
Special attention should be dedicated to our warranty policy. We provide a complete warranty on all our services and parts replacements, including a Satisfaction Guarantee (90 days).
You are welcome to contact us if you face these problems. And no matter in what part of Canada you live, Toronto, Ottawa or any other area of GTA, we step into the breach seven days a week. Call our certified, authorized and licensed technicians, and you're never disappointed.