Why Is Your Electric Oven Not Heating but Stove Top Is
In this article…
Just like every home appliance, your oven is likely to develop issues. Generally, gas ovens are easier to fix because they don't have many technicalities or wiring. Besides, not many people use gas ovens in their homes. On the other hand, electric ovens have become increasingly popular in Canada.
Today, electricity is one thing contemporary households use 24/7. Unfortunately, it's not 100% reliable. So have you recently noticed a trend of your food not cooking properly? Perhaps your oven is not working fine or refuses to turn on. You may need to troubleshoot it.
Fix Appliances CA has twenty years of experience in repairing cooking appliances, including electric ovens. Our oven experts have the necessary knowledge and skills in this field. You must be sure to receive qualified repair services at a high level and in no time.
No matter in what part of Toronto, Ottawa or other GTA areas you live, our technicians provide oven repair services near you.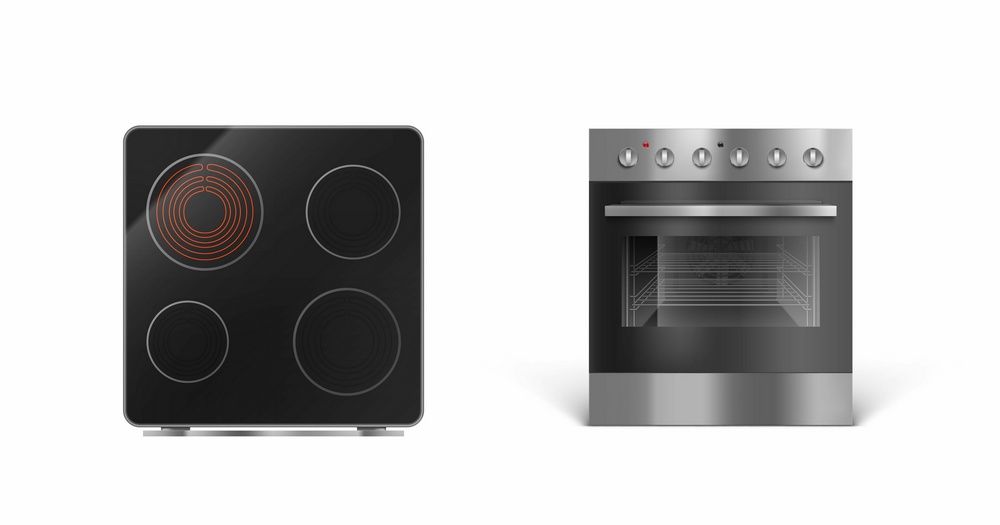 Basic Reasons Why the Oven Stopped Working
As with any electric home appliance, the electric oven needs maintenance and repair. Is your electric oven not heating up, burning, or cooking your food unevenly? Aside from being an inconvenience, we understand that one of the biggest concerns regarding an appliance breakdown is the potential cost should you need a replacement. It helps to save you money and ensures your electric oven lasts as long as possible.
Upon the experience of our electric technicians, in most common cases, this specific issue means that the broil element and the baking element remain functional. However, there can probably be a blown internal fuse. If it is not the fuse, it could be the temperature sensor, broken or frayed wiring, or even the oven control board breakdown.
Let's try to investigate what to check first to discover that the oven is not working in this article. If the stove works fine, but the oven is not heating up, it means the baking and broil elements are functional, but you may have a blown internal fuse case. Our experts assure that there could be several other reasons, and there are some solutions worth your consideration:
Check power outlet
Heating bake or broil element
Connectors to heating elements
PCB Circuit board
Touchpad or control panel
Electric Oven Is Not Working but the Stovetop Is
Electric home appliances play a significant role in our daily routine, and we can't imagine the kitchen without an oven. In our century of the Internet, it's not a problem to look for a piece of advice on what to do when watching DIY videos. But if you are unsure that you can cope with it by yourself, we recommend contacting highly trained experts at Fix Appliances CA.
Our oven technicians shared the main issues and troubleshooting points if your oven has stopped working, but the stove is good. Here are some of them:
No Power Source. For any electrical equipment, this is where you should look first. Almost every electric oven requires 240 volts of AC current. A simple tripped breaker may disrupt the electricity flow to any legs and in that case, your oven won't get any power and won't start.
Damaged Heating Element. There are two heating elements in your electric oven (in most cases). For regular use, such heating elements can wear out or be damaged over time. Any defective heating element is the most likely cause of why your oven is not heating up.
Bad Relays. Ovens with two heating elements normally have two relays. A bad relay won't let the oven function properly or reach the set temperature.
Electronic Control Board. Whether you have a Kenmore oven, Tappan electric oven, or any other brand, there is a control board in there. It controls the broil, baking elements, and every other oven function. In this case, if you see the stove is working, but the electric oven and clock are not working, you must check this. It's not easy to do. For visible signs of damage, look for burning or shorts.
Oven Thermal Fuse. If both of the heating elements are not working, it can be due to blown oven thermal fuse or wiring issues. Only a professional technician should diagnose and fix these problems.
Defective Oven Sensor. The control board of the oven works with the oven sensor. Its main task is to monitor the oven temperature. When your oven reaches your set temperature, the control board disconnects the voltage to the heating elements. With a defective sensor, your oven may not start at all. You can check it using a multimeter; if you don't get enough resistance, it is time to replace the sensor. Some ovens have a temperature-sensing bulb to control the temperature instead of it. Thus, if the bulb is loose or burnt out, you may need to re-adjust it or replace it.
Burnt out Selector Switch. It changes the oven settings from bake to broil and vice versa. If the selector switch is ticking or defective, it may prevent the oven from functioning properly.
Our electric oven technicians would not recommend you to check and fix those problems unless you are qualified in this regard. Considering the involvement of various meters to check such stuff, it is better to hire a pro. You are welcome to contact us to schedule the most convenient time to resolve any issues with your oven.
Fix Appliances CA — Your Trusted Authorized Appliance Repair Service
Fix Appliances CA is one of the best and most experienced companies in the electric home appliance repair market. We are an authorized repair service for most brands. The work of our professionals with more than eighteen years of experience is reflected in thousands of positive reviews from our satisfied customers, including Google and many different social media platforms such as Yelp, Reddit, Facebook, Instagram and others. We are proud of being a 7-times-winner of HomeStars Best of the Best.
We want to pay special attention to our warranty policy. If you have any of these problems with your electric oven, contact us without hesitation. And no matter in what part of Canada you live, Toronto, Ottawa or any other area of GTA, we are at your service seven days a week, including holidays. Call our authorized, certified, and licensed technicians, and you will be satisfied with our well-done job.
Date of page creation: March 28, 2022
Page update date: October 05, 2023