Factory Certified

Licensed technicians with over 15 years of experience

TSSA Gas Contractor

Fully certified in gas appliances service, repair & installation

Complete Warranty

Each repair is covered by service and parts warranty

Authorized Repair

Authorized service centre for most appliance manufacturers
Trusted Thor Kitchen Service
We service and repair all Thor Kitchen appliances, including: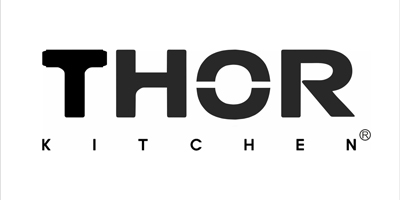 Thor Kitchen is an American mid-sized private home appliance company headquartered in Chino, Southern California. It was founded by Lupine, Inc. Conway & NH · Joanne Rackow – to produce their kitchen appliances in a professional style. The company suggests a great variety of products for residential kitchens, including fridges, icemakers, wine coolers, ranges, cooktops, ovens, dishwashers, ventilation hoods and outdoor appliances. Thor Kitchen Appliances is proud of its high-performance features, durable construction and sleek design.
We'd like to admit the following attractive advantages of these appliances: professional-style design that will suit any residential and commercial kitchen, high-performance capabilities, energy efficiency with ENERGY STAR certifications, ample cooking and storage space, and affordable prices in comparison with other manufacturers producing high-end appliances. The main aim is to provide homeowners with the look and functionality of commercial-grade appliances found in professional kitchens.
Authorized Thor Kitchen Appliance Repair
Thor Kitchen household appliances are very popular and widely spread in Canada, and many housewives estimated hot only design but functionality and reasonable prices for such units. Did something go wrong? Are you looking for a trustworthy repair service for your Thor Kitchen appliance? Skilled technicians at Fix Appliances CA are as near as possible.
We are at your service if you live in Toronto, Mississauga or any other part of the GTA. Contact our pros; they will troubleshoot if you notice that your fridge is leaking or not cooling, a dishwasher is not draining properly, or your oven has stopped heating. We will be able to fix it. You will surely get your Thor Kitchen appliance to working condition the same day. Moreover, Fix Appliances CA is an authorized ThorKitchen repair company with the right to offer all repair, installation and maintenance services under the manufacturer's warranty. Do not hesitate and call us right away!
Rely on our exceptional repair and immediate customer support to leave all worries to the expert team. Need emergency repair or regular maintenance? You are welcome, and we will gladly assist in no time, keeping your warranty from the manufacturer valid!
Your Trusted Local Thor Kitchen Appliance Technicians
Being almost twenty years on the market and having gained great experience in installing and repairing Thor Kitchen appliances, we continue keeping all our principles at work. As no one else, we understand the need to hire technicians on the same day. We are a local authorized Thor Kitchen appliance repair company, and we are ready to provide the best service shortly.
You will be satisfied with a high-quality job done on time and at competitive prices. We appreciate your trust and fulfil all our obligations towards you. Moreover, you receive a warranty on all our repair services and replaced parts as well.
Thor Kitchen Refrigeration Repair
The cooling system manufactured by Thor Kitchen is represented by different types and models of refrigerators, wine coolers (TWC2403DI) and beverage centres (TBC2401DI), icemakers (TIM1501) and under-counter refrigerators (TRF24U). Thor Kitchen refrigerators come in different sizes and configurations, including French doors (HRF3601F) and side-by-side models. They suggest ample storage space and adjustable shelves, humidity-controlled crispers, and in most cases such features as ice makers and water dispensers.
Our Thor Kitchen technicians are trained and fully equipped to help you with your refrigerator or wine cooler or other refrigeration appliance in case you encounter the following problems or notice strange noises:
The door isn't sealing properly
Ice maker clogs, jams or leaks
The drain hose is not draining
The freezer doesn't freeze
Food spoils too quickly, and more
Our licensed and insured Thor Kitchen technicians are prepared to troubleshoot and fix any problem issues with your refrigeration system. You will be satisfied with a high-quality job and receive a warranty on services provided and parts replaced. We will return your fridge or icemaker to working condition in no time.
Thor Kitchen Cooktop, Stove, Oven & Range Repair
Thor Kitchen produces many cooking appliances, including ranges, cooktops and range tops, and ovens. Ranges and cooktops can be electric or natural gas/propane fueled with multiple burners and high-BTU burners for fast and powerful cooking. Besides, some models come with griddles and double ovens for increased versatility. The most widely spread are electric HRE3601 of different sizes and gas ranges LRG3601U / LRG3601ULP (or with dual oven – LRG4807U / LRG4807ULP). All of them are professional and functional, with convection fans, cast-iron grates, even heat boilers and other useful features.
When we talk about range tops and cooktops, let us admit their sleek design, well-built, and versatility. They can be gas and electric appliances, with multiple burners for both types (TEC36, TGC3601, HRT3618U / HRT3618ULP). But anyway, they require constant care and regular maintenance.
Thor Kitchen's professional self-cleaning ovens have the perfect design, offering such functions as baking, convection baking and roasting, heating, broiling, and keeping warm features (HEW3001). You will enjoy all food cooked in this oven.
Having gas or electric Thor Kitchen range, cooktop, or oven, it is necessary to take care of them on time. When you notice any small issues, such as:
Self-cleaning won't clean
Food bakes unevenly
The oven broiler isn't working
The oven or range makes weird noises
The cooktop element doesn't heat
Our friendly Thor Kitchen appliance customer service representatives are available online or by phone for your Thor Kitchen oven and range repair. Contact us to schedule the most convenient time for a visit to estimate the problem and fix it as soon as possible.
Thor Kitchen Dishwasher Repair
Dishwashers are also as important in the kitchen as any other appliance, making our daily routine easier. If it is out of order, you will feel frustrated and ready to do everything to bring it back to life. Contact our service pros if your Thor Kitchen dishwasher has any of the following problems or others:
Dishwasher leaks
Dishes won't dry
Makes unusual noises
Doesn't clean properly
Not draining
Don't waste precious time; email or phone us right now, and our dishwasher specialists will gladly help you the same day. Trust our highly skilled professionals to repair your Thor Kitchen dishwasher!
Thor Kitchen Microwave Repair
Thor Kitchen manufactures two types of microwaves: over-the-range (TOR30L) with autocook menus and preheats function and microwave drawers (TMD2401, suitable for any kitchen as well as for an island) with 12 unique easy-to-cook and keep-warm functions. Customers are satisfied with both types.
Once your Thor Kitchen microwave doesn't work as it should do or stopped heating, or you can see errors on display, no worries, Fix Appliances CA will troubleshoot any microwave issues you can face, including:
The microwave is not working at all
Turns on but doesn't heat
The display is not working
Strange noises or sparking
If you notice any even small issues with your appliance, contact our technicians to define the problem and receive Thor Kitchen microwave repair services immediately.
Thor Kitchen Ventilation Appliance Repair
The ventilation system by Thor Kitchen is represented by several types of range hoods of different sizes from 30'' to 48'' and functional features with 3- or 4-speed fans, with two options of vent out or recirculating with carbon filter: wall-mounted or under-cabinet units, FIX Appliances CA can handle any problems with your professional Thor Kitchen range hoods:
The fan is not working
The filter is clogged
Lights stopped working
The exhaust fan is noisy
You are welcome to contact our professional repairmen to solve your Thor Kitchen hood problem immediately by submitting an online request or calling us. We are available seven days a week and ready to assist you anytime.
Thor Kitchen Ourdoor Appliance Repair
Thor Kitchen represents a great variety of outdoor equipment. This can be a whole kitchen 6-piece unit or freestanding unit. They all have a sleek authentic design with large surface areas, flexible to organize units in any configuration, are multi-functional and practical, and easy to use and clean. You will enjoy any appliance according to your preferences.
Thor Kitchen Outdoor Equipment:
Outdoor kitchen refrigerator cabinet (MK02SS304, it is possible to install an under-counter refrigerator or dual zone wine cooler)
Outdoor BBQ grill cabinet (MK04SS304 – 32 Inch 4-Burner Gas BBQ Grill with Rotisserie in Stainless Steel, 10,000 BTU rear infrared rotisserie, natural gas or propane may be used)Outdoor kitchen corner cabinet (MK06SS304)
Pizza oven and cabinet (MK07SS304 with a classic ceramic pizza stone and flue damper to control heat flow, equipped with a pizza cutter, pizza peel, pizza/pie server, and brush)
Outdoor kitchen sink cabinet (MK01SS304)
No matter the model and type of outdoor appliance you have. All our professional gas fitters have exceptional skills with a proven TSSA certificate to repair, install and maintain. They can fix any issues, such as the following:
Not heating properly
The burner flame is noisy
Light gas odours smell out
Natural gas and propane appliances require special attention and complete compliance with safety measures and care. Remember that Fix Appliances CA has licensed and factory-trained technicians with the necessary knowledge, skills, tools, and more than nineteen years of experience. Contact us immediately if you encounter small or big problems with your outdoor Thor Kitchen units!
FIX Appliances CA – Authorized Professional Service & Repair
FIX Appliances CA is a leading repair company offering reliable appliance installation and repairs. We have almost two decades of industry experience with authorized Thor Kitchen appliance repairs in Toronto, Ontario. On this experience and high-quality services, our valuable customers trust their appliances. No matter the problem you encounter, our knowledgeable and skilled technicians are ready to fix it.
Our qualified Thor Kitchen appliance repair experts will handle any issues with your kitchen appliances, from range hoods to refrigerators, and perform regular maintenance using only original Thor Kitchen replacement parts, providing a warranty on them and services as well. Contact us for repair under the manufacturer's warranty to keep it valid.
Submit a request online or contact us by phone at the toll-free number 888-242-0777 today for any Thor Kitchen appliance repair and installation.
Reliable Service & Repair
FIX Appliances CA is a leading provider of affordable appliance repairs. We have over 17 years of industry experience. Using this experience, we can offer reliable white goods repairs. No matter the problem, our skilled technicians will be able to fix it.
Call or text us for authorized Thor Kitchen appliance repair service FIX Appliances CA online or call the toll-free number 1-888-242-0777 today.