Factory Certified

Licensed technicians with over 15 years of experience

TSSA Gas Contractor

Fully certified in gas appliances service, repair & installation

Complete Warranty

Each repair is covered by service and parts warranty
Each appliance has a major role in the households. More than that, it helped make the chores become less complicated. It is designed to make life simpler by helping homeowners expedite the process so they can move on to the next without spending too much time on the other.
But with everyday use, these appliances can be tear and ripped and may not function as they were designed to.
If you are in Oakville and the surrounding area, make sure you only call the quality appliance repair, the FIX Appliances CA. We have 15 years of experience troubleshooting major appliance issues. Our repairman is adept at handling any issues with your appliances including refrigerator, washing machine, stove and oven, dryer, and more.
Our experts are also available any time of the day and can respond to your inquiries same day. Rest assured you'll have a working appliance again after they leave your home. If you are in a lookout for an appliance repair in Oakville, FIX Appliances CA is ready to help you.
Professional Appliance Services We Provide
We service and repair a variety of appliances, including:
Refrigerator Repair
FIX Appliances CA repair all kinds of home appliances including your refrigerator. We are over 15 years in the appliance repair business and we have in-depth knowledge of fixing all types of refrigerators from stand-alone, built-in, freezers, and wine coolers. So if you need refrigerator repair in Oakville, we have your back. We can fix all problems you have in your refrigerator including:
Not cooling freezer.
Refrigerator not turning on.
Noisy refrigerator.
Lights not turning on.
The door is not closing.
Whatever your problem with the refrigerator is, our expert repairman can handle that. We got the tools and know-how to fix refrigerator issues. Apart from that, we only use high-quality appliance parts so you are guaranteed that the work done is long-lasting and dependable. A labour warranty and comprehensive parts also back us. Therefore, you will only receive the best workmanship available in the Oakville area.
No problem to contact us early in the morning or late afternoon because we have standby technicians to help you any time of the day. So if you need immediate fridge repair services, FIX Appliances CA is the best to call.
Washing Machine Repair
If you are having issues with your washing machine, there's no problem. FIX Appliances CA can fix your malfunctioning laundry machine as soon as possible. We have handled over 70 brands ever since we started this business and we can sure you get the best service from you. Whatever brand you have, whether Kenmore, Bosch, Maytag, Whirlpool, Samsung, Kitchenaid, GE, Electrolux, LG, Blomberg, Frigidaire, to name a few, we can handle that.
So if your washing machine is not working and having these problems:
The washing machine is not turning on.
Error message prompts every now and then.
Spinner no longer spins the way it is designed.
Water leaks.
Contact FIX Appliances CA for a washing machine repair in Oakville. You don't have to wait in the queue, we are always ready to answer your calls and respond to your queries any time of the day. Our technicians are also available every day to serve your needs. Book us now!
Dryer Repair
If you need a dryer repair immediately, FIX Appliances CA is always available to assist. We do not only do same-day servicing but we can come to your home anytime at your most convenient.
We are always ready to assist our customers every day of the week to resolve their appliance problems including issues with the dryer. So, if you cannot do the housework because the laundry is still wet, we can visit your home any time you wish to handle the issue for you.
We can handle dryer repair services anywhere in the Oakville area. And we can repair dryer issues including:
The dryer is not turning on.
The dryer stops functioning midway through the operation.
The dryer prompts an error message.
Dryer making a noisy sound when turned on.
If you need instant help with your laundry, message us via our phone number and we will visit your home at the best time for you. Let's talk. Contact or book us FIX Appliances today.
Range, Oven and Stove Repair
FIX Appliances CA make sure to only deliver the best possible service for our customers. We are committed to providing seamless in-house appliance services in the Oakville area.
With over 15 years of proven track record in doing home repairs, rest assured you will get top-notch service from our technicians. We are backed with intensive training and experience in repairing all kinds of appliances including stoves and ovens.
Therefore, if you need a stove and oven repair, FIX Appliances can help you.
Common problems for stove and oven includes:
Oven not heating.
The stove is not turning on.
Display and error issues.
If you encounter any of these issues in your appliance, feel free to message us. We are always ready to take your calls and assist you every time of the day. So, you can begin cooking the family's favourite meals. Contact FIX Appliances CA through phone or our website.
Dishwasher Repair
It would be tough to find a reliable dishwasher repair in Oakville who knows how to turn a malfunctioning dishwasher into a working one.
There are a lot of businesses who would claim they know it all but in reality, they are not. At the end of the day, you will feel frustrated because nothing has happened, your dishwasher is not working at all. And their cost of dishwasher repair will be high.
If your dishwasher is not running like usual, it's time to call for someone who has depth experience in fixing dishwashers of all kinds of brands. You need someone that does the job for you including repairs of the following:
The dishwasher leaves the dishes uncleaned.
The dishwasher is not turning on.
The dishwasher prompts an error message.
The dishwasher has water leaks all over.
This is somewhat frustrating, especially if you have loads of dishes to wash. If ever you encounter this problem at the most inconvenient time, you can immediately contact us.
FIX Appliances CA will visit your home and make the necessary repair to get your dishwasher back to its normal working condition.
Range Hood Repair
Do you feel smoke in your kitchen? Doesn't your range hood ventilate properly enough? It's time to contact professionals for repair or maintenance. Fix Appliances CA in Oakville is prepared to provide you with the best-qualified help with your range hood appliance.
If you face the following issues, don't hesitate to contact our pros:
The fan turns on by itself
Lights and fan don't work properly
Impossible to turn on the range hood at all
The exhaust fan is too noisy
Be sure, our range hood experts are always at your service. Call our customer representatives at 289-799-1177 and schedule the most convenient time for a visit.
Microwave Repair
Microwave is a frequently used home kitchen appliance these days. Unfortunately, like any other home appliance, a microwave fails and breaks in its lifetime. But there is not a reason to be upset. Contact our microwave technicians at Fix Appliances CA in Oakville, and you are sure to receive quality and quick repair and maintenance services immediately.
No matter what problems you notice, we cope with them at ease:
Microwave not heating
Microwave runs and stops unexpectedly
Buttons don't work
The microwave plate doesn't spin
The light-bulb does not turn on during the operation
You are welcome to make an appointment with our technicians at 289-799-1177 or submit a request online.
Gas Appliance Repair
A red tag on any gas appliance typically means that the equipment is not safe to operate, and a technician has to put a red tag on it, which means the gas will be shut off until the problem is fixed. No worries, our team has you covered. They'll manage your gas appliances servicing and even remove gas company red tags to get you working again. Whether the brand or model, inside or out, light commercial or residential, we are the ones to call for all your kitchen and laundry appliance repairs!
Our servicemen are trained to do the following:
Maintenance.
Repair.
Installation.
Consultation.
Therefore, if you need any help with the above, FIX Appliances CA is your one-stop repair shop.
We could even provide you with advice on what tools and equipment to buy for your specific requirements. Just tell us what you want and we can come up with honest and free estimates of the parts and tools you need. We are Technical Standards and Safety Authority Certified so we only provide the best recommendation for your appliance. Our 15 years in service have grown our knowledge in repairing all types of appliances. We are sure you will get 100 percent satisfied with our service. Request a Repair
Licensed Repair of All Appliance Brands
Fix Appliances CA has over 15 years of experience servicing all of the following brands and is factory certified to service:
Oakville Appliance Repair
FIX Appliances CA is a leading provider of affordable appliance repairs in  Oakville. We have over a decade of industry experience. Using this experience we can offer reliable white goods repairs. No matter what the problem may be, our skilled technicians will be able to fix it.
Contact us for Oakville appliance repair service FIX Appliances CA online or by calling 647-503-6655 and Toll-free number 1-888-242-0777 today.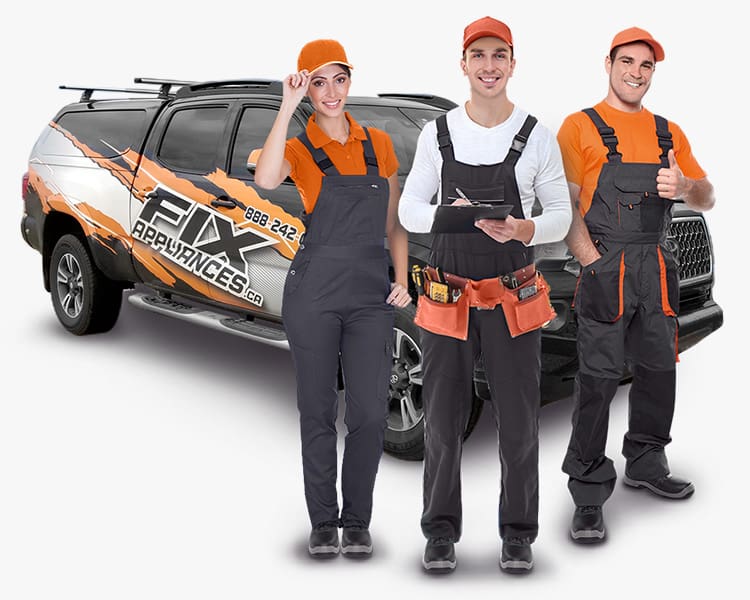 Homeowner Guide
for Appliances
Join over 1200 GTA homeowners who benefited from this useful guide to help keep appliances from breaking.