Factory Certified

Licensed technicians with over 15 years of experience

TSSA Gas Contractor

Fully certified in gas appliances service, repair & installation

Complete Warranty

Each repair is covered by service and parts warranty
Gas Appliance Repair Experts
FIX Appliances CA specializes in gas appliance repair, using over fifteen years of expertise and experience with every service call that we take on.
If you find yourself in need of gas appliance repair or commercial stove repair, FIX Appliances CA is the company to call. Any of our qualified technicians would be happy to take the call, arrive at your location and provide you with a price quote before engaging in any natural gas appliance repair.
We offer same-day service for all residential and commercial needs related to repairing kitchen and laundry appliances. Stoves, ranges, ovens, cooktops and dryers. We also provide installation appliances service.
RED TAG REMOVAL: If Enbridge or Union Gas suppliers shut off your GAS appliances due to a RED TAG, we are fully licensed and authorized to turn it back on the spot.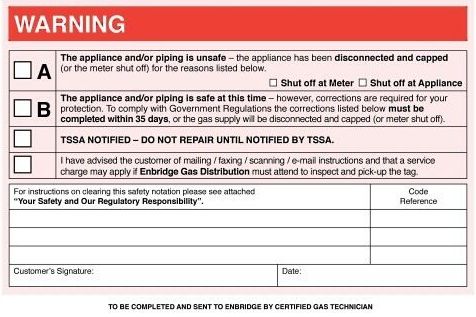 All our FIX Appliances CA technicians are fully licensed gas fitters with current and updated Technical and Safety Authority certificates TSSA.
Save
Save
Save
Our Gas Appliance Technicians Service The Following
Every family depends on their stove being in good, efficient working condition to cook breakfast, lunch, and dinner. If your gas stove is not warming correctly, it can cause food to burn or undercook. If you are running into issues and are in need of gas stove repair, save money by avoiding costly repairs with our gas stove repair and maintenance service. We know how frustrating and complicated it can be to deal with unpredictable breakdowns, the potential of leaks, and other technical issues that sometimes affect gas stoves. When your oven breaks down, you might feel like your hands are tied. It is our highest goal to ensure that we get your gas stove back up and running in no time. This is why we offer same day repair with any gas appliance repair. When you contact us, we schedule an appointment that same day. It does not matter if it's evenings, weekends, or a holiday. Contact us to have a gas stove technician dispatched to your location today to diagnose the problem, provide you with a quote, and complete the repair.
Just like your gas stove, if your gas oven is not heating to the correct temperature, it can ruin your food. A gas oven used to bake and broil your favourite meals and desserts is not worth much when it can't hold its temperature. The quality of your food depends on your gas oven working in the best condition. When it isn't, use a FIX Appliances CA technician to repair your gas oven and/or to replace the parts that are not up to snuff. We always place integrity and quality work at affordable prices at the top of our priorities. We thoroughly examine the problem with any service call and will get our hands dirty to fix your gas appliance. If something must be replaced, we only use products from the leading gas appliance companies in the industry. FIX Appliances CA is a company that you can trust the overall quality of our work from start to finish.
If your gas dryer heats up but the tumbler is not spinning, this is among the more common problems experienced with these types of appliances. If your gas dryer is giving you trouble, your appliance needs a professional gas dryer repair technician. That's where we come in. We have expert gas appliance repair technicians that can service your gas dryer needs any time of day, any day of the week. Check with us for same day service availability.
One of the most used appliances in residential homes and the commercial food industry is the gas range. If a gas range does not ignite or heat properly, this can debilitating affect preparing food. This costs an owner time and money. Each of our trained gas range technicians are equipped with the knowledge to diagnose and troubleshoot the most common issues related to gas equipment. FIX Appliances CA have been providing residences and commercial businesses with impeccable gas range repair for over a decade. There's no one better when it comes to gas appliance repair, maintenance, and/or installation.
Same-day Gas Appliances Repair Service in Your Area
FIX Appliances CA's main branch is located in Aurora, Ontario, and our local gas repair technicians serving the GTA, Ottawa and southern Ontario.  Check our service map to confirm the service area nearest to your city or town.
Trust our Experts for Quality Commercial Appliance Repair
Call us for any commercial appliance repair needs and one of our technicians will be dispatched that very same day to help. Throughout Toronto, the GTA,  Ottawa and southern Ontario, we provide same day commercial appliance repair services through qualified, certified, and friendly appliance service technicians with fully equipped vans and a 100 percent customer satisfaction guaranteed. Need urgent help – fill in our online form or give us a call for an immediate response.
Our expert technicians have experience with all brands and models. When there is a problem, we will troubleshoot until we have identified where a fix is needed. We do our best to make sure that every gas appliance technician sent out is provided all the necessary replacement parts to ensure a repair done correctly and efficiently. We do not cut corners. We will fix any problem with your units on-site, replace parts when and/or if needed, and will diagnose issues accurately, ensuring that there is no need for a repeat visit a few weeks down the line. Some of the commercial appliance repair areas that we specialize in include light commercial repair, commercial refrigerator repair and troubleshooting, commercial freezer repair and troubleshooting, commercial washer repair, commercial dryer repair, and commercial stove and oven repair.
When there is a commercial appliance repair emergency, especially with a business, there is no time to be wasted.
Crucial to your business success and indispensable to your operations, facing the problem head-on will ensure that it is handled quickly and efficiently. FIX Appliances CA is Ontario's leading commercial appliance repair company, providing a premium service with prompt and professional staff, and keeping customer satisfaction as our top priority. For any and all commercial appliance repair needs, don't hesitate to give FIX Appliances CA a call for same day appliance repair services.
Contact us online or call or text us: 647-503-6655 or Toll-free: 1-888-242-0777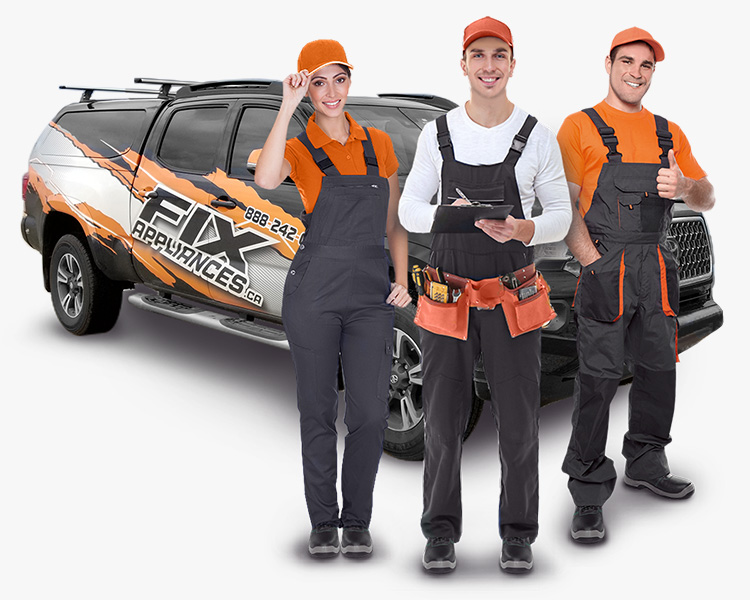 Each service truck carries an inventory of common replacement parts so your gas appliance repair can be completed the same day.
Licensed Repair of All Gas Appliance Brands
We service over 70 brands, so you don't need to call two companies if you own appliances from different brands. These makes include Amana, Fisher & Paykel, DCS,  Blomberg, Bosch, Bertazzoni, Frigidaire, Fulgor Milano, GE, Falmec, Huebsch, Electrolux, Inglis, Jenn Air, Liebherr,  Maytag, Miele, LG,  KitchenAid, Panasonic, Thermador, Viking, Sub-Zero, Samsung, Sears Appliances –Kenmore, Speed Queen, Whirlpool, Wolf, Zephyr and many more. Most of our repair bookings for appliance repairs are attended on the same day.
Common Questions About Gas Repair
Gas stove top burners not lighting
One of the most common problems is a buildup of grease and food debris blocking the gas flow to the igniter. A good cleaning of the area can usually solve the problem quite quickly.
If you have a gas oven that is not turning on, one of the most likely causes is a faulty igniter. A symptom of this problem occurring when a gas oven won't start is that your pilot is lit, but the oven does not start. You can try to observe the igniter for 90 seconds and do not light the gas. It may be time for a replacement.
If you are noticing that your gas range smells like gas, there are two possibilities. An odour upon lighting is normal, but if the smell of gas lingers beyond this time, this can signal a bigger issue. If you continue to smell gas, the best course of action is to shut off the gas to the oven and call an appliance professional.
Gas oven turns off by itself
If you find that your gas oven keeps turning off, it may be a problem with the thermocouple. This safety device turns off the gas to the stove when the pilot light goes out. So if your gas oven keeps turning off by itself, a replacement of the thermocouple may solve the problem.
Gas oven lights then goes out
When your gas oven doesn't stay lit, a common symptom is a blocked gas line. Another troubleshooting step is to check the flame sensor. A malfunctioning sensor will not detect a flame and will then shut off the gas to the appliance.
Gas oven not heating properly
If your gas oven is not getting, hot enough one of the problems might be an electrical issue. Even though the oven runs on gas, it requires electrical power to operate the timer and other electrical controllers. Try checking the circuit breaker to make sure it is not popped. Another troubleshooting step for a gas oven that won't heat up all the way is to check to make sure the gas supply is open to the oven and free of blockage in the line.
When your gas dryer doesn't start, one common symptom is that either the start or door switch is faulty. You can check the continuity of each switch with a multimeter. If either switch has failed, a replacement of the switch should solve the problem of a gas dryer that will not start.
Gas dryer burning smell won't start
When a dryer smells like burning and won't start, It should immediately address a potential fire hazard. At the first sign of a burning smell from a dryer, clean out and check the inside of the dryer, the lint trap and all exhaust lines. If the burning smell persists, stop using the dryer to contact an appliance repair company immediately.
Gas dryer heat goes on and off
A common symptom of a gas dryer that only heats intermittently may be an open thermal fuse. It can also be caused by an open thermostat, a high limit thermostat, a faulty flame sensor, or an inoperable igniter. In all cases, once the problem has been troubleshot, a replacement of the faulty part should solve the problem.
Gas dryer not heating properly
When you are faced with a gas dryer not getting hot, there are several potential causes. So if you have the problem of a gas dryer not heating up, your appliance may have several components that require replacement. Parts that should be checked include the flame sensor, the gas valve coils, the thermostat, and the igniter and the timer.
More Problems & Solutions from Our Blog