Factory Certified

Licensed technicians with over 15 years of experience

TSSA Gas Contractor

Fully certified in gas appliances service, repair & installation

Complete Warranty

Each repair is covered by service and parts warranty
Gas Appliance Repair Experts
FIX Appliances CA specialize in gas appliance repair, putting to use over fifteen years of expertise and experience with every service call that we take on.
If you find yourself in need of gas appliance repair, FIX Appliances CA is the company to call. Any of our qualified technicians would be happy to take the call, arrive at your location and provide you with a price quote prior to engaging in any repair.
We offer same day service for all residential and commercial needs related to the repair of kitchen and laundry appliances. Stoves, ranges, ovens, cooktops and dryers. We also provide installation appliances service.
RED TAG REMOVAL:  Is your GAS appliances shut off by Enbridge or Union Gas suppliers due to a RED TAG, we are fully licensed and authorized to turn it back on the spot.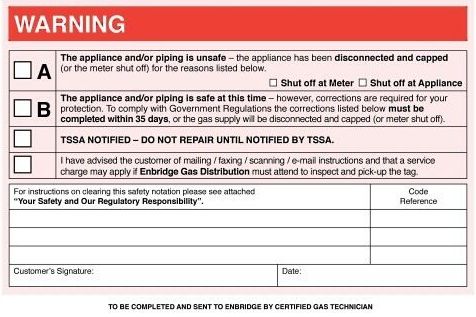 All our FIX Appliances CA technicians are fully licensed gas fitters with current and updated Technical and Safety Authority certificates TSSA.
Save
Save
Save
We Service The Following
Every family depends on their stove being in good, efficient working condition to cook breakfast, lunch, and dinner. If your gas stove is not warming correctly, it can cause food to burn or undercook. If you are running into issues and are in need of gas stove repair, save money by avoiding costly repairs with our gas stove repair and maintenance service. We know how frustrating and complicated it can be to deal with unpredictable breakdowns, the potential of leaks, and other technical issues that sometimes affect gas stoves. When your oven breaks down, you might feel like your hands are tied. It is our highest goal to ensure that we get your gas stove back up and running in no time. This is why we offer same day repair with any gas appliance repair. When you contact us, we schedule an appointment that same day. It does not matter if it's evenings, weekends, or a holiday. Contact us to have a technician dispatched to your location today to diagnose the problem, provide you with a quote, and to complete the repair.
Just like your gas stove, if your gas oven is not heating to the correct temperature, it can ruin your food. A gas oven used to bake and broil your favourite meals and desserts is not worth much when it can't hold its temperature. The quality of your food depends on your gas oven working in the best condition. When it isn't, use a FIX Appliances CA technician to repair your gas oven and/or to replace the parts that are not up to snuff. We always place integrity and quality work at affordable prices at the top of our priorities. With any service call, we thoroughly examine the problem and will get our hands dirty to fix your gas appliance. If something must be replaced, we only use products from the leading gas appliance companies in the industry. FIX Appliances CA is a company that you can trust the overall quality of our work from start to finish.
If your gas dryer heats up but the tumbler is not spinning, this is among the more common problems experienced with these types of appliances. If your gas dryer is giving you trouble, your appliance needs a professional gas dryer repair technician. That's where we come in. We have expert gas appliance repair technicians that can service your gas dryer needs any time of day, any day of the week. Check with us for same day service availability.
One of the most used appliances in residential homes and the commercial food industry is the gas range. If a gas range does not ignite or heat properly, this can have a debilitating effect on preparing food. This costs an owner time and money. Each of our trained technicians are equipped with the knowledge to diagnose and troubleshoot most common issues related to gas equipment. FIX Appliances CA have been providing residences and commercial businesses with impeccable gas range repair for over a decade. When it comes to gas appliance repair, maintenance, and/or installation, there's no one better.
Service Area
Bolton
Caledon
Cookstown
East York
Georgetown
GTA
Halton Hills
Maple
North York
Stayner
Sutton
Thornhill
Unionville
York
Head office of FIX Appliances CA is located in Vaughan, Ontario. Our local gas appliance repair technicians also cover Simcoe County, Toronto and GTA areas. Check the map to confirm the service area nearest to your city or town.
Trust our Experts for Quality Commercial Appliance Repair
Call us for any commercial appliance repair needs and one of our technicians will be dispatched that very same day to help. Throughout Toronto, the GTA, and southern Ontario, we provide same day commercial appliance repair services through qualified, certified, and friendly appliance service technicians with fully equipped vans and a 100% customer satisfaction guaranteed. Need urgent help – fill in our online form or give us a call for an immediate response.
Our expert technicians have experience with all brands and models. When there is a problem, we will troubleshoot until we have identified where a fix is needed. We do our best to make sure that every technician sent out is provided all the necessary replacement parts to ensure a repair done correctly and efficiently. We do not cut corners. We will fix any problem with your units on-site, replace parts when and/or if needed, and will diagnose issues accurately, ensuring that there is no need for a repeat visit a few weeks down the line. Some of the commercial appliance repair areas that we specialize in includes with commercial over repair, commercial refrigerator repair and troubleshooting, commercial freezer repair and troubleshooting, commercial washer repair, commercial dryer repair, and commercial stove and oven repair.
When there is a commercial appliance repair emergency, especially with a business, there is no time to be wasted.
Crucial to your business success and indispensable to your operations, facing the problem head-on will ensure that it is handled quickly and efficiently. FIX Appliances CA is Ontario's leading commercial appliance repair company, providing a premium service with prompt and professional staff, and keeping customer satisfaction as our top priority. For any and all commercial appliance repair needs, don't hesitate to give FIX Appliances CA a call for same day appliance repair services.
Contact us online or call or text us: 647-503-6655 or Toll-free: 1-888-242-0777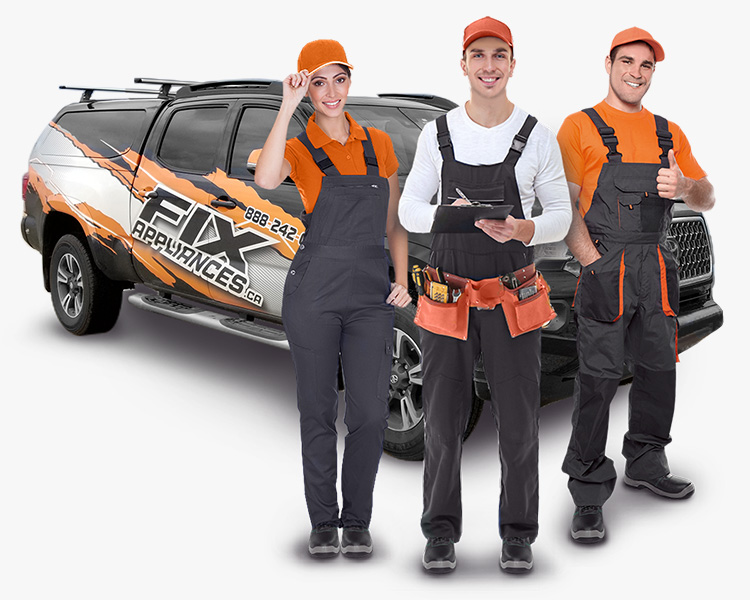 Each service truck carries an inventory of common replacement parts so your gas appliance repair can be completed the same day.
Appliance Brands We Service
Miele, Samsung, Viking, Whirlpool, Frigidaire, Sub Zero, GE,  Maytag, Bertazzoni,  Bosch, Kenmore, KitchenAid and more brand name appliances.




Homeowner Guide
for Appliances
Join over 1200 GTA homeowners who benefited from this useful guide to help keep appliances from breaking.