Factory Certified

Licensed technicians with over 15 years of experience

TSSA Gas Contractor

Fully certified in gas appliances service, repair & installation

Complete Warranty

Each repair is covered by service and parts warranty

Authorized Repair

Authorized service centre for most appliance manufacturers
Why Choose Fixappliances?
Fix Appliances CA has more than 17 years of experience in providing gas stove and oven repair service. Our certified and licensed gas appliance technicians are ready to help you seven days a week. You will enjoy a Warranty, Satisfaction Guarantee, excellent and fair prices, same-day gas appliance repair service of high quality and other advantages that can help you to make the right choice.
Fair Price
The best services at reasonable prices!
Our company has the most qualified and professional TSSA certified gas fitters, who provide repair services at reasonable prices and offer a warranty on all services, including the replaced parts. You are sure to receive repair advice and full detailed information on the average costs to repair all types of gas appliances such as oven, cooktop, stove and range, and gas dryers and replace specific parts.
Best Quality
Licensed and Certified Appliance Experts!
We strive offering our customers quality and reliable gas appliance services. Our gas fitters have all the necessary licenses and updated TSSA certificates to service all appliances at the highest level of quality. We work to ensure that you will always be satisfied with how our qualified and licensed experts fix gas stove, cooktop, range, or gas dryer.
Convenient Time
Available seven days a week, including holidays!
Having approximately two decades of experience, FIX Appliances CA provides gas repair and installation services every day, including holidays. You will ask for our services by contacting us by phone or submitting a request online to schedule the most convenient time to come to your place, the same day in most cases. Moreover, we offer emergency repair services.
Are you looking for quality service to repair all types of gas appliances, contact Fix Appliances CA and trust your problem issue to fix. We can handle any of them as soon as possible and at affordable prices.
| | |
| --- | --- |
| ✓ Availability | Same day, 7 days a week |
| ✓ Service Areas | All over Toronto, Ontario, and the GTA |
| ✓ Experience | 17+ Years |
| ✓ Experience | Major Brands |
| ✓ Residential and Commercial Repair | Best Prices |
| ✓ Warranty | Up to 1-year |
| ✓ Attractive Rebate Program | Buy with Discount |
Gas Appliance Repair Service
FIX Appliances CA specializes in gas appliance repair, using over fifteen years of expertise and experience with every service call we take.
If you need gas appliance repair or commercial gas stove installer and repair near me, FIX Appliances CA is the company to call. Any of our qualified technicians would be happy to take the call, arrive at your location and provide you with a price quote before engaging in any natural gas appliance repair.
We offer same-day service for all residential and commercial needs related to repairing kitchen and laundry appliances. Stoves, ranges, ovens, cooktops and dryers. We also provide emergency gas appliance repair and installation appliances service.
RED TAG REMOVAL: If Enbridge or Union Gas suppliers shut off your GAS appliances due to a RED TAG, we are fully licensed and authorized to turn it back on the spot.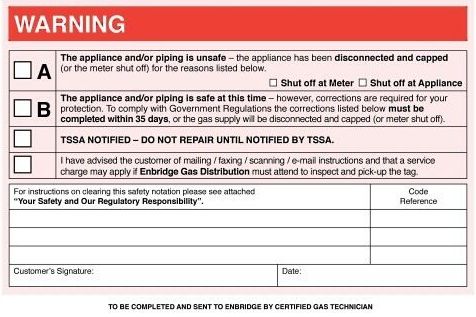 All our FIX Appliances CA technicians are fully licensed gas fitters with current and updated Technical and Safety Authority certificates TSSA.
Save
Save
Save
Gas Stove Repair Service
A gas stove is the ultimate kitchen appliance for all your cooking and baking needs. Gas range stoves combine gas cooktops (for such processes as boiling, frying, sautéing and others) with powerful ovens so you can do all your cooking with one device. Gas stoves use a natural gas line or propane hookup to produce small flames for heating and cooking. There is something instinctive about cooking over an open flame, and it's easy to love the visual indication that temperature increases and decreases as you turn the dial. Besides, cooking over fire allows you to shortcut a few cooking processes. Moreover, cooking directly over the flame is a fantastic way to infuse smoky flavour into your favourite recipes.
Speaking of efficiency, gas stoves are more energy efficient than electric ranges. An electric range takes three times as much energy to produce and deliver the same heat as a gas range, so you may notice large utility savings depending on your local utility rates.
If your stove is not working properly, you notice an orange flame on a gas stove, or you face any issues with it, contact the professionals at Fix Appliances CA, and you are to rely on qualified gas stove repair. All our gas fitters are trained and experienced and have TSSA certificates to offer and provide you with gas stove repair service near me in the most safety way and in no time.
Gas Oven Repair Service
The humble gas oven has been with us since the 19th century, and while electric ovens are rather more common nowadays, gas ovens are still used in countless kitchens all over Canada. When you compare the pros and cons, a gas oven comes out ahead for many people. As a rule, they are cheaper to run than their electrical counterparts, which is a big plus if you want to ensure that your kitchen is as cost-effective as possible. Besides, they heat up and cool down quicker and are more energy efficient. Or you might have chosen it because while an electric oven typically lasts only 13 years, a gas oven lasts up to 15.
Gas ovens cook food via a gas-fuelled burner. These appliances require a steady supply of natural gas to function – the gas is ignited by either a spark generator or a small pilot flame, depending on the model.
If you face a problem with any of its parts, including the burner failing to light, not heating, or there is a delayed ignition or any other, it is time to call the certified and licensed gas technicians and receive help in gas oven repair. With more than 18+ years of experience in this industry, you will surely get excellent repair service and advice on maintaining the gas oven to prolong its lifespan.
Not Sure? Call to Us!
When something goes wrong with any gas appliance, you really don't have time to waste and all issues must be resolved in no time. First, you're probably most concerned about how much this situation will cost you. Your stove or oven wasn't cheap, and the thought of shelling out the cash for a new one sounds truly agonizing. Thus, the crucial point in this case is to decide repair or replace.
Apart from any electric appliance gas appliance-related frustrations can be fixed quickly and easily by a professional, and many repairs can be completed within as little as an hour. Fix Appliances offers a gas range and stove repair at home. Repairing an oven is also much cheaper than replacing it, it's better for the environment to reuse your oven for a more extended period of time, and buying and installing a new range is often a lengthy, difficult process.
But still, one thing would guarantee a replacement: its age. Stove or oven ranges should usually last you around 10 to 15 years, so if your gas cooking appliance is over 15 years old, now could be an appropriate time to consider a full replacement.
Our Gas Appliance Technicians Service the Following
Many homeowners choose to feature a gas cooktop in their kitchen design, bringing exceptionally strong heat and easily adjustable temperatures to their cooking space. A gas cooktop is a great choice for home chefs hoping to craft restaurant-quality dishes, but you won't be able to take advantage of this powerful appliance if the cooktop won't light. We know how frustrating and complicated it can be to deal with unpredictable breakdowns, the potential of leaks, and other technical issues that sometimes affect gas cooktops. This is why our certified gas technicians in Toronto, Brampton and other areas offer same-day repair with any gas appliance repair. Upon danger when working with gas appliances, the licensed gas technicians in our company are always near you. Contact us to have a gas cooktop technician dispatched to your location today to diagnose the problem, provide you with a quote, and complete the repair.
Fix Appliances CA is one of the leading gas stove and range repair companies with licensed gas technicians in Toronto and other areas that are near you. We provide all types of gas range repair, maintenance and installation services. One of the most used appliances in residential homes and the commercial food industry is the gas range. If a gas range does not ignite or heat properly, this can cost an owner time and money. If you are experiencing any issues with your gas stove or a gas range and it is no longer covered by the manufacturer's warranty, our gas appliance service technicians are those who can cope with any problems. Each of our trained gas range technicians is equipped with the knowledge to diagnose and troubleshoot the most common issues related to gas equipment. FIX Appliances CA has been providing residences and commercial businesses with impeccable gas range repair for over a decade. There is no one better when it comes to gas range repair service, maintenance, and/or installation.
Just like your gas stove, if your gas oven is not heating to the correct temperature, it can ruin your food. A gas oven used to bake and broil your favourite meals and desserts is not worth much when it can't hold its temperature. The quality of your food depends on your gas oven working as best as possible. FIX Appliances CA technicians can repair your gas oven and/or replace the parts that are not up to snuff. When your gas oven is faulty, we understand how frustrating this can be. That's why our certified gas technicians are available seven days a week. Contact us and a factory-trained gas specialist will be at your door ASAP. With almost twenty years of experience, we offer a reliable, fast and hassle-free service. We aim to get your oven fixed as quickly as possible, and to the highest standard. We are an authorized gas oven repair near me company, and you can be sure to get a service you can trust.
When washing clothes, you depend on the performance of a dryer to dry them efficiently and quickly. As such, when this appliance develops a problem, the task becomes challenging or frustrating. If you don't have it fixed, you put yourself at risk because you don't know what will happen next when you use the dryer. That's why you should call Fix Appliances CA to schedule your gas dryer repair. You can schedule your gas dryer repair near me appointment with the best appliance repair technicians. Our technicians repair a gas dryer during a single visit. Frankly speaking, we know how important this appliance is in your laundry room. As such, we focus on offering you the most efficient repairs anytime you seek our assistance. Our service vans are stocked with genuine parts for all gas dryer brands, models and makes. Our technicians are committed to ensuring that every client gets quality repairs for gas dryers.
What Our Customers Say About Us
Discover how Fix Appliances maintains a 5-star service record since day one.
"Quick response, resolved the problem immediately. Would hire again. Very professional and honest."
Lanny, Oshawa
best gas repair
October 30, 2022
"The technician expertly surmised the problem with our gas cooktop and fixed it quickly. He recommended we replace the oven ignition since it was working properly. I was so impressed that the repairer wore booties to protect our floors. He was courteous, most professional."
Danny, Vaughan
Gas Cooktop Repair
October 30, 2022
"Excellent work and strong communication skills. Also really appreciated the honestly given 2 alternatives to repair my gas dryer. It's good to have a true professional that takes pride in his work and lay out all the options to fix an appliance. Will hire him again but so far he was able to fix my appliance for good!"
Andy, Toronto
Gas Dryer Repair Service
October 30, 2022
"Very responsive and honest. Unfortunately, my gas dryer could not be repaired, but expert from Fix Appliance CA was very upfront about the situation and advised me appropriately. I will definitely use them again."
Margaret, Oshawa
Gas Dryer
October 30, 2022
Fix appliances were super easy to book online and answered all my questions. I was able to book everything online. The installer was punctual and the install went very smoothly.
Erika, Barrie
Gas Dryer Installation
June 13, 2019
Same-day Gas Appliances Repair Service in Your Area
FIX Appliances CA's main branch is located in Aurora, Ontario, and our local gas repair technicians serve Toronto and other areas surrounding GTA.  Check our service map to confirm the service area nearest to your city or town, and you will be sure to receive help from a certified gas technician near me.
Meet the Experts in Gas Appliance Repair in the GTA and southern Ontario
Experts in gas appliance repair with decades of experience fixing malfunctioning appliances are what we have built our reputation on. Every technician under our name is dedicated and reliable. No matter if it's a broken oven, stove, dryer, or other household appliance, we should be able to get it up and running again in a very short time. To every home we have the luxury of servicing, we always arrive with a willingness to get down to work right away. We will solve the gas appliance repair problem that is causing so much stress and frustration.
Having the appliances we rely on daily fail to function can be overwhelming. As a top-rated name in gas appliance repair, we have serviced thousands of customers in the past seventeen years across Toronto, the GTA, Barrie, and Hamilton, as well as appliance repair Vaughan and other areas around the province. When something like a gas stove breaks down, it means unwanted stress is added onto your life in addition to the financial stress of knowing that you either have to fix or replace that broken gas appliance. Trying to find the right gas appliance repair company that isn't going to break the bank can add to that stress. That's why at FIX Appliances CA we do our best to be as visible as possible, always providing reliable, on-time, and professional gas appliance repair service anywhere in southern Ontario. We do our best to keep our gas appliance repair prices as competitive as possible and keep our repair vans stocked with the necessary spare parts required to fix any brand appliance quickly and efficiently.
As one of the top-rated names in gas and electric appliance repair, we come to you to get your appliances running like new. Don't let a simple breakdown throw a hitch in your entire day. We service all major brands. Contact us for prompt, efficient service. For your next cooking gas stove repair near me, we promise the highest quality service possible, dispatching a fully gas-certified technician with the correct appliance parts to ensure you get up and running as soon as possible.
Contact us online or call or text us: at 647-503-6655 or Toll-free: 888-242-0777!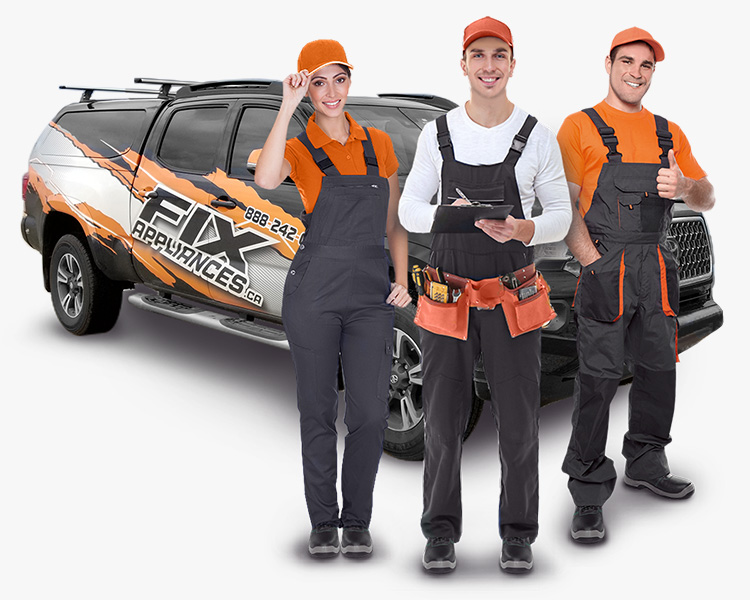 Each service truck carries an inventory of common replacement parts so your gas appliance repair can be completed the same day.
Licensed Repair of All Gas Appliance Brands
We service over 70 brands, so you don't need to call two companies if you own appliances from different brands. These makes include Amana, Fisher & Paykel, DCS,  Blomberg, Bosch, Bertazzoni, Frigidaire, Fulgor Milano, GE, Falmec, Huebsch, Electrolux, Inglis, Jenn Air, Liebherr,  Maytag, Miele, LG,  KitchenAid, Panasonic, Thermador, Viking, Sub-Zero, Samsung, Sears Appliances –Kenmore, Speed Queen, Whirlpool, Wolf, Zephyr and many more. Most of our repair bookings for appliance repairs are attended on the same day.
Common Questions About Gas Repair
Gas stove top burners not lighting
One of the most common problems is a buildup of grease and food debris blocking the gas flow to the igniter. A good cleaning of the area can usually solve the problem quite quickly.
If you have a gas oven that is not turning on, one of the most likely causes is a faulty igniter. A symptom of this problem occurring when a gas oven won't start is that your pilot is lit, but the oven does not start. You can try to observe the igniter for 90 seconds and do not light the gas. It may be time for a replacement.
If you are noticing that your gas range smells like gas, there are two possibilities. An odour upon lighting is normal, but if the smell of gas lingers beyond this time, this can signal a bigger issue. If you continue to smell gas, the best course of action is to shut off the gas to the oven and call an appliance professional.
Gas oven turns off by itself
If you find that your gas oven keeps turning off, it may be a problem with the thermocouple. This safety device turns off the gas to the stove when the pilot light goes out. So if your gas oven keeps turning off by itself, a replacement of the thermocouple may solve the problem.
Gas oven lights then goes out
When your gas oven doesn't stay lit, a common symptom is a blocked gas line. Another troubleshooting step is to check the flame sensor. A malfunctioning sensor will not detect a flame and will then shut off the gas to the appliance.
Gas oven not heating properly
If your gas oven is not getting, hot enough one of the problems might be an electrical issue. Even though the oven runs on gas, it requires electrical power to operate the timer and other electrical controllers. Try checking the circuit breaker to make sure it is not popped. Another troubleshooting step for a gas oven that won't heat up all the way is to check to make sure the gas supply is open to the oven and free of blockage in the line.
When your gas dryer doesn't start, one common symptom is that either the start or door switch is faulty. You can check the continuity of each switch with a multimeter. If either switch has failed, a replacement of the switch should solve the problem of a gas dryer that will not start.
Gas dryer burning smell won't start
When a dryer smells like burning and won't start, It should immediately address a potential fire hazard. At the first sign of a burning smell from a dryer, clean out and check the inside of the dryer, the lint trap and all exhaust lines. If the burning smell persists, stop using the dryer to contact an appliance repair company immediately.
Gas dryer heat goes on and off
A common symptom of a gas dryer that only heats intermittently may be an open thermal fuse. It can also be caused by an open thermostat, a high limit thermostat, a faulty flame sensor, or an inoperable igniter. In all cases, once the problem has been troubleshot, a replacement of the faulty part should solve the problem.
Gas dryer not heating properly
When you are faced with a gas dryer not getting hot, there are several potential causes. So if you have the problem of a gas dryer not heating up, your appliance may have several components that require replacement. Parts that should be checked include the flame sensor, the gas valve coils, the thermostat, and the igniter and the timer.
More Problems & Solutions from Our Blog