Factory Certified

Licensed technicians with over 15 years of experience

TSSA Gas Contractor

Fully certified in gas appliances service, repair & installation

Complete Warranty

Each repair is covered by service and parts warranty
When we talk about broken kitchen or laundry appliances, everybody would like to rely on the professional and qualified team of the best appliance repair technicians. If you are in Toronto and the GTA areas, you should choose from a variety of appliance repair and installation companies. But there is no necessity to look for experts and waste your time, FIX Appliances CA with the experience of more than seventeen years is ready to offer the best appliance repair.
For the last approximately two decades, we have provided trustworthy and reliable services. Our team of experts is continuously training and improving their skills in appliance maintenance, all in one appliance repair, and installation for major home appliances including refrigerators and freezers, washing machines and dryers, dishwashers, ranges, cooktops and stoves, range hoods and microwaves.
Our main task is the quality of Toronto's downtown appliance repair, maintenance, and installation services. FIX Appliances CA has a team of certified and licensed technicians whose work is approved by thousands of positive reviews from satisfied customers. You are sure to receive solutions for appliance issues that prolong the lifespan of any household appliance.
If you face any problems and are in need to fix appliances in Toronto or other GTA areas, contact our friendly representatives and wait for a specialist who determines the issue and resolves it. We are proud to offer same-day appliance repair to return your appliance working as soon as possible. We are available 7 days a week from 7.30 am – 9 pm. And everything you need is to call or text at 647-503-6655 or submit a request online and our support team will get in touch with you immediately.
Why You Should Choose FIX Appliances CA Repair Services
Being more than 18 years in the market of home and commercial appliance repair, based on the average prices and labour, we prepared the following table to take advantage of receiving the full information on our services and your expenses that you can enjoy; and this will help you to make the right choice in hiring the professionals at our team.
 

| | |
| --- | --- |
| ✓ Availability | Same Day, 7 days a week |
| ✓ Services Area | All over Toronto, Ottawa and the GTA |
| ✓ Experience | 17+ Years |
| TYPE OF APPLIANCE REPAIR | Average Cost* |
| Refrigerator | $150-$550 |
| Washing Machine | $125-$350 |
| Dryer | $125-$330 |
| Cooktop, Stove & Oven | $135-$370 |
| Dishwasher | $100-$250 |
| Range Hood | $90-$225 |
| Microwave | $90-$200 |
| Gas Appliance | $150-$500 |
Notes:
*– All prices pointed above are given approximate and may vary depending on the complexity of the services rendered and the make and model of the appliance itself.
Professional Appliance Services We Provide
We service and repair a variety of appliances, including:
Refrigerator Repair in Toronto
FIX Appliances CA specializes in repairing different types of refrigerators, such as Free-standing, Built-in, Freezers, and Wine Coolers. Having more than 17 years of experience, we are already experts in fridge repair services. Besides, you can count on us in emergency fridge repair near me. No matter the problem you have, we are prepared to fix it quickly and reliably.
There are many reasons why an individual might need a refrigerator same-day appliance repair in Toronto. The most common issues with fridges and freezers can be:
Food stored is spoiling quickly
Ice builds up fast/ice does not build up at all
What we can do for you is to provide long-term solutions for these temporary problems. If you need fridge repair in Toronto, our appliance technicians are more than qualified to handle your appliance issues. With their extensive knowledge and repair smarts, you can rest assured that your appliance is in good hands.
Have your issues resolved in a day! Just call or text us right now and expect a repairman to come to your aid as soon as possible. No worries, we don't have any hidden charges.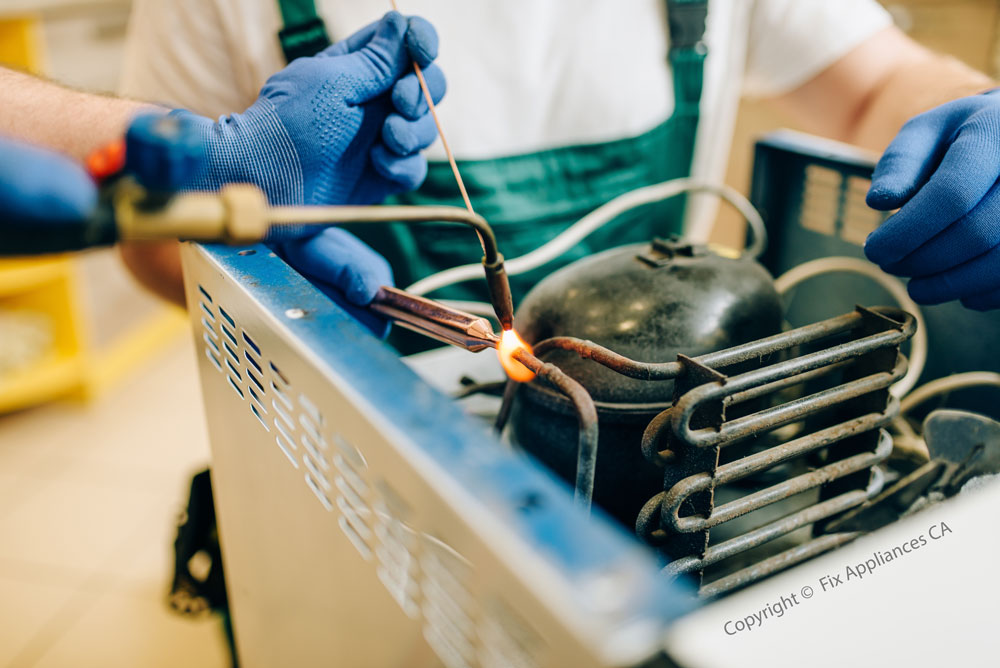 Washing Machine Repair in Toronto
Is your head starting to spin because of the problems your washing machine is causing you? FIX Appliances CA will help you straighten out everything. We service multiple types of washing machines, such as Front Loading, Portable, Top Loading, and a Washer Dryer Combo.
Moreover, we are licensed and certified to provide washer repair in Toronto of most makes, including the following: Amana, Bosch, Blomberg, Electrolux, Frigidaire, Fisher and Paykel, GE, Kenmore, KitchenAid, LG, Maytag, Miele, Panasonic, Samsung, Speed Queen, Huebsch, Whirlpool and more. Don't forget that all appliances can operate longer if you contact our appliance maintenance services.
When it comes to washing machine repair in Toronto, here are some of the issues our appliance fixers always solve:
Unusual noisy sounds start when the machine is on
The washer cycle never finishes
After the timer, the cycle continues
The drain is not working properly
It doesn't spin
Our technicians are completely assured of what to do to provide quick yet long-term solutions. Call or text us right now at 647-503-6655 and have your washing machine repaired on the same day!
Dryer Repair in Toronto
Buying a new dryer can cost quite a fortune. It doesn't depend on the brand but on you, for sure. Maintenance and a good location may prolong its life and you will enjoy using it. Unfortunately, it may start malfunctioning over time, your head might heat up a little bit. Do not feel upset and be in a hurry to replace it, because dryer repair services can still save your budget.
FIX Appliances CA has been servicing gas dryers and electric for almost two decades now. During all these years of servicing dryers, our appliance repairman has encountered and solved many dryer problems, including the following:
Wet clothes remain wet after a cycle
The dryer won't turn on despite being plugged in
Strange noises are starting to get concerning
The dryer is getting hotter than usual
A cycle doesn't finish and stops halfway
There is no problem too big or too complicated for our licensed technicians. The best part is that we can do it in a day! Just give us a call or leave us a message. We will send one of our best technicians to you on the same day you contact us. Our services are available every day for your convenience. Don't worry because there are no hidden charges!
Oven Repair in Toronto
An oven is an appliance, which is used for cooking, heating, baking, and grilling food. There are many types of ovens ranging from home ovens, wall ovens, industrial ovens and even outdoor earth ovens. Fix Appliances CA repair services for all types, models, and makes of residential and commercial ovens, including wall ovens, freestanding ovens, toaster ovens, steam ovens, bench-top convection and microwave ovens.
When you buy an oven, you must be sure to find the company offering oven repairs. Fix Appliances CA in Toronto has qualified technicians who will give you appliance repair advice and fix your oven appliance "near me" on a same-day basis. From our experience, our clients have the following common oven problems:
The oven doesn't heat to the right temperature
The oven door won't shut
The electric oven won't self-clean
If you need any types of oven repairs, don't put the problems off till tomorrow, contact our representatives at 647-503-6655 in Toronto now. You are certain to receive professional help from our oven appliance experts on the same day seven days a week, including holidays. You will enjoy the quality and well-done job at fair prices.
Cooktop, Range and Stove Repair in Toronto
Are you recently having problems with your cooktop and stove? If it starts to affect the appliance performance or cause worrying, it is time to take action. Just letting it be can lead to more complicated issues that can cause a hazard to everyone.
FIX Appliances CA has been in this industry for a total of 17-years of experience and counting. Toronto is a city of busy people who live in apartments, but who cook with pleasure for their families on weekends and organize parties even in their not big homes. Thus, you must be sure that you receive the qualified service in stove repair near me. No worries, we are as close as possible.
In almost two decades of offering range, stove and cooktop repair services, here are some of the most common complaints our clients have:
The stove heating element is not working
Food is not baked or heated evenly
The temperature is not accurate
It simply does not work or turn on
An electric cooktop won't turn on
The cooktop creates sparks
We have encountered these problems in multiple types of ranges and stoves, including electric or induction, slide-in or freestanding and others. Cooktops can be of different types as well; and they can differ in having a coil or smooth surface depending on the number of burners (2, 4, 5 or 6 burners).
When we do cooktop and stove repair home service, it is guaranteed to be a long-term solution for our clients. We make sure that your appliance will return to its tip-top shape. Need a quick fix of a range or a stove, or do you need a cooktop repair "near me"? Grab your phone now or anytime to reach out to us at 647-503-6655. One of our best-qualified technicians will be on their way to assist you right away.
Dishwasher Repair in Toronto
Is your dishwasher more of a bother rather than being more helpful? Let us assist your dishwasher in performing like it is brand new again. FIX Appliances CA has been in the industry for more than 17 years, providing professional service in-home appliance repair in Toronto.
All our experts are certified and factory-trained and offer repair, maintenance and installation of major brands. Besides, you can enjoy our discount on dishwasher repair when submitting an online request. One of our specializations is dishwasher appliance repair in Toronto and its surroundings. Each repair is covered by up to ninety days of satisfaction guarantee.
We can repair different kinds of dishwashers, such as Built-in, Double, Portable, and Countertop. Our technicians have extensive knowledge of how to handle all kinds of dishwasher problems, even if you have a combo one Here are some of the most common problems that all dishwasher types can experience:
The dishwasher is plugged in but not working
The washer is not drying the dishes properly
Do you need an immediate repair service for your dishwasher? Just call or text us right now and we will send one of our best repairmen on the same day. Our services are available from 7.30 am – 9 pm every day, so don't hesitate to contact us whenever you need repair services. Don't worry, we don't charge hidden costs.
Range Hood Repair in Toronto
FIX Appliances CA in Toronto, Ontario, also repairs range hood appliances, such as Under Cabinet Range Hoods, Insert Range Hoods, Island Range Hoods, Downdraft Range Hoods and Wall Mount Range Hoods. With more than 16 years of experience in the industry, here's what you can expect with our service offerings:
Expert diagnosis and analysis of the appliance problems
Professional recommendations when purchasing appliances
Accurate estimates
Quick yet long-term solutions
Seamless installations and replacements
Excellent customer service
Your kitchen ventilation appliances will be in the good hands of our licensed and skilled technicians. Here are some of the issues we have encountered and solved:
The motor is not spinning
Corrosion has already started to affect the performance
The breaker keeps on tripping
Rattling noises are getting louder
Lights not turning on
Do you need our services right now and are you looking for a repair company near me? Just call or text us at 647-503-6655, and we will be there right away. We will be available on the same day you need us! Our lines are open from 8 am to 9 pm for our clients' convenience. Toll-free: 888-242-0777
Microwave Repair in Toronto
If you need a microwave repair contact Fix Appliances CA in Toronto today! Our service reps will repair countertop, built-ins, integrated range hood, and drawer models. Call us if you experience any of these problems:
The microwave has stopped working
Heats unevenly if at all
Buttons or knobs won't work
The door latch doesn't work
The light bulb needs replacing
Displays error messages
The turntable doesn't turn
Microwave sparks and arcs
The display is burned out
Our experts are standing by to fix your microwave the same day. You are welcome to contact us right away to get professional services from our microwave experts.
Gas Appliance Repair in Toronto
Gas appliance repair requires special attention as they pose an extreme danger not only for customers but for the repairmen, too. Our technicians, licensed gas fitters from Fix Appliances CA in Toronto, Ontario, and its surrounding areas have up-to-date Technical Standards and Safety Authority "TSSA" certificates. No matter the kitchen or laundry gas appliance you have or are going to install, call for getting help from the pros at our company. Attentiveness and careful handling of gas appliances is the key to the success and long service life of such appliances.
Having approximately two-decade experience in repair, maintenance and installation of any gas appliances and being one of the leading companies in the market, you are sure to receive the best and quick help from us seven days a week from 7:30 am till 9:00 pm.
We serve all kitchen and laundry gas appliances, such as ranges, dryers, ovens and cooktops. The maintenance, repair, and even installation of them require specific knowledge and skills. We do recommend you hire only certified gas fitters who will do their work safely for you and your house.
If you have any concerns or slight odour of gas, or any other things that are alarming, immediately contact our customer representative. Thus, if you have found the following signs and issues, call us:
The surface burner won't light
Weak burner flame
Starts and stops suddenly
The spark module continues to spark after the gas is ignited
The igniter isn't glowing
Gas odour
Call today at 647-503-6655 or submit a request online to have them repair your gas ranges, cooktops, ovens, and gas dryers, delay can be costly. Everything should be done on time and you can avoid devastating consequences.
RED TAG REMOVAL: If Enbridge or Union Gas suppliers shut off your GAS appliances due to a RED TAG, we are fully licensed and authorized to turn it back on the spot.
Professional Appliance Repair Services in Riverside Neighbourhood and Greater Toronto
Toronto is the capital of the province of Ontario, and one of the world's greatest cities. It is constantly considered one of the most livable and the most expensive cities, at the same time, in the world. Toronto enjoys a reputation as an exciting, diverse, clean, and safe city to set up home. Thus, it deserves an excellent appliance repair service. FIX Appliances CA is the professional residential and commercial appliance repair company you have ever met in Toronto, the GTA area, and the nearest neighbourhood of Riverside. We know you have high expectations and so do we. Our technicians have the expertise to fix all common problems with today's major appliance brands.
Toronto is a populous city, with approximately 2,794,356 inhabitants. New data from the 2016 census shows that apartments (44 percent) outnumber single-detached houses (40 percent) as the home for Toronto residents. And Toronto has the most dwellings in high-rise apartment buildings. And when we talk about home appliances, we can admit to purchasing more compact ones, so-called combos: washers & dryers standing one on each other, over-the-range microwaves and many others. FIX Appliances CA provides appliance repair services of any kind and any complexity on a same-day basis.
An appliance that stops working when you're in the middle of using it can be extremely frustrating. When you need one repaired quickly, we're ready and waiting to make a service call. When you contact Fix Appliances CA you can be confident that we'll do the job right. Our technicians are fully certified and trained on all the latest technology. If you live in Riverside or anywhere in Toronto, Fix Appliances CA will get your broken appliances working again.
Reliable Appliance Repair and Installation Service When It's Required
We know you're busy and don't have time for an appliance that doesn't work when needed. It might be a washer, a dryer, an oven, a dishwasher or a fridge — we fix all of them. When our technician arrives on site they'll listen to you, examine your appliance and get to work. They'll always consult you before proceeding with any repairs. You'll never be hit with an unexpected and inflated bill from us. We don't start on a repair until you give us the okay to do so.
Do not forget that if you are moving or have decided to change the design of your kitchen and purchased new appliances, the expert team of FIX Appliances CA Toronto is prepared to install any home appliances. Besides, you can enjoy our rebate program that will help you to replace with the new ones and saves you money. Receiving repairing or installation services we provide not only a warranty but a satisfaction guarantee.
Professional Assessment: Repair or Replacement
When any home appliance is out of order, there is a question of whether it is worth repairing or it is time to replace it. This concern can be faded away only after the professional diagnostics of an expert. Qualified technicians at FIX Appliance CA in Toronto and other parts of the GTA are prepared to define the problem, explain it to the customer, and make an assessment. If the repair costs too much, in this case they give you a piece of advice to replace it. As a rule, if the repair cost is more than 50% of the purchase, we never start repairing.
Certified in All Major Appliance Brands
With the development of technologies, more and more kitchen and laundry appliances acquire so-called "artificial intelligence". Besides, the market is full of different types and brands that can match and satisfy even the most demanding customers. Sooner or later the question of appliance repair will arise. Our certified technicians have more than eighteen years of combined experience working on all of the best brands and a variety of models. We do understand how much you rely on your appliance for your daily routines such as washing your clothes and cooking. When you are in need, we are always nearby — call us today!
Why Choose FIX Appliances CA
Seventeen years of experience, a qualified team of highly trained technicians, and thousands of satisfied customers talk to themselves. We service all appliances of any manufacturer providing up to a one-year warranty. Moreover, we are an authorized company for major brands such as LG, Panasonic, Fisher and Paykel, Bertazzoni, Asco and others. Our experts are improving their knowledge and skills by acquiring the latest technologies, and they are always up-to-date. When something is going wrong with your home appliance, don't waste your time looking for a pro, contact Fix Appliances CA and trust your problems to our specialists. We'll cope with any issues in no time and at affordable prices.
| | | |
| --- | --- | --- |
| ✓ 7 days a week availability | ✓ Authorized Repair on Major Brands | ✓ 2 Decades of Experience |
| ✓ Electric Appliances | ✓ Gas Appliances Repair | ✓ Residential and Commercial Repair |
| ✓ Up to 1-Year Warranty | ✓ Satisfaction Guarantee | ✓ Attractive Rebate Program |
Toronto Appliance Repair
FIX Appliances CA is a leading provider of affordable appliance repairs in Toronto. We have over a decade of industry experience. Using this experience we can offer reliable white goods repairs. No matter what the problem may be, our skilled technicians will be able to fix it.
Contact us for Toronto appliance repair service FIX Appliances CA online or by calling at 647-503-6655 and Toll-free number 888-242-0777 today.
Licensed Repair of All Appliance Brands
We service over 90 brands, so if you own appliances from different brands you don't need to call two companies. These brands include Asco, Amana, Brava, DCS Fisher & Paykel, Blomberg, Bosch, Bertazzoni, Cyclone Range hoods, Frigidaire, Fulgor Milano, GE, Fhiaba, Falmec, Haier, Huebsch, Hotpoint, Inglis, Jenn Air, Liebherr, Maytag, Miele, LG, Electrolux, KitchenAid, Panasonic, Thermador, Sub-Zero, Samsung, Sears Appliances –Kenmore, Speed Queen, Sirius Range hoods, Unique, Viking, Whirlpool, Wolf, Zephyr and many more. Most of our repair bookings for appliance repairs are attended on the same day.
What Our Customers Say About Us
Discover how Fix Appliances maintains a 5-star service record since day one in Toronto area
Initially started with the e-mail. Few minutes later company called me to fix the appointment. Couple of hours later we'll mannered young man called Ilia showed up and fixed my washing machine in less than 45 minutes . I had spinning problem. Everything happened within few hours. Wow... Excellent service. Knowledgeable technician. What else we customers need more than this. I am very satisfied. Will recommend to my friends and family without doubt.

HomeStars in Toronto, Vaughan
Have an old dishwasher in my rental unit that needed new springs. Shani was very helpful in arranging the service call and answering all my questions. Alex was the technician sent to do the work. Found replacement parts the following week and fixed the dishwasher; my tenants were satisfied. He arranged both appts with my tenants, to accommodate their schedule. Very professional. Great customer service. Worth the money. Will definitely call them again.

Amy, Toronto, ON
Admiral dishwasher repair
Technician just repaired our Bosch dishwasher and did a fantastic job! He arrived early and was very nice and quickly fixed the problem. I will definitely use Fix Appliances again
Nina, Toronto, ON
Bosch Washer Repair
Toronto Appliance Repair
FIX Appliances CA is a leading provider of affordable appliance repairs in Toronto. We have over a decade of industry experience. Using this experience we can offer reliable white goods repairs. No matter what the problem may be, our skilled technicians will be able to fix it.
Contact us for Toronto appliance repair service FIX Appliances CA online or by calling at 647-503-6655 and Toll-free number: 1-888-242-0777 today.
The many residential communities of Toronto express a character distinct from that of the skyscrapers in the commercial core.
The City of Toronto encompasses a geographical area formerly administered by six separate municipalities. These municipalities have each developed a distinct history and identity over the years, and their names remain in common use among Torontonians. Throughout the city there exist hundreds of small neighborhoods and some larger neighborhoods covering a few square kilometers. Former municipalities include East York, Etobicoke, North York, Old Toronto, Scarborough, and York.
Office Location: 104 Goodwood park court, Toronto ON M4C 2G9, Canada