Factory Certified

Licensed technicians with over 15 years of experience

TSSA Gas Contractor

Fully certified in gas appliances service, repair & installation

Complete Warranty

Each repair is covered by service and parts warranty
If you are searching for major appliance repair services, FIX Appliances CA in Newmarket is of pleasure to serve you!
With over fifteen years of experience in major and quality appliance repair industry, FIX Appliances CA has established its name with loyal and satisfied customers. To ensure quality service, we equipped our licensed and skilled repairmen and technicians not only with knowledge and continuing education but also with equipment like trucks with the latest technology, machines and parts to cater to clients home appliance repair needs.
In addition, our repairmen offer long-term solutions to prevent occurrence of the same issue and service warranty to keep customers at ease.
Customers need not to worry on scheduling service as we offer same day from 8 am -8 pm. You also have an option to book via call/text 647-503-6655 or online.
Professional Appliance Services We Provide
We service and repair a variety of appliances, including:
Refrigerator Repair
FIX Appliances provides refrigerator repair in Newmarket on all household refrigerators, including but not limited to built-in, stand-alone, freezer or wine coolers. Our experts and technicians are provided with trucks loaded latest innovation, equipment and parts to bring one of your most important appliances back to work.
Fridge repair services are needed when:
Food spoils faster than usual, even at a cooler temperature;
Too fast frost and ice build up;
Doors not closing properly;
Refrigeration not turning on even if plugged;
Fridge not dispensing ice or water;
Strange sounds when plugged.
No matter what the problem is, FIX Appliances CA is ready to help! We take credit on providing, as quickly as possible, solutions to achieve customer satisfaction done by our professional appliance technicians.
Breakdown of appliances cannot be scheduled, but we can schedule appliance repair in Newmarket anytime with FIX Appliances CA. No waiting time! Our technicians are available same day, 24/7, any time. Talk to our support staff now via call/text 647-503-6655 or online!
Washing Machine Repair
When you need to service your malfunctioning washer, you'll want to hire a knowledgeable technician who understands the needs of your washer.
FIX Appliances CA offers washing machine repair in Newmarket and surrounding area to over 30 brands like GE, Electrolux, Bosch, Kenmore, Kitchenaid, Maytag, Miele, Blomberg, Samsung, Whirlpool and more. Our technicians are competent with knowledge to restore breakdown to +quality appliance.
Is your laundry filling up because of washer issues like:
Clothes and linen coming out not fully cleaned;
Spinning fast enough that it brings water out;
Water leaks;
Or your washer just not doing the job that it was designed to?
In FIX Appliances CA, every appliance being repaired is treated as an investment and is handled with utmost care. You can make sure that our repairman will give the best solutions on washer repair, may it be replacing a part/s or the whole appliance. Service warranties are also provided for customer's peace of mind.
Have a question about an issue? Don't hesitate to call and schedule a same day service, or any day/any time of the week, at no extra fee! Call/text or book a repair online!
Dryer Repair
FIX Appliances CA will provide service to your electric dryer and gas dryer that's not working properly. Backed with more than a decade of dryer repair experiences, we understand the need of providing skilled technicians, excellent support staff and equipment with the latest technology and comprehensive parts to address client's appliance needs.
When do you need our dryer repair services? Does it take too long, than usual, to dry clothes?
Making concerning sounds?
Having a hard time to start?
Fail to start or it stops midway through the cycle?
Does it prompt error messages?
Doesn't push hot air, but tumbles?
FIX Appliances CA will continue to keep its commitment to provide excellent dryer repair in Newmarket. Skilled technicians do their best to accommodate same day service appointments to repair dryer issues. Book at your most convenient time, services are available 24/7, all year round! We provide 100% free in-home consultations if you choose us to repair your defective dryer!
Range, Oven and Stove Repair
Having an impaired stove or oven is not a fun problem to have. No matter what, food needs to be served on the table. When replacing the old one is not a choice, FIX Appliances CA give you an option to repair range stove, wall oven, cooktop and microwave oven. They do same day service, no need to wait! Our skilled technician will return your appliance to good use again. No need to eat out, just enjoy home-cooked meals!
What oven and stove repairs do we handle?
Overheat stoves & countertops;
Stoves don't get hot enough;
Electronic Issues & Digital display issues;
Repairs & Maintenance of all major brands of gas & electric stoves.
For over 15 years in repair business, FIX Appliances CA was able to expertly service over 30 brands of oven and stove major appliances. Licensed oven and repair technicians are highly professional and all services made are warranted.
Wait no more! Take actions on the issues right away! Book your schedule via text and call 647-503-6655 or online to avail convenient and affordable service that you can trust.
Dishwasher Repair
It is horrific to have a malfunctioning dishwasher. Normal hand washing isn't just time-consuming but also tiring. You will need the service of an expert in bringing your dishwasher back to normal. FIX Appliances CA fixes built-in, double or portable dishwashers.
Issues to address with dishwashers:
Noise – either rattle of a pump hosting or motor bushing;
Will not start even if plugged;
Dishes not properly cleaned;
Water will not fill/Water not draining;
Door latch failure;
Leak.
Take action immediately. Call or text or book online of our service, our professional appliance repairman can go to you same day! Conflict of schedule? Our service for dishwasher repair in Newmarket will be the one to adjust! Let us know your most convenient time we will be there, 24/7, all year round!
Range Hood Repair
Do you face the problem issues with your range hood? Do you live in Newmarket or its surrounding areas? FIX Appliances CA provides the repair for all types of range hoods appliances whatever brand it is. We not only do repair but was also offer the following:
Installation
Best award customer service
Filter replacing or other maintenance services
Complete warranty on the services and parts replaced
You can trust the repair of your range hood our licensed and skilled technicians. Having more than sixteen years of experience, they can cope with any troubles you can face and solve them:
The motor not spinning
The breaker keeps on tripping
Rattling noises
The touchpad does not respond
Lights not turning on
Not sure about your spare time? Not a problem, feel free to contact us and make an appointment around your schedule. We will be happy to assist you at 647-503-6655.
Microwave Repair
Do you need immediate microwave repair in Newmarket? FIX Appliances CA repair most of all types of microwave and range hoods appliances whatever brand it is. We not only do repair but was also offer the following: installation or replacement, recommendations when purchasing appliances, maintenance services, filter replacing, etc.
Your important kitchen appliance as a microwave will be in the good hands of our licensed and skilled technicians. Here are some of the issues we have encountered and solved:
The motor not spinning.
The microwave runs but will not heat.
Rattling noises are getting louder.
Lights not turning off.
Moreover, we provide same-day authorized service for LG Microwaves, Cyclone and Panasonic appliances. Do you need our services right now? Feel free to reach out through our website or text message. We will be happy to assist you at 1-888-242-0777.
 Gas Appliance Repair
If you have gas kitchen appliances that need repair, contact Fix Appliances CA in Newmarket and its areas. Our highly-trained service representatives have been licensed gas fitters with up-to-date Technical Standards and Safety Authority "TSSA" certificates. Call us today at 647-503-6655 if your gas kitchen or laundry appliance needs repair or maintenance.
RED TAG REMOVAL: If your GAS appliances are shut off by Enbridge or Union Gas suppliers due to a RED TAG, we are fully licensed and authorized to turn it back on the spot.
We offer same-day services for all residential and light commercial gas appliances. If you think that something is wrong with any of your appliances, that is a range, a dryer, an oven or a cooktop, contact us immediately.
Licensed Repair of All Appliance BrandsLicensed Repair of All Appliance Brands
Fix Appliances CA has over 15 years of experience servicing all of the following brands and is factory certified to service:
Newmarket Appliance Repair
FIX Appliances CA is a leading provider of affordable appliance repairs in Newmarket. We have over a decade of industry experience. Using this experience we can offer reliable white goods repairs. No matter what the problem may be, our skilled technicians will be able to fix it.
Contact us for Newmarket appliance repair service FIX Appliances CA online or by calling 647-503-6655 and Toll-free number 1-888-242-0777 today.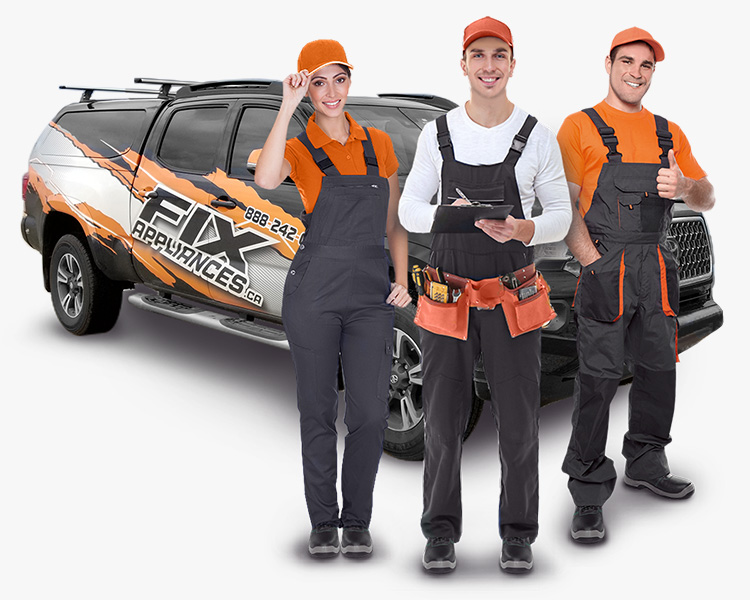 Newmarket is a town in York Region in the Canadian province of Ontario located north of Toronto. It is part of the Greater Toronto Area and Golden Horseshoe of Southern Ontario. In the Canada 2011 Census, the municipal population of Newmarket was 79,978. It is the regional seat of York Region. Many Newmarket residents commute to Toronto and its surrounding communities.
Office Location: 289 Fred Hagan Ct, Newmarket, ON L3Y 8K6, Canada
Save
Save
Our Expertise
We rarely see a problem that we cannot fix or that we have not come across before. Just some of services we offer include washer repair, dryer repair, oven repair, stove repair, refrigerator repair and dishwasher repair among others. If you need appliance repair fast, choose the company with one of the highest rated reputations in the community. When it comes to trusted, same-day appliance repair, no one does it better. Serving Newmarket and the surrounding area, all of our vans are fully stocked with new replacement parts for all major appliance brands. When a technician arrives at your location, they will be able to perform their repair smoothly in a single visit. On the rare occasion that parts are not available to fix the issue, we will ensure that the parts are ordered promptly for you, typically delivered the next day. Just some of the domestic and import brand names of home appliances we have dealt with include GE, Whirlpool, Samsung, LG, Maytag, Electrolux, KitchenAid, Blomberg, Kenmore, and others.
Same-day Service
No matter how big or small the job is, we will get it done – same-day service and hassle-free. When it comes to fixing appliance issues, when a problem becomes evident, it is important to get it resolved as quickly as possible. This ensures that the problem does not grow or creates a situation where you may need to replace the entire machine. Fifteen years is a long time to have worked on appliances and throughout the decade and a half of assisting customers, we have worked on all brands, makes and models. No matter what style or design your appliance is, we are sure to have seen it somewhere before and have no issue tackling any brand, make, model, or appliance that needs a fix.
There's nothing worse than being in the middle of a wash day and having your washing machine or dryer break down all of a sudden; or if you're fridge is making loud noises and keeping you up at night, or if it's not holding its temperature; or if your stovetop has failed without warning; or if your dishwasher is not turning on or is simply not getting the dishes clean. If you are running into any of these issues or if there are other problems you are experiencing with your appliance machines, don't hesitate to call our appliance repair technician for a speedy and convenient response. We stand by the work of each of our technicians, all of whom are committed to upholding the highest standards in repair and customer service. They are on stand-by 24/7 ready to be dispatched as need be. Remember – there is never a technician too far away. When you need us, FIX Appliances CA Newmarket will be there.
Request repair
Quality Workmanship
Above all other priorities, the quality of the work is what we hold in highest regard. This is what our high-standing reputation has been built on in Ontario appliance repair and it is this same reputation that we put on the line with each service call we take. We will try to provide you with the most affordable, appropriate, and accurate estimate for your needs, and should you need a future appliance fixed, it would be our pleasure to accept the call. By text, call, or by filling out a form online, you can submit a repair request and receive a technician the same day. If same day isn't accommodating, we will work around your schedule to find a time that is most convenient. Don't let the difficulty of an appliance repair get you down. Speak with a licensed and certified gas or electric appliance repair technician now to get assistance with any of your appliances. One of our technicians will happily take a look, provide you with repair options, and after a matter of minutes, you can be on your way knowing that your appliance is ready for its next use!
Call or text us today 647-503-6655 or our toll-free number 1-888-242-0777 to schedule your appointment or contact us FIX Appliances CA Newmarket online for appliance repair and get to know one of the top names in the industry. We are fully licensed and registered under TSSA as gas contractors with certified gas technicians always available.