Factory Certified

Licensed technicians with over 15 years of experience

Gas Certified

Fully certified in gas appliances service, repair & installation

Complete Warranty

Each repair is covered by service and parts warranty
Trusted Speed Queen Service
We service and repair all Speed Queen appliances, including:
Home appliances make life a lot simpler. Thanks to washing machines, we no longer have to toil away doing our laundry, while microwaves help untangle busy mornings. Should even one of these appliances throw any problems our way, we are taken back to the reality of our immense dependence on them.
Thankfully, such malfunctions and appliance breakdowns now have an easy fix. With FIX Appliances CA, repairing any appliance and getting life back on track is just a one-day situation. Regardless of the appliance brand, model or build, we are a one-stop solution for any issues with your dryer, washers, washing machine and many other appliances.
Same-Day Repair Turnaround
You don't have to slug along with an appliance that's giving you trouble, waiting days for the technician to arrive. We offer same day service visits across various locations in Canada. Simply call us, email us or leave a message on our website and we'll get in touch with you immediately. No matter if it is a weekend or a national holiday, FIX Appliances CA is always at your service.
Licensed & Experienced Technicians
We value your patronship and reliance on us. That's why every time you contact FIX Appliances CA for any appliance issue, you are visited by an experienced and licensed technician who is factory certified and comes with over fifteen years of experience in appliance repair. Your appliance will be in able hands.
You can be assured that our repairmen will provide a solution that is cost-effective, accurate and immediate. Should you require any replacements, we only order spare parts that are absolutely authentic and within warranty. In order to facilitate a quick turnaround, we possess a vast inventory of spares. And even better, any repairs undertaken are covered by warranty for the service as well as for the parts replaced.
Dryer Repair
Dryers are perfect for those winter mornings when the wetness just refuses to leave your son's football jersey or your favorite work shirt. Just one load and the job is done.
But what about when your dryer starts to give you trouble? With FIX Appliances CA, you no longer have to make repeated calls to service centers for a repairman to pay you a visit. We specialize in services for Speed Queen Dryers and have a rich repository of experience on commonly faced problems such as:
Abrupt breakdowns mid-way through the process of drying
Compromised heating capabilities
Unusual and loud noises coming from the appliance along with strong vibrations
Longer time taken for the clothes to dry out
Damaged dryer belt
If your dryer is displaying the above problem signs, we at FIX Appliances CA will be happy to help with Speed Queen dryer repair. No matter the dryer model, build or version, trust the Speed Queen appliance repair specialists in FIX Appliances CA to get around the problem swiftly.
After our service, your restored Speed Queen Dryer will serve you as good as new, with any replacement parts and service covered under our warranty.
Washer Repair
Washers have today become appliances that are basic requisites in households. While each of us has our preferences on top or front load machines, we certainly can't deny our reliance on washers.
Needless to say, hell breaks loose when our washer breaks down, leaving us with a repulsive pile of undone laundry that keeps getting bigger. Thankfully, any issues with your Speed Queen washing machine can be nipped in the bud with our same-day repair service.
We understand the stress malfunctioning appliances can put on your daily routine and have developed superior expertise in alleviating a host of issues relating to your Speed Queen washing machine.
Regardless of whether you own a top load washer or a front load washer, we are adept at dealing with all Speed Queen washers to address breakdowns, part replacements, leakages, and other specialized issues. Our experienced technicians can handle various washer problems including:
Water leakages
Damp and stale smelling clothes post process completion
Machine stopping mid-cycle
Unusual levels of noise and vibration
Malfunctions in the spin/drain cycles in the machine
These are common problems that may get the better of your machine on a bad day. Thanks to our Speed Queen washing machine repair service, your machine will be up and running before the day ends. As we are an Authorized Repair Service agent for all Speed Queen appliances, you can trust us to deliver the best service at cost-effective prices.
Combo Laundry Repair
No one likes a cluttered and over-crowded floorspace in their household and a great way to optimize space is by investing in appliances that do more than two jobs for you, like an oven and microwave or a washer and dryer in one appliance.
A breakdown in these appliances spells double trouble for households, but not anymore with our comprehensive appliance repair services for Speed Clean combo laundry appliances that clear out all issues in a jiffy.
FIX Appliances CA is your one-stop solution for Speed Queen appliance repair service if you have been experiencing any of these issues:
The appliance does not turn on
Faulty display
Failure to drain out water
Stops mid-way in the process
Dryer does not produce heat
While these issues may leave you confused, skilled and licensed technicians from FIX Appliances CA can turn the situation around in no time. As we are an Authorized Repair Service center for Speed Queen appliances, we hold a rich inventory of spares and supplies to provide you with prompt same-day solutions!
Reliable Service & Repair
FIX Appliances offers reliable, same day Amana Appliance Repair Service in Toronto, GTA, Barrie, Bradford, Newmarket and Surrounding Areas. Toll Free (888)-242-0777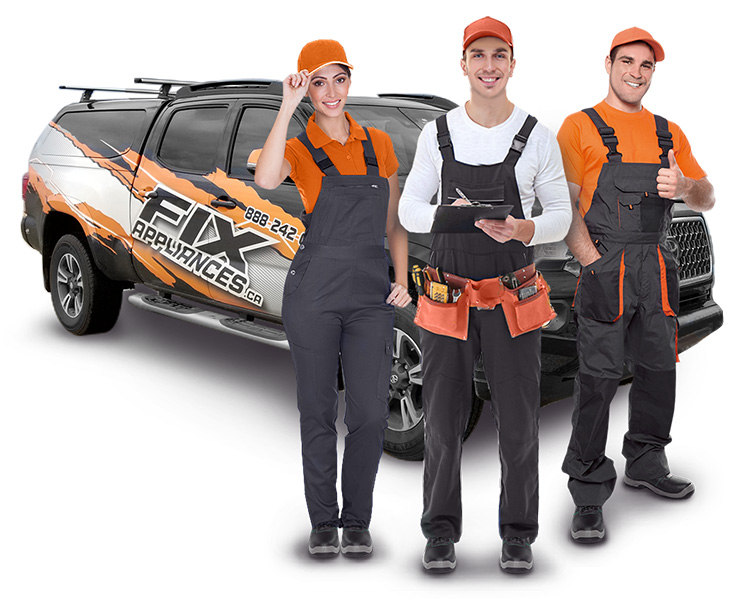 Homeowner Guide
for Appliances
Join over 1200 GTA homeowners who benefited from this useful guide to help keep appliances from breaking.