Factory Certified

Licensed technicians with over 15 years of experience

TSSA Gas Contractor

Fully certified in gas appliances service, repair & installation

Complete Warranty

Each repair is covered by service and parts warranty
Types of Gas or Electric Stoves We Repair
For gas or electric stove repair, you need to have special knowledge and skills to determine the exact cause of a breakdown, own an appropriate set of tools, and most importantly, you must follow all safety rules. It is better to entrust the gas repair service to ensure your kitchen's safety.
Most often, either with domestic or commercial property, we are contacted when there are issues with electric ignition or when burners do not work properly. There are cases when the stove does not warm up like usual, and owners can not set the temperature. When the gas control does not work, the burner switch fails, or the oven thermostat does not work, our stove technicians are ready to help you. Repairing gas and electric stoves after determining the cause of a breakdown is made by trained specialists with previous experience.
Kitchen Stove Repair & Replacement
Our company offers a warranty on the performed work and on the gas or electric stove installation. If you have any problem with your old stove and you decide to replace it, we are always happy to help and provide a wide range of gas and electric stove services. Ensuring the safe operation of the oven installation, diagnostics, and further maintenance, you can be sure your favourite dish will be well prepared. The installation of your gas or electric equipment can be made by our stove and oven technicians who have been trained in authorized organizations.
Our experts repair all brands of stoves, providing all customers with inexpensive, efficient and guaranteed results. We can successfully help to repair gas leaks and electric heating elements, fix the oven and broken pieces, and fix stove issues that caused the breakdowns. We can also provide advice on the further usage of the equipment and how to avoid damages. We will solve the problem and repair your stove quickly. Check reviews of our company to be sure you are choosing the best specialists. Payment for services is carried out after completion.
Save
Save
Save
What Our Customers Say About Us
Discover how Fix Appliances maintains a 5-star service record since day one.
My broken oven was Diagnosed and fixed within 5 days, thank you so much! Cheaper than buying a new stove that's for sure.

Carlybushey, Barrie, ON
Oven & Stove Repair
The technician was friendly, diagnosed the problem and proceeded to fix it without additional parts or costs involved. Happy with the service and nice to have the oven working properly again!

L, Innisfil, ON
Stove Oven Repair
After turning on my self clean oven it caught on fire and stopped working. I was sure that we would have to incur the cost of a new appliance but took the risk of calling for service first. Turns out this was a great decision. Oleg came promptly the day after my call, diagnosed the problem quickly and returned to complete the repair in just a few days. And the cost was more than reasonable! Will use this company for all my appliance problems in the future!

lorainnightingale, Collingwood, ON
Oven Repair
Contact Us For Stove & Oven Repair Services
Common Oven or Stove Issues
Oven doesn't bake evenly
Oven broiler problem
Stove surface element won't work
Range surface element won't turn off
Oven thermostat needs calibration
Oven smells like gas leak
Convection fan is not spinning
Oven not reaching temperature
Gas stove flame orange
Oven hinges problem
Oven temperature sensor failure
Cooktop or oven knob won't turn
Gas range conversion to propane
Oven won't turn off
Oven door repair
Oven fan keeps running
Error code on the electronic panel
Range burners spark all the time
Oven igniter malfunction
Downdraft fan not turning On
Same-day Ovens, Stove Tops & Ranges Repair Service in Your Area
FIX Appliances CA's main branch is located in Aurora, Ontario, and our local stove, range or oven repair technicians serving the GTA, Ottawa and southern Ontario.  Check our
service map
 to confirm the service area nearest to your city or town.
Common Oven or Stove Replacement Parts
We stock parts for most of the top brands, including:
Oven bake element
Oven broil element
Stovetop terminal block
Oven igniter
Spark electrode
Spark module
Coil surface element
Door switch
Control knob
Grease filter
Sealed surface burner
Gas orifice
Each service truck carries an inventory of common replacement parts so your stove repair or oven can be completed the same day.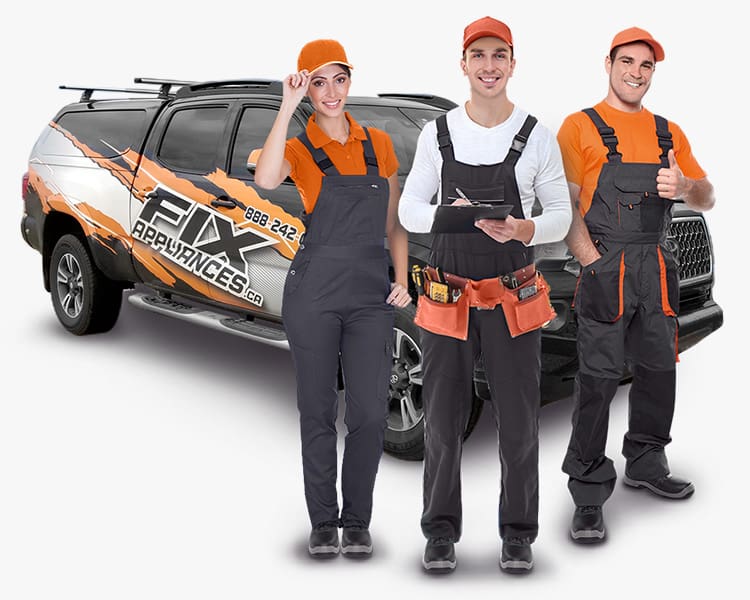 Oven or Stove Brands We Service
Bosch, Blomberg, Bertazzoni, Fisher &Paykel DCS,  Fulgor Milano, Frigidaire, GE, Electrolux,  Kenmore, Kitchenaid, LG, Maytag,  Samsung, Thor, Whirlpool, Jenn-Air, Panasonic, Thermador, Viking, Wolf, Westinghouse and more brand names of ranges, stoves, cooktops and ovens.
Common Questions Asked About Stoves
What does it mean if my stove igniters keep clicking?
If your stove igniter keeps clicking, it may be a sign that something is wrong. It could be because the thermostat is broken, causing the temperature to be too high. Book an appointment with FixAppliances, and we will be right there to help you.
My stove light won't turn off. Can you fix it?
A stove light that won't turn off is a common problem. However, there is no need to panic. Our team of experts can fix any stove problem and get your stove fully functional in no time.
My oven won't turn on. How soon can you repair it?
An oven that won't turn on can be super frustrating, especially when preparing a meal. Skilled technicians can diagnose and fix your stove as soon as you need it. We also provide a stove and oven testing on the same day.
My new oven smells like burning plastic. Is there a way to fix that?
A burning smell from an oven is not something you should take lightly. Do not ignore this, especially if flames accompany it. Luckily for you, we know how to fix fans of all kinds of stoves. Get rid of the smell of burning plastic and maximize safety while preparing meals.
How much does it cost to replace stove igniters not working?
Our goal is to provide the best services at affordable prices. Licensed technicians will check out your stove to better understand the type of igniters to remove. We also offer special deals and discount coupons for our customers.
Can you show me how to replace the oven igniter
Our 15+ years of experience in repairing stoves and ovens put us in the best position to assist you. Work with the best in the business whenever you need to replace a stove igniter or the cooling system. Just call a skilled technician who is more than happy to help you.
Can you show me how to clean the stove control panel?
Stoves can stop functioning because of the accumulation of dirt in the control panel. Regular cleaning is therefore important, especially if you want an electric or gas stove to last longer. If your control panel has stopped working, our team will clean it for you. We will also teach you ways to keep it clean.
Stove Maintenance Tips
Tip #1 – Clean the exterior
Carefully clean the control panel with a non-abrasive cloth and mild detergent. The door panel and glass should be cleaned when completely cool with a heavy-duty degreaser. Smooth, glass stovetops should be cleaned with a scratch-free pad then a special cooktop protectant should be applied.
Tip #2 – Clean the interior
Clean up spills as soon as possible to prevent smoke during cooking. Non-self-cleaning ovens can be cleaned with a heavy-duty oven cleaner. Self-cleaning appliances use high temperatures for baking off food particles and usually take between 2 and 4 hours.
Tip #3 – Replace light bulbs
Use an inexpensive 40-watt appliance bulb inside your stove. Some models may require that you remove a glass cover to reach it.
Tip #4 – Clean oven racks
The racks can be removed and cleaned in the sink. Soak in soapy water to loosen food particles and spills. Remove racks before using the self-cleaning feature to avoid warping.
Tip #5 – Clean or replace the broiler pan
The porcelain-coated broiler pan can be cleaned with a non-abrasive cleaning product. Replace the pan if it becomes damaged or chipped.
More Problems & Solutions from Our Blog