Factory Certified

Licensed technicians with over 15 years of experience

TSSA Gas Contractor

Fully certified in gas appliances service, repair & installation

Complete Warranty

Each repair is covered by service and parts warranty

Authorized Repair

Authorized service centre for most appliance manufacturers
Why Choose Us?
Fix Appliances CA has over 18+ years of experience in repairing washing machines. Our certified and licensed washing machine fixers are ready to help you seven days a week. Warranty, Satisfaction Guarantee, best prices, same-day local washing machine repairs, high-quality washing machine servicing and other advantages can help you make the right choice.
Best Quality
Licensed and Certified Appliance Experts!
The main priority for our company is the satisfaction of our valuable customers. Our licensed and skilled technicians are prepared to offer excellent quality repair and installation services for any of your appliances, including washing machines and dryers. We use only original parts for a replacement which will guarantee the long lifespan of the repaired appliance.
Fair Price
The best services at reasonable prices!
Our washing machine technicians have many years of experience in this business. Besides, they undergo regular training on improving their knowledge and skills. All these allow us to offer the best services at affordable prices, with no extra or hidden fees.
Convenient Time
Available seven days a week, including holidays!
Fix Appliances CA provides repair and installation services 7 days a week, including holidays and weekends. You can contact us by phone or through online chat to schedule the most convenient time for a visit, mostly on the same day. Moreover, we provide emergency repair. You can count on us when you order washing machine repair services all day a week.
If you want quality washing machine repair, contact Fix Appliances CA and trust your problem with our washing machine technician near me. We'll resolve any issues in no time and at fair prices.
| | |
| --- | --- |
| ✓ Availability | Same day, 7 days a week |
| ✓ Service Areas | All over Toronto, Ontario, and the GTA |
| ✓ Experience | 18+ Years |
| ✓ Authorized Repair | Major Brands |
| ✓ Residential and Commercial Repair | Best Prices |
| ✓ Warranty | Up to 1-year |
| ✓ Attractive Rebate Program | Buy with a Discount |
Types of Washing Machines We Repair
Dependable washing machine repair by certified technicians for brands and styles. We service different types of laundry centers, washer and dryer combinations, top load washers, front load washers, portable washers, washer & dryer sets and compact washers. We accept appointments online 24 hours a day, 7 days a week, for no extra charge. Call, text or schedule an appointment online. It's as simple as that!
We understand the urgency of your problem. If you are used to using a washing machine, it is incredibly frustrating when it suddenly stops working. Washing by hand is not an option! We work tirelessly to send a highly skilled technician to resolve your washing machine problem immediately. Call us and book an appointment. We schedule appointments based on your convenience. Our team will arrange the best time when an expert can visit your home. A technician will look at your washing machine to figure out what the problem might be. Once the issue is diagnosed, we will advise you on the next appropriate step. This usually involves our washing machine repair services. Technicians will repair a washer machine on the same visit so you can use it without waiting for days.
We do not only provide regular but the best services. We aim to ensure you do not incur any inconveniences after we have repaired your washing machine. Our technicians make sure they leave your washer working without any faults. It would be terrible to keep having the same issues after repair service. FIX Appliances CA guarantees you the very best services when it comes to the repair of washing machines and tumble dryers. We make sure to leave all our customers satisfied with our work.

Same-Day Washing Machine Repair
Our goal at FIX Appliances CA is to make life easier for you. We'll work around your schedule quickly to ensure your complete satisfaction. Each repair team member is licensed and insured, so you'll know your washing machine is in good hands. Same-day washing machine repair service is available, and your house call is free if you order repair work. So, suppose you want to fix a washing machine today, including such issues as the washing machine making a grinding noise or a washing machine not draining. In that case, we can do that — we specialize in providing emergency services.
Get top-notch services at incredibly affordable prices! You won't have to spend ridiculous sums on repairing a washing machine. Instead, please work with us and save so much. With a lot of experience repairing washing machines, dryers and laundry centers, FIX Appliances CA offers the best in the business. No location is too far for us. We provide repair services in Toronto,  the GTA  and other places in Southern Ontario. For same-day services, you do not worry about additional charges. We will charge you a regular rate fair amount.
What do you have to lose? Call FIX Appliances CA today. Our staff will arrange an appointment and a washing machine technician near me will visit you. Work with the most professional and skilled technicians in Canada!
Save
Save
Not Sure If It's Easier To Replace Or Repair? Call Us!
It is really incredible how much we depend on our household appliances. Thus, you want to find a solution when an appliance goes on the fritz. When your washing machine is out of order, how do you know whether to roll up your sleeves, work the phones to find a professional, or swipe your credit card at the nearest appliance dealer?
Repairing an almost new machine or replacing an ancient one are relatively easy decisions from a cost perspective. A professional contractor is your best resource for deciding whether to repair or replace an appliance. Contact a washing machine technician near me and have them look at your appliance. They are the ones who can tell you what the problem is, how much it will cost to repair it, and whether you should consider replacing the appliance.
Fix Appliances CA insists on following the 50% rule when you make a decision. If an appliance is more than 50% through its lifespan and if the cost of one repair is more than 50% of the cost of buying new, you should replace rather than repair.
What Our Customers Say About Us
Discover how Fix Appliances maintains a 5-star service record since day one.
When I called about our machine leaking they were able to send a service repair man within hours of the same day. He determined the problem, called in for the part and within the week ( a couple of days) the machine was fixed. This company was very accommodating in getting the repair done as soon as possible and their service person was efficient and professional. I would use them again if the need arises.
Hammond, Barrie, ON
Washing machine Repair
April 09, 2019
Thank you Fix Appliances for being there and helping out. I am at a loss of words to praise the company and the people who make it such a great one... From the word go it was a pleasure to talk to diana .... Kind, attentive, helpful, understanding are just a few words which describe my first interaction with her... Excellent customer service and response time. Accommodative to my schedule and big on a win win situation... Moving forward Olig was just incredible.. A new level of customer service and satisfaction for sure... Helped me all the extras... I will forever remember all the help he offered Thankyou Fix Appliances ... Im glad to have someone to rely on whenever one of my household appliances give up on me... I wish i could meet diana in person just to tell how thankful I am
Bismahnavid, Barrie ON,
Maytag Washer Repair
April 09, 2019
Contact Us for Washing Machine Repair Service
Common Washing Machine Issues
Washer overflowing
Washer stops mid-cycle
Door seal broken
Same-day Washing Machine Repair Service in Your Area
FIX Appliances CA has branches in different locations. Our technicians are serving the GTA and southern Ontario. Check the map to confirm the service area nearest to your city or town.
Common Washing Machine Replacement Parts
We stock parts for top-load and front-load and include:
Pump
Knob, Dial and Button
Transmission
Switch
Lid, Latch, Door lock
Gasket, Boot Seal
Water Valve
Hose, Tube and Fitting
Agitator, Dog Ears
Motor Stator, Rotor
Circuit Board and Timer
Suspension
Shock Absorption
Belt, Pulley
Drum and Tub
Hall Sensor, Position Sensor
Each service truck carries an inventory of the most common replacement parts so your washing machine repair can be completed the same-day.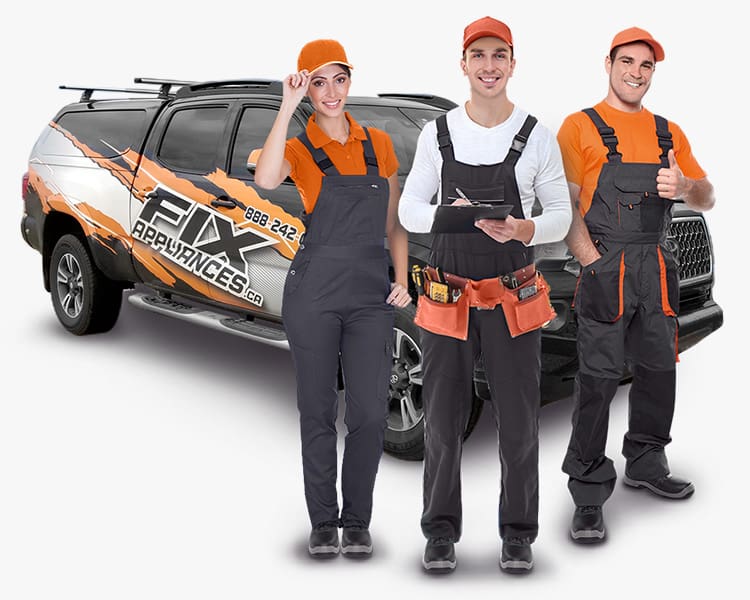 Washing Machine We Service
 Amana, Blomberg, Bosch, Frigidaire, GE, Electrolux, Huebsch, Inglis, Kenmore, Kitchenaid, LG, Maytag, Miele, Moffat, Speed Queen, Hotpoint, Samsung,  Whirlpool, Wascomat, Westinghouse and more brand name washing machine.
Common Questions About Washing Machines
What can happen if my washing machine is spinning too fast?
If your washing machine spins too fast, it will not wash clothes well. It may even damage some fabrics. That's why you should call us as soon as you notice this. We will immediately send a team to check for problems.
My washing machine causes lights to flicker, does this mean I should get a new one?
Flickering lights can be a sign that you should get a skilled technician to test your machine. No need to worry about how much our services cost. We provide the best services, including fixing your washing machine and testing it to determine whether you need a new one.
Can you repair a washing machine that is repeating rinse cycles?
A washing machine that repeats cycles leaves you with dirty clothes. So don't waste time thinking the problem will resolve on its own. Call or text us, and we'll fix your washing machine. We will provide a control board replacement for any washing machine brand.
What should I do if my washing machine fills slowly?
A washing machine that fills slowly could mean water leaking from one of the pipes. Not only does this leave you with a flooded laundry room, but it also means you won't be able to wash clothes faster. FixAppliances knows how to fix each problem. Whatever brand you have, our team can repair it.
My washing machine is making a grinding noise during agitation. Can you repair it today?
Sometimes a washing machine can make grinding noises when you use it. Don't let it get worse before seeking professional help. FixAppliances can send you a technician on the same day. Get amazing services at your convenience for a low price.
What does it mean when a washing machine spin cycle is very loud?
An error on the control board could cause a washing machine with a loud spin cycle. However, there are so many reasons why this may occur. Contact us, and we will send a technician to check out the origin of the loud noise.
Why is my washing machine humming but not working?
If you hear the sound of your new washing machine humming and spinning, there could be a problem with a pump. However, washing machines may start humming for different reasons. Hire our services so that we can diagnose the cause of the issue. Get same-day services at incredibly low prices.
Is there an effective way of how to remove something stuck in the washing machine drum?
Countless objects can get stuck in your washing machine, which can cause it to malfunction. These can be pins, buttons, or clothing items. We know how to remove such items without causing further damage. Book an appointment at an affordable price.
Washing Machine Maintenance Tips
Tip #1 – Use the proper type and amount of detergent
This is a critical issue for both high-efficiency front-load and top-load machines. Always use the minimum amount of HE detergent (1-2 tsp per load). Because these machines use less water, regular detergent produces an excess amount of suds and allows film build-up on the drum and hoses that can damage. It may even void the manufacturer's warranty. If you use single-use pods, make sure to place them in the bottom of the drum (never in the dispenser) before adding clothing to allow the longest amount of time in the water.
Tip #2 – Remove finished loads immediately
Leaving damp clothes in a machine will breed musty smells and mildew. Leave the door open or ajar to improve air circulation when not in use. This will also prevent mold and mildew buildup.
Tip #3 – Clean the inside once a month
Detergent residue builds up inside your high-efficiency washing machine. To eliminate musty odours, run a wash cycle with white vinegar (in the dispenser) and one cup of baking soda (directly into the drum). Run the machine at the highest temperature and add an extra rinse. Stubborn mildew smells can be eliminated by using bleach in place of vinegar. Clean the door seal regularly with a 50/50 solution of white vinegar and water to keep it pliable and sealing tight.
Tip #4 – Rinse out the drain pump filter twice a month
The drain pump filter can become clogged from a buildup of hair, fabric and other small particles. To reduce problems with water drainage, excessive vibrations or longer cycle times, remove the filter and rinse it out bi-weekly. It is usually located behind a door at the bottom/front of your machine.
Tip #5 – Inspect the hoses
Flood damage from a burst washer hose can be extremely expensive. Check for signs of wear or weakness a few times a year. Replace the hose if you find any cracks or blistering. It's recommended to use stainless steel hoses and replace them every five years.
More Problems & Solutions from Our Blog