Factory Certified

Licensed technicians with over 15 years of experience

TSSA Gas Contractor

Fully certified in gas appliances service, repair & installation

Complete Warranty

Each repair is covered by service and parts warranty

Authorized Repair

Authorized service centre for most appliance manufacturers
Why Choose Us?
Fix Appliances CA has more than 18 years of experience in providing refrigerator repair services. Our certified and licensed fridge appliance technicians are ready to help you seven days a week. Warranty, Satisfaction Guarantee, best prices, same-day local refrigerator repair and wine cooler repair, high-quality repair services and other advantages can help you to make the right choice.
Fair Price
The best services at reasonable prices!
Our company has the most qualified and professional appliance technicians, who provide fridge repair services at reasonable prices and offer a warranty on all services, including the replaced parts. Before we start. you receive appliance repair advice the information on the average costs to repair refrigerators and replace specific parts.
Best Quality
Licensed and Certified Appliance Experts!
We strive to offer our customers quality and dependable fridge repair services. All our appliance fixers have all the necessary licenses and certificates to service all appliances at the highest level of quality. We work to ensure that you will always be satisfied with how our qualified and licensed experts fix refrigerator appliances.
Convenient Time
Available seven days a week, including holidays!
Having more than 17-tear experience, FIX Appliances CA provides refrigerator repair and installation services every day, including holidays and weekends. You are welcome to contact us by phone or submit the request online to schedule the most convenient time to visit your place, mostly the same day. In addition, we offer emergency fridge repair services.
Are you looking for quality service to repair refrigerators? Contact Fix Appliances CA and trust your problem issue to fix the refrigerator of any type and model. We can handle any problems as soon as possible and at affordable prices.
| | |
| --- | --- |
| ✓ Availability | Same day, 7 days a week |
| ✓ Service Areas | All over Toronto and the GTA |
| ✓ Experience | 18+ Years |
| ✓ Authorized Repair | All Major Brands |
| ✓ Residential and Commercial Repair | Best Prices |
| ✓ Warranty | Up to 1-year |
| ✓ Attractive Rebate Program | Buy with a Discount |
Types of Refrigerators We Repair
The refrigerator allows households to keep food fresh for longer. When you buy a fridge, you are looking for the most suitable to your wishes and expectations. And, of course, you consider the specific features and your needs. Moreover, you want to receive a quality product that will serve you for a long time.
Refrigerators that are not performing as usual or have issues need an experienced licensed technician to diagnose and repair the problem. FIX Appliances CA technicians have many years of experience in troubleshooting and repairing refrigerators of any type.
We service and repair all household fridges, including built-in and stand-alone freezers, wine coolers, and ice-makers. A broken fridge, especially when discussing a refrigerator being too cold, is our problem. Don't waste your time trying to fix it by yourself, but trust the appliance issues to the professional refrigerator repair near me.
Free Standing
French-door – have dual refrigerator doors and a pullout freezer drawer for convenient fresh and frozen food storage.
Side-by-side – feature an adjacent refrigerator and freezer compartments that allow easy access to both sides.
Bottom-mount – convenient access to the frequently used fresh food compartments.
Top mount – the freezer is at eye level, with the fresh food compartment on the bottom.
Refrigerators (no freezer)
Built In
They are always the interior designers' top choice. Due to the seamless, stylish way, they fit into your kitchen and are set flush with the surrounding cabinetry. You can opt for a stainless steel or glass door for a professional and restaurant-style appearance, or choose a panel-ready either wooden or steel fridge fitted with cabinets to match the rest of your kitchen.
Traditional built-in refrigerators
Integrated fridges
Column refrigerators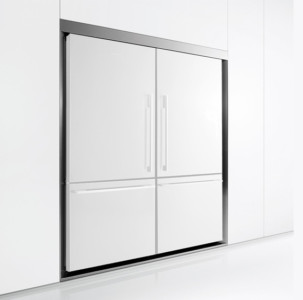 Freezers
These household appliances are used to preserve foods between 25 and 10 degrees F⁰ for use usually within a few weeks or months at most. They have become one of the most common ways for people to preserve meat and other foods.
Upright freezers
Chest freezers
Built-in freezers
Drawer freezers
Under counter freezers
Wine Coolers
These appliances can be either single or dual-zone and have different elements to chill the wine or juice. There are models with additional features, i.e. the possibility to regulate the humidity, etc.
Built-in wine coolers
Under counter wine coolers
Free-standing wine coolers
Ice Makers
This appliance is dedicated to making a large amount of ice that prevents you from having to stock up on ice for parties, special occasions or during the summer period. And it is extremely easy to use.
Built-in ice makers
Under counter ice makers
Free-standing ice makers
With no extra charge for refrigerator appliance repair appointments and dispatchers in the call center available from 7:30 am to 09:00 pm, 7 days a week, our skilled technicians are just a call away. Our team members are licensed and insured to handle your appliance repair in Toronto as soon as possible. Convenient scheduling options are also available online and by text message. You must be sure that our pros will fix the refrigerator quickly.
A Home Refrigerator Repairing Service You Can Count On
Refrigerators are one of the widely-used home appliances, and they are sure the ones you can't live without. If your fridge doesn't work the way it must, the team of professionals at FIX Appliances CA is ready to nip the problem as quickly as possible. We clearly understand how it is crucial to have a working refrigerator. We provide fridge repair services near me and the installation of a new one.
At Fix Appliances, our refrigerator technicians are licensed and factory-trained to service major brands and models. Having more than 18 years of experience working on a wide range of domestic appliances, including refrigerator appliance repair services, wine cooler repair services, freezer repair services and others, you can rely on our fridge repairmen to get the job done right the first time.
Our company is constantly looking for new ways to improve our service, which means our refrigerator mechanics are always upgrading their skills to keep pace with the latest technology. Thus, if you need a freezer repair specialist today, our customer service representative is standing by for your call at a location nearby. Look through the top reasons we are sure you should contact Fix Appliances CA immediately when your fridge needs to be repaired:
Our technicians are certified to handle refrigerants
Our refrigeration technicians are licensed and factory-trained
We are an authorized repair center for most home appliance manufacturers
We can fix a refrigerator the same day you call
Fix Appliances is locally owned and operated
We have more than 18 years of repair industry experience
Our prices are always fair and transparent
Solving any appliance repair issues for your home is of great priority to us. Appliance problems you face can cause inconveniences and disrupt your lifestyle. Indeed, you want to resolve the problems with your home appliance, especially when it comes to the fridge. That is why we have simplified and updated our fridge repair near me. 
Refill or Discharge a Refrigerator with Freon (refrigerant gas). ODP Certified
Refrigerants are chemicals which absorb and release heat as they move through a cooling system to help produce air conditioning or refrigeration. Coolants and refrigerants are found throughout the industrialized world, in homes, offices, and factories, in nearly every cooling device, such as refrigerators, freezers, etc.
Refrigerant refills are typically housed in clearly marked cylinders to avoid mixing or contaminating different refrigerants, which can cause system failures or component damage. When these units are maintained, or the repairman is fixing a refrigerator, there is a risk that refrigerant gas will be vented into the atmosphere either accidentally or intentionally. That's why creating technician training and certification programs ensures that the material is conserved and managed safely.
Our Fix Appliances CA technicians are certified to handle or discharge systems with refrigerants R134 and R600A. If necessary, our specialists are highly-trained experts to replace the refrigerator compressor with the manufacturer's requirements. The warranty on services provided and parts covers all jobs.

What Makes Fix Appliances a Reliable Service Provider
When you contact Fix Appliances Ca, you can be sure that a licensed fridge technician will visit your property. We use only the best quality parts as recommended by the manufacturer of your make and model of the fridge. In addition to our repair services, we offer a new installation service. And we can help you upgrade your existing appliances when it's time for something new.
We also provide our customers with a complete satisfaction guarantee. Thus, if you need a refrigerator repairman specialist who takes pride in their work, that's what you can expect when you hire your repairer from Fix Appliances. Call us today to talk with one of our professional and friendly customer service experts.
Same-Day Refrigerator Repair
There's no bigger emergency than when your refrigerator stops working. And the inconvenience is not the one problem. Spoiled food can also make it a big expense. At FIX Appliances CA, we'll schedule an appointment for light commercial refrigerator repair in Toronto and Oshawa the same day you call to help reduce your loss and get you back to normal. Your house call is free if you order repair work for a refrigerator. Don't hesitate to contact us and schedule an appointment today at 888-242-0777 for fridge repair near me.
What Our Customers Say About Us
Discover how Fix Appliances maintains a 5-star service record since day one.
Fix Appliances more than fulfilled our needs with our two appliance problems. From our initial response and appointment setup with Diane, through to the two visits for the repairs with Oleg; the experience was professional,on time, work performed as to the initial diagnosis and dollar estimate --resulting in a very satisfied customer. One that will be recommending Fix Appliances whenever an opportunity arises.Thanks so much again to Diane and Oleg John and Jan O'Brien
johnob, Collingwood, ON
First was a dryer fix then a new ice maker
April 09, 2019
Our 7 year old Whirlpool fridge would not defrost anymore and was icing up on a regular basis. I had a pleasant conversation with the agent that answered my call for service and was provided an appointment time the next day between 11 and 1. Oleg arrived at 10:30(early is much better then late!). He was very polite and knowledgeable and explained to me in detail what he suspected the issue to be, how he would test the items first to confirm what needed replacing(defrost timer,defrost heater assembly) and clearly advised me of what the cost would be. He had the parts needed with him and with my go ahead was able to repair our fridge within the hour explaining to me what he was doing and showing me what he was doing all along which I appreciated.. As it turned out it needed a new control board which was the most expensive part, but his price was more then reasonable and lower then what we were expecting! Our fridge is now working A1 again for which we are thankful. I would not hesitate in recommending this company to friends or family and would also reach out to them if we ever have any issues in the future. Thank you Oleg...you were great!
Happy C., Wasaga Beach, ON
Whirlpool Fridge Repair
April 09, 2019
Contact Us For Refrigerator Repair Services
Common Refrigerator Issues
Ice maker doesn't make ice
Ice maker doesn't dispense
Fridge freezing food
Fridge runs constantly
There are water leaks in the refrigerator
Refrigerator constantly runs or hums
Refrigerator does not defrost
Freezer is cold but refrigerator is warm
Broken refrigerator door seal
Freezer indicator light is out
Freezer only freezes top shelf
Error code on the electronic panel
Water doesn't come out of the dispenser
Fridge is not cooling, but freezer works
Same-day Refrigerator Repair Service in Your Area
FIX Appliances CA's main office is located in north Toronto, Ontario, and our local refrigerator repair technicians serving the GTA and southern Ontario. Check the map to confirm the service area nearest to your city or town.
Common Refrigerator Replacement Parts
We stock parts for all the top brands, including:
Air filter
Water filter
Run capacitor
Condenser
Start relay
Condenser fan
Defrost bi-metal thermostat
Defrost heater and thermistor
Defrost timer or board
Compressor motor
Crisper drawer
Door shelf bin
Evaporator coil
Icemaker
Inlet valve
Evaporator fan motor
Door switch
Each service truck carries a full inventory of common replacement parts so your refrigerator repair can be completed the same day.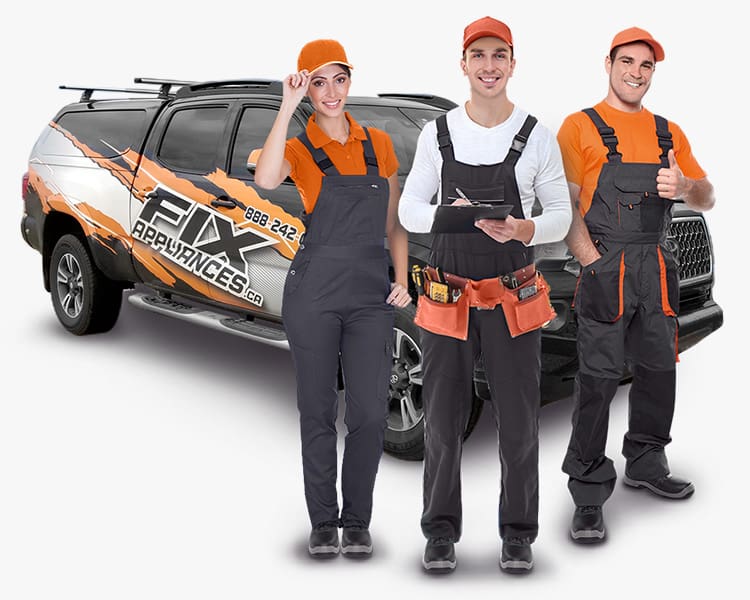 Refrigerator Brands We Service
Amana, Bertazzoni, Bosch, Bloomberg, Fisher & Paykel, Fulgor Milano, Fhiaba, Frigidaire, GE, Electrolux, Jenn-Air,  KitchenAid, Kenmore, LG, Liebherr, Maytag, Panasonic, Thermador, Viking, Sub Zero,  Samsung and more brand names of refrigerators.
Top Frequently Asked Questions
Will a refrigerator work in my garage?
Yes, but it's risky during cold seasons when the temperature drops below 10 degrees Celsius (50 degrees Fahrenheit.) Frigid temperatures can cause the compressor oil to thicken and stop working.
Why does my refrigerator run so often?
Dirty condenser coils can cause this, inadequate airflow from the appliance being too close to the wall, or the door not sealing properly.
What's the proper method to dispose of my old refrigerator?
Environmental and safety laws make it illegal to dispose of a refrigerator that still has refrigerant in it. Contact a licensed professional or appliance repair service to dispose of the unit properly.
What's the typical lifespan of a refrigerator?
With proper maintenance, a refrigerator can be expected to last 14 to 17 years.
Burning smell from refrigerator
If you are beginning to notice a refrigerator burning smell, this can be a symptom of a significant problem. When you open the appliance door, check for a smell of burning. Since this could be a sign of a dangerous electrical fire that could happen in your home at any time, it is vital to contact a professional to remedy this problem immediately.
Refrigerator is noisy or loud
If you hear your refrigerator making noise, one leading reason may be the condenser fan motor problem making your refrigerator so loud. An easy way to check and diagnose a refrigerator making a buzzing noise is to unplug your refrigerator and check the fan at the bottom rear of the fridge. If you see anything blocking the fan movement, try to clean the area. If you see signs of damage or a seized motor, it is time to think about a repair or replacement.
Ice forming in refrigerator
If your refrigerator is icing up, there are some simple fixes. Ice in a refrigerator is often caused by a broken door seal letting outside air in that will cause ice build-up. Ice buildup in a fridge can also be caused by loose door hinges and letting outside air in.
Refrigerator not cooling after power outage
If you find that your refrigerator stopped working after a power outage, a quick way to diagnose this problem is to start by checking to ensure the fridge fuse is not blown. You will also want to check the control panel to ensure the refrigerator is switched on. If your refrigerator will still not turn on after a power outage, try resetting the GFCI power outlet that your refrigerator is plugged into.
Refrigerator freezer is cold but the refrigerator is warm
One of the most common reasons a freezer works but the fridge doesn't is a defrost timer problem. When the defrost system fails, the evaporator coils can ice over, leaving you with a refrigerator that is not cooling but a fine freezer. Another similar issue is when the evaporator fan motor fails, leaving you with the same problem.
Refrigerator Maintenance Tips
Tip #1 – Clean condenser coils
Large, radiator-type coils are located at the back or bottom of your refrigerator. They remove heat from the appliance but are less efficient when dust and dirt accumulate on them. Vacuum them off twice a year.
Tip #2 – Clean and replace door seals
Wipe the gaskets around the refrigerator and freezer doors to keep them sealing tightly. Replace loose or torn door seals to save energy and keep your food cold.
Tip #3 – Wipe down the interior and exterior
Use an all-purpose cleaner to remove crumbs and spills on inside shelves and walls. Special cleaning wipes are available to safely remove fingerprints from exterior stainless-steel doors and handles.
Tip #4 – Use a deodorizer to remove odors
To keep your refrigerator smelling fresh, place a specially designed refrigerator deodorizer inside the unit. It will eliminate food odours for up to six months.
Tip #5 – Change the filters
To keep ice cubes and water tasting fresh, replace the ice maker and water dispenser filters every six months.
More Problems & Solutions from Our Blog