Factory Certified

Licensed technicians with over 15 years of experience

TSSA Gas Contractor

Fully certified in gas appliances service, repair & installation

Complete Warranty

Each repair is covered by service and parts warranty
Types of Refrigerators We Repair
Refrigerators that are not performing as usual or are having issues need an experienced licensed technician to diagnose the problem and repair the problem. FIX Appliances CA  technicians are experienced in troubleshooting and repairing refrigerators.
We service and repair all house-hold refrigerators, including built-in and stand-alone.
With no extra charge appointments available 24 hours a day, 7 days a week, our skilled technicians are just a call away. Our team members are licensed and insured to handle all your refrigerator repairs in Barrie, Simcoe county, Toronto and GTA quickly. Convenient scheduling options are also available online and by text message.
Same-Day Refrigerator Repair
There's no bigger emergency than when your refrigerator stops working. It's not only an inconvenience, spoiled food can also make it a big expense. At FIX Appliances CA, we'll schedule an appointment the same day you call to help reduce your loss and get you back to normal. Your house call is free if you order repair work. Call, text or schedule an appointment today.
Save
What Our Customers Say About Us
Discover how Fix Appliances maintains a 5-star service record since day one.
Fix Appliances more than fulfilled our needs with our two appliance problems. From our initial response and appointment setup with Diane, through to the two visits for the repairs with Oleg; the experience was professional,on time, work performed as to the initial diagnosis and dollar estimate --resulting in a very satisfied customer. One that will be recommending Fix Appliances whenever an opportunity arises.Thanks so much again to Diane and Oleg John and Jan O'Brien

johnob, Collingwood, ON
First was a dryer fix then a new ice maker
Our 7 year old Whirlpool fridge would not defrost anymore and was icing up on a regular basis. I had a pleasant conversation with the agent that answered my call for service and was provided an appointment time the next day between 11 and 1. Oleg arrived at 10:30(early is much better then late!). He was very polite and knowledgeable and explained to me in detail what he suspected the issue to be, how he would test the items first to confirm what needed replacing(defrost timer,defrost heater assembly) and clearly advised me of what the cost would be. He had the parts needed with him and with my go ahead was able to repair our fridge within the hour explaining to me what he was doing and showing me what he was doing all along which I appreciated.. As it turned out it needed a new control board which was the most expensive part, but his price was more then reasonable and lower then what we were expecting! Our fridge is now working A1 again for which we are thankful. I would not hesitate in recommending this company to friends or family and would also reach out to them if we ever have any issues in the future. Thank you Oleg...you were great!

Happy C., Wasaga Beach, ON
Whirlpool Fridge Repair
Contact Us For Refrigerator Repair Services
Common Refrigerator Issues
Fridge is noisy or loud
Fridge defrost drain problems
The ice maker doesn't make ice
The ice maker doesn't dispense
Fridge freezing food
Fridge light not working
Fridge runs constantly
Freezer not cooling
There are water leaks in the refrigerator
The refrigerator constantly runs or hums
The refrigerator does not defrost
Refrigerator freezer is cold but refrigerator is warm
Freezer not working, clicking sound
Freezer defrost drain problems
Freezer coils frosting up
Freezer indicator light is out
Freezer only freezes top shelf
Error code on the electronic panel
Water doesn't come out of the dispenser
Service Area
Bolton
Caledon
Cookstown
East York
GTA
Halton Hills
Maple
North York
Stayner
Sutton
Thornhill
Unionville
York
FIX Appliances CA is located in Barrie and Bradford, Ontario, and our local refrigerator repair technicians cover Simcoe County, Toronto and GTA areas. Check the map to confirm the service area nearest to your city or town.
Common Refrigerator Replacement Parts
We stock parts for all the top brands, including:
Compressor motor
Compressor pump
Run capacitor
Condenser
Start relay
Condenser fan
Defrost bi-metal thermostat
Defrost heater and thermistor
Compressor motor
Compressor pump
Run capacitor
Condenser
Start relay
Condenser fan
Defrost bi-metal thermostat
Defrost heater and thermistor
Each service truck carries a full inventory of common replacement parts so your refrigerator repair can be completed the same day.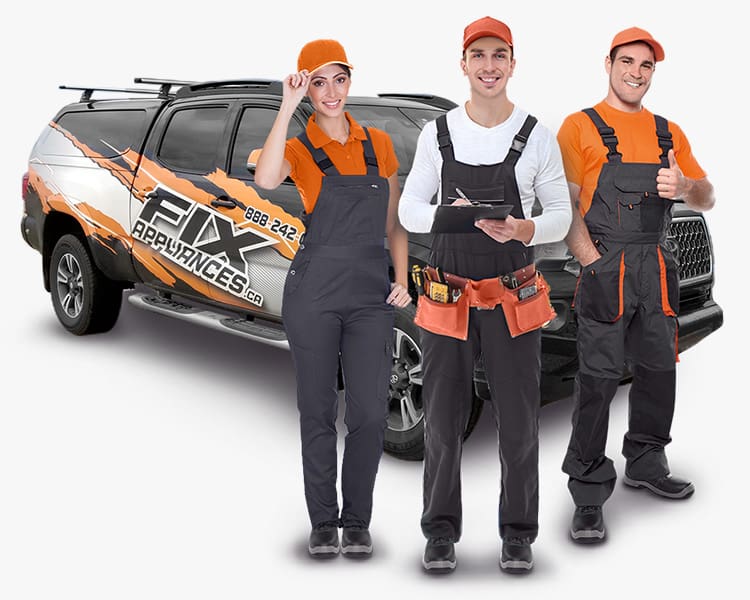 Refrigerator Brands We Service
Amana, Bertazzoni, Bosch, Bloomberg, Fisher & Paykel, Fulgor Milano, Frigidaire, GE, Electrolux, Jenn-Air,  KitchenAid, Kenmore, LG, Liebherr, Maytag, Thermador, Viking, Sub Zero,  Samsung and more brand name fridges.




Common Questions About Refrigerators
Will a refrigerator work in my garage?
Yes, but it's risky during cold seasons when the temperature drops below 10 degrees Celsius (50 degrees Fahrenheit.) Frigid temperatures can cause the compressor oil to thicken and stop working.
Why does my refrigerator run so often?
This can be caused from dirty condenser coils, inadequate air flow from the appliance being too close to the wall, or the door is not sealing properly.
What's the proper method to dispose of my old refrigerator?
Environmental and safety laws make it illegal to dispose of a refrigerator that still has refrigerant in it. Contact a licensed professional or appliance repair service to properly dispose of the unit.
What's the typical lifespan of a refrigerator?
With proper maintenance, a refrigerator can be expected to last 14 to 17 years.
Refrigerator Maintenance Tips
Tip #1 – Clean condenser coils
Large, radiator-type coils are located at the back or bottom of your refrigerator. They remove heat from the appliance but are less efficient when dust and dirt accumulate on them. Vacuum them off twice a year.
Tip #2 – Clean and replace door seals
Wipe down the gaskets around the refrigerator and freezer doors to keep them sealing tightly. Replace loose or torn door seals to save energy and keep your food cold.
Tip #3 – Wipe down the interior and exterior
Use an all-purpose cleaner to remove crumbs and spills on inside shelves and walls. Special cleaning wipes are available to safely remove fingerprints from exterior stainless-steel doors and handles.
Tip #4 – Use a deodorizer to remove odors
To keep your refrigerator smelling fresh, place a specially designed refrigerator deodorizer inside the unit. It will eliminate food odors for up to six months.
Tip #5 – Change the filters
To keep ice cubes and water tasting fresh, replace the ice maker and water dispenser filters every six months.
More Problems & Solutions from Our Blog
Homeowner Guide
for Appliances
Join over 1200 GTA homeowners who benefited from this useful guide to help keep appliances from breaking.