Factory Certified

Licensed technicians with over 15 years of experience

Gas Certified

Fully certified in gas appliances service, repair & installation

Complete Warranty

Each repair is covered by service and parts warranty
Trusted Whirlpool Service
We service and repair all Whirlpool appliances, including:
With over 15 years in the appliance repair industry, FIX Appliances CA has become the go-to appliance repair in Canada. We troubleshoot all kinds of repair issues from the most minor to the major problems within the industrial, commercial, and residential setting.
This just means we have the vast experience in handling appliance problems and providing solutions that each of our customers love.
We are also proud to say that we have experienced and certified technicians working with us to solve all appliance repair problems. Moreover, we are a trusted Whirlpool appliance repair service in the country. So if you need Whirlpool appliance repair help, we are here.
Quality Tools and Parts
We are not just adept in handling repairs and maintenance. We also make sure we only used the most quality parts and tools for every repair we make to ensure long-lasting use of your appliance.
If you need part's replacement, we have you covered. We have all the tools available for all appliance brands.
Same-Day Response
We don't mind if its a weekend or a holiday, our repairmen here at FIX Appliances CA are 24/7 available to serve you.
Need an urgent assistance? Don't worry. Call us today and we will assign a technician for you immediately. We offer same-day response and repair service with no additional cost on your end.
Our hotline and website are always open for your calls and requests. Someone will definitely answer your queries the soonest time possible.
Refrigerator Repair
Whirlpool fridge is made with quality and durability. However, with consistent use, it's no obvious that it will act up and malfunction. If your Whirlpool refrigerator is giving you headache every now and then because of the following problems, contact FIX Appliances CA.
Fridge not turning on
Fridge not cooling
Refrigerator making strange, noise sound.
Refrigerator do not defrost
Too many spoiled foods
If any of these sound familiar to you, contact a reliable Whirlpool refrigerator repair to troubleshoot the issue.
Our technicians are expert in handling Whirlpool fridge repair, whether it is built-in or stand-alone. We accomplished all kinds of damage repairs for the past 15 years, therefore, rest assured your fridge is in good hands. Contact us today.
Washing Machine Repair
FIX Appliances CA is committed in providing excellent services to our customers. Whatever problems you have with your appliances, we have it covered.
Whirlpool washing machine are heavy duty so it works and stays longer than typical washers. Some of the common issues with Whirlpool washing machine includes:
Machine not turning on.
Error message showing on screen.
Spinner not working.
Strange noise from the washer.
If your washing machine crashed down and stopped working, make sure that only a certified Whirlpool washing machine repair service handles it.
FIX Appliances CA has everything you need in one place. Our expert repairmen are adept in handling washing machine issues of all sort. We have done this before and we can do this better today. Book our technicians now!
Dryer Repair
Is your dryer not working as it supposed to be? FIX Appliances CA can help you in troubleshooting issues with your Whirlpool dryer.
Typical dryer complaints we heard from our clients include the following:
Dryer not drying
Spinner not working
Error messages show on the display screen
Unusual noise
We know how frustrating it is to wake up one day that your clothes are not dry yet. If you need urgent help, let us know.
We will immediately assign a trusted technician to troubleshoot and fix your dryer issues. With years under our belt, your dryer will be on a working condition before we leave your home. Call us anytime of the day for your Whirlpool dryer repair.
Oven and Stove Repair
Whirlpool stove and oven are made to make cooking easier and more fun for the family. However, it could be frustrating for mothers to have her Whirlpool oven and stove malfunctioning especially on days when you need it the most.
Let say your husband invited his workmates to have dinner at home. If this happens, FIX Appliances can come and check your stove before your visitors come.
We are expert in handling Whirlpool oven repair including the following:
Stove not turning on
Stove not heating
Stove making unnecessary noise
Stove showing error messages
We won't leave your house with a damaged stove and oven. We make sure you can cook your husband's favorite meals before your guests arrive.
Contact FIX Appliances CA. We are available same-day you need us. Our lines are always open for your calls and our technicians are always ready for your Whirlpool stove repair needs.
Dishwasher Repair
Can't wash the dishes because your dishwasher is not working right? Don't worry. We are here to solve your problem and make your dishwashing more convenient and easy.
FIX Appliances CA knows how important your Whirlpool dishwasher is to your everyday routines. We also understand how frustrating it is for you to have a damaged one. So, we are here to help.
We have done Whirlpool dishwasher repair for the last 15 years and have successfully troubleshoot minor and major dishwasher issues including:
Dishwasher not spinning
Dishwasher not turning on
Dishwasher don't tumble
Dishwasher making strange noise
If any of these issues show in your dishwasher, feel free to message or call FIX Appliances CA. We are accessible via phone call and our website.
Air Conditioning Repair
Need help on what's the best airconditioner to place in your office or what gas furnace to use in your home? FIX Appliances CA's technicians are professional and expert consultants for your air conditioning requirements.
If you need a new air conditioning machine or looking for replacement, we are here to help. You don't have to look further, everything you need for you appliances from repair to maintenance is in FIX Appliances CA. Feel free to message us!
What Our Customers Say About Whirlpool Appliances Repair
Our 7 year old Whirlpool fridge would not defrost anymore and was icing up on a regular basis. I had a pleasant conversation with the agent that answered my call for service and was provided an appointment time the next day between 11 and 1. Oleg arrived at 10:30(early is much better then late!). He was very polite and knowledgeable and explained to me in detail what he suspected the issue to be, how he would test the items first to confirm what needed replacing(defrost timer,defrost heater assembly) and clearly advised me of what the cost would be. He had the parts needed with him and with my go ahead was able to repair our fridge within the hour explaining to me what he was doing and showing me what he was doing all along which I appreciated.. As it turned out it needed a new control board which was the most expensive part, but his price was more then reasonable and lower then what we were expecting! Our fridge is now working A1 again for which we are thankful. I would not hesitate in recommending this company to friends or family and would also reach out to them if we ever have any issues in the future. Thank you Oleg...you were great!

Happy C., Wasaga Beach, ON
Whirlpool Fridge Repair
Reliable Service & Repair
FIX Appliances CA is a leading provider of affordable appliance repairs. We have over a decade of industry experience. Using this experience we can offer reliable white goods repairs. No matter what the problem may be, our skilled technicians will be able to fix it.
Call us for Whirlpool appliance repair service FIX Appliances CA online or by calling Toll-free number 1-888-242-0777 today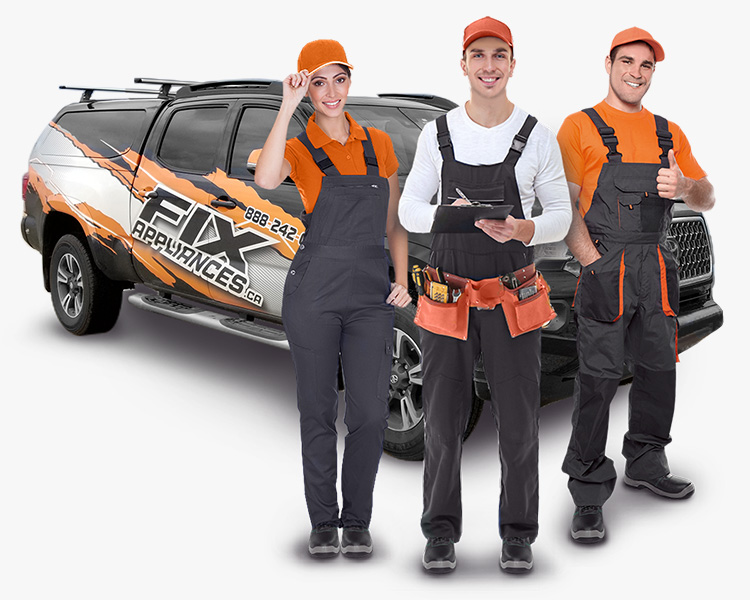 Homeowner Guide
for Appliances
Join over 1200 GTA homeowners who benefited from this useful guide to help keep appliances from breaking.