Factory Certified

Licensed technicians with over 15 years of experience

TSSA Gas Contractor

Fully certified in gas appliances service, repair & installation

Complete Warranty

Each repair is covered by service and parts warranty

Authorized Repair

Authorized service centre for most appliance manufacturers
Trusted Whirlpool Service
We service and repair all Whirlpool appliances, including:
Whirlpool has come a long way since it began in 1911 as the Upton Machine Company with a wringer washer powered by an electric motor. They first produced washers for Federal Electric, then Sears, Roebuck & Company under the "Allen" brand. The company was renamed in 1950 the Whirlpool Corporation. The company diversified into other household products to meet growing demand, acquiring other companies and brands.
In 1988 it began Whirlpool International when it became the world's largest manufacturer of major household appliances, a position it still holds today. And when you need help, you can contact Fix Appliances CA which provides Whirlpool licensed repair.
Whirlpool appliances are designed to last, but wear and tear of regular use can cause problems. Call Fix Appliances CA for prompt Whirlpool appliance repair service when that happens. Our technicians are fully trained in Whirlpool appliance repair.
Whirlpool Refrigerators Repair
Whirlpool refrigerators should keep your lettuce crisp and your beverage cold, so when they don't, give our service specialists a call. We service all model series such as Bottom-Freezer Refrigerators (WRB), Top-Freezer Refrigerators (WRT), Upright Freezers (WZF), Chest Freezers (WZC), Side-by-Side Refrigerators (WRS), French Door Refrigerators (WRF & WRX), Undercounter Beverage Centers (WUB), and under the counter Ice Makers (WUI).
As service specialists for Whirlpool refrigerator repair, we're here whenever you need it. If your Whirlpool fridge experiences any issues, including:
The refrigerator doesn't work
Food spoils in the fridge
EZ Connect™ icemaker isn't functioning
Frost-Free is icing up
The flex-Slide bin is stuck
Coolant puddling on the floor
Doors or drawers don't seal
The drawer won't pull out or close properly
The freezer temperature control is not working
The drain hose isn't draining
For all your Whirlpool refrigerator or Whirlpool fridge freezer repair or any other Whirlpool maintenance needs, call our customer representatives between 7:30 am and 9 pm. You must be sure to receive the best quality services in no time!
Whirlpool Washers Repair
Our pros will troubleshoot the problem and have your Whirlpool washing machine spinning like new. We handle model lines like top load (WTW), high-efficiency/smart washers (WTW), front load clothes washers (WFW), plus older models too whether it's a large 6.1 or 4.5 cu. ft., or a compact 2.6 cu. ft., our technicians are certified to service all errors and issues, including:
The washing machine doesn't start
The timer won't work
Displays error messages
The low-profile impeller isn't working
Half the 12 cycles don't seem to work
The washer doesn't fill, spin, or drain
The lid or door won't lock or open, or it leaks
The soaker cycle isn't functioning
Intuitive controls or other controls are faulty
Strange noises or burning smell when the machine operates
Contact our customer service reps between 7:30 am and 9 pm to arrange an appointment with our skilled technicians for your Whirlpool washing machine repair.
Whirlpool Dryers Repair
Whether your Whirlpool dryer is gas or electric, our pros are here for you. They'll get your Whirlpool model from Front Loading (LDR), HE Dryer with steam refresh (WGD), Large Capacity Gas (WGD), Electric Dryer (YWED), Heat Pump Dryer (YWHD), Top Load Dryer or other Whirlpool dryers working as they should. Contact our customer reps between 8 am and 9 pm if you experience any dryer problems, including:
Your dryer won't start or stay on
The drum rotates, but there's no heat
The dryer turns on, but the drum doesn't tumble
The steam cycle isn't working
Moisture sensing AccuDry™ or AutoDry™ system is faulty
Error messages on display
The ventless compact dryer is creating too much moisture
The drum turns but vibrates, makes odd noises, or creates a burning smell
For all your Whirlpool dryer repair concerns, contact Fix Appliances CA. Our Whirlpool repair specialists have up-to-date Technical Standards and Safety Authority (TSSA) documentation and are licensed, gas fitters.
Whirlpool Dishwashers Repair
If your Whirlpool dishwasher sits broken and whether it's a top control or front control dishwasher with stainless steel tub (WDT, WDTA, & WDF), a heavy-duty portable (WDP), a quiet dishwasher (UDT), or an older model series, we'll have it working in no time. Contact our customer reps if you have any of these problems:
The dishwasher doesn't work
The total coverage spray arm seems stuck
Dishes aren't clean or dry
AccuSense is not functioning properly
Fan dry isn't working
The 1-Hour cycle takes longer than an hour
Won't fully drain the tub
It doesn't seem to get enough water to clean dishes
For all your Whirlpool dishwasher repairs and Whirlpool technical support needs, contact Fix Appliances CA — from 7:30 am to 9 pm throughout the week. Our licensed technicians are experienced in servicing all types of Whirlpool appliances.
Whirlpool Ranges Repair
Regardless of if your Whirlpool stove is electric, convection or gas one, our experts are the one you can trust. We repair and maintain all model lines like Electric Double Convection Ranges (YWGE), Single Oven Freestanding (YWFC), Slide-in Electric Ranges (YWEE & YWEEA), Electric Front Control Ranges (YWEE), Convection Freestanding Ranges (YWFE), Freestanding Gas Ranges (WFG), Front Control Gas Ranges (WEG & WEGA), Gas Double Oven Ranges with Center Oval Burner (WGG), as well as older Whirlpool oven and stove models, using all the necessary Whirlpool parts.
Call Fix Appliances CA service technicians for all your Whirlpool oven repairs, including Whirlpool gas stove repair and Whirlpool electric stove repair, fixing any issues. Even if you face the following:
The stovetop or oven won't work
The broiler isn't working
The oven doesn't cook evenly
AccuBake™ system is faulty
The frozen Bake™ function failed
The oven door won't close fully
The EZ-2-Lift™ grate hinges are seized
The cooktop is slow to heat
The convection fan makes weird noises
Contact the service team at Fix Appliances CA for Whirlpool stove repair, including Whirlpool cooker repair, to fix the problem. Our pros are trained and have up-to-date Technical Standards and Safety Authority documentation.
Whirlpool Microwaves Repair
We repair and maintain all models from Low Profile Microwave Hood combination (WML & YWML), Over-the-Range Microwave (WMH & YWMH), Countertop Microwave (WMC, YWMC, & YWMHA), plus older model lines of Whirlpool microwaves. If your Whirlpool microwave isn't working correctly or has any of these problems:
The microwave doesn't turn on
Electronic touch controls don't work
The steam cooking function won't work
The door latch isn't catching
The digital display has an error message or not working
The turntable isn't rotating
Heats unevenly, or not at all
Faulty sensor spoils cooking
Exhaust fan is not working properly
The light bulb is burnt out
If you are looking for a reliable appliance repair company for Whirlpool repairs near you, give the service reps at Fix Appliances CA an A-S-A-P call. The sooner you address the issue, the less likely further damage will occur.
Whirlpool Fault & Error Codes
Fault and error codes on the display of any Whirlpool appliances mean that it is time to diagnose your kitchen or laundry machine. Sure, they help to define the problem as a whole, but we would like to insist on contacting the professionals.
DIY can be helpful but knowing what every error means is not the only thing to understand what is wrong with your appliance, Fix Appliances CA is a Whirlpool service centre and has the most qualified staff to visit your place, determine the problem exactly, and, upon our experience, provides you with the excellent maintenance, and repair services.
You can trust our experts who are knowledgeable and trained to fix any Whirlpool appliance issues as soon as possible and at fair prices. We have all the necessary Whirlpool parts to repair or replace the damaged one; this will get your machine back to life, and make it run like a new one.
What Our Customers Say About Whirlpool Appliances Repair
Our 7 year old Whirlpool fridge would not defrost anymore and was icing up on a regular basis. I had a pleasant conversation with the agent that answered my call for service and was provided an appointment time the next day between 11 and 1. Oleg arrived at 10:30(early is much better then late!). He was very polite and knowledgeable and explained to me in detail what he suspected the issue to be, how he would test the items first to confirm what needed replacing(defrost timer,defrost heater assembly) and clearly advised me of what the cost would be. He had the parts needed with him and with my go ahead was able to repair our fridge within the hour explaining to me what he was doing and showing me what he was doing all along which I appreciated.. As it turned out it needed a new control board which was the most expensive part, but his price was more then reasonable and lower then what we were expecting! Our fridge is now working A1 again for which we are thankful. I would not hesitate in recommending this company to friends or family and would also reach out to them if we ever have any issues in the future. Thank you Oleg...you were great!
Happy C., Wasaga Beach, ON
Whirlpool Fridge Repair
April 09, 2019
Reliable Service & Repair
FIX Appliances CA is a leading provider of affordable appliance repairs. We have over a decade of industry experience. Using this experience we can offer reliable white goods repairs. No matter what the problem may be, our skilled technicians will be able to fix it.
Call us for Whirlpool appliance repair service FIX Appliances CA online or by calling Toll-free number: 1-888-242-0777 today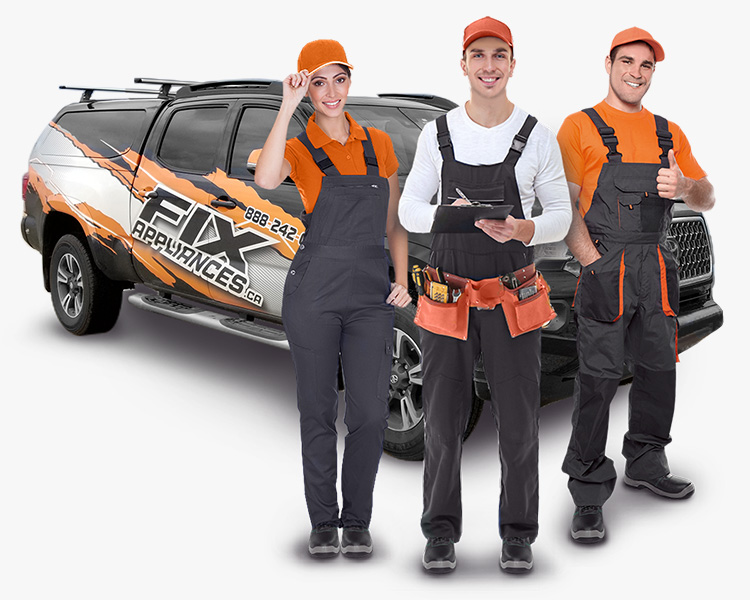 Same-day Whirlpool Appliance Repair Services in Your Area
Fix Appliances CA is a licensed Whirlpool appliance repair company with approximately two decades of experience. We have technicians in every part of Toronto and the GTA area providing Whirlpool repair services in your local area.