Factory Certified

Licensed technicians with over 15 years of experience

TSSA Gas Contractor

Fully certified in gas appliances service, repair & installation

Complete Warranty

Each repair is covered by service and parts warranty

Authorized Repair

Authorized service centre for most appliance manufacturers
Trusted DCS Appliances Service
We service and repair all DCS Appliances appliances, including:
Authorized Repair Service Provider for DCS Appliances
Dynamic Cooking Systems Inc or DCS Appliances was acquired in 2004 by residential and commercial appliance industry leader Fisher & Paykel. However, DCS still continues to develop advanced high-end kitchen equipment. DCS designs professional-grade grills to elevate your indoor and outdoor cooking experience.
DCS is the high-performance cooking maker that implemented a new category of professional cooking appliances for the home 40 years ago. The difference between DCS is simplicity. Having such products at home means starting professionally for your family.
Fix Appliances CA is an authorized repair company for any DCS appliances offered in the Canadian area. Our factory-trained technicians are prepared to provide excellent repair services for your high-end kitchen appliances. We offer services seven days a week and are ready to get your home appliance in working condition mostly the same day.
Let us point out the most widely used cooking appliances which can be found in Toronto and other GTA areas.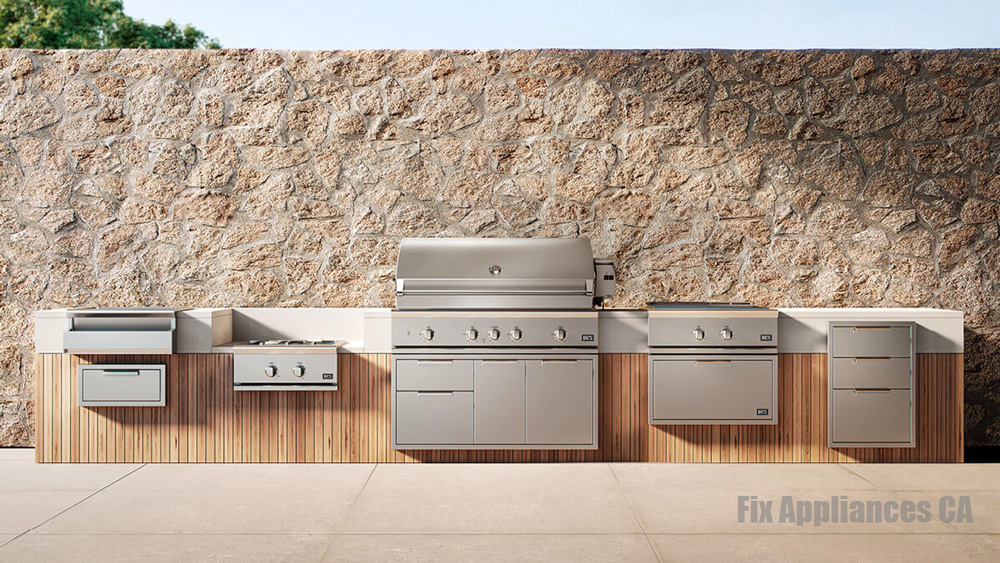 DCS Grills
By the end of the 80s, DCS introduced a new vision of grilling focusing on cooking. Their new achievements came to the best results, whether a well-seared steak or meltingly tender ribs. Grills from DCS offer smoke, sear, rotisserie, bake and slow cook for all-around outstanding cooking implementation.
Let's look at both widely-used series of grills:
DCS Series 7 Grills offer power, simplicity and control, giving you perfect results whether a premium steak or a delicate salmon fillet.
Hood: Standard
Smoking: Smoker box not built into charcoal
Warming Rack: 1 Piece
Cooking Grates: Cast Stainless Steel
Ignition: Electronic
Lights: Rotisserie Lighting
Available in 30″, 36″ and 48."
DCS Series 9 Grill delivers extraordinary cooking. Unparalleled functionality and power and hand-finished to a high standard are combined in these appliances, no matter the season of the year and the weather is,
Hood: Higher Easy Lifting Hood (hinge assist and opens to 90 degrees)
Smoking: Smoking and Charcoal Tray
Warming Rack: 4 Piece Adjustable Two Grills and Two Trays
Cooking Grates: Cast Stainless Steel
Ignition: Glow Plug Ignitor
Lights: Stadium lighting inside the hood and lighted glow knobs that turn orange when your barbecue is on
Available in 30″, 36″ and 48."
We service all types of grills of both series:
Grills with Rotisserie and Charcoal, LP Gas: DCS 48'' series 7 Grill BH148RL; DCS 48'' series BE148RCL, DCS 6'' series 9 BE136RCL, and others
Grills with Infrared Sear Burner, Natural Gas: DCS 48'' BE1-48RCI-N, DCS 36'' BE1-36RCI-N, BH1-36RI-N and more
Built-in and Freestanding Grill: Series 9 and 7 are available for built-in and freestanding arrangements. As a rule, you can purchase carts for freestanding options separately.
Main peculiarities that make these grills special:
GREASE MANAGEMENT SYSTEM™ – it helps to move grease away from the flame for more control and better cooking.
EASY LIFTING HOOD – due to more space under the hood for extra-large foods, these outdoor appliances can be smoothly opened with one hand for better access and visibility. Besides, it is designed to draw heat and smokes away from you.
EASY CLEANING – simplicity in cleaning is one more thing you will benefit from, it is enough to turn on the heat to sear for about 15 minutes, and your grill is clean and ready to use.
INTUITIVE LIGHTING – take advantage of this point: better lighting – better cooking results even at night. All dials are white and change to orange when the knobs are on. Moreover, bright hood lighting allows for safely illuminating the entire grill.
Contact us at 647-503-6655 for DCS appliance repair, and let us fix any grill-related issues, including the following:
Low flame output
Grill is leaking gas, and there is no flame
No heat or heating is uneven
Grill does not light
Burners don't get gas
Grill produces a lot of smoke
DCS Specialty Cooking
These appliances are a perfect addition to your grills and complete outdoor kitchen. Upon the purposes of using they can be divided into:
Power Burner – the perfect suit for deep frying, quick boiling and wok cooking. Its grates provide stability for woks and pots of all sizes. The Power Burner withstands high temperatures and can be used outdoors in any weather. DCS 24'' Power Burner, LP Gas PBE1-24-L; DCS 24'' Power Burner Natural gas PBE1-24-N.
Griddle – you receive a flat surface for searing with different temperature zones and heat distribution, allowing you to cook different foods simultaneously. Moreover, the removable slide-out drip tray makes these outdoor appliances easy to clean. Griddles are safe because a flame failure device cuts the gas if a burner goes out. DCS 30'' Griddle, LP Gas GDE1-30-L, DCS 30'' Griddle, Natural gas GDE1-30-N.
Sideburner – perfect for smaller cooks for sides and sauces. They can be attached to griddles or grills, built-in side burners powered by natural gas or freestanding appliances powered by propane. DCS 14'' Double Side Burner, Natural Gas BGC132-BI-N, SBE1-142-N; DCS 14'' Double Side Burner, LP Gas SBE1-142-L, BGC132-BI-L; DCS 30'' Griddle/Side Burner, LP Gas GDSBE1-302-L, DCS 30'' Griddle/Double Side Burner, LP Gas BFGC-30BGD-L; DCS 30'' Griddle/Side Burner, Natural Gas GDSBE1-302-N, DCS 30'' Griddle/Double Side Burner, Natural Gas BFGC-30BGD-N.
By buying any specialty cooking outdoor appliance from DCS, you will benefit from complete advantages of usage and food performance and enjoy cooking outside during the whole year, ignoring the weather.
DCS Refrigerators
Outdoor refrigeration system is no less important than outdoor grills. We would like to pay your attention to DCS 24'' outdoor refrigerators, which can be left hinges, right hinges or drawers: RF24RE4, RF24LE4, RF24DE4. They help stock plenty of cold beverages as they have enough space. DCS refrigerators use quick cool-down technology and precise temperature stability from 34°F to 60°F. All shelves are perforated to allow cool air to circulate freely and to keep optimal storage.
DCS Beer Dispensers
The beer dispensers should absolutely be the pride and joy of any homeowner. Before you gut the cellar of your home to accommodate a pumping system, you should know most at-home beer dispensers are kitchen counter-friendly devices that house anything from a few tins to a full keg dispenser. DCS offers outdoor beer dispensers as well. They have a cooling system to chill your beer to optimum drinking temperatures and a built-in nozzle with dedicated Co2 cartridges for smooth pouring.
DCS beer dispensers of 24'' are single tap or dual tap with left or right hinges (RF24TL2, RF24BTR2) and are the ultimate luxury for your outdoor kitchen or bar. Having dynamic cooling technology and frost-free operation, you can ensure the beer is kept cool at your preferred serving temperature. Besides, easy-to-clean technology helps to keep an integrated drain system under control from spillage.
DCS beer dispenser has a door lock for added safety and security, which is a must-have for storage outside.
DCS Ice Makers
Outdoor Ice machines from DCS deserve our attention due to the steady supply of fresh ice of up to 39lb per day, quiet operation, eco and delay Start modes, which minimize energy usage and wasteful water, and LED lighting (RF15IL3, RF15IR3).
Facing any issues with your DCS ice makers, residential or commercial, our factory-trained and certified technicians can handle any problems. Contact us for DCS appliance repair seven days a week.
DCS Beverage Chillers
A beverage chiller, also known as a beverage cooler, is smaller than a usual refrigerator, is designed specifically for holding cans and bottles. DCS offers 25'' beverage chiller/sink (BC25) with a deep, fully insulated compartment that can hold up to 17 gallons of ice to chill your refreshments. Moreover, let us admit the possibility of using additional accessories to house 1l bottles, such as beverage chiller accessory series 7 and 9 (BC-BOTTLEAC-25, BC1-25AC). All of them can be installed at the front of the beverage chiller and may be used as an outdoor sink.
Authorized DCS Appliance Repair from Fix Appliances CA in Toronto and the GTA Areas
We are at your service throughout every week. Instead of wondering, "How do I find DCS appliance repair near me", call our reps anytime from 7:30 am to 9;00 pm and schedule an appointment with our certified repairmen to troubleshoot any issue with your DCS grills, refrigerators, ice machines and more. You must be sure that your outdoor appliance, whether residential or commercial, will be working properly in no time.
Reliable Service & Repair
FIX Appliances CA is a leading provider of affordable appliance repairs. We have over a decade of industry experience. Using this experience, we can offer reliable white goods repairs. No matter the problem, our skilled technicians will be able to fix it.
Contact us for authorized DCS  appliances repair service FIX Appliances CA online or call toll-free number 1-888-242-0777 today.