Factory Certified

Licensed technicians with over 15 years of experience

TSSA Gas Contractor

Fully certified in gas appliances service, repair & installation

Complete Warranty

Each repair is covered by service and parts warranty

Authorized Repair

Authorized service centre for most appliance manufacturers
What We Clean And Maintain
Washing Machine Maintenance
Aside from mildews that build on hard-to-reach areas, you may also encounter other issues with your washing machine like a clogged drain and unwanted odour. A clogged drain hose and/or pump can be caused by small bits of clothing, residual debris, or gunk. This unwanted smell and malfunctioning system causing the machine to wear down faster. Our appliance maintenance company has a team of professional appliance cleaners who will ensure that your washing machine and other appliances maintain optimal operation.
Dryer Maintenance
Lint and debris may clog the vents and will cause poor heating or even accidental fire. This lint and debris come from clothes you dry up over time, resulting in clogging in the vents that may result in less or too much heating or worse, fire. This debris may also cause the dryer to spin slower or not spin at all, causing parts of it to get damaged. Don't let it get to that point. Ask for our professional appliance cleaning service. We service dryers of any power source: natural gas dryer, propane gas dryer or electric dryer.
Refrigerator Maintenance
Dirt and other unwanted debris will cause your refrigerator multiple problems. It can cause the water to leak, posing a danger to people in your household. You may also experience common issues like your freezer not cooling. Your refrigerator may also cycle too often, which could result in a higher electricity bill. A refrigerator that constantly cycles is not only noisy, and it can also affect your budget. The refrigerator is already one of the most power-consuming appliances in your home. And when you let it run more than usual, it will definitely send your energy bill to the roof. 
Dishwasher Maintenance
An unmaintained dishwasher will start different problems that will wear it down. Clogged drains and blocked areas will cause several unwanted issues like unclean dishes, not turning on, water not filling up, draining or leaking, and unusual loud noise. Our team at Fix Appliances CA will be available to provide you professional dishwasher cleaning service and maintenance.
Oven and Stove Maintenance
Ovens and stoves start malfunctioning as any other kitchen appliance and require regular maintenance. The problems can be small such as the glass top being cracked or the igniter being out of order but can be more dangerous as a gas stove flame orange or a self-cleaning oven fire. The qualified team at Fix Appliances CA is available seven days a week to provide you with emergency repair and solve issues of any complexity.
What To Expect From Our Appliance Cleaning Service And Maintenance
Our professional appliance cleaning and maintenance for washing machine include a detailed inspection like:
Checking of front load and top load washers

Checking of fill cycle and temperature

Checking of felt and motor

Checking of spin and agitate speed

Inspection of the electrical system

Checking hose

Checking drains

Cleaning and sanitizing door boots

Running cycles with your washing machine cleaner

And a lot more.
Our dryer home appliance maintenance and cleaning include a detailed examination like:
Support and sealing of dryer's drum

Inspection of the dryer's intake and exhaust

Examination of dryer's electrical system

Inspection, cleaning, and maintenance of moisture and temperature sensor

Checkup of dryer's leveling

Cleaning maintenance of the dryer's exhaust vents
Our appliance maintenance service and cleaning of the refrigerator include a detailed inspection including:
Inspection of the refrigerator's full electrical system

Checking of the air damper and thermostat

Checking of the refrigerator's drain and defrost evaporation

Inspection of level

Condenser drip pan, coil, and door gasket cleaning
Our maintenance service for the dishwasher includes a detailed inspection like:
Checking of the motor shaft and pump

Maintaining and cleaning of the arm of the pump or spray

Checking the distribution of the water and level

Securing and inspection of the draining and gasket

Full electrical system inspection

Inspection and cleaning of the door gasket and filter
Same-day Appliances Maintenance Service in Your Area
FIX Appliances CA's main branch is located in Aurora, Ontario, and our local repair or maintenance technicians serving the GTA, Ottawa and southern Ontario.  Check our service map to confirm the service area nearest to your city or town.
Meet the Experts in Cleaning Service And Maintenance in the GTA and southern Ontario
Call us for any installation appliance service needs and one of our technicians will be dispatched that very same day to help. Throughout Toronto, the GTA, Simcoe County and southern Ontario, we provide quick installation services through qualified, certified, and friendly appliance service technicians with fully equipped vans and 100 (%) percent customer satisfaction guaranteed. Need urgent help – fill in our contact form or give us a call for an immediate response Toll-free: 1-888-242-0777.
As a top rated name in appliance services, we have serviced thousands of customers in the past fifteen years across Toronto, the GTA, Barrie, Hamilton, and other areas around the province. To every home we have the luxury of servicing, we always arrive with a willingness to get down to work right away.
With over 15 years in the appliance repair and installation service business, our technicians are highly skilled and experienced in repairing all kinds of appliances particularly refrigerators, freezers, dishwasher, dryers, range hoods, washing machine and microwaves.
We do our best to be as visible as possible, always providing reliable, on-time, and professional service anywhere in southern Ontario. We do our best to keep our prices as competitive as possible, and keep our repair vans stocked with the necessary spare parts required to fix any brand appliance quickly and efficiently.
Contact us for a prompt, efficient service. We promise the highest quality service possible, dispatching a fully certified technician with the correct appliance materials or parts to ensure you get up and running as soon as possible.
Contact us online or call or text us: 647-503-6655 or Toll-free: 1-888-242-0777!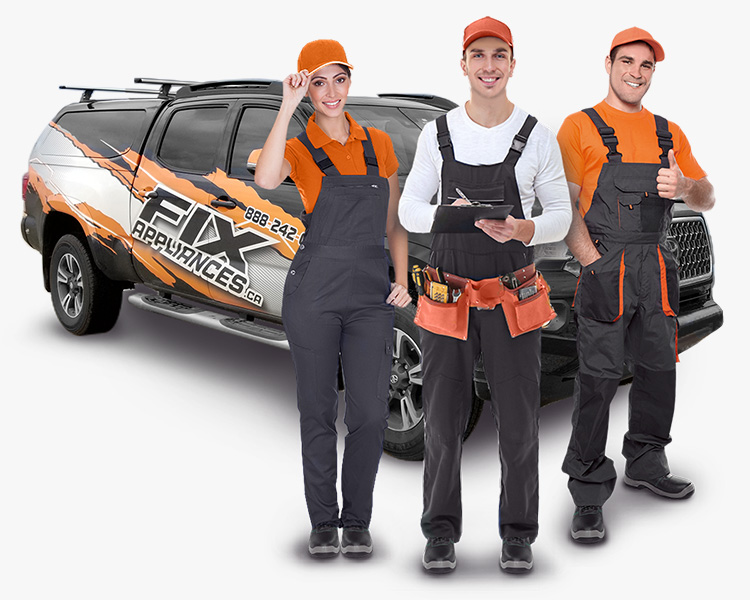 Each service truck carries an inventory of common parts so your appliances installation can be completed the same day.
Appliance Brands We Service
Amana, Brava, Cyclon Range Hoods, Fisher & Paykel, Gaggenau, Blomberg, Bosch, Bertazzoni, Frigidaire, Fulgor Milano, GE, Faber, Falmec, Huebsch, Hot Point, Inglis, Jenn Air, Liebherr, Mofat, Maytag, Miele, LG, Electrolux, KitchenAid, Thermador, Viking, Sub-Zero, Samsung, Sears Appliances –Kenmore, Speed Queen, White Westinghouse, Whirlpool, Wolf, Zephyr and more brand name appliances.
More Problems & Solutions from Our Blog