Factory Certified

Licensed technicians with over 15 years of experience

TSSA Gas Contractor

Fully certified in gas appliances service, repair & installation

Complete Warranty

Each repair is covered by service and parts warranty
Trusted LG Service
We service and repair all LG appliances, including:
LG is one of the most used appliances both in the household and commercial industries. This brand has created innovative and quality appliances to make chores and tasks faster and more convenient for users.
Although LG Appliances are made with durability in mind, malfunctions and damages are still unavoidable especially if it's used regularly. For LG Appliance repair service, FIX Appliances CA is the number one LG Appliance repair in the country. We are not ordinary repairmen as we fix with dignity and quality.
Same Day Appliance Repair Service
We are proud to say that FIX Appliances CA are open from 8:00 AM-9:00 PM even on weekends and holidays to serve your needs. We have dedicated technicians assigned for each area of the country to work on the repairs whenever needed.
If you need help on a weekend or during a rush holiday season, our repairman can always assist with your needs and troubleshoot problems with your appliance.
Our customer service phone line is also available every day to answer your calls and respond to your emails. Message us today and you'll get an immediate response from us same-day. Feel free to contact FIX Appliances™.
.
Professional Technician
In addition to our daily availability, our repairmen are also experts in all kinds of appliance repair. Our technicians have gone through rigorous training and certification programs to ensure that they know everything they do from the simplest to the most complex problems.
Moreover, we have been in the appliance repair landscape for more than a decade so our experience speaks for us. FIX Appliances CA is an Authorized LG Appliances Repair, which makes us the leading and trustworthy partner when it comes to appliance repairs.
Refrigerator Repair
If your LG refrigerator is no longer doing its job, immediately call for an LG refrigerator repair. The thing is you don't have to look further for the best appliance technicians because FIX Appliances CA can handle your requests in no time.
Among all repair centers in the country, FIX Appliances CA has a proven track record of doing LG fridge repair. We are just nearby and always accessible that we can do the repairs same-day you call us. If your LG fridge is acting up and showing these signs, call us anytime.
Fridge not turning even when plugged.
Refrigerator light not switching on.
Unusual noise from the fridge's machine.
Foul and stink odor from the fridge
Only let a reliable repairman handle your fridge repairs. There's no one to call to. Contact FIX Appliances CA now.
Washing Machine Repair
Sometimes, it's difficult to just trust anyone to open and repair your appliance. You can't afford to lose more because of working with affordable yet incompetent technicians.
If you need LG washing machine repair, only call those who are certified technicians. FIX Appliances CA is certified in handling LG washing machine. We are the go-to repairmen when it comes to washing machine problems including the following:
Washing machine not spinning
Water spills out
Error messages show regularly
Do not let your laundry to pile up into a mountain. Let a certified technician from FIX Appliances CA do the repairs for you.
Dryer Repair
Dryer makes life easier for you. You don't have to wait for the sun to come out just to dry your clothes. With a dryer, your laundry is ready to use in just a matter of hours.
But what if your dryer isn't working properly and showing these problems?
Dryer not spinning
Clothes still wet even after hours in the dryer.
Noisy sound from the dryer machine.
Do not stress yourself thinking about how to dry your clothes again. You can always fix your LG dryer with the help of a reliable LG dryer repair service. FIX Appliances CA is a trusted and authorized repair service in Canada. We've done repairs for all kinds of dryers from stand-alone to built-in. Therefore, you are in good hands. Contact us for your dryer repair needs.
Oven and Stove Repair
It's your first born's first birthday and you have already invited your guests to come tomorrow for the celebration. But what if your LG oven and stove just stopped working? That doesn't mean you need to postpone the celebration or buy a new LG stove.
For urgent LG oven repair needs, FIX Appliances CA can help you. We do LG stove repair including:
Stove not turning on.
Oven not heating.
Stove heats too much.
Oven not working.
You don't have to wait on when the repairman will call and come to your home. Working with us is a breeze. FIX Appliance CA will immediately assist you on your concern whatever time of the day you call us.
Our technicians are always ready to troubleshoot your oven and stove problems so you can start cooking for your son's birthday celebration. We won't fail you. Contact us for immediate repair needs.
Dishwasher Repair
You have so many dishes to wash but your dishwasher failed to operate. What will you do? While manual washing can solve the problem, it could take too much of your time and energy, which you can use to be productive on other household chores and stuff.
The best thing you can do is to ask help from an authorized LG dishwasher repair service in your area. If you are just in Canada and surrounding cities, call FIX Appliances CA. We have certified dishwasher technicians.
We can handle your LG dishwasher problem and make dishwashing more fun and easier. We have done these thousands of times before so we are sure to troubleshoot the problem for you.
Most dishwasher issues include:
Dishwasher not turning on
Dishes still dirty after dishwashing
Error messages on dishwasher screen
Makes loud noises when washing
If any of these problems show on your dishwasher, immediately contact us through our phone or website. We available from 8 am to 9 pm every day to serve your repair requirements.
Microwave Repair
Your microwave does not heat up when turned on? Let FIX Appliances CA check it.
If your LG microwave is not working we'll have your over the range and hood, built-In oven, or other LG model working as it should. Contact us if you get any of these problems:
Microwave doesn't heat or heats unevenly
Touch panel functions aren't working
Can not access burnt out light bulb
The microwave won't power up
Door won't stay closed or seal
Displays error messages
Exhaust fan not working
Turntable doesn't turn
Keeps blowing fuses
Timer is faulty
What Our Customers Say About Us
Discover how Fix Appliances maintains a 5-star service record since day one in Toronto area
Dina was wonderful. He finished the work two days before he said he would. He cleaned after himself. And he liked my dog!

The repairman was pleasant and fixed my stove and refrigerator fast and problem free. Very satisfied with the finished work!! Thanks!!

I was lucky enough to get a same day appointment to fix my fridge. Serge came out, was on time, very professional, took time to show and explain to me what was wrong with the fridge. He gave me a price, I said ok, and he showed me the part he replaced in the fridge after he was done. He cleaned up the bottom of the freezer which he had to defrost with a special tool and put all the racks back in the freezer. I couldn't have asked for better service. Would highly recommend them!

Aurora, Aurora, ON
Sub Zero Refrigerator Repair
Our technician Oleg was great. He was on time and even called before his arrival. He was able to diagnosis the problem and make the repairs all in one visit which was very appreciated. He not only fixed the problems, but talked me through what was wrong and how it needed to be repaired. He also spent time to show me how to properly maintain the dryer myself. He was very tidy leaving no mess behind. I would highly recommend Fix Appliances to anyone.

Cynthia, New Tecumseth, ON
Electric Dryer, Maintenance due to previous fire
Reliable Service & Repair
FIX Appliances CA is a leading provider of affordable appliance repairs. We have over a decade of industry experience. Using this experience we can offer reliable white goods repairs. No matter what the problem may be, our skilled technicians will be able to fix it.
Call or Text us for LG appliance repair service FIX Appliances CA online or by calling Toll-free number 1-888-242-0777 today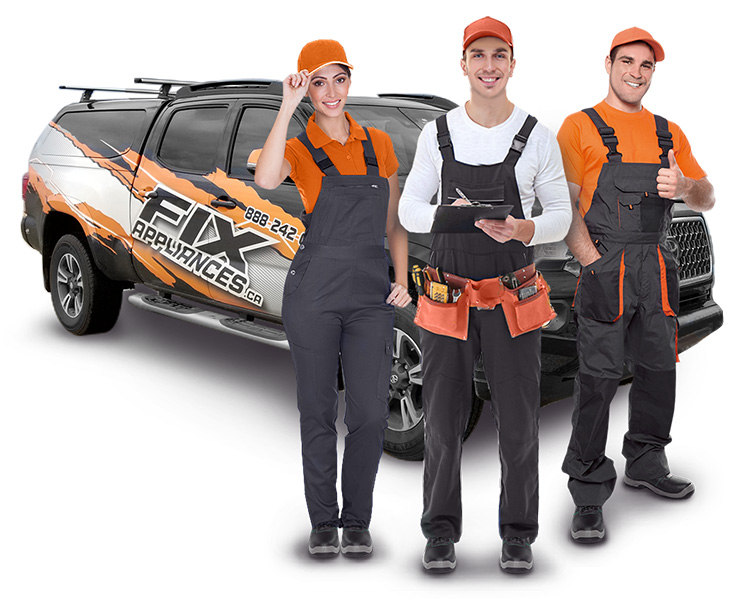 Homeowner Guide
for Appliances
Join over 1200 GTA homeowners who benefited from this useful guide to help keep appliances from breaking.