Factory Certified

Licensed technicians with over 15 years of experience

TSSA Gas Contractor

Fully certified in gas appliances service, repair & installation

Complete Warranty

Each repair is covered by service and parts warranty
Types of Dishwashers We Repair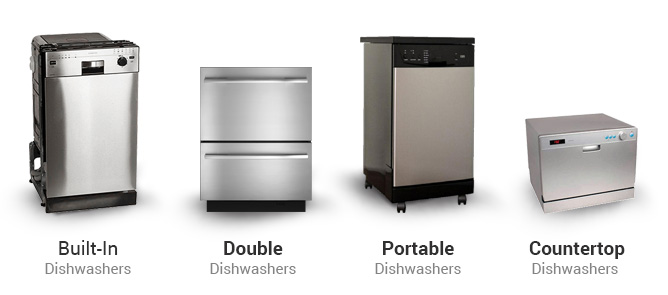 While it's still possible to wash your dishes by hand, when you're accustomed to using a dishwasher to lighten the load, breakdowns can be a disruption. The highly trained technicians at FIX Appliances CA can repair your machine quickly and affordably. Call, text or schedule online your dishwasher repair in Barrie, Simcoe county or Toronto and GTA areas.
Same-Day Dishwasher Repair
A broken dishwasher is frustrating and doing the dishes by hand is time-consuming. FIX Appliances CA understands you want repairs to be done quickly, so we offer same-day service at no extra charge. Our skilled technician can take care of most problems in one visit. Set up an appointment today.
Save
Save
Save
What Our Customers Say About Us
Discover how Fix Appliances maintains a 5-star service record since day one.
What a great experience to deal with FIX. Initial contact for service was very polite and positive. Appointment time was prompt and timely. Service repair person (Oleg) was extremely efficient and knowledgeable to assess the problem and subsequently order parts and repair. His work was efficient, neat and tidy. We are very pleased with the work and have already mentioned this company to our friends. We will not hesitate to request repair service again if and when required. Congratulation on your high standard of business ethics and practices.

Wclute, Duntroon, ON
Repair dish washer
Within 24 hours our appliance was fixed with the proper Miele part ....before he did the repair he explained the problem and all costs to fix it...we would not hesitate to call them for any future appliance repair.

Oldcorn, Shanty Bay, ON
Dishwasher repair
Contact Us For Dishwasher Repair Services
Common Dishwasher Issues
Dishwasher won't drain
Dishwasher buttons don't work
Dishwasher lights flashing or blinking
Dishwasher leaking from motor area
Dishwasher dispenser doesn't work
Dishwasher won't fill
Dishwasher overflowing
Dishwasher won't dry dishes
Error code on the electronic panel
Service Area
Ancaster
Bolton
Caledon
Creemore
Cookstown
Dundus
East York
GTA
Halton Hills
Loretto
Maple
North York
Nottawa
Shelburne
Stayner
Sutton
Thornhill
Unionville
York
FIX Appliances CA is located in Barrie and Bradford, Ontario. Our local dishwasher repair technicians also cover Simcoe County, Toronto and GTA areas. Check the map to confirm the service area nearest to your city or town.
Common Dishwasher Replacement Parts
We stock parts for all the top brands, including:
Chopper blade assembly
Circulation pump motor
Check valve
Control panel
Door hinge, spring and balance link
Door seal and latch assembly
Heating element
Overfill float switch
Power supply board
Soil separator
Thermal fuse
Sump and motor assembly
Timer
Wash pump motor and assembly
Each service truck carries an inventory of common replacement parts so your dishwasher repair can be completed the same day.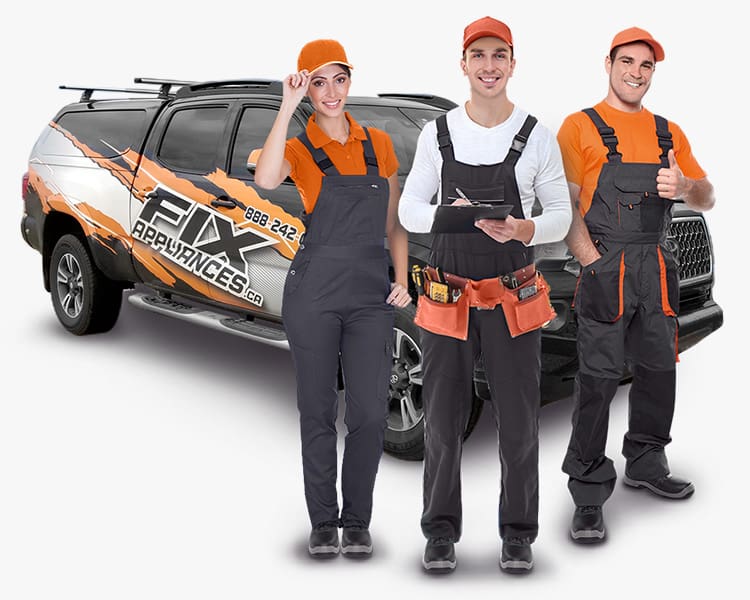 Dishwasher Brands We Service
Amana, Blomberg, Bosch, Frigidaire, Fisher & Paykel, Electrolux, GE, Ikea, Kenmore, Kitchenaid, LG, Maytag, Miele, Samsung,  Whirlpool, Viking and more brand name dishwashers.




Common Questions Asked About Dishwashers
Is pre-rinsing necessary?
No, remove excess food, but pre-rinsing is not needed. New dishwashers and soaps are designed to remove food particles. Pre-soaking may be needed for dried-on food.
How do I avoid spots and cloudiness on glasses?
Use a heated drying cycle or rinse aid. Using excess detergent can cause glass etching, so use about half the amount to reduce corrosion. Hard water can cause spots, so you may need to invest in a water softener.
What kind of detergent is best?
Pod-style, dissolving packets are easy to use and reduce the chance of using too much detergent. Brand names tend to work better than generic brands too.
How should I load the dishwasher?
Cutlery should be face up for better water circulation. Sharp knives and utensils should be face down for safety when removing. Plates, pots and cutting boards should be placed on the lower rack leaning toward the center spray arm or facing down. Plastic, glasses and long utensils should be placed on the upper rack.
Dishwasher Maintenance Tips
Tip #1 – Clean or replace the filter
A filter located under the lower spray arm is generally removable. Clean it with a soft, bristled brush regularly. Replace if it becomes damaged.
Tip #2 – Clean and deodorize
Wipe down the area between the door and bottom of the dishwasher to remove food particles. Clean out spray arm holes with a needle. Use a dishwasher deodorizer to keep it smelling fresh and prevent mold growth.
Tip #3 – Wipe down exterior
Special cleaning wipes are available to safely remove fingerprints from exterior stainless-steel doors and handles. Use a damp, non-abrasive cloth for all painted finishes.
Tip #4 – Stop overloading
It may be tempting to fit every dish possible into one load. Overloading will restrict water spray patterns that will require rewashing and wasted water.
Tip #5 – Repair dish racks
Replacement tips for the upper and lower racks are available in a variety of colors. Touch-up paint is available to cover worn and flaking paint that will rust if left untreated.
More Problems & Solutions from Our Blog
Homeowner Guide
for Appliances
Join over 1200 GTA homeowners who benefited from this useful guide to help keep appliances from breaking.