Factory Certified

Licensed technicians with over 15 years of experience

TSSA Gas Contractor

Fully certified in gas appliances service, repair & installation

Complete Warranty

Each repair is covered by service and parts warranty
Types of Dishwashers We Repair
Are you looking for an appliance repair company that can fix dishwashers? It might be difficult to find one that provides high-quality repair services and also charges an affordable price. But that is where FIX appliances CA comes in. Our company has a great team of technicians who can handle any challenge.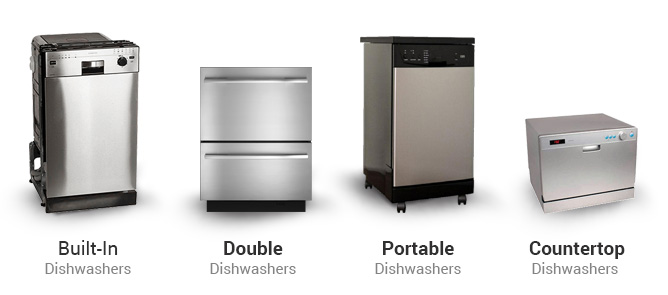 While you can still wash your dishes by hand, when you're accustomed to using a dishwasher to lighten the load, breakdowns can be a disruption. You might think that if you buy a specific brand, it won't break down. But the reality is that even the best brands out there can malfunction at any time. When this happens, you want to have the best team in your corner ready to assist you. The highly-trained technicians at FIX Appliances CA can repair your machine quickly and affordably. You won't have to search for another company to fix a dish-washing machine. With so many years of experience, we know how to repair all kinds of dishwashers.
Call, text or schedule online your dishwasher repair in the GTA and southern Ontario. A dishwasher technician will be dispatched to help you with your problem. No need to worry about timing! We have designed our services in a way that suits you best. So each appointment will be based on when it is convenient for you. The best part is that you can even call us for emergency repairs. So if you urgently need to repair a dishwasher, it is possible to send a technician to analyze the problem on the same day. We will not leave you stranded! Our repair services will leave your dishwasher running smoothly again.
Same-Day Dishwasher Repair
A broken dishwasher is frustrating and doing the dishes by hand is time-consuming. FIX Appliances CA understands you want repairs to be done quickly, so we offer same-day service at no extra charge. Once you call us, we will quickly send a technician to your home. Our experts are skilled and can get your washing machine working in no time. Our team is completely professional so you won't have to worry about the experience. We train all our technicians so you can rest assured that you will get the best services.
You may be wondering how much it will cost to repair your dishwashing machine. We only charge a fair amount. For us, it doesn't make sense to charge our customers a high price for repairs. Some companies may charge the same amount as if you were buying a new dishwasher. This is completely unfair! Dishwasher repair costs should be affordable for everyone. Payless and get the best repair services in Toronto, Hamilton, Barrie, Oshawa, Ottawa and other surrounding areas. We also provide special discounts and coupons for our customers. Enjoy all the benefits of working with an experienced and professional dishwasher appliance repair company.
Our skilled technician can take care of most problems in one visit. Set up an appointment today at 888-242-0777
Save
Save
Save
What Our Customers Say About Us
Discover how Fix Appliances maintains a 5-star service record since day one.
What a great experience to deal with FIX. Initial contact for service was very polite and positive. Appointment time was prompt and timely. Service repair person (Oleg) was extremely efficient and knowledgeable to assess the problem and subsequently order parts and repair. His work was efficient, neat and tidy. We are very pleased with the work and have already mentioned this company to our friends. We will not hesitate to request repair service again if and when required. Congratulation on your high standard of business ethics and practices.

Wclute, Duntroon, ON
Repair dish washer
Within 24 hours our appliance was fixed with the proper Miele part ....before he did the repair he explained the problem and all costs to fix it...we would not hesitate to call them for any future appliance repair.

Oldcorn, Shanty Bay, ON
Dishwasher repair
Contact Us For Dishwasher Repair Services
Common Dishwasher Issues
Dishwasher won't drain
Dishwasher buttons don't work
Dishwasher lights flashing or blinking
Dishwasher dispenser doesn't work
Dishwasher won't fill
Dishwasher overflowing
Dishwasher won't dry dishes
Error code on the electronic panel
Will not run or has no power
Same-day Dishwasher Repair Service in Your Area
FIX Appliances CA's main branch is located in Aurora, Ontario, and our local dishwasher repair technicians serving the GTA, Ottawa and southern Ontario.  Check our service map to confirm the service area nearest to your city or town.
Common Dishwasher Replacement Parts
We stock parts for all the top brands, including:
Chopper blade assembly
Circulation pump motor
Water Inlet Valve
Control panel
Door hinge, spring and balance link
Door seal and latch assembly
Heating element
Overfill float switch
Power supply board
Rack Adjuster
Thermal fuse
Sump and motor assembly
Timer
Drain pump motor and assembly
Each service truck carries an inventory of common replacement parts so your dishwasher repair can be completed the same day.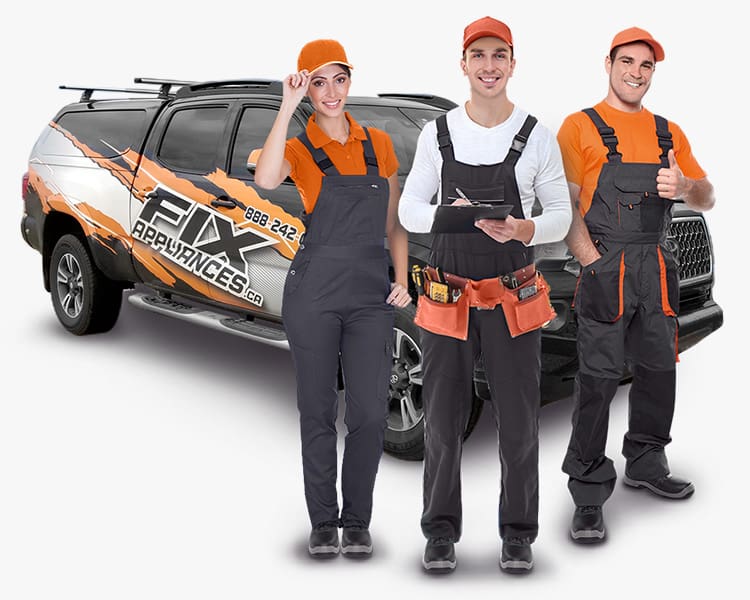 Dishwasher Brands We Service
Amana, Blomberg, Bosch, Frigidaire, Fisher & Paykel, Electrolux, GE, Ikea, Kenmore, Kitchenaid, LG, Maytag, Miele, Panasonic, Samsung,  Whirlpool, Viking and more brand name dishwashers.
Common Questions Asked About Dishwashers
Dishwasher Has No Power and Won't Run
If there is no power to the dishwasher, check and connect the power cord to the outlet, usually located under the sink in your kitchen. You may also want to check the circuit breaker in your home and see if you have blown or tripped a fuse. Finally, the wiring in the outlet itself could be damaged and need repair.
Dishwasher Starts then Stops Shortly After
A part of troubleshooting a dishwasher that is stopping is checking for and replacing power components (fuse, outlet, cord). If you have made sure your dishwasher is receiving power, the washer might have a broken or defective "start relay". Near the motor, there is a multimeter that needs to be checked for continuity. The part that looks like a coil should always have continuous continuity. When activated, the switch should read continuity.
Dishwasher Leaking From Door Or Underneath
If the door to your dishwasher is leaking, the most common problem is that the gasket that seals the door's perimeter needs replacement, repair, or cleaning. Installing the gasket is easy. Also, if you need to clean it, check for broken glass or food scraps. Finally, there are products to mix gasket material to repair the seal. If your dishwasher is leaking from underneath, you may want to contact professionals because they can diagnose the vital parts that provide water to the dishwasher and make the needed repairs.
Electrical Burning Smell From Dishwasher While Operating
If your dishwasher smells like burning, the reasons could include something in contact with the heating element, plastic dishes that are not dishwasher safe, or a defective washer. If there is plastic in contact with the heating element, stop the washer and remove the plastic. The same goes for non-dishwasher safe items, which will probably look and feel melted or flimsy. Finally, if you have a defective dishwasher, you will need to contact a professional for a diagnostic who can troubleshoot the sensors, spinner, and control panel.
Dishwasher Won't Drain Wate
If your dishwasher is not draining, there is most likely a food clog at the drain or in the piping of the drain. Check the drain filter and remove any food obstructions. If there is not a filter on the drain, consider installing a new one because not having a drain cover will cause plugging problems in the future. Finally, you may need to think about replacing or having a professional service for the drain hose.
Dishwasher Not Turning On or Off Properly
When your dishwasher is not starting or will not turn on or off properly, the door handle might be broken, obstructed, or defective. The door may be stuck in a child lock mode. Also, the door sensor might be broken and causing an error. You may also want to check the door seal gasket for damage or obstructions. Finally, a professional may need to run a diagnostic on the dishwasher's timer, power, or sensors to ensure none need replacing or are defective.
Dishwasher Not Getting Water or Won't Stop Filling
If your dishwasher is not filling with water, there may be a problem with the pump or the tubing that connects the water source to the washer. When your dishwasher doesn't fill with water, the first thing that you need to check manually is the pump continuity. If the pump is powered, then the gasket, seals, and tubing that bring water to the washer must be checked.
Dishwasher Not Heating The Water Or Drying Dishes
The thermostat in a dishwasher may be broken or defective if the dishwasher is hooked up to cold water and not heating the water. The price of a thermostat is relatively low. A diagnostic done by a professional will check to see if the voltage is being delivered to the heater coil. Also, the drying of dishes is done with the heating element at the bottom of the washing machine, which will need independent power.
Dishwasher Maintenance Tips
Tip #1 – Clean or replace the filter
A filter located under the lower spray arm is generally removable. Clean it with a soft, bristled brush regularly. Replace if it becomes damaged.
Tip #2 – Clean and deodorize
Wipe down the area between the door and bottom of the dishwasher to remove food particles. Clean out spray armholes with a needle. Use a dishwasher deodorizer to keep it smelling fresh and prevent mold growth.
Tip #3 – Wipe down exterior
Special cleaning wipes are available to remove fingerprints from exterior stainless-steel doors and handles safely. Use a damp, non-abrasive cloth for all painted finishes.
Tip #4 – Stop overloading
It may be tempting to fit every dish possible into one load. Overloading will restrict water spray patterns that will require rewashing and wasted water.
Tip #5 – Repair dish racks
Replacement tips for the upper and lower racks are available in a variety of colors. Touch-up paint is available to cover worn and flaking paint that will rust if left untreated.
More Problems & Solutions from Our Blog