Factory Certified

Licensed technicians with over 15 years of experience

TSSA Gas Contractor

Fully certified in gas appliances service, repair & installation

Complete Warranty

Each repair is covered by service and parts warranty

Authorized Repair

Authorized service centre for most appliance manufacturers
Advantages from FIX Appliances CA Range Hood Repair
Fix Appliances CA has more than 18+ years of experience providing range hood repair services. Our certified and licensed hood appliance technicians are ready to help you seven days a week with residential and your light commercial. Warranty, Satisfaction Guarantee, best prices, same-day hood repair service near me, high-quality hood repair service, and other advantages can help you make the right choice.
Competitive Prices
The best services at reasonable prices!
Our company has the most qualified and professional appliance technicians, who provide hood repair service at fair prices and offer a warranty on all services, including the replaced parts. Before we start. You receive appliance repair advice and information on the average costs for a walk-in hood repair service near me.
Quality Repair
Licensed and Certified Appliance Experts!
We strive to offer our customers quality, dependable range hood repair services. All our appliance fixers have all the necessary licenses and certificates to service all appliances at the highest level of quality. We ensure you will always be satisfied with your range hood repair service.
Same Day Service
Available seven days a week, including holidays!
Fix Appliances CA provides range hood repair and installation services daily, including holidays and weekends. You are welcome to contact us by phone or submit the request online to schedule the most convenient time to visit your place, mostly the same day, including an emergency hood repair service.
Are you looking for quality range hood repair service near me, contact Fix Appliances CA and trust your problem issue to repair your range vent. We can handle any problems as soon as possible and at reasonable prices.
| | |
| --- | --- |
| ✓ Availability | Same day, 7 days a week |
| ✓ Service Areas | All over Toronto, Ontario, and the GTA |
| ✓ Experience | 17+ Years |
| ✓ Authorized Repair | Major Brands |
| ✓ Residential and Commercial Repair | Best Prices |
| ✓ Warranty | Up to 1-year |
| ✓ Attractive Rebate Program | Buy with Discount |
Does your range hood fan rattle and squeal? Cooking smells, smoke, and steam hanging around? Call Fix Appliances CA today for the best range hood repair service near me! Our highly trained technicians service all brands and work around your schedule for your range hood repair.
We don't just service household units. We ensure you get the best repair service possible and have your appliance back working like new in no time. Fix Appliances CA is your go-to company for same-day kitchen hood fan repairs.
The Best Range Hood Repair in Toronto and the GTA Surrounding Areas
Whether running a restaurant or cooking for a big family, your range hood is an integral part of your ventilation system, so if it's not working properly, your air quality suffers. Cooking grease, vapour, and smoke can stick to and damage cabinetry and paint. It can even cause the growth of moulds! Don't put this on hold! Call Fix Appliances CA for the best residential and light commercial range hood repair in Ottawa, Toronto and other service areas.
Our experts come with years of know-how, experience with the right tools for the job, and high-quality replacement parts for your appliances needing repair. Once on-site, our technicians will quickly diagnose the cause of failure and offer a few options that best suit your situation.
If you notice the following issues, don't put it off and fix the range hood as soon as possible:
The range hood doesn't vent smoke and cooking odours
Lights or buttons stopped working
Range hood fan makes a strange rattling sound
The motor won't turn on when you switch it on
The fan turns on or off by itself
A burning smell comes straight from the range hood
Contact us right away and receive the best professional service. Our customer service team is available weekly from 7:30 am to 9:00 pm to answer all your questions. We can even send you a qualified specialist on the same day as your call.
Ducted, non-ducted or recirculating — our certified repairmen will get it working properly. Under-cabinet hoods, integrated microwave range hoods, and custom-built ones are no problem for our highly skilled technicians either. Wall-mounted and island canopy chimney hoods, as well as downdraft hoods, are no issue either. We offer a warranty not only for the replaced parts but for our work as well.
Are you concerned about the price of a hood repair service? Call and ask Fix Appliances CA for a quote. The range hood repair cost is less than a new replacement range hood, especially when it is a commercial kitchen hood repair service. However, if you want a new one installed, schedule our skilled experts to do the installation for you.
Our pricing is always transparent and straightforward. We don't charge extras or add any hidden fees post-repair. Home or light commercial hood repair — you only pay for the job done. Don't hesitate to contact us for your kitchen hood repair service near me.
Would you please read our last article, – Why Your Range Hood Fan Is Not Working Properly? Reasons & Troubleshooting Tips.
We are an authorized repair and installation center for Bertazzoni, Blomberg, Broan, Cyclone, Falmec, Forno, Fhiaba, Fulgor Milano, LG, Panasonic and Zephyr range vent hoods. For prompt and dependable household or commercial hood repair service, contact representatives at Toll-free 888-242-0777. Save
What Our Customers Say About Us
Discover how Fix Appliances maintains a 5-star service record since day one.
When I called about our machine leaking they were able to send a service repair man within hours of the same day. He determined the problem, called in for the part and within the week ( a couple of days) the machine was fixed. This company was very accommodating in getting the repair done as soon as possible and their service person was efficient and professional. I would use them again if the need arises.
Hammond, Barrie, ON
Washing machine Repair
April 09, 2019
Thank you Fix Appliances for being there and helping out. I am at a loss of words to praise the company and the people who make it such a great one... From the word go it was a pleasure to talk to diana .... Kind, attentive, helpful, understanding are just a few words which describe my first interaction with her... Excellent customer service and response time. Accommodative to my schedule and big on a win win situation... Moving forward Olig was just incredible.. A new level of customer service and satisfaction for sure... Helped me all the extras... I will forever remember all the help he offered Thankyou Fix Appliances ... Im glad to have someone to rely on whenever one of my household appliances give up on me... I wish i could meet diana in person just to tell how thankful I am
Bismahnavid, Barrie ON,
Maytag Washer Repair
April 09, 2019
Contact Us For Range Hood Repair Services
How Can We Help
Contact the service experts at Fix Appliances CA if your range hood has any of these problems and you need range hood repair service near me:
Fan rattles and squeals
The lights don't work
The fan isn't working
Exhaust pipe blocked or disconnected
Control knobs or buttons don't work
The motor is loud
Filters are clogged
Doesn't clear smoke, smells, or vapour
We are 100% confident that we will fix your appliance.
If you decide to proceed without range vent repair, you will receive a rebate of $80 or more toward a purchase and installation of a new appliance in our store. Details will be provided by our technician during your appointment. Read more HOME APPLIANCE REBATE PROGRAM.
Same-day Range Hood Repair Service in Your Area
FIX Appliances CA's main branch is located in Aurora, Ontario, and our local kitchen vent hood repair technicians serve the GTA, Toronto, Ottawa and southern Ontario. Check our service map to confirm the service area nearest to your city or town. Keep in mind that our services are one of the leading range hood repair services near me!
Why People Choose Fix Appliances CA
We schedule around your schedule
Same day service
Our pricing is competitive
Highly trained and certified technicians do work
We provide quotes and do in-home consultations
Repairs and installations are done quickly and properly
We provide both residential and commercial services
Repairs are done with quality parts
Our gas technicians have Technical Standards and Safety Authority certificates.
Our licensed gas fitters do all gas-related work.
All service and repair work comes with a warranty and guarantee.
Our 20 years of quality customer service are yours to discover. We are engaged in the repair and installation service business and continue gaining experience facing new technologies and appliances and taking the necessary training. That is why if you need not only kitchen or laundry appliance repair but installation, including dishwasher installation services or washer and dryer installation, you are welcome to contact us immediately to receive excellent services from our experts.
Besides, you can schedule a range hood repair once you notice that your essential appliance is no longer serving its purpose effectively to ensure that your kitchen keeps producing delicious aromas. You may attempt to repair your faulty vent hood to save money. The question is whether you have the necessary skills, experience, tools and parts that may need replacement. Let's be perfectly honest. You cannot do this job that competent range hood appliance technicians can do. No matter how good you are with any DIY projects. However, these specialists have experience, tools, and parts for repairing appliances. Fix Appliances CA has the most skilled and proficient technicians ready to offer range hood repair at the highest level.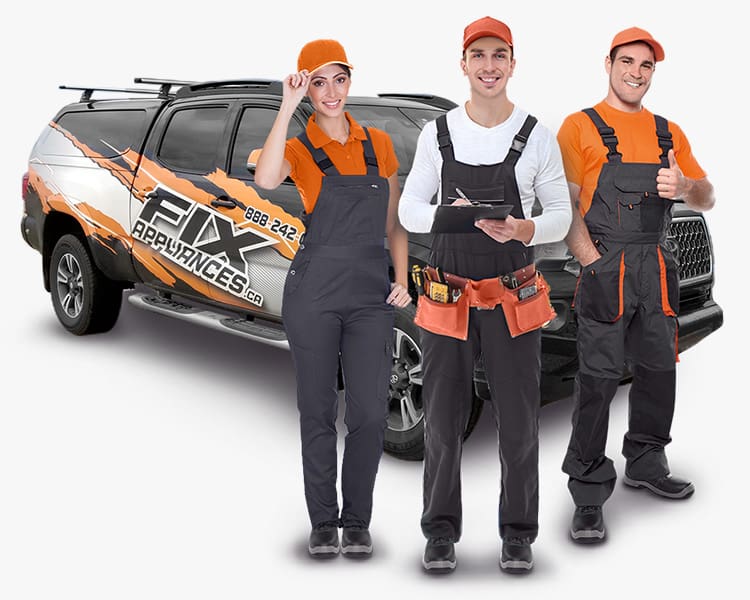 Range Hood We Service
Broan, Bertazzoni, Bosch, Cyclone, Dacor, Falmec, Forno, Fulgor Milano, Frigidaire, Fhiaba, GE, Electrolux, Ikea, Kenmore, Kitchenaid, LG, Maytag, Miele, Panasonic, Viking, Samsung, Wolf, Zephyr and more brand name range hood.
Common Questions About Range Hood
My range hood is not working. What should I do?
When a range hood in your kitchen will turn on for only a few seconds and then stop working, an electrical problem could be the cause. If the wiring is faulty, it could be a fire danger and should not be used. You may want to go through each component with a multimeter and run a diagnostic on your range hood.
My range hood fan is not working. Is there anything I can do?
Having a range hood fan that doesn't turn on can lead to more grease build-up and even damage the kitchen surfaces if left broken for too long. Since the range hood is a separate part of the range in many situations, it can be opened with a screwdriver on the underside of the hood and have each component tested with a multimeter for continuity. However, this is a time-consuming process, and even if you identify the component that has burnt out and is no longer working, you will have to order the correct part. It may be time to call for a professional service to repair or replace the faulty components of your range hood.
My range hood doesn't vent well. Should it be cleaned or replaced?
The vent on your range hood has a fan and a filter that draws in greasy and smokey cooking fumes up and into the body of the hood, where it is either ejected out of a pipe through the roof or a filter back out into the room. The filter itself can become gritty, greasy and grimy and not allow a good airflow anymore. By cleaning the filter with a sponge and soapy water, you may increase the airflow through the vent and get better venting. However, if the problem persists, you may need to have a technician check and clean the internal components of the range hood, such as the fan and piping.
The range hood lighting is not working. Is there a special lightbulb for the range hood?
Usually, the light bulbs in the range hood are a smaller size than traditional light bulbs. Ensure that you bring the burnt-out bulb with you to the hardware store and match it with the new bulb. If the new range hood lights don't work when installed, you may need to have an appliance technician come and test the wiring of your light with a multimeter. The wiring may need to be repaired or replaced.
What can I do if the range hood auto cleaning is not working?
If the auto cleaning is not working, you will have to scrub your vent and filter independently. Most people don't want to do this manual work themselves so fixing the auto cleaning sensor is the best option. You can request service from our team of appliance repair specialists and expect them to show up and clean, repair, or replace the auto cleaning sensor on your unit.
The range hood has stopped working. When should I replace it?
Before ditching the old range hood and buying a new one, give yourself a chance and service the appliance with some simple cleaning techniques of the filter and vent channel and check the electrical parts' continuity. Diagnose each component with a multimeter, then clean, repair, or replace the burnt-out parts. This is how you may be able to get your range hood working again.
How do you know when your range hood motor is not working?
The range hood motor may not be working correctly if the vent is not filtering the air well or there is no sound from the vent fan. To ensure that the motor runs, you need to check the motor for continuity with a multimeter. You may also need to clean the components of the range hood with soapy water. Make sure to unplug the range hood from any power before checking the continuity or cleaning it. You can find the tools and parts to check the motor's power and run a diagnostic to find out if the motor needs to be replaced or not at any general appliance store.
How do I fix a range vent hood motor that hums?
Since the range hood pulls the air through the vent and filter, you can limit the need to draw air through the filter by cleaning the filter with soapy water and a sponge. A cleaner vent limits the stress on a motor and may stop the humming. The humming motor may need to be replaced and checked by observing if it is dirty and not spinning the fan correctly or cleaning out the filter to improve the airflow.
Range Hood Maintenance Tips
Identify any range hood problems early
One of the best ways to maintain your range hood's motor and filter life is to identify and take care of the problems that you notice early on. Some of the worst problems that can happen to a range hood are humming noises that the motor makes, lack of venting smoke, and even when the control buttons or lighting is not working or working incorrectly. The damage can be caused by dirty and greasy filters and components or failing components that need to be replaced. By identifying these problems early on, you can save yourself money by cleaning things in time before the motor and buttons burn out and need replacement.
Keeping the air filter on your range hood clean is a great way to allow venting to run at maximum efficiency, as well as putting less stress on the fan motor that pulls the smokey and greasy air into the filter. Greasy filters can build up more and more filth over time from the cooking, so it is important to occasionally clean the underside of the filter or remove the filer completely and scrub it with soap water and a sponge. Once the filter is clean, you should notice much better venting of the smoke from cooking and limiting stress and humming from the fan motor.
Clean the venting of your range hood
The vent is the piping that leads up and out of your home or back into the kitchen after filtering out the impurities of the grease and smoke from your cooking. The vent itself needs to be cleaned of dirt and grease occasionally (though not as often as the filter) to reduce the risk of clogging or even fire danger and to make your range hood last longer. The vent may be very long, and you may need special cleaning extension tools to clean up to the top of the vent release. By cleaning your venting, you can limit the need to replace the motor by taking the stress from it or hiring a specialist to clean stubborn stains that are hard to remove.
Clean the exterior of the range hood
The grease and grime that the cooking can produce can build up on the outside of the range hood surface, which you will need to take care of. Cleaning the exterior of the range hood is pretty easy and only requires some soapy water and a sponge or a non-toxic cleaning product, and a paper towel. Cleaning the range hood can be done very frequently and will actually provide longevity for the exterior of the range hood. Cooked in grease and dirt or dust can actually stain the range hood surface and cause corrosion if left uncleaned for too long.
The fan is the component that sucks the air up past the filter and into the vent. If you find that the venting is not doing its job very well or the fan is making a distinct humming noise, you may find that grease and grime have migrated up into the fan and are starting to clog the spinning of the fan, and you need to clean up the mess. You can use a sponge or bristle brush to clean the fan with soapy water or a degreaser spray. By cleaning the fan, you can increase the lifespan of the motor. Once the fan is cleaned and still experiencing problems with your fan speed, noise, or venting power, you may need to replace the motor of your range hood. Make sure to read the guide for the components of your range hood and get the correct fitting motor that is the right power for your range hood.
More Problems & Solutions from Our Blog