Factory Certified

Licensed technicians with over 15 years of experience

TSSA Gas Contractor

Fully certified in gas appliances service, repair & installation

Complete Warranty

Each repair is covered by service and parts warranty
Surprises just happen especially during moments you don't expect them the most. This happens all the time especially on appliances that are essential in accomplished daily activities and households.
If this happens, make sure you only reach out to a reliable and trustworthy repairman, who could help you restore your appliance without further delay.
FIX Appliances CA in Brampton and surrounding area has experts who could help you repair major appliances whether it is refrigerator, dryer, stove and oven, dishwasher, and washing machine.
Unlike other repair services, FIX Appliances CA offer same day service. So, if you are on a lookout for a quality appliance repair in Brampton, FIX Appliances CA is your best choice.
Professional Appliance Services We Provide
We service and repair a variety of appliances, including:
Refrigerator Repair
Refrigerator is one of the important appliances at home. Therefore, it calls for a big problem when it stops working. Foods may spoil, especially those raw vegetables, meats, and poultry that needs to be preserved at a cooler temperature.
Don't wait for your refrigerator to cause issues at home. If you need fridge repairs services, immediately contact FIX Appliances CA. If you noticed your refrigerator is having problems including the following, it's time to ask some help.
Food spoilage.
Ice easily frosts or builds up.
Closing fridge door becoming difficult.
Refrigeration stopped working.
Fridge no longer dispense water or ice.
Creates strange sounds when opened.
FIX Appliances CA in Brampton is your go-to technician for refrigerator repair in Brampton. With over 15 years doing fridge repair services, whether it is stand-alone, built-in, or wine coolers, we got your back.
We have the knowledge, tools, and capability to restore damaged fridge to its working condition. Rest assured, you'll be happy and satisfied when we finish. FIX Appliances CA is available from 8am-9pm of the day so you can call us anytime or contact online we typically reply within a few minutes during regular business hours.
Washing Machine Repair
A damaged washing machine means mountains of laundry to wash. This is tiring and exhausting. However, despite safekeeping your washing machine, it wouldn't be inevitable to encounter problems in the long run.
If your washer shows these problems, it's already time to call an expert for help.
Clothes are not washed properly.
Water leaks everywhere.
Spinner spins so fast it damages the clothes already.
Not turning on despite plugged.
FIX appliances CA offers the best washing machine repair in Brampton. We have in-depth knowledge of repairing washers of all brands, even if it's an old model or not.
Over the past decades, we were able to repair different kinds of washers of various brands including Kitchenaid, Miele, Whirlpool, Samsung, and Bosch, to name a few.
Our technicians can handle all kinds of complexities and issues and can even provide recommendations to maintain a working washing machine in your home.
So, whether you need help with your washer any time of the day, someone will surely answer your calls. Call or text us at  647-503-6655 for immediate assistance.
Dryer Repair
Does it take too long to dry your clothes? If yes, then your dryer is having a problem. Don't wait for days to pass before you get your dryer working again. It could cause more trouble if you allow it to sit damaged too long. If ever your dryer is not working and having these issues, you might want to contact the best dryer repair service in Brampton.
Dryer making noisy sounds.
It takes time before it starts working.
It stops midway while you're drying.
It shows error messages.
FIX Appliances CA has everything you need to solve your problem. We have responsive customer service to assist you during your inquiry and help you find skilled technicians to repair your dryer.
You don't have to worry because we backed with more than a decade of experience handling appliance repair so we guarantee you receive the best possible appliance service in Brampton. Aside from that, we don't waste your time waiting for us because we can visit your home same-day to troubleshoot your dryer issue.
Oven and Stove Repair
If you are used to cooking for your family, a damaged stove and oven is one of the worst problems to have. While it's okay to eat out, it is still economical and healthy to cook and dine at home.
Good thing, FIX Appliances CA is always ready to help. We are available every day of the week to troubleshoot stove and oven problems so you could continue to cook for the family. We have the tools, knowledge, and expertise to repair whatever kind of oven and stove. So, whether you have a cooktop, wall oven, range stove, or microwave oven, we can sure help you. FIX Appliances CA handles stove and oven repairs including but not limited to the following:
Digital display issue.
Overheating countertops and stoves.
Stove not getting hot.
Proper maintenance of electric and gas stoves.
If you experience any of these problems, let us know. We will immediately send you our best technicians to handle the repair. We've experienced almost all kinds of stove and oven problems of different brands so we know exactly what to do and how to resolve them.
Give us a call any time of the day and our friendly customer services will happily assist you.
Dishwasher Repair
Regular and daily use of your dishwasher could lead to some issues after years of usage. It's normal. But that doesn't mean you need to change and buy a new one. It would cost you hundreds of dollars to purchase another dishwasher.
Instead, you can just call FIX Appliances CA to repair your malfunctioning dishwasher so you can use it again as if nothing has happened.
Our professional technicians are expert in troubleshooting different kinds of dishwashers including double, portable, or built-in dishwasher. We can also address complex issues like:
Motor and pump noise.
Door latch failure.
Water leaks.
Unwashed dishes.
Water drains.
Whenever you encounter these problems on your dishwasher, just contact FIX Appliances CA to get same-day assistance. You will surely be satisfied with our top-notch dishwasher repair service.
Range Hood Repair
Is your kitchen ventilation appliance not working properly? If so, it's always best to work with a company that has proven track record of repairing home appliances. If you live in Brampton area or the surrounding cities, FIX Appliances CA takes the lead.
We offer top-notch services in repairing range hood or microwave hood appliance issues. We can troubleshoot under cabinet range hoods, insert range hoods, island range hoods, downdraft range hoods, wall mount range hoods or microwave range hood issues with less hassle on your end.
Apart from that we also offer the following services:
Maintenance and service repairs of all types of kitchen ventilation;
Replacement or new installation of range hoods;
Diagnose and  consultation.
We have enough technicians on-site to help you every day so you can surely receive immediate assistance and response whatever time of the day you call us. We also serve all commercial and residential areas in Brampton. So if you are just in the vicinity or living in the nearby areas, feel free to contact us anytime. We are always happy to assist you.
Licensed Repair of All Appliance Brands
We service over 65 brands, so if you own appliances from different brands you don't need to call two companies. These brands include: AEG, Amana, Brava, Fisher & Paykel, Gaggenau, Blomberg, Bosch, Bertazzoni, Frigidaire, Fulgor Milano, GE, Faber, Falmec, Huebsch, Hot Point, Inglis, Jenn Air, Liebherr, Mofat, Maytag, Miele, LG, Electrolux, KitchenAid, Thermador, Viking, Sub-Zero, Samsung, Sears Appliances –Kenmore, Speed Queen, White Westinghouse, Whirlpool, Wolf, Zephyr and many more. Most of our repair bookings for appliance repairs are attended on the same day.
Brampton Appliance Repair
FIX Appliances CA is a leading provider of affordable appliance repairs in  Brampton. We have over a decade of industry experience. Using this experience we can offer reliable white goods repairs. No matter what the problem may be, our skilled technicians will be able to fix it.
Contact us for Brampton appliance repair service FIX Appliances CA online or by calling 647-503-6655 and Toll-free number 1-888-242-0777 today.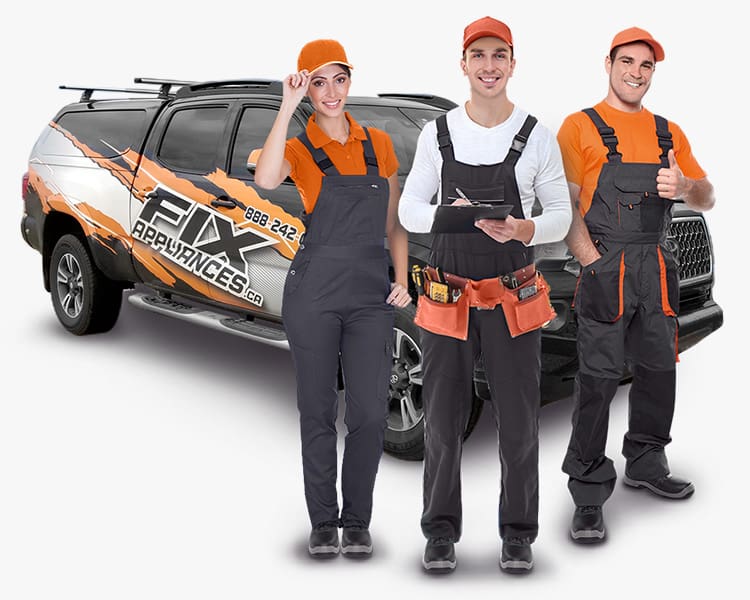 Homeowner Guide
for Appliances
Join over 1200 GTA homeowners who benefited from this useful guide to help keep appliances from breaking.