Factory Certified

Licensed technicians with over 15 years of experience

TSSA Gas Contractor

Fully certified in gas appliances service, repair & installation

Complete Warranty

Each repair is covered by service and parts warranty

Authorized Repair

Authorized service centre for most appliance manufacturers
Why Choose Us for Dryer Repair?
Fix Appliances CA has more than 17 years of experience in providing dryer repair services. Our certified and licensed dryer fixers are ready to help you seven days a week. Warranty, Satisfaction Guarantee, best prices, same-day local dryer repair and washing machine repair, high-quality of dryer servicing and other advantages can help you to make the right choice.
Fair Price
The best services at reasonable prices!
Our company has the most qualified and professional appliance technicians, who provide services at fair prices and offer a warranty on all services, including the replaced parts. Before we start. you receive appliance repair advice and information on the average costs for repair and replacement.
Best Quality
Licensed and Certified Appliance Experts!
We strive to offer our customers quality and dependable dryer repair services. All our appliance fixers have all the necessary licenses and certificates to service all appliances at the highest level of quality. We work to ensure that you will always be satisfied with your appliance repair.
Convenient Time
Available seven days a week, including holidays!
Fix Appliances CA provides daily dryer repair and installation services, including holidays and weekends. You are welcome to contact us by phone or submit the request online to schedule the most convenient time to visit your place, mostly the same day. In addition, we offer an emergency dryer repair.
Are you looking for quality dryer repair services, contact Fix Appliances CA and trust your problem issue with our dryer machine repair technician. We can handle any problems as soon as possible and at fair prices.
✓

Availability

The same day, 7 days a week

✓

Service Areas

All over Toronto, Ontario, and the GTA

✓

Experience

17+ Years

✓

Authorized Repair

Major Brands

✓

Residential and Commercial Repair

Best Prices

✓

Warranty

Up to 1-year

✓

Attractive Rebate Program

Buy with Discount
Types of Gas or Electric Dryers We Repair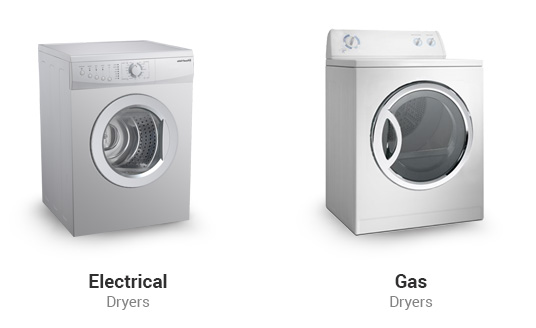 Reliable dryer repair technicians serving the GTA and southern Ontario are completed quickly by skilled technicians from FIX Appliances CA. Appointments are made at your convenience from 07:30 am to 09:00 pm hours a day, 7 days a week, for no extra charge. Easy scheduling can be handled over the phone, text or online form. Once you book an appointment, we will find a time convenient to your schedule and send a technician to look at your dryer. If you want us to come on the same day, that won't be a problem! A dryer technician can fix different brands. Our staff are professionals who provide the best dryer repair services near me in the country.
Once dryer repairs are over, you can pay the agreed amount. The cost of our home dryer repair services is completely affordable. So avoid spending wasted hours trying to find a company that provides dryer repairs. FIX Appliances CA is here to serve you gladly.
Same-Day Dryer Repair
FIX Appliances CA takes pride in helping each customer manage a difficult situation. We understand the challenges of fitting a service call into your busy schedule, so we'll do our best to do the work at your convenience. Our certified technicians can accommodate same-day service appointments to fix your dryer quickly. No need to haul your wet clothes to the laundromat – schedule an appointment online, call, or text FIX Appliances CA today.
FIX Appliances CA provides outstanding, quality dryer repair service to our customers. We have been providing the highest level of expertise, employing a senior staff with years of experience in this category of appliance repair. All the training that our technicians undergo is ongoing, ensuring they have the knowledge to work on the most advanced, latest models on the market. Through this commitment, we ensure that our services continue to be exemplary.
You will get the best customer service with our company. Each staff member is dedicated to ensuring you have a smile at the end of each service we provide. We understand how frustrating it can be when your dryer breaks down, especially when you have a busy schedule. Once you make a call, we will schedule an appointment as soon as possible. Whether it is Sunday, Monday, or any other day, it doesn't make any difference to us. We are always at your service and willing to provide electric dryer repair services to all residents in Toronto and other suburbs.
Our technicians will fix your dryer in record time. Your dryer will be working like new. At the end of the day, you pay way less than you would for buying a new dryer. FIX Appliances CA gives you the Best PRO dryer repair services in Canada at the best prices.
Gas Dryer Repair Service
Our professional gas dryer repair and installation service offers a reliable solution for homeowners seeking efficient, safe, and properly functioning gas dryers. Our skilled technicians are well-versed in diagnosing and fixing various issues, ensuring your dryer runs smoothly and efficiently. Whether it's a minor repair or a complete installation, we prioritize safety and quality, ensuring your gas dryer is properly connected, vented, and ready to meet your laundry needs. Trust our experts to provide you with peace of mind so you can enjoy the convenience of a fully functional gas dryer in your home.
RED TAG REMOVAL: If your GAS appliances are shut off by Union Gas or Enbridge suppliers due to a RED TAG, we are fully licensed and authorized to turn it back on the spot. Our Fix Appliances CA technicians have licensed gas fitters with current and updated Technical Standards and Safety Authority (TSSA) certificates.
Not Sure If It's Easier To Replace Or Repair the Dryer? Call Us!
Nothing lasts forever, but don't you wish that our appliances did? When your dryer starts to show signs of quitting on you, it may be tempting to head to the nearest big box store and purchase a new one to avoid dealing with the hassle of repairing it—but should you?
How do you know for sure that your appliance is ready to be replaced? Often, it can be difficult to determine if it will be worth the money to fix your appliance or if it's better to call it quits and put a new dryer on your credit card.
The average cost of repairing a dryer is around $100 to $200, generally covering most drum issues (such as a broken belt), a faulty thermostat, or clogged vents. If you're unsure whether or not a repair is worth it, refer to the 50% rule.
Unsure of whether to repair or replace? Our appliance technicians are highly skilled and trained to troubleshoot and repair anything from the most common dryer repairs to the most perplexing. Contact Fix Appliances CA for your dryer repair advice and help you make the right decision.
What Our Customers Say About Us
Discover how Fix Appliances maintains a 5-star service record since day one.
"Serge arrived when expected, repaired the issue efficiently, and made the entire process very painless. I will definitely use this company again when needed. Thank you!"
Maggy, Oshawa
Dryer Repair Recommended
September 07, 2022
"Our dryer stopped working. The tech not only was able to fix it, he explained to me exactly what to do if it happens again and how to run the self diagnostics. A ton of information, a fixed dryer, and friendly help at a reasonable price."
John Marshall, Mississauga
Dryer Repair Services
September 07, 2022
I was extremely satisfied with the service Denis provided. He explained the charging process and the warranty process. He explained what he thought might be the problem and gave me my options before he proceeded. Once he took the dryer apart he showed me what caused the issue and gave me time to take pics. I was very impressed with his professionalism.. I will definitely tell my friends and family.
Marcia, Mississauga
August 12, 2019
I was extremely satisfied with the service Denis provided. He explained the charging process and the warranty process. He explained what he thought might be the problem and gave me my options before he proceeded. Once he took the dryer apart he showed me what caused the issue and gave me time to take pics. I was very impressed with his professionalism.. I will definitely tell my friends and family.
Marcia, Mississauga
August 12, 2019
Called and came out same day, provided an accurate estimate. Work performed was professional and courteous. I would recommend them.
Richard, Innisfil, ON
Dryer Repair
April 09, 2019
Our technician Oleg was great. He was on time and even called before his arrival. He was able to diagnosis the problem and make the repairs all in one visit which was very appreciated. He not only fixed the problems, but talked me through what was wrong and how it needed to be repaired. He also spent time to show me how to properly maintain the dryer myself. He was very tidy leaving no mess behind. I would highly recommend Fix Appliances to anyone.
Cynthia, New Tecumseth, ON
Electric Dryer, Maintenance due to previous fire
April 09, 2019
Contact Us For Dryer Repair Services
Common Dryer Issues
Dryer trips breaker
Error code on the electronic panel
Gas smell from dryer
Same-day Dryer Repair Service in Your Area
FIX Appliances CA is located in Aurora, Ontario, and our local refrigerator repair technicians serving the GTA and southern Ontario.  Check our service map to confirm the service area nearest to your city or town.
Common Dryer Replacement Parts
Typical parts include:
Heating Element
Bearing Kit
Belt
Drum Bearing
Fuses
Door Switch
High-limit Thermostat
Flame Sensor
Motor
Roller
Circuit Board and Timer
Knob, Dial and Button
Flexible Duct
Idler Pulley
There are several common dryer replacement parts needed for new and older models. Each service vehicle is well-stocked with inventory, so in most cases your dryer will be fixed the same day.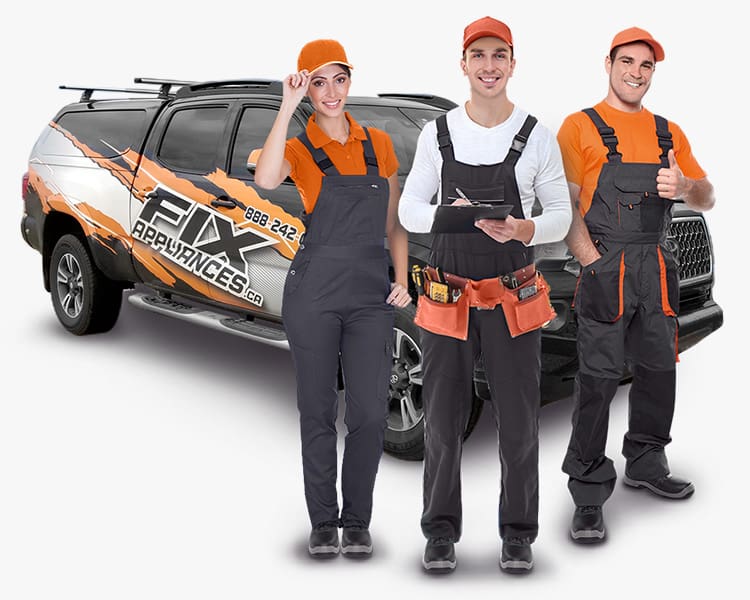 Dryer Brands We Service
 Amana, Blomberg, Bosch, Frigidaire, GE, Electrolux, Huebsch, Inglis, Kenmore, Kitchenaid, LG, Maytag, Miele, Moffat, Speed Queen, Hotpoint, Samsung,  Whirlpool, Wascomat, Westinghouse and more brand name dryers.
Common Questions Asked About Dryers
What should I look for in a new dryer?
Size and capacity. While considering you need at least one inch between a washer and dryer for adequate air circulation and 6 inches of depth for connections and venting, measure how much room is available. To determine capacity, the dryer should be twice that of your washer.
Does my dryer have to be leveled?
Yes, components will wear out faster, and it will be noisier if it's not levelled properly.
What is the normal dry time for a full load?
Most dryers take about 45 minutes to run a full cycle. Clean out the venting system if clothes are still damp after that time.
How can I reduce my energy use on an older dryer?
Avoid overloading your dryer, and keep the venting system clean.
Dryer Maintenance Tips
Tip #1 – Clean the lint screen after every cycle
In addition to helping your dryer run more efficiently, air restriction can be extremely dangerous. Make sure to clean the lint after every cycle and vacuum the filter chute one time every season.
Tip #2 – Remove lint build-up from dryer vent tube
It's easy to forget that your dryer vents to the outside via a long venting tube and that lint and debris can collect inside. Reduce the risk of fire hazards by cleaning from the inside of the dryer to the outside vent cap with a long cleaning brush. This should be done once a year.
Tip #3 – Check the outside vent cap
Regularly walk outside to make sure your dryer's vent cap has proper airflow. Clear snow build-up, leaves, dirt and shrubbery away from the exhaust area. Carbon monoxide can build up and pose a health threat to you and your family. This will keep your dryer running safely and efficiently.
Tip #4 – Vacuum the inside of your dryer
Lint build-up inside your dryer is common and should be cleaned out annually. Replacement filters can be purchased to ensure your dryer always has proper airflow.
Tip #5 – Watch for changes in drying time
The age of your dryer should not affect drying time. If your dryer takes longer to dry clothes thoroughly, it could mean there is a clog in the vent. Clean out equipment as soon as possible.
More Problems & Solutions from Our Blog