Appliance Brands We Service
FIX Appliances CA™ is a trusted and authorized repair service center catering to a wide range of home appliance manufacturers. With our extensive expertise, we proudly service over 90 leading brands, eliminating the need for multiple service providers if you own appliances from different manufacturers. Our commitment to efficiency means that most of our repair bookings are promptly attended to on the same day, ensuring minimal disruption to your daily routine.

How We Work
5 Star
Admiral
Aga Ranges
AEG
Ariston
AVG
Azure
Beaumark
Best Range Hoods
Blue star
Brada
Brigade
Cissell
Clementi
Cobe Range Hoods
Coyote
Crosley
Dexter
Faro Range Hoods
Gaggenau
Habco
Heartland
Hisense
Insignia
Kelvinator
LumiFaro Range Hoods
Marvel Refrigeration
Midea
Moffat
NXR
Porter & Charles
Roper
Smeg
U-Line
Ultraline
Venmar Range Hoods
Wascomat Flex-O-Matic
Wood's
White Westinghouse
At Fix Appliances CA, your satisfaction is our utmost priority. With our head office located in north Toronto, we have strategically positioned technicians throughout various communities in southern Ontario. This allows us to serve the following areas efficiently:
We understand the importance of a functional appliance in your daily life, which is why our services are available to you even during evenings, weekends, holidays, and throughout the year. Our commitment to convenience extends to our flexible payment options, including Visa, Interac, cash, and all major credit cards. Don't delay your household appliance repairs any longer. Contact Fix Appliances CA today at 1-888-242-0777 and let us swiftly resolve your appliance issues.
FAQ: Frequently Asked Questions
How many brands does Fix Appliances CA provides repair service?
We provide manufacturer-certified services for over 90 brands. For more than 30 of them, we provide services as an authorized repair service provider.
How long does it take to repair an appliance?
At Fix Appliances CA, we provide same-day service for all appliance repairs. After the technician reaches your place, the repair can take as little as an hour or less. If the problem is minor, our skilled technician might be able to fix it right away! You can find out precisely what's the matter with your faulty appliance by dialling Fix Appliances CA today toll-free at 888-242-0777!
How much does an appliance repair cost?
Fix Appliances CA offers free service calls with any repair. Our flat diagnostic fee makes us the best home appliance repair choice, as we quickly know what's wrong with your broken appliances! Please call us today at 888-242-0777 to speak with one of our representatives and receive our top-rated appliance repair service!
Meet Fix Appliances CA
FIX Appliances CA is an appliance repair service you can trust, serving the GTA and Southern Ontario.
If you have been inconvenienced by an appliance breakdown and require immediate service, don't hesitate to give us a call. At FIX Appliances CA, we understand the urgency of the situation, and our dedicated team of technicians is ready to assist you promptly. Our licensed technicians specialize in repairing both gas and electrical appliances, catering to a wide range of needs in residential and commercial environments. From refrigerators, dishwashers, and washers to dryers, stoves, ovens, and more, we've got you covered. What's more, when you choose FIX Appliances CA for your appliance repair needs, we offer a special benefit. The service call itself is absolutely FREE! We believe in providing exceptional value to our customers, ensuring that you receive quality service without any additional costs for the initial consultation.
REQUEST SERVICE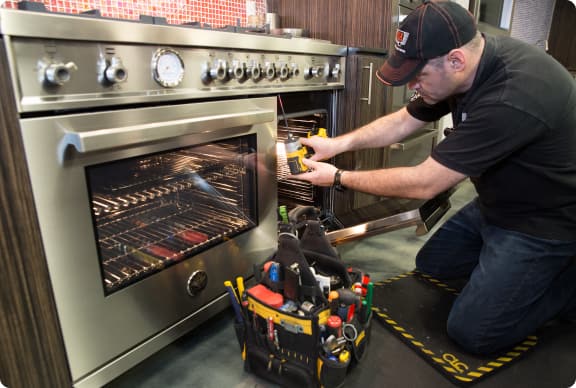 What Our Customers Say About Us
Discover how Fix Appliances CA maintains a 5-star service record since day one.
I submitted an online request late at night. First thing the next morning the office called and scheduled an appointment for the same day. Technician arrived on time and did not waste any time diagnosing the issue. Fridge was making a really loud noise coming from inside the doors. I thought it was a fan getting stuck. The technician quickly diagnosed the matter as a worn out damper, he also showed me the worn out part. The part was not a regular stock item so he would have to come back. Within one day the part was in and the office called to schedule the fix. The technician was very knowledgeable, friendly, and efficient. We were really impressed! Thanks again!
Dima did a great job diagnosing the fridge - he took his time and explained everything to me. No pressure to buy his recommended service - I had 30 days to think about it and the service call charge would be credited towards the recommended replacement part and labour. A day later I decided to go ahead with the recommended service and they were able to come back same week! I forgot to ask about the service call being credited and went to call them - but they are so professional and on top of everything, it was credited towards the replacement part without me having to specifically ask. Overall very professional company, I will use them again.
AD, Markham, ON
Refrigerator repair.
Excellent professional service. Super nice people. It was easy to book an appointment. Sergei called before he came. Made the assessment. They ordered the part required. Paid a small deposit. Made another appointment to come and install the part and the oven was fixed. Well worth it not having to chase down parts by yourself
Neal C, Markham, ON
Fix Oven
Guy was great. Very helpful and informative. Will certainly contact you again. Not sure why this has to be minimum number of words – I have nothing more to say. Guy was great. Very helpful and informative. Will certainly contact you again.
lei-jam, Hamilton, ON
Fix combination (gas and electric) oven
Professional Appliance Services We Provide
Select which appliance needs service and repair: