Dishwasher Won't Latch
Authorized repair service for most home appliance manufacturers
When a dishwasher doesn't latch, it can disrupt the normal functioning of the appliance. The latch is a crucial component that ensures the dishwasher door is securely closed during operation, allowing proper water containment and optimal cleaning performance. Various factors may contribute to a dishwasher failing to latch, including a door misalignment, issues with the latch mechanism, or worn-out components. Identifying the specific cause of the latch problem is essential for effective troubleshooting and resolution. Addressing this issue promptly is crucial to maintain the dishwasher's efficiency and prevent potential water leakage during use.
Please read our article to learn more about what to do if the dishwasher won't latch on and what you can do about it.
How to Fix a Dishwasher Door Latch
Dealing with a malfunctioning dishwasher door latch can be both exasperating and financially burdensome. Opting for professional services often entails unexpected expenses, straining your budget unexpectedly. This predicament can be particularly daunting if you don't consider yourself adept at handling household repairs. The significance of a well-functioning dishwasher door cannot be overstated, as its dysfunctionality directly translates to inefficient dishwashing. Consequently, the necessity for timely dishwasher repair and servicing becomes evident, prompting homeowners to explore DIY solutions despite their lack of expertise. This article aims to provide valuable insights into troubleshooting and addressing common issues related to your dishwasher's door, offering practical information for those compelled to take matters into their own hands.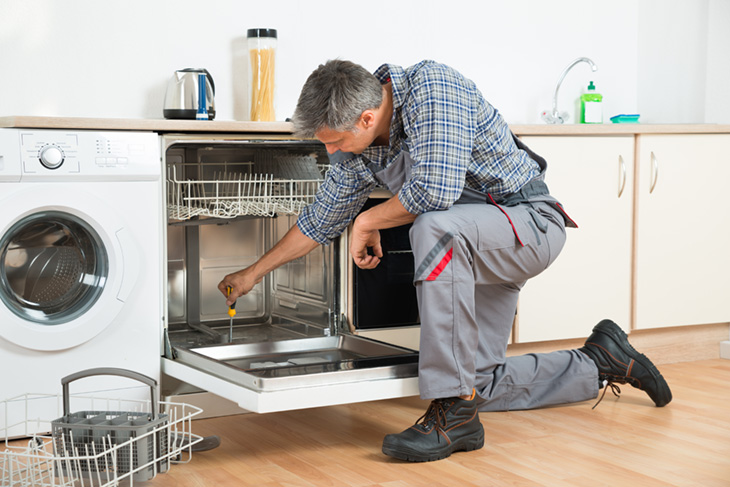 Navigating the complexities of dishwasher repair without prior knowledge can be daunting. Despite the challenges, this article endeavours to equip you with the necessary information to tackle your dishwasher's door-related issues effectively. Whether it's misalignment, wear and tear, or electrical problems, understanding the basics of troubleshooting can empower you to take charge of the situation and restore your dishwasher's functionality without solely relying on professional assistance.
Identifying Common Issues with a Dishwasher Door Latch
When faced with a malfunctioning dishwasher door latch, understanding the root causes is crucial. Check for these common issues before diving into the repair process:
1. Door Misalignment or Wear and Tear
Inspect the door latch for any signs of misalignment or wear. A poorly aligned or worn-out door can lead to leakage and hinder proper dishwasher function.
2. Electrical Continuity Issues with Door Switches
Examine the door switches for continuity of electricity. Disruptions in electrical flow can impact the door's functionality, causing it to malfunction.
3. Inadequate Adjustment of the Door Latch
Ensure the door latch is properly adjusted and securely attached to the dishwasher tub. Misalignment or loose attachment can lead to persistent latch problems.
DIY Repair Steps for a Faulty Dishwasher Door Latch
Once you've identified the issue, follow these step-by-step instructions for a hassle-free repair:
1. Misaligned or Worn Door Repair
Carefully realign the door to its proper position.
Inspect and replace any worn-out components.
Test the latch for secure closure after adjustments.
2. Addressing Electrical Continuity Issues
Check for loose or damaged electrical connections.
Replace faulty door switches if necessary.
Ensure a continuous flow of electricity to the door latch.
3. Adjusting and Securing the Door Latch
Tighten any loose screws or bolts on the door latch.
Ensure proper alignment and attachment to the dishwasher tub.
Test the door latch by opening and closing the dishwasher door to confirm secure latching.
Follow these DIY repair steps to restore your dishwasher's door latch functionality and enjoy efficient dishwashing without needing expert services.
Struggling with a Non-Latching Dishwasher? Time to Seek Professional Assistance
If your attempts at DIY troubleshooting have left you perplexed, and your dishwasher stubbornly refuses to latch or start, it's time to turn to FIX Appliances CA for expert help. With extensive experience in diagnosing and repairing various appliance issues, our factory-trained technicians specialize in pinpointing the root causes behind your dishwasher's refusal to latch, whether it's a complete failure to power up or an issue with the cycle initiation despite indicator lights being on.
Benefit from our 18+ years of hands-on expertise, allowing us to identify and resolve the complexities of your dishwasher malfunction swiftly. Whether you're dealing with a non-responsive appliance or a cycle that won't initiate despite apparent power, our skilled technicians are ready to provide same-day appliance repair services in Toronto and the surrounding GTA areas. For prompt and efficient solutions, contact us at 1-888-242-0777 and let us get your dishwasher back in working order.
Date of page creation: September 27, 2017
Page update date: November 16, 2023
What Our Customers Say About Us
Discover how Fix Appliances maintains a 5-star service record since day one.
The serviceman, Danny, was very efficient at repairing our dishwasher and did a great job ensure the space was clean before he left. I would recommend Danny and use him again for future repairs.
colin, Toronto
August 12, 2019
Technician (sorry forgot his name) was very efficient in diagnosing the problem, providing estimate of work, and returning soon after to install parts - I was really impressed with the fast response to my initial call (on-site within 48 hours) and when repair was made... it would have been earlier, but I was not available for the earlier date. Gave window of time he would return to make repairs and was exactly on time at the front end of the window of time. Would recommend without hesitation and will continue to call Fix Appliances as my first option for appliance repairs... the service and response times and quality of work is excellent. I always worry about the fly by night repair services as you never know what you're going to get, but I think my worries are now over! Thank you Fix Appliances... please don't change.
Joe P., Brampton
August 12, 2019
FAQ: Top Frequently Asked Questions
Why won't my dishwasher door latch properly?
Dishwasher doors may fail to latch due to misalignment, wear and tear, or electrical issues with the door switches. Identifying the specific cause is crucial for effective troubleshooting.
Can I fix my dishwasher door latch myself?
Yes, many common dishwasher door latch issues can be addressed with simple DIY solutions. Misalignments, loose screws, or worn-out components may be fixed without professional assistance.
What should I do if my dishwasher door is not closing tightly?
If your dishwasher door is not closing tightly, check for misalignments or worn components. Tighten any loose screws, realign the door, and ensure a secure attachment to the dishwasher tub.
How do I find the model number of my dishwasher for replacement parts?
The model number is typically located on the top of the door jamb, underside of the control panel, or on the door itself. For portable dishwashers, check the back of the unit or on the side of the hose storage.
Why is it important to fix a malfunctioning dishwasher door latch promptly?
A malfunctioning door latch can lead to inefficient dishwashing, water leakage, and potential damage to the appliance. Timely repair ensures optimal dishwasher performance and prevents further issues.
More Problems & Solutions from Our Blog