Factory Certified

Licensed technicians with over 15 years of experience

TSSA Gas Contractor

Fully certified in gas appliances service, repair & installation

Complete Warranty

Each repair is covered by service and parts warranty

Authorized Repair

Authorized service centre for most appliance manufacturers
How to Fix a Dishwasher Door Latch
It can be really frustrating whenever there is a broken door latch on your dishwasher. Seeking the services of an expert means digging deep into your pocket for money that was not budgeted for. It could also be a challenge especially if you don't consider yourself a handy person for the job. A dysfunctional dishwasher door definitely means no efficient dish washing is taking place; this is why dishwasher repair and servicing is very important. Sometimes it may force you to work on it despite not being well versed on what is really needed. In this article you will find tons of useful information that will be helpful when it comes to the door of your dishwasher.
Here's what you should know about these repair services
You'll be impressed with this repair as you'll find it easy to follow
The whole process takes as little as 15-30 minutes if you understand the basics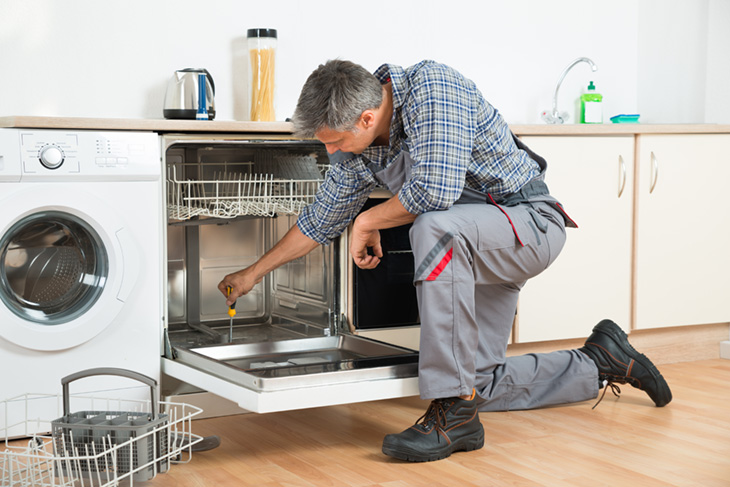 Anytime the door latch is not functioning properly, the first thing to check is the door latch. It is usually attached to the dishwasher tub and is adjustable. If not connected properly it will be the force behind door problems which in turn will cause the dishwasher not to work properly. Another problem could be that the door is worn out and is not closing tightly enough to prevent leakage. When there is continuity of electricity to the door switches this will also hinder the door's functionality. If all this is happening it means the door latch needs to be replaced.
The good news is that there are thousands of models of dishwasher parts. Sometimes, getting a model number can be a hassle. Below are some guidelines to help you locate the dishwasher's model number.
Check on the top of the door jamb, to the left, right, or in the center
It can be found on the underside of the control panel
You may also get it on the door itself, on the left, right, or in the center
For portable dishwashers, check either on the back of the unit, or on the side of the hose storage
Also look on the upper left hand corner of the unit's frame
We have identified and possibly exhausted all the possible causes that could cause a dishwasher door latch not to function properly. It is not only the door latch, but there are also other parts that could be faulty. At any given time fixing a dishwasher proves to be difficult with all the information provided above, type the model problem of the particular part affected in the search box. It will assist you as you will be able to find any repair help that is effective. Searching with your model number also plays a big role in giving you access to all schematics and parts. It will also give you the problem of the dishwasher as well as the dishwasher repair guide and all installation guides.
What Our Customers Say About Us
Discover how Fix Appliances maintains a 5-star service record since day one.
Excellent service on all my home appliances. Have used them for years on my Sub Zero fridge and Whirlpool laundry machines.
Alex, Alliston, ON
Fridge Appliance Repair
They showed up promptly, diagnosed the problem accurately, fixed it on time (subject to parts availability) and on budget. No drama, just good service. Very pleased.
Andy, Wasaga Beach, ON
GE Dryer Repair
More Problems & Solutions from Our Blog