Dishwasher Is Making Noise
Authorized repair service for most home appliance manufacturers
A dishwasher making noise can be indicative of various issues within the appliance. Common noise sources include a malfunctioning pump motor, worn-out bearings, or debris lodged in the spray arm or pump assembly. Additionally, loose or damaged parts, such as the spray arm, utensil basket, or detergent dispenser, can contribute to disruptive sounds during the dishwasher's operation. Identifying the specific source of the noise is crucial in determining the appropriate troubleshooting or repair steps to restore the appliance's smooth and quiet functioning.
Please read our article to learn more about why my dishwasher is making loud noise and what you can do about this issue.
Why Is My Dishwasher Making Noise?
A dishwasher producing a loud, cluttered sound while washing dishes can be very frustrating, and seeking dishwasher repair services will come at a cost. You may not be handy, but eventually, you will realize that fixing a dishwasher is not such a complicated process. The first step towards repairing a dishwasher is to be conversant with the commonly used parts in repairing a dishwasher. After you get the model number, you can bring the sink to its original state. You will find dishwasher repair is affordable and takes as little time as possible.
Here are the major causes/parts to check and correct a noisy dishwasher
Reason 1: Defective Pump
A faulty pump is one of the reasons a dishwasher could start making a terrible sound. The work of this pump is to drain water and pressurize the spray arms. The pump is strategically located at the bottom part of the dishwasher and consists of two compartments: one is for draining, while the other is for circulation or washing. The drain part of the dishwasher is made up of a chopper blade, a drain impeller and, at times, a solenoid-operated diverter. The circulation elements typically consist of filter components and a wash impeller. An electric motor on the side or bottom of the pump motions the impellers.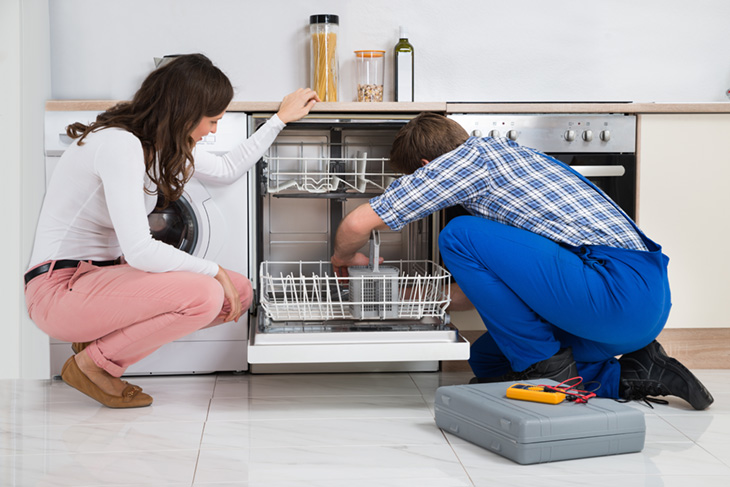 Reason 2: Spray Arm Seal And Wash Arm Bearing Ring
Also, a noisy dishwasher could result from a bearing ring or wash arm seal not being in the correct position. These rings are made from plastic, offering great support to the spray arm as it rotates. It is imperative to keep checking the ring and seal; if they are not functioning correctly, you should replace them. This repair method is convenient as it is easy and takes little time to fix. Video and fixing guidelines are also helpful.
Reason 3: Spray Arms
Ensure the spray arms rotate freely and do not hit the dishes or racks. If the arms are shaky, then the hub or center portion of the spray arm is most likely worn; therefore, you'll need to replace the entire spray arm immediately.
The standard parts above will make a dishwasher cluttered, resulting in loud noises when washing dishes. Despite making this discovery, there could be other faulty parts that may require an expert's skill. You can freely enter the model number or any additional help you deem necessary. Using your model number to search will give you access to all schematics and parts, the particular problem your dishwasher is experiencing, and the installation processes. You can contact a more skilled professional to take care of the noise once and for all at Fix Appliances CA who has specific knowledge and experience in repairing household appliances and resolving any issues with them, including a dryer making loud noise, or a washer making grinding noise and much more.
5 More Potential Sources of Making Noise Dishwasher
Certainly, there are additional components that can contribute to a noisy dishwasher. Here are a few more potential sources of noise:
Source 1: Wash Impeller
A worn or damaged wash impeller, responsible for circulating water during the wash cycle, can produce excessive noise. Inspect for signs of wear and replace if necessary.
Source 2: Dish Rack Rollers
Worn or damaged dish rack rollers can lead to noisy operation as the racks move in and out. Check for any visible issues with the rollers and replace them if needed.
Source 3: Water Inlet Valve
A malfunctioning water inlet valve that controls water flow into the dishwasher can cause a humming or buzzing noise. The inlet valve might need replacement if the noise is associated with water filling.
Source 4: Dishwasher Belt
Some dishwashers have a belt that connects the motor to various components. A loose or damaged belt can result in a noisy operation. Check the condition of the belt and tighten or replace it as necessary.
Source 5: Motor Bushings
Worn motor bushings can also contribute to noise. If the dishwasher motor makes unusual sounds, inspect the motor bushings and replace them if they show signs of wear.
Addressing these additional components can help comprehensively troubleshoot and resolve noise issues in a dishwasher. If problems persist or if you're unsure about the diagnosis, seeking professional assistance is advisable for a thorough and effective solution. Learn more on our video YouTube channel.
Choose Fix Appliances CA for Quick and Reliable Solutions
When faced with the disruptive issue of a noisy dishwasher, Fix Appliances CA stands out as the go-to choice for efficient and dependable repairs. Our dedicated technicians are committed to restoring your appliances promptly, minimizing the inconvenience caused by a malfunctioning dishwasher. With a keen understanding of the challenges associated with dishwasher repairs, we guide you through the process, ensuring you receive top-notch dishwasher repair services tailored to your needs. Here are compelling reasons to trust Fix Appliances CA for your next appliance repair:
Same-Day Service: We prioritize your convenience with same-day service for all major appliances, ensuring a swift resolution to your noisy dishwasher problem.
Extensive Experience: With over 18 years of experience, our technicians bring a wealth of knowledge to every repair, guaranteeing exceptional service and expertise.
Award-Winning Service: Recognized for excellence, Fix Appliances CA is a nine-time HomeStars Best of The Best Award winner, a testament to our commitment to delivering outstanding appliance repair solutions.
TSSA-Certified: As a TSSA-certified gas appliance contractor, you can trust us for safe and reliable repairs.
Satisfaction Guarantee: Enjoy peace of mind with our 90-day satisfaction guarantee, assuring you of the quality and durability of our dishwasher repair services.
Free House Calls: We believe in transparent and customer-friendly service, offering free house calls with any repair and ensuring you receive an accurate assessment of your dishwasher's noise issues.
Don't endure the inconvenience of a noisy dishwasher any longer. Whether you own a Whirlpool, LG, Miele, Electrolux, Samsung, Maytag, Fisher & Paykel, Bosch, Frigidaire, GE, or any other major appliance brand, Fix Appliances CA is your reliable partner. Call us at 1-888-242-0777  for prompt, same-day dishwasher repair services in Toronto and the GTA surrounding areas.
Date of page creation: September 28, 2017
Page update date: November 17, 2023
What Our Customers Say About Us
Discover how Fix Appliances maintains a 5-star service record since day one.
"Our dishwasher was leaking. The appliance dishwasher expert came after making a simple phone call a couple of days prior. They were professional and sincere. Although they were not able to diagnose the problem, they remained honest and told us what we should do instead (contact the manufacturer) and did not charge us anything at all for inspection. If we end up having other appliance issues in the future, we will be using this company again."
Melody,
Panasonic Dishwasher Repair
September 07, 2022
The serviceman, Danny, was very efficient at repairing our dishwasher and did a great job ensure the space was clean before he left. I would recommend Danny and use him again for future repairs.
colin, Toronto
August 20, 2019
FAQ: Top Frequently Asked Questions
Why is my dishwasher making a loud noise during operation?
A noisy dishwasher can result from various issues within the appliance. Common sources of noise include a malfunctioning pump motor, worn-out bearings, debris in the spray arm or pump assembly, loose or damaged parts like the spray arm, utensil basket, or detergent dispenser. Identifying the specific source of the noise is crucial for effective troubleshooting and repair.
Can I repair my noisy dishwasher on my own?
Fixing a noisy dishwasher is not necessarily a complicated process. Start by familiarizing yourself with commonly used parts for dishwasher repair. Obtain the model number, and consider checking and correcting issues related to the pump, spray arm seal, wash arm bearing ring, spray arms, wash impeller, dish rack rollers, water inlet valve, dishwasher belt, and motor bushings. While some repairs are straightforward, seeking professional assistance may be necessary for complex issues.
What are the main components contributing to dishwasher noise?
The primary components contributing to dishwasher noise include a defective pump, spray arm seal, wash arm bearing ring, spray arms, wash impeller, dish rack rollers, water inlet valve, dishwasher belt, and motor bushings. Regular inspection and maintenance of these components can help prevent or resolve noise issues.
How do I use the model number to troubleshoot my noisy dishwasher?
Using the model number allows you to access schematics, parts information, and specific problem diagnostics related to your dishwasher. Enter the model number to identify faulty parts and obtain guidelines for installation and repair. If additional assistance is needed, contacting a skilled professional, such as Fix Appliances CA, can ensure a comprehensive solution.
Why should I choose Fix Appliances CA for dishwasher repair?
Fix Appliances CA offers compelling reasons for choosing their services, including same-day service for major appliances, over 18 years of experience, nine-time winner of the HomeStars Award, TSSA certification for gas appliances, a 90-day satisfaction guarantee, and free house calls with any repair. Their expertise covers a wide range of appliance brands, providing prompt and reliable dishwasher repair services in Toronto and the GTA surrounding areas.
More Problems & Solutions from Our Blog