Fridge Ice Maker Not Working
Authorized repair service for most home appliance manufacturers
A refrigerator is an essential item in a home. However, having a fridge that doesn't make ice isn't worthwhile. Certain factors can cause the fridge to make little ice or even no ice. Among the causes, the prime ones are the flow of water into the ice generator and the entire icemaker control system.
Here Is How To Fix A Fridge That Can't Make Ice
The interior fridge water system consists of parts such as the fill tube that fills the cup of the icemaker, inlet valve tubing and outlet valve that connects the fill valve and the ice maker. If the outlet valve has dirt or debris, it will block, transporting low amounts of water into the ice maker. This yields zero ice cubes. You can deal with fridge repairs by plugging off the screen to clean it or replacing the valve. Other causes of water shortage in the ice dispenser are the low pressure of domestic water in that homestead and self-piercing valves since, in most cases, the pit pierced is rarely allows enough water to pass through.
If the inlet water valve is not functioning, check the icemaker control, which stimulates the valve through a power line. Electricity voltage operates during the production cycle and powers the solenoid valve to let water in. Remember that before inspecting this section, disconnect the refrigerator from power and close the water inlet.
Your refrigerator has a water filter that consists of carbon and fabric materials. The sole purpose of this part is to eliminate every contaminant that remains in the water even after regular water maintenance around the immediate surroundings. Experts say you should renew the filter at least twice a year. However, the water of the surrounding area can determine otherwise.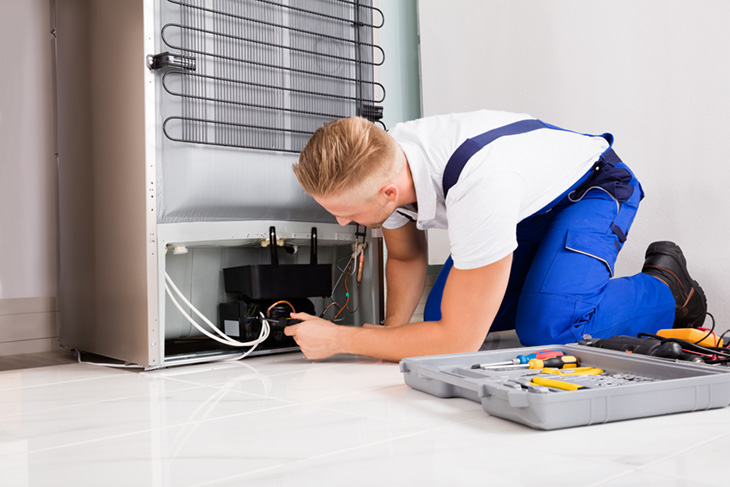 Apart from the water supply issue, even icemaker control can contribute to the lack of ice buildup. Current models of fridges use heat to produce ice cubes. You can handle the ice dispenser control issue during fridge repairs by removing the front cover and doing manual tests.
You can manually conduct several repeated tests to inspect the control system. Put a coated jumper wire on trial points "T" and "H." The jumper should have a coat of 14-gauge thickness. Shred both ends to almost an inch and curved it into a U-shape. Put the jumper wire and let it remain in the trial points for several seconds.
This test will generate a real harvest production cycle. The right sequence will stimulate the ejector blades, the closing arm, and the fill valve. Also, it will ease your diagnosis. If the motor does not start and the ice maker is not working despite receiving power, repair the icemaker control by replacing the module.
We have looked at the parts that commonly cause the refrigerator not to make ice. If case information in this report does not help you to repair your fridge, dial the model number in the search box for more assistance.
Refrigerator Error Codes Related to Ice Maker Issues
| Refrigerator Brand | Error Code | Meaning |
| --- | --- | --- |
| Samsung | 1E, 1E/SE, LC | Sensor or temperature issues related to the ice maker. |
| LG | ER IF, Er 1F | Problems with the ice maker's fan or the ice maker itself. |
| Whirlpool | E2, E3 | Issues with the ice maker motor or motor circuit. |
| GE | E5, E6 | Problems with the ice maker sensor or temperature sensor. |
| Kenmore | SY EF, SY CF | Ice maker fan, sensor, or control board problems. |
Please note that the specific error codes and their meanings can vary between different models and years of manufacture, even within the same brand. Always refer to your refrigerator's user manual for precise information on error codes and how to troubleshoot them.
Step-By-Step Guide to Help You Troubleshoot and Potentially Fix the Problem
Before you start:
Ensure that your refrigerator is properly plugged in and receiving power.
Ensure the ice maker is turned on and the water supply is connected and turned on.
Check the Temperature Settings: Ensure the freezer temperature is around 0°F (-18°C). The ice maker won't work properly if the freezer is too warm.
Inspect the Ice Maker Switch: Many refrigerators have an on/off switch for the ice maker. Check if this switch is turned on. Consult your refrigerator's user manual if you're unsure where to find it.
Clear Ice Bin Obstructions: Sometimes, ice can pile up in the ice bin, preventing the ice maker from producing more. Empty the ice bin and check for any obstructions.
Check the Water Supply: Ensure the refrigerator's water supply works correctly. If your refrigerator has a water dispenser, check if it's dispensing water properly. If not, there might be an issue with the water supply line or the water filter.
Inspect the Water Filter: If your refrigerator has a water filter, it might be clogged. Replace the water filter as your user manual recommends (usually every 6 months).
Inspect the Water Inlet Valve: The water inlet valve controls water flow into the ice maker. If it's malfunctioning, the ice maker won't receive water. You may need to replace the water inlet valve if it's faulty.
Check for Frozen Water Line: Sometimes, the water supply line leading to the ice maker can freeze, blocking water flow. Disconnect the water line and thaw it if necessary.
Inspect the Ice Maker Assembly: Look for any visible damage or malfunction in the ice maker unit itself. You might need to replace the ice maker assembly if you find any.
Check for Proper Water Pressure: Low water pressure can affect the ice maker's performance. Ensure that the water pressure is within the recommended range (typically 20-120 psi).
Reset the Ice Maker:  Some refrigerators have a reset button on the ice maker. Press and hold it for a few seconds to reset the ice maker.
Consult the User Manual:  Your refrigerator's user manual can provide specific troubleshooting steps and information related to your model. If you can't find your manual, you may be able to find it online through the manufacturer's website.
Professional Repair: – If none of the above steps resolve the issue, and your refrigerator is still under warranty, consider contacting the manufacturer or a professional appliance repair service for further assistance.
Remember to prioritize safety when working with electrical appliances. If you're uncomfortable with any of these troubleshooting steps or if your refrigerator is still under warranty, it's often best to consult a professional technician of FIX Appliances CA to avoid causing further damage.
Emergency Refrigerator Repair with Same-Day Service
When your refrigerator suddenly stops working, it's not just an inconvenience; it can also lead to significant food spoilage and unexpected expenses. At FIX Appliances CA, we understand the urgency of the situation. That's why we offer same-day appointments for refrigerator repair in Toronto, Barie, Hamilton, Oshawa and other areas of the GTA. Our goal is to minimize your losses and swiftly restore your daily routine.
Plus, when you book a refrigerator repair with us, your house call is on the house. Don't wait; contact us today at  888-242-0777 to schedule a convenient appointment for fridge repair near you. We're here to help!
Date of page creation: September 26, 2017
Page update date: October 11, 2023
What Our Customers Say About Us
Discover how Fix Appliances maintains a 5-star service record since day one.
"Fix Appliances CA was able to get here 2 days before anyone else. Sasha arrived on time, was extremely knowledgeable and careful about his work. He got the job done quickly and completely, even offering some expert advice on his way out. Thanks, Fix Appliances CA!"
Sandra Moony, Toronto
Freezer Repair
September 07, 2022
They were very professional and dig a great job. They even picked up the unit from the store for me.

Angela, Kleinburg, ON
Microwave repair
April 22, 2019
Our technician Oleg was great. He was on time and even called before his arrival. He was able to diagnosis the problem and make the repairs all in one visit which was very appreciated. He not only fixed the problems, but talked me through what was wrong and how it needed to be repaired. He also spent time to show me how to properly maintain the dryer myself. He was very tidy leaving no mess behind. I would highly recommend Fix Appliances to anyone.
Cynthia, New Tecumseth, ON
Electric Dryer, Maintenance due to previous fire
April 09, 2019
Frequent Asked Questions
Why is my refrigerator's ice maker not making ice at all?
There could be various reasons, such as a malfunctioning water supply line, a clogged water filter, a defective ice maker, or temperature settings that are too high. Refer to your refrigerator's user manual and our troubleshooting guide for assistance.
My ice maker is making ice, but the ice cubes are small or misshapen. What's causing this?
Irregularly shaped or small ice cubes can result from issues like low water pressure, a clogged water inlet valve, or a faulty ice maker assembly. Check these components and replace or repair them as needed.
I hear a clicking sound from my refrigerator, and the ice maker isn't working. What should I do?
Clicking sounds can indicate a problem with the ice maker's motor or gears. Inspect these components for damage and consider replacing them if necessary.
How often should I replace the water filter in my refrigerator to maintain ice maker performance?
It's generally recommended to replace the water filter every 6 months, or as specified in your refrigerator's user manual. A clogged or old filter can hinder water flow to the ice maker, affecting its efficiency.
Can I fix my refrigerator's ice maker myself, or should I call a professional technician?
Whether you should attempt to fix the ice maker yourself depends on your DIY skills and the complexity of the problem. For simple issues like a clogged line, you can often resolve them on your own. However, if you're unsure or if the problem is more complex, it's safer to consult a professional technician to avoid further damage or safety hazards.
More Problems & Solutions from Our Blog