Factory Certified

Licensed technicians with over 15 years of experience

TSSA Gas Contractor

Fully certified in gas appliances service, repair & installation

Complete Warranty

Each repair is covered by service and parts warranty
A damaged appliance both in your home and office can cause trouble both in your daily activities and deliverables. However, this should not be the case.
Appliance repair should not give you a headache. And finding a reliable appliance repair in Woodbridge should not also take too much time.
If you are tired of finding the best and most trustworthy quality appliance repair in your area, contact FIX Appliances CA.
FIX Appliances CA offers same-day major appliances repair. We are experienced in handling all kinds of appliances issues as well as troubleshooting all brands of appliances in the market.
Our repairmen are experts in the field. Not to mention they are available to help you. Therefore, if you are in Woodbridge or in its surrounding area, FIX Appliances CA can definitely make a way.
Professional Appliance Services We Provide
We service and repair a variety of appliances, including:
Refrigerator Repair
A damaged refrigerator can give you a serious headache especially in situations you need it the most. The question is will you let it happen? As early as your refrigerator or fridge shows early signs of break down, call the attention of a reliable appliance repair in your area.
The most common refrigerator issues include the following:
Refrigerator not switching on
Fridge starts to defrost even not in a defrost mode
Refrigerator making noisy sound
Fridge starts to emit a foul odor
If you see any of these problems with your refrigerator, contact FIX Appliances CA immediately to restore your refrigerator and fridge in it's normal, working state.
We at FIX Appliances CA offers fridge repair services and refrigerator repair in Woodbridge. Not just that, we have a team of expert repairmen to fix your appliances issues anytime of the day. Therefore, if you need immediate help with your appliances, contact us today.
Washing Machine Repair
Your washing machine is one of the important appliances at home. But what if it's not working as intended? Of course, you will be obliged to hand wash the laundry.
Well, that's a big waste of your time.
If you want to avoid such hassle with your washing machine, make sure to keep an eye of the following issues:
Washing machine not turning on
Washing machine displays error messages
Washing machine starts to leak
Washing machine creates unusual sound
If that is the case with your washing machine, don't hesitate to contact FIX Appliances CA. We do washing machine repair in Woodbridge. Need help today? Our technicians are available to help you with your immediate needs anytime.
Dryer Repair
You have so many laundries to dry but your dryer is acting up. You need to finish the laundry today because your husband has a meeting the next morning and your children need to attend their school.
You have nothing to do but keep the clothes outside while the sun is up and wait till it dry.
This could be a big hassle on your side.
If you need help with your dryer and want it fixed immediately, FIX Appliances CA can do the work for you.
We offer dryer repair in Woodbridge and can troubleshoot any minor or major dryer issues including:
Dryer not turning on
Leaking dryer
Dryer making unusual sound
Clothes after drying are still wet dump
For this case, FIX Appliances CA can help you. Our technicians are adept in the field of appliance repair and can definitely troubleshoot appliance issues whatever it is.
Call us anytime today! We are open to serve you 24/7.
Oven and Stove Repair
As a mom, it's our obligation to feed our kids the best and healthiest food every single day of our life. But how would that be possible if you have a malfunctioning oven and stove?
While you can buy their meals in the nearest restaurant, would you be happy serving them foods full of preservatives and iodized? Of course not.
You don't need to buy a new oven and stove. FIX Appliances CA offer stove and oven repair in Woodbridge.
Our technicians are adept in troubleshooting any kinds of stove issues like:
Stove not turning on
Stove overheating
Stove not heating
Oven showing error display
Oven making a strange noise
If you see any of these issues with your oven and stove, feel free to contact FIX Appliances CA to help you.
Dishwasher Repair
Dishwashing is fun but will you still enjoy it if your dishwasher is damaged and you need to do manual handwashing?
It takes time. It needs effort. Overall, it's tiring.
Don't let your dishes hinder you to do other important tasks of your day. FIX Appliances CA are experts in dishwasher repair. We can fix dishwasher issues of all kind and troubleshoot them the same day.
Most of the common dishwasher issues we encounter are:
Dishwasher not turning on
Dishwasher making a strange noise
Dishwasher not washing
Dishwasher leaks
Whatever your issues with your dishwashers are, we got your back. FIX Appliances CA is just a call away.
Air Conditioning Repair
If any of your air conditioning appliances are not working as expected, immediately call FIX Appliances CA. You can't let a day pass with a damage aircon or heater. It's disastrous. Therefore, make sure you call a reliable and expert professional to do the job done for you.
FIX Appliances CA offers the following services:
Repair
Maintenance
Consultation
Everything you need when it comes to appliances is all in one place. Contact FIX Appliances CA to do the work for you anytime!
Woodbridge Service Area
Serving all residential and commercial areas in Woodbridge and surrounding neighborhoods.  Vaughan, Bramton, Etobicoke, Toronto and Georgetown of Halton Hills area.
Licensed Repair of All Appliance Brands
Fix Appliances CA has over 15 years of experience servicing all of the following brands and is factory certified to service:
Markham Appliance Repair
FIX Appliances CA is a leading provider of affordable appliance repairs in Woodbridge. We have over a decade of industry experience. Using this experience we can offer reliable white goods repairs. No matter what the problem may be, our skilled technicians will be able to fix it.
Contact us for Woodbridge appliance repair service FIX Appliances CA online or by calling 647-503-6655 and Toll-free number 1-888-242-0777 today.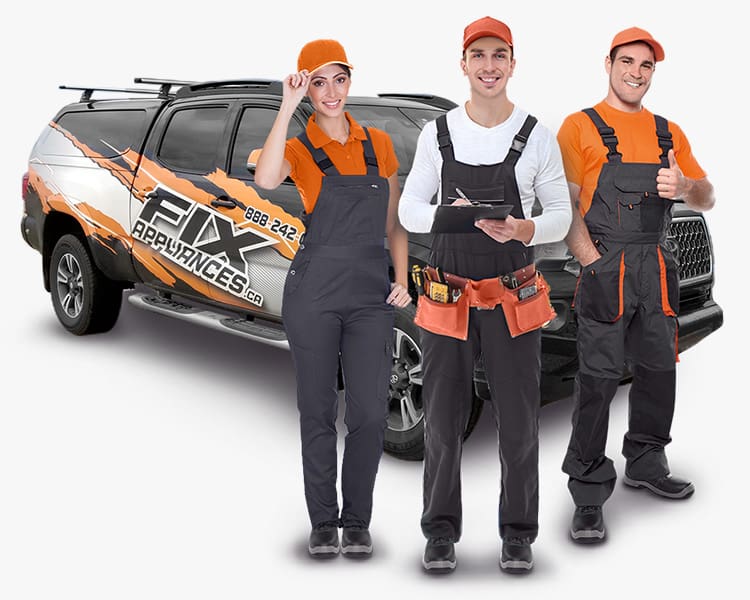 Homeowner Guide
for Appliances
Join over 1200 GTA homeowners who benefited from this useful guide to help keep appliances from breaking.