Refrigerator Making Noise
Authorized repair service for most home appliance manufactures
Refrigerators should run smoothly and quietly during normal operation. If you find that you are suddenly hearing a buzzing or otherwise noisy refrigerator, this may be a sign of problems with some of the components of your fridge.
We want to show you some common reasons why your refrigerator is so loud and some easy troubleshooting steps to the problems of a noisy refrigerator. While refrigerator owners can accomplish our solutions, it is always advisable to let the pros at FIX Appliances CA take care of the work for you due to the intricate parts involved.
Fridge Is Noisy Or Loud
It is quite often the case that if you hear excessive loud noises from your fridge while it is running, it is due to one of the many moving parts it contains. When these wear or are damaged, an increase in noise can occur.
Condenser Fan Motor Issues
On most modern refrigerators, you will find a fan-cooled condenser coil. The condenser fan could be to blame if your refrigerator runs quite loudly.
The fan runs simultaneously with the evaporator motor and the compressor, and thus this can be a hard problem to spot when trying to hear it over a usual refrigerator compressor noise. If the fan has come loose or is not spinning correctly, it may be contacting surrounding parts or wobbling, causing the noise of the refrigerator fan.
Evaporator Fan Motor Issues
The evaporator fan motor pulls air over the evaporator's coils in your fridge when the compressor is running. If your refrigerator is making a buzzing noise and seems to be coming from the freezer area, a faulty evaporator fan motor may be faulty.
In addition to the noise you may hear, if you find that your refrigerator is not cooling as well as normal, this can be another indication of a problem with this part. Also, if you find that it is taking longer to make ice, the culprit may be the evaporator fan motor.
Evaporator Fan Motor Grommet Issues
Your evaporator fan motor has a grommet that isolates the motor from its mounting bracket. The reason for thi is to reduce any noise from vibration that is caused while the fan and motor run.
Regular wear and tear can cause this grommet to erode, which can cause it to become loose or detached. When this happens, you can certainly begin to hear an increase in noise in your refrigerator.
If Your Refrigerator is Making Noise, Here's What You Can Do About It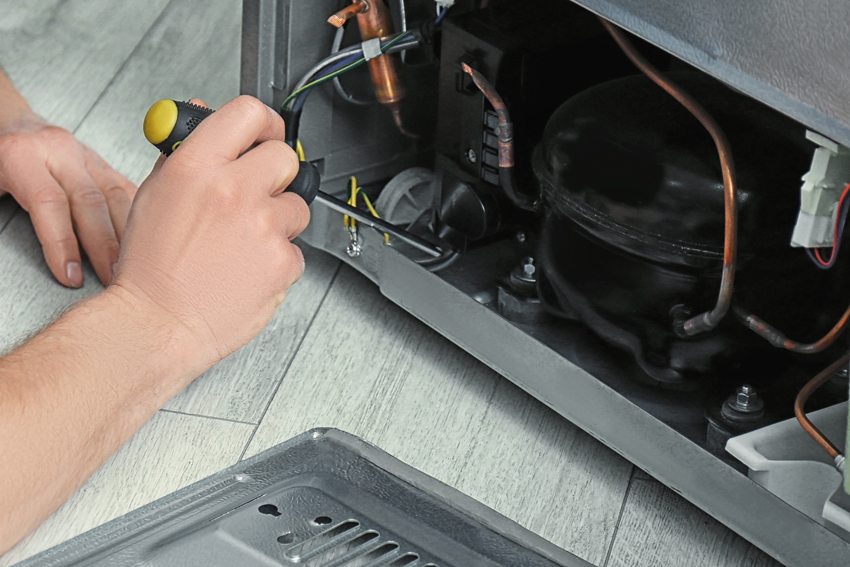 Now that we have walked through some of the parts that could be causing a refrigerator to make loud noises, the next step is to figure out a solution to the problem. Here are three actions you can take to try and quiet that noisy fridge.
Condenser Fan Motor Troubleshooting
If you suspect that a fridge making a loud noise is being caused by the condenser fan motor, the steps to check this part are relatively simple.
Start by unplugging your fridge and then removing the rear access panel. Locate the condenser fan motor that is usually found near the compressor at the bottom rear of the unit.
Visually inspect the fan motor to find any obstructions that may cause noise or any debris that may be a sign of an issue. If you find the motor is worn or seized, you must replace your condenser fan motor.
Evaporator Fan Motor Problem Solutions
Start by unplugging the refrigerator and then removing the evaporator fan cover. This cover is located in the back of the freezer compartment.
Take a look at the motor and look for signs of damage. If you see much ice on the motor, try defrosting your freezer to see if the issue is resolved.
Try turning the motor by hand to see if it turns freely. It should move in this manner quite easily with little resistance. If the motor does not turn easily or is visibly worn, it is time to replace your evaporator fan motor.
Evaporator Fan Motor Grommet Solutions
Start your troubleshooting of this part by unplugging your refrigerator. Remove the evaporator fan cover that is located inside the freezer compartment. Take a look to make sure that the grommet is in place. If it is not in place or if it shows any signs of wear or damage, it is time to replace this part.
Let the Pros at FIX Appliances CA Quiet That Noisy Fridge
All of the problems and solutions we have discussed can be repaired relatively quickly. The problem refrigerator owners often find, however, is that these solutions can be beyond their abilities.
That is why leaving this delicate work to the professionals at FIX Appliances CA makes so much sense. We have years of experience, expertly-trained technicians, and the know-how to quickly fix the issue on your schedule.
Take the next step and look at the host of issues and problems we can solve by checking out our refrigerator repair page for even quick service; don't hesitate to get in touch with us now at 1-888-242-0777!
Date of page creation: September 30, 2019
Page update date: October 13, 2023
What Our Customers Say About Us
Discover how Fix Appliances maintains a 5-star service record since day one.
Extremely quick service appt ( same day) from first call. Walked me through service fee and expectations prior to appt. booking Very courteous fast and knowledgeable . Showed me how things get stuck and made suggestions based on my model. Had a quick question after appt and they were very attentive and quick to respond Thank you
ashley,
Washing machine repair
March 29, 2019
They showed up promptly, diagnosed the problem accurately, fixed it on time (subject to parts availability) and on budget. No drama, just good service. Very pleased.
Andy, Wasaga Beach, ON
GE Dryer Repair
March 29, 2019
Our technician Oleg was great. He was on time and even called before his arrival. He was able to diagnosis the problem and make the repairs all in one visit which was very appreciated. He not only fixed the problems, but talked me through what was wrong and how it needed to be repaired. He also spent time to show me how to properly maintain the dryer myself. He was very tidy leaving no mess behind. I would highly recommend Fix Appliances to anyone.
Cynthia, New Tecumseth, ON
Electric Dryer, Maintenance due to previous fire
March 29, 2019
FAQ: Top Frequently Asked Questions
What are the common reasons for a noisy refrigerator, and how do I identify the source of the noise?
Loud noises in a refrigerator can often be attributed to issues with components like the condenser fan motor, evaporator fan motor, or their grommets. It's essential to diagnose the problem's source to address it effectively.
How can I troubleshoot and potentially resolve a noisy refrigerator issue, such as problems with the condenser fan motor or evaporator fan motor?
To troubleshoot issues related to the condenser fan motor or evaporator fan motor, you can follow specific steps, including inspecting, checking for obstructions, and testing the components. These actions can help identify and address the problem to reduce refrigerator noise.
Why should I choose FIX Appliances CA for refrigerator repair, and how can your professional technicians help quiet a noisy fridge?
FIX Appliances CA offers expert refrigerator repair services, with a team of well-trained technicians capable of quickly and effectively resolving noise issues in your fridge. Their experience, convenient service hours, and expertise make them a reliable choice for solving refrigerator problems and ensuring your appliance operates quietly. Contact FIX Appliances CA for professional assistance in quieting your noisy fridge.
More Problems & Solutions from Our Blog