Washing Machine Hums but Won't Start
Authorized repair service for most home appliance manufactures
If you're ready to do a load of laundry and your washing machine just hums, you're probably a little stressed out right now. No doubt this is a less-than-ideal situation, but that buzzing noise you hear may not be as severe as it seems. 
There are a few possible reasons you're faced with a washing machine humming but not working. Usually, it can be repaired, and it doesn't have to be expensive — at the very least, the repair cost of your machine will be less than if you have to buy a replacement. Here are some of the possible reasons that your washing machine hums but won't start.
Reasons for a Washing Machine Humming
Life can be stressful. The average family juggles so many things that we need everything to run smoothly just to fit everything in. A washing machine humming but not spinning is one of the problems that can really put a kink in our ability to maintain this schedule.
There are some things you can't fix yourself without help, but sometimes, there may be a simple fix for your washer that you can take care of yourself. Let's take a look at some of the common causes of a washing machine that's humming but won't start.
Faulty Drain Hose
A washing machine needs a reliable flow of water into it to work, and it needs to be able to drain that water as well. When there's an issue anywhere in the supply and flow, you may notice your washing machine humming, not draining. If the machine seems to be still working when you hear this sound, then your problem is likely a faulty drain hose — replacing the hose should fix the problem without having to call for repair help.
Problem With the Water Flow
If your hose is fine and the humming seems to be related to the fact that your machine isn't filling with water, then you may have something more serious going on, such as a plumbing issue. 
The first thing you should do is to check that the taps that feed your machine are open fully. If they are and there still isn't any water flowing, try unhooking the feed hose and run it into a sink to see if the water is actually flowing. If you notice that the water flow is slow or that there isn't any, there's a good chance you have a plumbing issue. 
Blocked or Damaged Pump
While modern washing machines are designed to protect the moving parts in your machine from damage, sometimes, something does get past these safeguards. Occasionally, a small particle from a pocket or a small piece of clothing can work its way into the washing machine pump. Higher-end machines may display an error code on the control panel to indicate this, but many machines don't. The only way to know for sure is to take the machine apart to access the pump. Unless you're confident in your DIY skills, it's probably best to call Fix Appliances CA at that point for professional help.
Burnt Out Motor
If the humming noise you hear when using the washer is accompanied by the smell of something burning, there may be a major problem with your machine. That burnt smell is probably coming from your motor, and it likely needs to be replaced. This isn't an easy fix, and it's probably best to contact a repair company at that point. 
It Could Be the Motor Coupling
One other thing that may be causing your washing machine to hum or buzz is a damaged motor coupling. This part connects your machine with the pump, and it's vital to the operation of your washer. This problem requires a fair bit of knowledge to fix, and it's usually best to leave this one to the experts as well.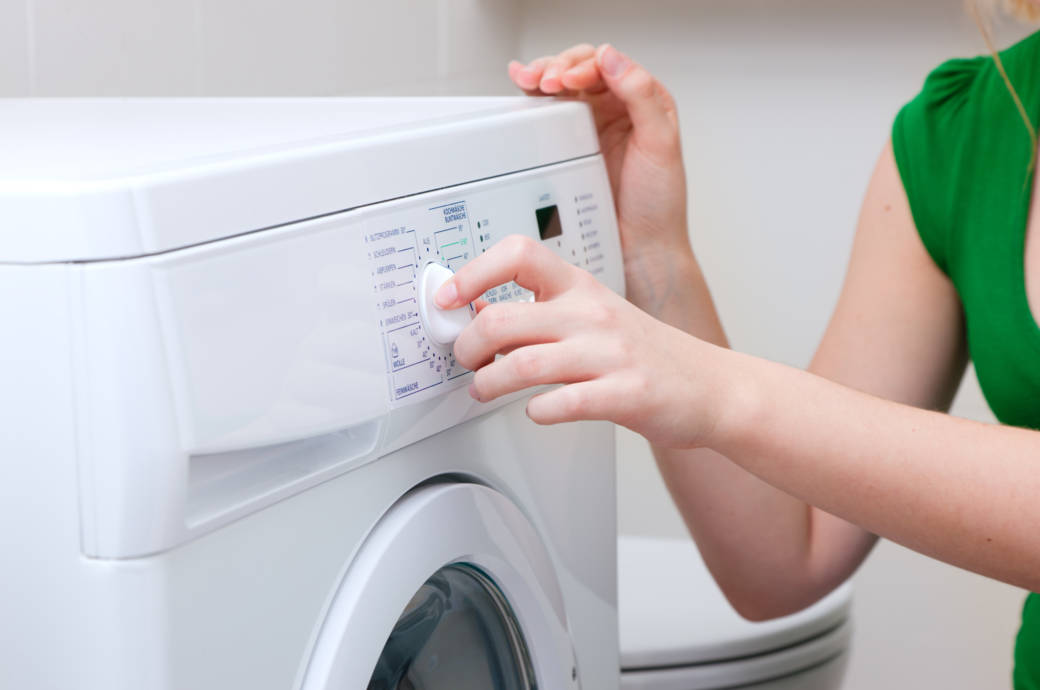 What to Do When A Washing Machine Just Hums
If you've taken a close look at your machine and you've ruled out everything you can think of, it's a good idea to call a licensed repair person for help. Just be sure that you've checked the hoses and looked for anything obvious that may be blocking the normal operation of your machine before you do.
Fix Appliances has years of experience working with homeowners to find the root cause of broken appliances. Our people are fully certified and ready to service you at a moment's notice. We aim to get your appliances back up and running at the least possible cost to you. With that in mind, we look for simple fixes first that may be difficult to identify to the untrained eye. Here are the most common examples.
Blocked Pump
Sometimes, a piece of loose clothing can get lodged in the washing machine pump. There may not be any actual damage to the pump itself, but the humming noise you hear is because that piece of clothing is preventing the pump from turning.
Loose Fitting Motor Coupling
Our washing machines are workhorses. The average family does laundry at least once a week and sometimes more. All of that heavy lifting can be hard on its inner workings. Sometimes, parts can loosen, preventing the machine from working properly.
That buzzing noise may be something as simple as a loose connection between the motor coupling and the pump. When our repair person arrives, they will check for any loose fittings, and if they find that to be the root cause, they'll tighten everything up and have you doing laundry in no time. 
Contact Fix Appliances CA Today for Help With A Washing Machine that Hums
It may be tempting to turn your humming washing machine into a Do-It-Yourself project, but in most cases, that's not the best idea. If you've checked the hoses and looked inside the drum for any obvious jams without finding anything, it's time to call us at Fix Appliances CA. 
We are one of Canada's most trusted and reliable names in appliance repair. Our technicians are factory-trained, and they'll always look for the simplest solution for your problem first, even when you face the issue of a washing machine making a grinding noise. With more than 18 years of residential and commercial experience, you can be confident that we'll do the job right the first time. We provide the same reliable service every time. Here's a quick summary of why you should choose Fix Appliances CA for your next repair:
Timely service

— we understand how important it is to have a working washing machine, and that's why we offer timely service when you need it.

Worry-free appraisal

— you shouldn't have to guess about how much a repair will cost you. Our technician will appraise the situation and give you an accurate estimate before they start to work.

Factory trained

— all of our technicians receive factory training before working in the field.

Manufacturer-approved

— we will never use cheap replacement parts. All of the parts we use are manufacturer-approved. 
For help with all of your residential and commercial appliance repairs, call Fix Appliances CA today at 888-242-0777 or request a call back with our representative by clicking here!
Date of page creation: May 20, 2020
Page update date: October 27, 2023
What Our Customers Say About Us
Discover how Fix Appliances maintains a 5-star service record since day one.
Very happy with the service, Denis is very professional and try is best to satisfy the customer. I will call these company again. Customer service very responsive as well. Perfect team.
Mario in Vaughan, Vaughan
August 20, 2019
Dima did a great job diagnosing the fridge - he took his time and explained everything to me. No pressure to buy his recommended service - I had 30 days to think about it and the service call charge would be credited towards the recommended replacement part and labour. A day later I decided to go ahead with the recommended service and they were able to come back same week! I forgot to ask about the service call being credited and went to call them - but they are so professional and on top of everything, it was credited towards the replacement part without me having to specifically ask. Overall very professional company, I will use them again.
AD, Markham, ON
Refrigerator repair.
April 22, 2019
FAQ: Top Frequently Asked Questions
Why is my washing machine making a humming noise but not starting?
A washing machine that hums but doesn't start can be due to a faulty drain hose, issues with the water flow, or even a blocked or damaged pump. Check these components to identify the root cause and determine if you need professional repair.
What should I do if my washing machine is humming and not draining?
If your washing machine is humming and not draining, the problem might be a clogged or damaged drain hose. Replacing the hose is a relatively simple DIY fix that can resolve the issue without the need for a repair technician.
Why is my washing machine humming and not filling with water?
If your washing machine isn't filling with water and is making a humming sound, it could be related to water flow problems, such as closed or blocked supply taps. Check the water supply and connections to address this issue.
What should I do if my washing machine emits a burning smell while humming?
A burning smell accompanying the humming noise is often a sign of a burnt-out motor. This is a significant problem that requires professional attention, as the motor may need replacement. Continuing to use the machine in this condition can be hazardous.
Could a damaged motor coupling be the cause of my washing machine's humming?
Yes, a damaged motor coupling could indeed be the source of the humming sound. This component connects the machine to the pump and is essential for the washer's operation. Repairing or replacing a motor coupling can be complex and is best left to experienced professionals.
More Problems & Solutions from Our Blog