Factory Certified

Licensed technicians with over 15 years of experience

TSSA Gas Contractor

Fully certified in gas appliances service, repair & installation

Complete Warranty

Each repair is covered by service and parts warranty

Authorized Repair

Authorized service centre for most appliance manufacturers
Why Choose Us for Gas Line Installation?
Fix Appliances CA has almost two decades of experience providing gas line installation services. Our highly-trained, certified and licensed natural gas installer near me is ready to help you seven days a week. Warranty, Satisfaction Guarantee, best prices, and other advantages can help you to make the right choice.
Fair Price
The best services at reasonable prices!
Our company has the most qualified and professional natural gas installers, who provide natural gas line installation near me at reasonable prices and offer a warranty on all services, including the replaced parts. Before we start. you receive professional advice and information on the average costs for gas line installation.
Best Quality
Licensed and Certified Appliance Experts!
We strive to offer our customers quality and dependable gas line installation services. All our appliance fixers have all the necessary licenses and certificates to provide services for all gas appliances at the highest level of quality. We work to ensure that you will always be satisfied with newly installed gas lines and start using gas appliances.
Convenient Time
Available seven days a week, including holidays!
Fix Appliances CA provides the gas line installation near me every day, including holidays and weekends. You are welcome to contact us by phone or submit the request online to schedule the most convenient time to visit your place, mostly the same day. In addition, we offer emergency gas line repair services or removing Red Tags.
Are you looking for a quality gas installation near me, contact Fix Appliances CA and trust this dangerous service for professional gas fitters at affordable prices.
| | |
| --- | --- |
| ✓ Availability | Same day, 7 days a week |
| ✓ Service Areas | All over Toronto, Ontario, and the GTA |
| ✓ Experience | 17+ Years |
| ✓ Authorized Repair | Major Brands |
| ✓ Residential and Commercial Gas Line Installation | Best Prices |
| ✓ Warranty | Up to 1-year |
Homeowners often install new gas lines for cost savings, environmental considerations, and ease of use. Gas pipes, known as 'supplies' or 'services,' connect the gas main in the street to your gas meter. A gas meter is required for two principal reasons: to regulate the pressure leaving the meter under normal operating circumstances, and to act as a tool to measure the amount of gas a customer uses, so that a gas supplier can issue an appropriate bill.
Switching from electric to propane or natural gas or adding new appliances to your current setup will require additional pipes. Gas-powered devices are more efficient and of higher quality than electric ones, but you'll need to retrofit them if your infrastructure doesn't have the correct size tubing to support the installation. A gas line starts at the meter outside your home and leads to each appliance requiring gas. The crucial point to running your new gas line is open access to your basement ceiling.
Gas line installation is a dangerous job that requires a lot of knowledge and experience, which is reflected in the cost of labour. But for this project, you'll want to ensure the person you hire is adequately trained and licensed for new gas line installation. According to local regulations, it is illegal to modify a gas installation near me without a professional certificate of competence and doing so could result in prosecution and a fine.
Fix Appliances CA are fully licensed, certified, and insured heating contractor. All our gas staff are Certified and Qualified Gastite and WARDFlex Gas Installers; we completed specialized training and received the required licenses for providing services on natural gas line installation near me. We explore some of the most common appliances that might require a new gas line installation: cooktops, ovens, stoves, ranges, and dryers and provide the repair of these gas appliances, including range stove repair, as well.
Quality Materials – Priority to Fix Appliances CA
The installation of a new gas line up to 20 feet/6 metres requires not only knowledge but the best materials as well. We work only with quality materials and cooperate with the most famous and trustworthy companies engaged in gas pipe manufacturing: Gastite and WARDFlex. The materials and gas pipe quality are highly prioritized, and we can assure our customers of their safety.
The main advantages of materials from these makers are the following:
It can be used for heating gases. For natural and propane applications;
Time and cost-saving substitutes to steel or copper pipework as they are easy and quick to install, and less fitting required means less potential for leaks.
Anyway, every customer will benefit and will be satisfied.
Understanding Natural or Propane Gas Red Tags in the GTA Areas
The most common question about using gas appliances is what Red Tag means and what you should do. Let's look deeper into this issue. A Red Tag shows a safety concern with the appliance or part to which it is attached. The tags are put in place by a gas company technician, who will usually write a description of the problem on the tag and describe the necessary repairs. He can shut off your gas supply if any immediate hazard situation appears.
The most common question about using gas appliances is what Red Tag means and what you should do. Let's look deeper into this issue. A Red Tag shows a safety concern with the appliance or part to which it is attached. The tags are put in place by a gas company technician, who will usually write a description of the problem on the tag and describe the necessary repairs.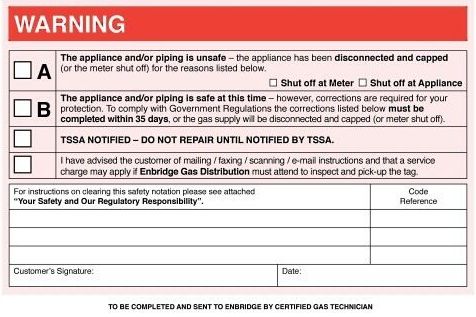 A red tag is issued when any gas equipment violates the specific gas code, for example, Ontario Gas Installation Code B149. This program is operated by the TSSA – Technical Standards Safety Authority. You can receive one of two Red Tags in case of gas leak or gas appliance damage; we'd like to describe the difference.
The equipment will be labelled with a Type A red tag if the gas appliance is a major hazard, like a carbon monoxide leak. This is the most serious type and means that you and your family are in danger. Your gas line will need to be turned off immediately.
The gas technician will use the Type B red tag if the appliance does not pose an immediate risk to the building and its tenants. Your local utility will be notified, too. This tag represents a 30-day deadline to have the labelled equipment either replaced or repaired. If you fail to remedy the problem, this will result in your local utility shutting off the gas to your building.
Improper installations or unauthorized installation of flexible gas lines and unapproved parts can lead to receiving Red Tags on your gas appliance. Once an appliance has been red-tagged, that information is entered into the system of the gas supplier. Thus, the property owner is responsible for making the necessary repairs to ensure the tagged appliance is safe and ready for use. If you need gas leak repairs or have questions about Red Tag, contact the experts at Fix Appliance CA. If you suspect a leak, please call your gas supplier immediately!
Need Gas Line Installation – Contact Fix Appliances CA
We aim to deliver the best customer service possible combined with competitive prices. Not all properties have a gas service or a gas main in the local area. We can assist you if you require a new gas pipeline because your property doesn't currently have gas or has been previously disconnected.
Please remember that we can help you with your gas supply pipework installations for both Natural Gas and LPG systems. Whether you need to replace sections of a gas pipe due to leaks or introduce new extensions to existing pipework, our natural gas installer is on hand to provide that service.
Fix Appliances CA provides gas installation for any gas appliance including gas stove installation and appliance repair in Toronto and other GTA areas. If you want to see whether we cover your area, you can find this information on our page areas we service. Once you are ready to book, contact our support representatives at 888-242-0777, we will explain the gas installation service in detail and schedule the visit to your property asap.
What Our Customers Say About Us
Discover how Fix Appliances CA maintains a 5-star service record since day one.
The technician was super punctual. He was really friendly and professional. He assessed the problem and suggested the proper steps to take to fix the issue with our dishwasher. I would definitely call again for future appliance fixes. Thank you.
Fix appliances were super easy to book online and answered all my questions. I was able to book everything online. The installer was punctual and the install went very smoothly.
Erika, Barrie
Gas Dryer Installation
Contact Us For Gas Line Installation Services
Gas Line Installation Service in Your Area
FIX Appliances CA's main office is located in north Toronto, Ontario, and our local refrigerator repair technicians serve the GTA and southern Ontario. Check the map to confirm the service area nearest to your city or town.
Common Questions Asked About Gas Line Installation
Who installs a gas pipeline?
A master plumber or gas fitter can install gas lines. A general plumber may not charge as much for labour and will undertake minor tubing repairs, but installing or repairing gas lines is complex and best suited for a specialized PRO.
How much does it cost to install an additional gas pipeline?
Pricing depends on the diameter of the pipe and length. Per foot, a price starts at $17.00 and reaches $45.00 per foot.
What household appliances use natural or propane gas in a house?
Many appliances run on gas, such as cooktops, ovens, stoves, and ranges. Dryers can also run on gas, outputting heat at higher temperatures to dry your clothes faster. Hire a gas appliance installer at Fix Appliances CA to handle your installation needs.
More Problems & Solutions from Our Blog