Factory Certified

Licensed technicians with over 15 years of experience

TSSA Gas Contractor

Fully certified in gas appliances service, repair & installation

Complete Warranty

Each repair is covered by service and parts warranty

Authorized Repair

Authorized service centre for most appliance manufacturers
Why Choose Us for Dishwasher Installation?
Fix Appliances CA has more than 17 years of experience providing dishwasher installation services. Our certified and licensed dishwasher appliance technicians are ready to help you seven days a week. Warranty, Satisfaction Guarantee, best prices, same-day local dishwasher installation or replacement as well as washer and dryer installation, high-quality services, and other advantages can help you to make the right choice. 
Fair Price
The best services at reasonable prices!
Our company has the most qualified and professional appliance technicians, who provide dishwasher installation near me at reasonable prices and offer a warranty on all services, including the replaced parts. Before we start, you'll receive qualified advice on the average costs of installing a new appliance.
Convenient Time
Available seven days a week, including holidays!
Fix Appliances CA provides the dishwasher installation service in Toronto and other areas daily, including on holidays and weekends. You are welcome to contact us by phone or submit the request online to schedule the most convenient time to visit your place, mostly the same day.
Reliable Service
Licensed and Certified Appliance Experts!
We strive to offer our customers quality and dependable dishwasher installation service. All our kitchen appliance experts have all the necessary licenses and certificates to service all appliances at the highest level of quality. We work to ensure that you will always be satisfied with the dishwasher installation.
Are you looking for quality installation services, contact Fix Appliances CA and trust the professionals. We offer the best installation at affordable prices.
| | |
| --- | --- |
| ✓ Availability | Same day, 7 days a week |
| ✓ Service Areas | All over Toronto, Ontario, and the GTA |
| ✓ Experience | 17+ Years |
| ✓ Authorized Installation | Major Brands |
| ✓ Residential and Commercial Installation | Best Prices |
| ✓ Warranty | Up to 1-year |
| ✓ Attractive Rebate Program | Buy with Discount |
Fix Appliances CA is a reliable and trustworthy team of enthusiasts and professionals providing repair, maintenance and dishwasher installation services in Toronto, the GTA and other areas of Southern Ontario. We have more than 17 years of experience in this business. We deal with all types of home kitchen and laundry appliances, thus we are skilled in dishwasher installation, oven installation, range hood installation and other services.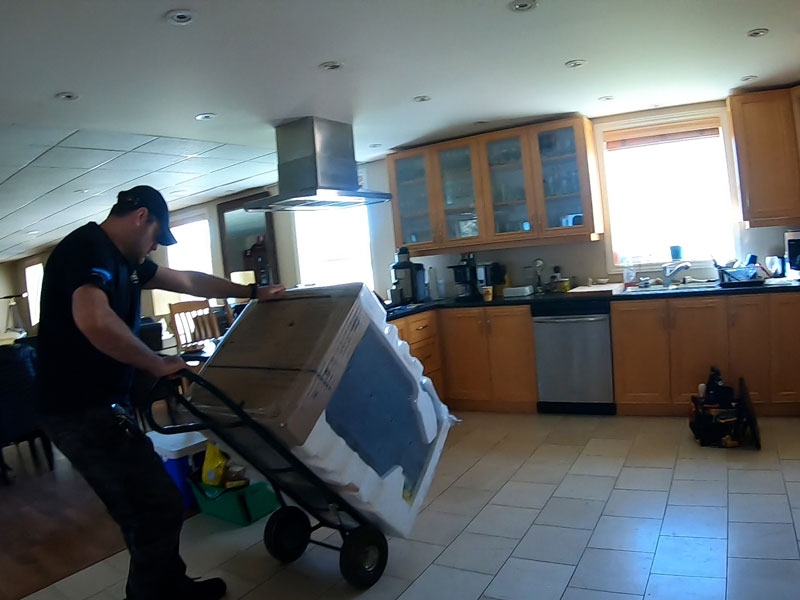 A dishwasher is one of the household appliances that saves time and helps to cope with daily routine, especially when your family is big enough. Thus, the proper working dishwasher is our main task. But when it is too old, the replacement parts are unavailable, or your appliance is beyond repair, you need to purchase and install the new one.
Our qualified technicians have all the necessary skills and knowledge to provide appliance installation services, including dishwasher installation. If someone needs a dishwasher installation near me, we are always nearby.
Dishwasher Installation Services near You
Dishwashers are essential for residential homes and offer an appropriate and energy-intensive way to clean your dishes. If you have decided to buy and install a new dishwasher, the quickest and safest way is to call for professional technicians to do this. The installation involves a lot of technical work, leaving room for error with DIY projects.
Fix Appliances CA offers specialized and certified dishwasher removal and installation services in Toronto and for customers who live in other GTA and Southern Ontario areas. We have the necessary knowledge and experience to install your dishwasher quickly and easily. As a locally owned company, we understand how important it is to receive the highest quality at reliable prices.
Dishwasher Installation for the First Time
If you have decided to install a new dishwasher by yourself, you should strictly follow the safety instructions on the installation. But, in this case, your warranty won't cover further maintenance and repair. Thus, trust only certified specialists to install your appliance. Fix Appliances CA is an authorized and licensed company in dishwasher installation; it means that you will not miss the warranty from a manufacturer.
Keep in mind that if you want to maintain your appliance and use the warranty from the manufacturer when you hire a technician, you must have an invoice for the installation. Otherwise, it will be denied, and you are to pay. Our professionals will estimate your dishwasher installation cost if you are in Toronto or other places in the GTA.
Most of us think installing an appliance in the kitchen is easy enough. Don't think that plugging it in is everything you need. For maximum operation, many dishwashers must be hooked into a plumbing line. A dishwasher that runs properly means it experiences no problems. Incorrect installation can cause damage to the property as well as it can lead to the loss of a warranty from the manufacturer. That's why we give a 10-day warranty on:
Plumbing issues: water line supply, drainage etc
Electrical connections: power plug, cable, etc
Cabinet attachment: Leveling, brackets, etc
If you face this, our technicians will get back to you immediately to eliminate all these problems.
All dishwasher installation prices vary from brands, types and models of a dishwasher and the complexity of these services:
The new installation starts from $189.00 CAD, with only labour costs if a home appliance is a midrange.
But let's talk about a high-end domestic appliance, for example. Miele or Thermador, Viking, the labour costs will be higher and start from $279.00 CAD, excluding additional parts coming with the installation package.
Removing the Old Dishwasher and Replacing it With a New One
If you are having problems with your dishwasher, our team of technicians can help. Dishwashers are heavily used in kitchens, and the wear and tear of daily use can cause a range of problems to develop over time. Our experts can quickly identify any faults and find the best solution to the issue. But, if the reasons are too significant, and a dishwasher is beyond repair, or it will cost more than 40% from buying a new one, the best decision is to install a new dishwasher.
If you are about old dishwasher removal and installation of a new one, you contact for professional aid. Our technicians don't dispose of old ones. But they will help you to take it out on a driveway. Of course, we do our best to find the nearest company that takes old appliances off for utilization. According to our company's policy, we don't replace broken parts with used ones. We offer only certified parts for replacement.
The average price for a replacement starts from $199.00 CAD for labour costs only. But we take responsibility for the quality of our services.
If your home appliance is a high-end one (Viking, Thermador or Miele, etc.), the costs for labour will start from $279.00 CAD, and it doesn't include additional costs for the parts necessary for installation.
Whether you've just moved into a new apartment or need an old dishwasher replaced with the brand new one you've recently purchased, our skilled experts will live up to their name and get the job done for you trouble-free. Hiring a professional will ensure that the right appliance is installed safely and without problems.
Dishwasher installation service near me from experts at Fix Appliances CA has all the necessary documents and qualifications for providing such services, including full liability insurance and WSIB protection. Thus, you are sure to get the job done with the right specialists.
Same Day Dishwasher Installation Service
Fix Appliances CA is ready to provide qualified dishwasher installation service. On your part, you receive professional installation services at an affordable price and with up to a one-year complete warranty. Besides, Fix Appliances CA is an authorized installation company for many makes, including LG, Fisher & Paykel, Panasonic, Samsung and other brands.
The other important thing is that you will receive professional installation aid on the same day. If you need consultation or more information on the dishwasher installation cost, call us from 7:30 am to 9:00 pm at 888-242-0777 or submit an online request. Our friendly customer support team will help you as quickly as possible. Moreover, you have an opportunity to enjoy our rebate program or use coupons for installation packages.
Not sure if it's easier to replace or repair? Call Us!
When your dishwasher appliance is out of order, you face the main problem of what to do best to either repair or replace it. Unfortunately, no DIY videos will help you find the answer, and here you can trust the professional team of Fix Appliances CA. Our dishwasher experts will visit your place, estimate the issue with your kitchen appliance, and give a piece of qualified advice. You must be sure that you won't spend your money on anything, and if the repair is worth it, we repair; if not, you can count on us and receive the best dishwasher installation service near me.
What Our Customers Say About Us
Discover how Fix Appliances CA maintains a 5-star service record since day one.
The technician was super punctual. He was really friendly and professional. He assessed the problem and suggested the proper steps to take to fix the issue with our dishwasher. I would definitely call again for future appliance fixes. Thank you.
Fix appliances were super easy to book online and answered all my questions. I was able to book everything online. The installer was punctual and the install went very smoothly.
Erika, Barrie
Gas Dryer Installation
Contact Us For Dishwasher Installation Services
Same-day Dishwasher Installation Service in Your Area
FIX Appliances CA's main branch is located in Aurora, Ontario, and our local dishwasher repair technicians serve the GTA, Ottawa and southern Ontario.  Check our service map to confirm the service area nearest to your city or town.
Dishwasher Brands We Service
Amana, Asko, Blomberg, Bosch, Frigidaire, Fisher & Paykel, Electrolux, GE, Ikea, Kenmore, Kitchenaid, LG, Maytag, Miele, Panasonic, Samsung,  Whirlpool, Viking and other dishwashers brand names.
More Problems & Solutions from Our Blog