Factory Certified

Licensed technicians with over 15 years of experience

TSSA Gas Contractor

Fully certified in gas appliances service, repair & installation

Complete Warranty

Each repair is covered by service and parts warranty

Authorized Repair

Authorized service centre for most appliance manufacturers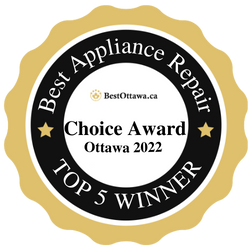 Best in Ottawa are essential for everyday life. When they stop working correctly, your life comes to a standstill. You spend your hard-earned money on appliances to help your home life run smoothly. Given the time and energy you spend on household appliances, they should be handled, repaired, and replaced by professionals.
FIX Appliances CA has seen the troubles of broken and malfunctioning appliances over our almost fifteen years of experience. We know that your home is not functioning correctly without home appliances working correctly and that this can be a stressful time. Our team will work with all the residential communities to provide reliable Ottawa appliance repairs that help customers get their home lives back into balance. 
Factory-trained and licensed repairmen are all on your side regarding appliance repair in Ottawa, Ontario. Give us a call at 613-900-1979 or contact us on our website for quick and friendly service!
Professional Appliance Services We Provide
We service and repair a variety of appliances, including:
Refrigerator Repair in Ottawa
The refrigerator in your kitchen is essential. So when your unit is malfunctioning, don't waste money on spoiled food and takeout meals. Call for dependable Ottawa fridge repair services instead. If your refrigerator is noisy, not turning on, too icy, or just not working, our technicians can help fix it quickly and replace the needed parts.
If you need refrigerator repair in Ottawa, you may have some of the following problems happening:
The freezer is too cold and iced over
The fridge is not cold enough to keep food fresh
The refrigerator is not cooling, but the freezer works
Water leakage on the floor
The freezer works, but the refrigerator does not
A door that is off-center and won't close properly
We understand that it is crucial for servicing refrigerators to provide fast services to our customers. Therefore, especially providing appliance repair service in Ottawa, we offer same-day repair of different types of refrigerators, freezers, wine coolers, beverage centers and ice makers. Convenient scheduling online, chat and by text message.
Washing Machine Repair in Ottawa
The washing machine is one of the essential appliances in your home for keeping control and order. Washing clothing regularly is a crucial chore that can be derailed when you need repairs, replacement, or other work done on your washing machine. Fix Appliances CA has professional repairmen capable of diagnosing and looking after all kinds of washing machine repairs in Ottawa.
Some of the most common problems that our appliance technicians in Ottawa encounter constantly are:
Water remains in the basin of the drum at the end of a cycle
No power going to the appliance
Too little water for washing clothes
Flashing warning lights and error code
The washing machine won't drain
Washing machine leaking from bottom
The drum is not turning on or not spinning
You are welcome to call us, and we will schedule the most convenient time for a visit. Your washing machine is in good hands for sure!
Dryer Repair in Ottawa
Clothes that don't get completely dry can become damaged, stinky, and unwearable. Not getting your clothes thoroughly dried is a nuisance and health concern. Also, dryers run heating elements that could become health and fire concerns if not addressed as soon as they are detected.
Our professionals have dealt with many problem issues within the delivery time for dryer repair services in Ottawa and want to share our expertise with you. Make sure you take care of your need for a dryer repair if you notice any of the following:
Burning smells or smoke coming from your dryer
No power or only turns on for a little while
Loud vibrations and noises during a cycle
Clothes are not drying
The dryer has no heat or low heat
The dryer squeaks when it spins
No worries, our dryer experts will handle any issues with your home appliance.
Oven Repair in Ottawa
An oven is an enclosed cavity that heats the air to cook food. It can be either an electric or a gas oven when something goes wrong while baking or broiling. It can get you off the rails. Is your food overcooked or undercooked? Fix Appliances CA provides gas oven repair in Ottawa or electric repair in a flash.
Our company has more than fifteen years of experience in this business. All our oven experts have the necessary knowledge and skills to fix any issues with your kitchen appliance. We offer repair services for major brand types and models. Moreover, we are an authorized repair company which closely cooperates with famous brands, such as LG appliances, Fulgor Milano, Fisher & Paykel, etc.
Among the most common oven problem issues you can find the following:
Oven door locked after self-clean
Heating elements don't work
A cooling fan is broken
The oven door doesn't keep the oven closed
A thermostat is not working correctly
If you need gas or electric oven repairs near me, contact our friendly and qualified representatives at 613-900-1979; or you can submit a request online. And you will surely get a home appliance repair in Ottawa on the same day. We offer professional services at reliable prices seven days a week, including holidays.
Range, Cooktop and Stove Repair in Ottawa
The range, stove, and cooktop are crucial elements for a comfortable kitchen. So make sure you identify the symptoms of a broken range, stove and cooktop before they become catastrophic.
Our technicians provide services not only in gas range repair and stove repair but also in electric repair. We offer some work and troubleshooting for range and stove repairs in Ottawa and other areas of the GTA. Some of these symptoms might include:
Beep and error code display
The stove heating element is not working
The door to the stove is not completely sealed
There is no heat in the range at all
The bake element is faulty.
Don't hesitate to contact us if you are looking for a qualified range, cooktop or stove appliance repair near me when you are in Ottawa. We are those who are as close as you can even imagine.
Dishwasher Repair in Ottawa
Without a dishwasher, your kitchen gets dirty very quickly. Cleaning dishes by hand is a waste of time. We understand that it is discouraging to wash your dishes by hand, so when you need a dishwasher repair in Ottawa, turn to Fix Appliances CA first.
Our team of certified technicians is qualified to troubleshoot and fix even the most challenging problems with your dishwasher. Make sure that you seek help from Fix Appliances CA if you notice any of the following issues:
Overflow of water into the sink consistently
The dishwasher is not dispensing detergent
The door does not seal, and leaks
Dishwasher leaking from the bottom of the unit
Loud sounds during cycles
Clogged drain
Dishwasher leaking from bottom
Dishes don't get completely clean at the end of the cycle
When you face any problems with your dishwasher and live in Ottawa, you are welcome to contact us online or call at 613-900-1979. We are available Monday to Sunday from 7.30 am to 9.00 pm.
Range Hood Repair in Ottawa
Range hoods are essential for maintaining the appearance and cleanliness of your cooking surfaces and walls in your kitchen. Without a properly functioning range hood, your grease and grime build up on all surfaces it comes in contact with.
Make sure that you schedule a same day appliance repair in Ottawa, Ontario, or service request for range hood repair services in Ottawa with Fix Appliances CA if you are experiencing any of the following:
A loud fan that vibrates
Does not turn on
No light or fan operating
The fan is too slow to circulate air
Microwave Repair in Ottawa
At Fix Appliances CA, we know how frustrating and inconvenient a faulty microwave can be. Shuts off after a few seconds? Does it not heat? It's time to call us if you live in Ottawa and its surrounding areas to receive professional microwave repair and maintenance services.
We have over 17 years of experience in microwave appliance service. And we have authorized repair microwaves made by major leading brands, from LG, Blomberg, DCS Fisher & Paykel, Fulgor Milano, Fhiaba, Falmec range hoods and a wide range of Panasonic appliances.
Our licensed technicians have many years of experience in this field and provide high-quality certified appliance repair services in Ottawa. Moreover, our company offers discounts on booking an appointment online. Your satisfaction with the perfect job is our high priority.
We provide all types of repair services for all problems with your appliance, including the following:
Not heat
No light
Unusual noises
The door won't open or close
It shuts off after a few seconds
The exhaust fan is not working
If you need a microwave repair in Ottawa, call us at 613-900-1979 and talk to a customer care specialist. We have a trained team ready seven days a week to answer your questions and help you get back on track. And remember, repairing a microwave oven is often much cheaper than buying a new one!
Gas appliances are dangerous to work on them if you are not gas certified. Luckily, all our repairmen at Fix Appliances CA are factory-trained and certified TSSA gas appliance technicians.
The safety and care of your family and home are a top priority when we complete gas appliance repairs, including gas stove repair in Ottawa, Ontario. Make sure that you find time to take care of ageing or malfunctioning gas appliances if you notice any of the following problems:
Noisy whistling
Starting and stopping suddenly
Low heat or limited power
Burners clogged with debris
Experts in Appliance Repair Services are in Ottawa and Nearest Neighbourhood
Ottawa is the city of the most educated people among other Canadian cities. Thus, its people are worth the best and high-quality services for appliance repair. Fix Appliances CA provides efficient appliance repair services you need in the residents of Ottawa downtown and its nearest districts such as Kanata, Nepean, Gloucester, Manotick, Greely, Stittsville, Orleans, Goulbourn and other surroundings. Our skillful specialists can cope with any issues your appliances can have. Moreover, today we service many appliance makers, including the most famous ones.
You can face problems with your appliance when you turn it on and when it's working. All these make you upset; however, it's not the reason to give up. Our qualified and licensed technicians provide repair services quickly and at the highest level. You must receive a perfectly done job at the earliest date. If you are a resident of Ottawa and its surrounding areas, Fix Appliances CA will fix and put your appliance in order.
Faithful Service Whenever You Need
You often experience problems with your appliance when you lack the time or wait for guests. Unfortunately, it's impossible to look ahead. And it doesn't matter if the home appliance is not working, whether it is a dishwasher, an oven, a dryer, a washer or a fridge, our professionals fix them for sure. You needn't worry that you pay for nothing or your bill will be too high. First, confident experts of Fix Appliances CA examine the trouble, then show and explain the best ways of solving it, and after that, upon your agreement, they proceed with repair service of your appliance. Keep in mind that we not only provide repair, but you receive a 100% warranty for our service and on the replaced parts.
Authorized and Factory Licensed on All Major Appliance Brands
You can choose home appliances from many brands. Having more than 17 years in the indoor and outdoor household appliance market, FIX Appliances CA™ is certified and an authorized repair and maintenance service for most makers. When you are in need – we are nearby. You will be satisfied with free service calls with any repair. Do not let the grass grow under your feet, contact us today!
Licensed Repair of All Appliance Brands
Our company has the best appliance repair technicians and services over 90 brands, so you don't need to call two companies if you own appliances from different brands. Besides, upon our knowledge, experience and skill, we provide all brand appliance repair – same day service. Among the most widely spread brands, you will find the following: Amana, Avanti, Asko, Blomberg, Bosch, Bertazzoni, Capital, Cyclone, Dacor, DCS Fisher & Paykel, Fhiaba, Frigidaire, Fulgor Milano, GE, Falmec, Ikea, Huebsch, Inglis, Jenn Air, Electrolux, KitchenAid, Liebherr, LG, Maytag, Miele, Panasonic, Premier, Thermador, Sub-Zero, Samsung, Sirius Range Hood, Kenmore, Speed Queen, Viking, Unique, Whirlpool, Wolf, Zephyr and many more. Most of our gas and electrical appliance repair bookings for fixing appliances are attended on the same day.
What Our Customers Say About Us
Discover how Fix Appliances maintains a 5-star service record since day one in Ottawa area
Excellent service and experience right from the beginning to end. I searched the internet for Ottawa appliance repair and repairs near me and found that the most user-friendly site was Fix Appliances CA, next I filled in the service request form from their website and within one hour, I received a phone call from their Fix Service Coordinator, Christina. What I needed to be done as a replacement of the Samsung washer door boot. She was very detailed in explaining the breakdowns of the cost of the part and labour. And no pressure in accepting their terms of service. Maria was another Service Coordinator that helped answer some of my questions. Overall, everyone was very polite and responsive. Viktor was the local technician from Ottawa who did the repair, replacement job. Very professional. Even though the job was scheduled between 10 AM to 12 PM, he kindly called in to ask if he can come by about an hour early. That was indeed nice of him to ask. He specified how long the repair will roughly take and he fixed it in a timely manner. Any questions I had, he was happy to answer them and even offered some advice that I should follow to ensure that my laundry machine remains in perfect working order. Also for those who are wondering, he wore a mask and put covers over his feet before entering my home. Lastly, I ran the laundry machine a few times before I offered my feedback here. And I can say that there are no issues whatsoever. Thank you Christina, Maria and Viktor for the wonderful job and experience!
Nataliia S, Ottawa
Washing machine repair
January 18, 2022
I was extremely happy with the service. The repair person came the morning after I called. He promptly diagnosed the problem - a burned out fan. He had the part in his truck and was able to repair the fridge on the same call.
drzed, New Tecumseth
August 12, 2019
Ottawa Appliance Repair
Fix Appliances CA is a leading provider of affordable appliance repairs in Ottawa area. We have over a decade of industry experience. Using this experience, we can offer reliable, quick appliance repair. No matter what the problem may be, our skilled technicians will be able to fix it.
Factory trained, licensed, and bonded technicians. We provide all types of gas appliance repairs or electric appliances, including refrigerators, dishwashers, washers, dryers, stoves, ovens, gas ranges, cooktops, wine coolers, microwaves, range hoods, outdoor kitchen appliances, sealed system compressor replacement, refrigeration freon recharge service and more. Residential and light commercial.
Contact us for Ottawa appliance repair service FIX Appliances CA online or call at 613-900-1979 and toll-free number at 1-888-242-0777 today.