Factory Certified

Licensed technicians with over 15 years of experience

TSSA Gas Contractor

Fully certified in gas appliances service, repair & installation

Complete Warranty

Each repair is covered by service and parts warranty

Authorized Repair

Authorized service centre for most appliance manufacturers
One of the most crucial kitchen appliances is a refrigerator. Luckily, we don't need to go to the market and get everything fresh compared to when cold storage is non-existent. Now we enjoy the advantages of having a fridge in our homes: no store queues, having more food on hand when we want to cook something for the whole family or have a snack. Sure, when the refrigerator isn't working properly, food spoils and drinks are not cool enough.
The main goal of a refrigerator's operation is to keep food cool. If it is not, you've got a serious problem. Rather than poke around aimlessly, contact us today and have our fridge technicians check it for you. The most common issue your fridge can experience is faulting the fridge compressor. This will be the best to leave for an expert.
We provide services for all brands and models of refrigerators; moreover, Fix Appliances CA is an authorized service center for LG, Fisher & Paykel, Panasonic, Fhiaba and many others. If you are not sure that the fridge compressor is worth the replacement, give us a call to check the price for your specific refrigerator.
Compressor Issues and Importance of Refrigerator Compressor Replacement
Considering our experience and the number of replacements we did, one of the most common problems with the fridge is a malfunctioning or faulty compressor. Keep in mind that without a working compressor, any refrigerator will not stay cold. The refrigerator compressor is a kind of pump that uses pistons to compress the refrigerant. It means that the gas that chills the inside of the refrigerator. When this pump stops working, the refrigerant does too. Depending on the reason for the problem, repairing a compressor can be relatively inexpensive or not cost-effective.
Every year householders in Canada pay large amounts for fridge repairs. In most cases, people assume that a repair will cost the same amount as a new appliance and opt to replace it to keep things simple. We understand this could be a big expense so if you need help, we're here for you. By contacting the professional you will be certain whether it is worth it or not. From our experience, if the price for the compressor replacement will be even 50% of the price for the fridge, do not hesitate to repair your appliance.
Having replaced more than several hundred refrigerator compressors, we may admit some important issues with them:
Start relay problem. This start relay tells the compressor when to start, it is an electronic device.
Compressor insufficient. Some refrigerators may have compressors insufficient to provide the cooling power they need due to poor design, age or other problems. Compressors with insufficient power tend to run continuously but provide little to no cooling.
Faulty compressor. It means that it may fail completely. In this case, the refrigerator itself does not run. Repairing the compressor is difficult and is not usually cost-effective. Refrigerator compressor replacement is the best way out.
These issues influence the complexity of the repair and price, but do not forget about the brand and model. The prices start from $599 Canadian dollars, which include materials, utilization of an old compressor, and labour, but exclude the price of the compressor. Our highly qualified technicians service all brands and can provide LG compressor replacement, Fisher & Paykel compressor replacement and others. Besides, you receive a warranty for compressor replacement from the manufacturer as well.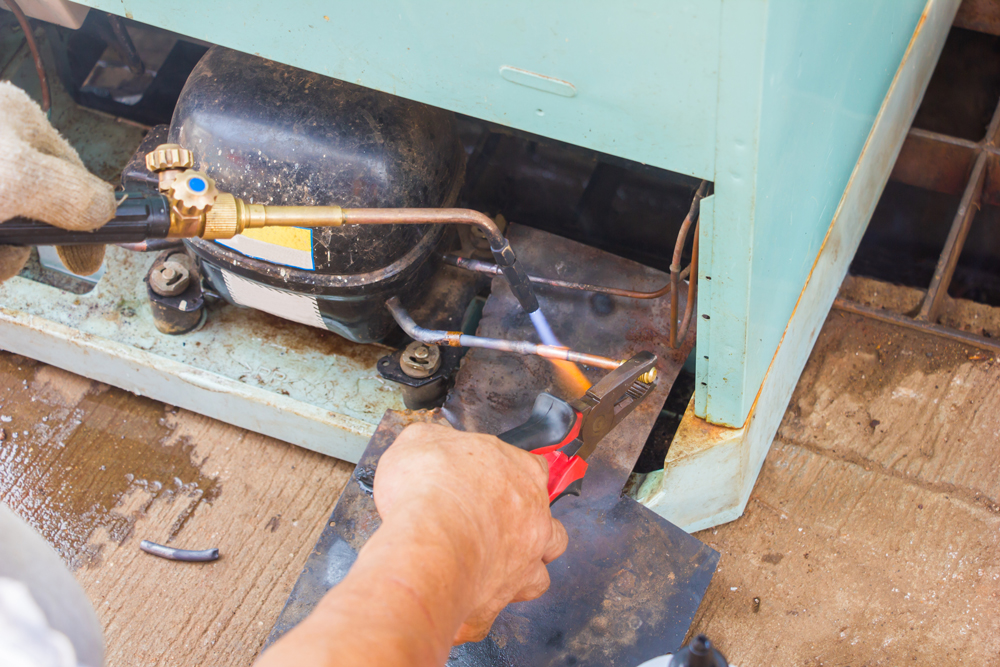 Methods of Replacement
With more than 18 years of experience in refrigerator repair and replacing hundreds of fridge compressors, our experts may define two main replacement methods. Within the framework of this article, we decided to share it with our customers. We hope this information will be useful and help you decide whether it is worth replacing and be sure that professional assistance is very important.
Lokring method of Replacing R600a or R134a Compressor. These compressors can be replaced without brazing. The lokring single-ring technology is a method for connecting metallic refrigerant lines without brazing so that they are permanent and hermetically sealed. These lokring tube connections were customized for any application based on the tube materials, dimensions and tolerances and the associated assembly tools.
The primary application area is manufacturing the refrigerant circuit in the series production of refrigerators and freezers. The main advantages of using the LOKRING tube joining technique: are better, time-saving, cost-effective, and the possibility to use different material combinations.
The brazing method requires practical technical skills and can be a challenge even for experts. If you would like to replace your LG, Panasonic, Kenmore refrigerator compressor or others, be sure that you are prepared and knowledgeable. For this method, you may need the following equipment for the replacement: a new compressor (be sure that you have the same model or at least a manufacturer-approved replacement), refrigerant (R600a or R134a), 2-valve manifold refrigeration pressure gauge, vacuum pump, refrigerant scale, brazing equipment, solder rods, flux.
You should understand how the sealed system actually works in order to replace a compressor and recharge a system. You need to follow a procedure, pay attention to details, know how to use special equipment like scales and gauges, and acquire some degree of proficiency with brazing copper. Thus, contact the trained technicians at our company to replace a fridge compressor.
Why Choose Fix Appliances CA Experts
We understand no one likes to receive a long bill at the end of a repair, so we keep it simple. We are proud of our fair and transparent pricing system. All of our diagnostic checks and repairs are carried out at a fixed rate. This means that you won't be faced with a surprising extra cost once the work is completed. This is because we value our customers, and we believe that great service doesn't have to come at a great cost.
We'd like to admit that being an authorized refrigerator repair company, you receive up to 10 years of warranty on compressor replacement from the manufacturer, and in this case, you pay only for labour. But if you have any questions, do not hesitate to contact us and schedule a visit of our technician to your place.
Get in touch with our friendly team for all enquiries relating to a fridge compressor replacement or refrigerant freon recharge. Our bookings team is available by phone on 888-242-0777 or online. We endeavour to respond as soon as possible. But for the quickest response, we recommend calling us. We work Monday to Sunday, including holidays from 7.30 am to 9.00 pm every day.
What Our Customers Say About Us
Discover how Fix Appliances maintains a 5-star service record since day one.
Thank you to the technician Dima He was very profesional who clearly explained me what was wrong with my refrigerator. Presenting me the solution without pressuring me to decide I found the service excellent I definitely recommend this company and I will use them in the future
Refrigerator broke over the weekend and we called over the weekend. The repair man came on Monday, figured out the issue and ordered parts which came 2 days later. By Friday the fridge was fixed and working well so far. The repairman was efficient and polite. Would recommend.
Same-day Refrigerator Repair Service in Your Area
FIX Appliances CA's main office is located in north Toronto, Ontario, and our local refrigerator repair technicians serving the GTA and southern Ontario. Check the map to confirm the service area nearest to your city or town.
Common Refrigerator Replacement Parts
We stock parts for all the top brands, including:
Air filter
Water filter
Run capacitor
Condenser
Start relay
Condenser fan
Defrost bi-metal thermostat
Defrost heater and thermistor
Defrost timer or board
Compressor motor
Control Panel
PCB Board
Evaporator coil
Icemaker
Inlet valve
Evaporator fan motor
Door switch
Each service truck carries a full inventory of common replacement parts so your refrigerator repair can be completed the same day.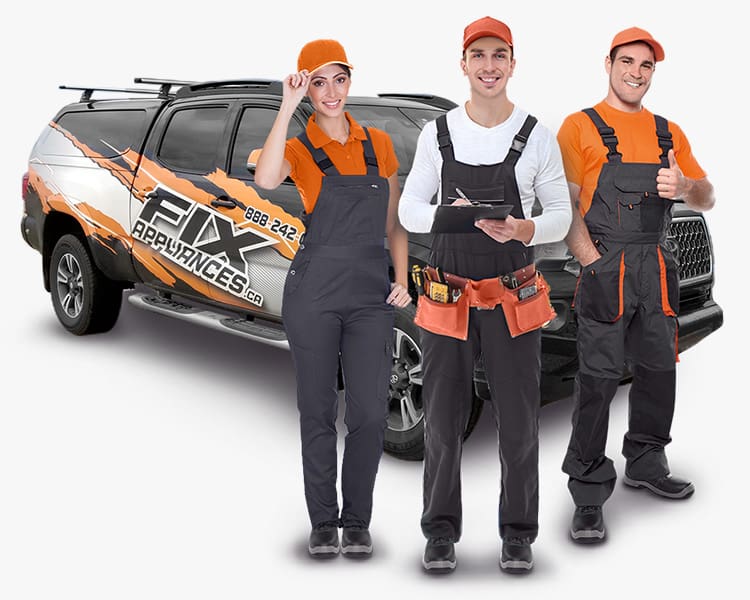 Refrigerator Brands We Service
Amana, Bertazzoni, Bosch, Bloomberg, Fisher & Paykel, Fulgor Milano, Frigidaire, GE, Electrolux, Jenn-Air,  KitchenAid, Kenmore, LG, Liebherr, Maytag, Panasonic, Thermador, Viking, Sub Zero,  Samsung and more brand name of refrigerators.
A Frequently Asked Questions (FAQ)
Is it worth replacing a compressor in a refrigerator?
From our experience, it is the best decision. As a rule of thumb, if replacing the compressor will cost you about half the refrigerator's price, then it will be much wiser to replace the entire fridge itself than to have it repaired.
How much does it cost to replace a compressor on a refrigerator?
Replacing the compressor is one of the pricier refrigerator repairs. Including labour, refrigerator compressor costs can run between $600 and $800, and the price of a new compressor average between $200 and $400.
What is the average life of a refrigerator compressor?
Although plans for a replacement should start around eight years of service, a well-maintained compressor can reach ten years and beyond. As it ages, efficiency loss is gradual at first.
What happens if the refrigerator compressor stops working?
Faulty compressor. If the fridge does not work, the compressor might be defective. The compressor is a motor which compresses the refrigerant or coolant and circulates the refrigerant through the evaporator and condenser coils. Problems with your compressor may cause the fridge to shut down.
Can you replace a refrigerator compressor yourself?
Purchasing a new refrigerator might be a better choice. Replacing a compressor is a complicated repair and involves a brazing or lokring method. You should only attempt this repair if you are an experienced and qualified technician.
More Problems & Solutions from Our Blog