LE error code in LG washer
Washer Motor Sensor Replacement – LG or Kenmore Front Load Washing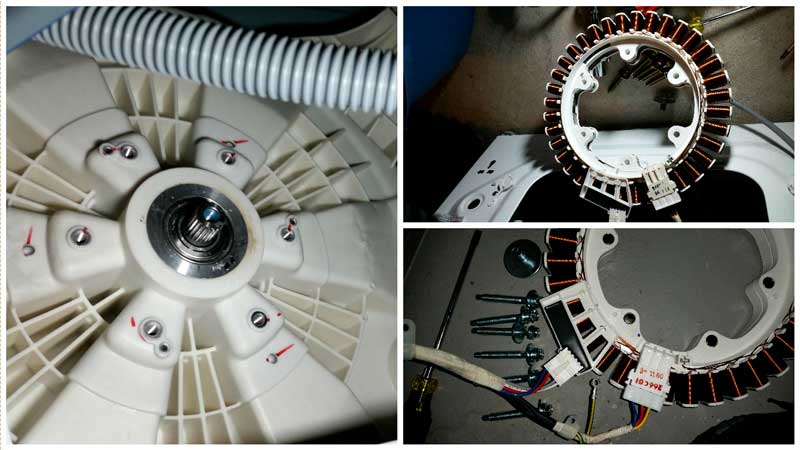 LG Washer Model: WM2277HW SN: 407KW-02NNN
The hall sensor, also known as the rotor position sensor is part of the automated system of your washing machine. It helps the control board make sure that everything is running as it should. Basically, the hall sensor keeps an eye on the washer's motor to ensure it is working correctly and at the correct time during your washing cycle

The hall sensor on LG washing machines monitors whether the motor is turning or not. When the control panel displays an "LE" error code, the hall sensor is telling the panel that the drum is not turning because the motor has failed or the wire harness connecting the hall sensor to the control panel has come loose. Checking to ensure the wire harness is secure on the hall sensor and testing the sensor can let you know whether the sensor needs to be replaced.
Most common problems with washers:
Washer won't spin
Washer is making a loud noise
Washer won't agitate
Washer won't drain
Washer vibration
Washer fills slowly
Washer leaking water
Washer won't start
Washer overflowing
Washer door or lid won't lock
Washer stops mid cycle
Error code on the electronic panel
Need a Professional Washing Machine Repair Technician?
Contact Us Today!
Request Repair Now
If after troubleshooting the error codes noted on your washer and you've determined that your washer requires the expertise of a FIX Appliances CA service technician, contact us online today to schedule an appointment or call at 1-888-242-0777.
We offer our appliance repair services in Newmarket, Barrie, Bradford, Simcoe County, Toronto and all of the GTA — same day washer repair.