Appliance Repair Services
For expert household appliance repair in Barrie and Simcoe County, Toronto and GTA, FIX Appliances CA is the place to call. We understand how inconvenient an appliance breakdown can be. Our skilled technicians are available 24/7 to fix your problem and help you get back to handling more important things.
Brand Appliance Repair Services We Offer
We service over 30 major brands, including: Samsung, Whirlpool, Maytag, Bosch, Kenmore, KitchenAid, Frigidaire, LG, Miele, Electrolux, GE, Sears Appliances and many more.




Areas We Service
FIX Appliances CA is a leading provider of affordable appliance repairs in Barrie, Simcoe County, Toronto & GTA. Based in north Toronto, we have over a decade of industry experience. Using this experience we can offer reliable white goods repairs. No matter what the problem may be, our skilled technicians will be able to fix it. Call or text us: 647-503-6655 or Toll-free: 1-888-242-0777
Bolton
Caledon
Cookstown
Georgetown
GTA
East York
Halton Hills
Maple
North York
Stayner
Sutton
Thornhill
Unionville
York
Appliances We Service
Washing Machine Repair
Dirty laundry never takes a break, so when your washing machine does, you panic. FIX Appliances CA won't make you wait days for an appointment. Our reliable technicians have over a decade of experience in appliance repair and know how to get the job done quickly, efficiently and right the first time.
Dishwasher Repair
No one wants to wash the dishes by hand when they've been accustomed to the convenience of a dishwasher. The experienced technicians at FIX Appliances CA can quickly diagnose the problem and repair your machine the same day.
Dryer Repair
With your busy schedule, waiting for a load of wet clothes to dry when your machine isn't working properly just won't do. Call FIX Appliances CA for same-day household dryer repair. Our specialists can diagnose the problem, grab a part from their well-stocked truck and have your clothes dry in no time.
Range Stove Oven Repair
Eating out every night when your stove has broken down can be expensive and time-consuming. Let FIX Appliances CA take a knowledgeable look and help you quickly get back to preparing home-cooked meals again.
Refrigerator Repair
Don't lose hundreds of dollars' worth of food due to a malfunctioning refrigerator. FIX Appliances CA will quickly send a qualified technician to your home to troubleshoot the problem with your refrigerator and provide an affordably priced solution.
HVAC Repair
Whether you've got a broken furnace, air conditioner or a water heater, our experts will bring the tools, parts and skills needed to troubleshoot your appliance problem and provide a fast solution at a price to match your budget.
Repairs and Installation We Provide
Furnace
Air conditioner
Water heater
Other Specialty Installation Services
Natural gas barbecue
Outdoor fireplace and fire pit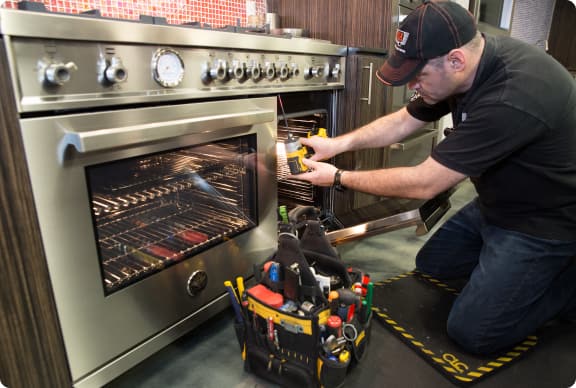 Homeowner Guide
for Appliances
Join over 1200 GTA homeowners who benefited from this useful guide to help keep appliances from breaking.